Join Simone Matthews within Flourish— we are a Community of Heart-Centred people willing to explore the call of the wild— what LIGHTS-up our Souls.
We show up to life's messiness.
We heal. We transform.
We explore ways to live our best lives, the freedom to be our most creative & authentic selves— all whilst making the world that little bit more Beautiful.
The Doors are open, your Flourish journey awaits.
All Heart. All Soul.
All Welcome.
Flourish is your Tribe...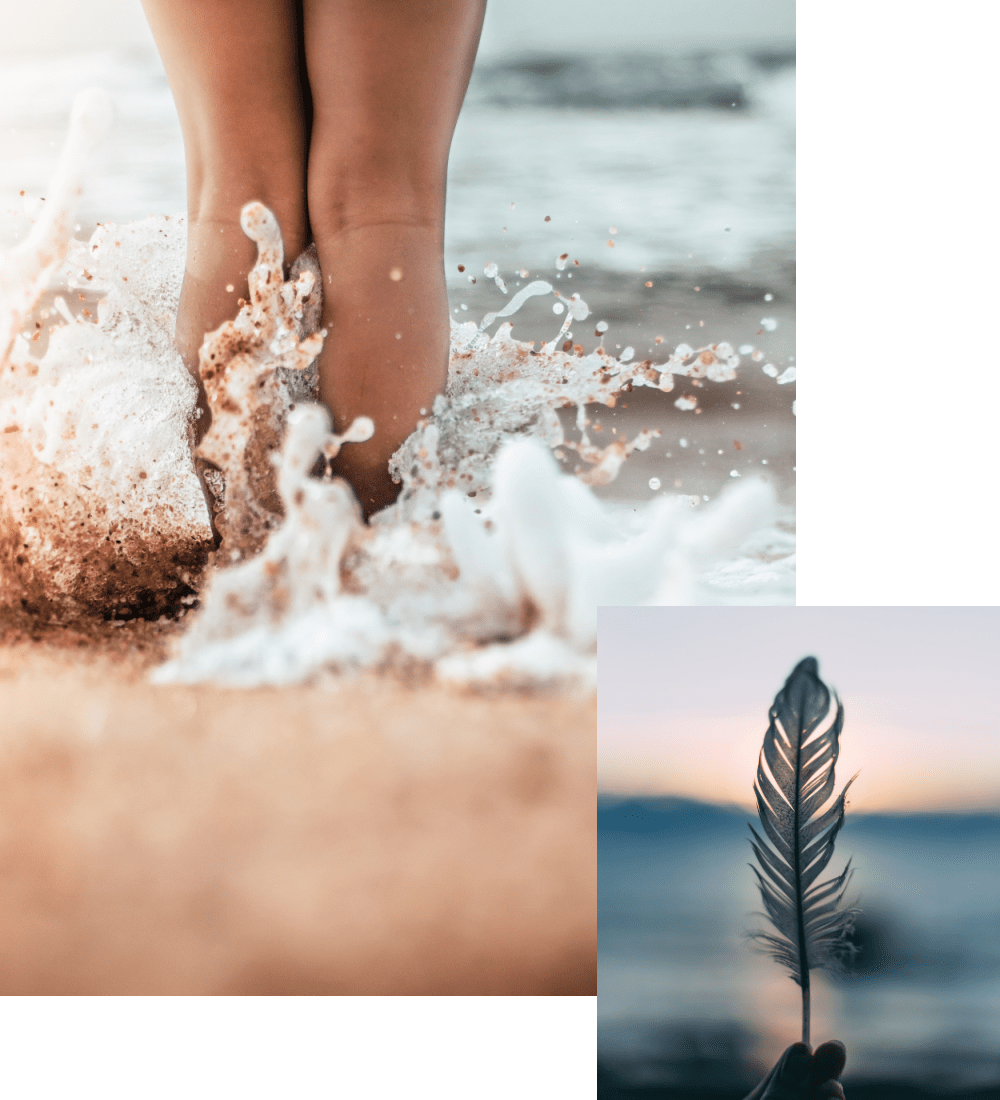 Our world is changing— there is no going back to normal or returning to the the way things were.
There is also no something or someone that will save as— that old story of handing over self-responsibility & accountability is dissolving.
Whilst you may feel intensely vulnerable walking through the unknown waters of this moment, there is something deep within your Heart that knows you were born for these times.
Flourish Community gathers people who have heard the call and are emboldened to challenge the status quo— fully turned on to life!
Together we plant the seeds of new beginnings into the composting stories of our old world.   We nourish them with our Light, our Passion, our Creativitiy—  and we foster a raw willingness to explore new possibilities for growth unlike anything we may had done before.
Through community we find the courage to BE BRAVE.  Brave enough to answer the call of the wild in our Souls, and we Flourish our seeds into who we know/feel ourselves to be— All Heart.
We sense that 'normal' isn't coming back, that we are being born into a new normal— a new kind of society, a new relationship to the earth, a new experience of being human...
― Charles Eisenstein
(Sacred Economics: Money, Gift, and Society in the Age of Transition)
Flourish Community is our ONLINE meeting space where we create our better world of tomorrow— in our daily connections with each other, our local community, and as part of a grander eco-system of nature & the cosmos.
Flourish is a space where we can gather,
learn from one another &
share our visions and dreams.

If you are a creative, intuitive, deep-feeler, healer , visionary or heartpreneur who yearns to make a difference— Flourish Community is your tribe!
By joining our Community, you receive inspiration, insights & guidance to both navigate a changing world and Flourish & Thrive through your big-hearted endeavours.
Whether you are starting a new life-venture, exploring your potential, expanding your healing business or wanting to be a force of goodness within the world— Flourish is your companion that will motivate & engage you rise-up to all you know yourself to be.
We dive DEEP in Flourish into all things mystical— star wisdom, alchemy & metaphysics, you name it!  We invite in the call of the Wild, the flow of the Natural World.  And the radiance of our passion turns us on to life, guiding us to move with abundant universal flow— with purpose and on-purpose.
Above all, we value the art of living a meaningful, authentic and joyful life— unhindered by stories or beliefs that may keep us small.
Flourish is about living your OWN story &
following the calling of your Heart.  
Flourish is YOUR place to explore, connect & thrive. Members receive access to all of the following— you can delve deep into it all, or choose whatever lights you up the most!
Experience Simone's Flourish Member Circles— From the flap of a butterfly wing, unfolding world events, to far-flung galaxies & inter-dimensional portals— our LIVE Circles are deep dives into it ALL.  Move into a NEW Flow in your life and discover deeper states of joy, personal self-care, abundance & nourishment.
Watch Simone's COSMIC Insight Videos—  Insights on HOW to make the most of the current months vibrational flows, awaken your intuition & experience the Heavenly StarMap within you.  Invite in a higher intelligence to discover solutions to your challenges, or take your projects or life ventures to new heights. Maybe it is time to have the courage to take that leap of faith & just do it!
Read our weekly Topical Posts, Articles & Videos— Receive inspiration on how to create flow in your life through the intelligence of the natural world.   Discover tools, ancient wisdoms & receive support to help you navigate life's hurdles and emerge richer for the experience.
Connect, Share & Chat with Members within Flourish Wisdom Circle—  explore the deeper yearnings of Heart, challenge beliefs, awaken your Soul potential, and transform knowledge into enduring Wisdom.
Enrol in a Flourish CLASS with Simone— Classes take your explorative quests for Healing, Heart expansion & Soul expression to a deeper level.  Challenge what is holding you back from blossoming, experience body-mind-soul beyond the confines of your mind.  Discover how vibrantly alive your life-experience becomes when you are willing to ignite that spark of magick in your Heart, that yearning of your Soul and allow it to roam this amazing LIFE— wild & free.
Connect with other Flourish Members through group chats, member circles, class discussions and member-to-member messaging.  Experience the warmth, inspiration & upliftment that comes from being part of a Community that is kind, benevolent, and holds its members up to be all they know/feel themselves to be.  Flourish is all about LOVE.
Our Flourish Portal is YOUR place to nourish.   How you interact within the Portal is completely up to you— there is no obligation to post, share, or attend live streams.  Members pick & choose how they interact, contribute, however big or small.
~ Flourish Community Portal ~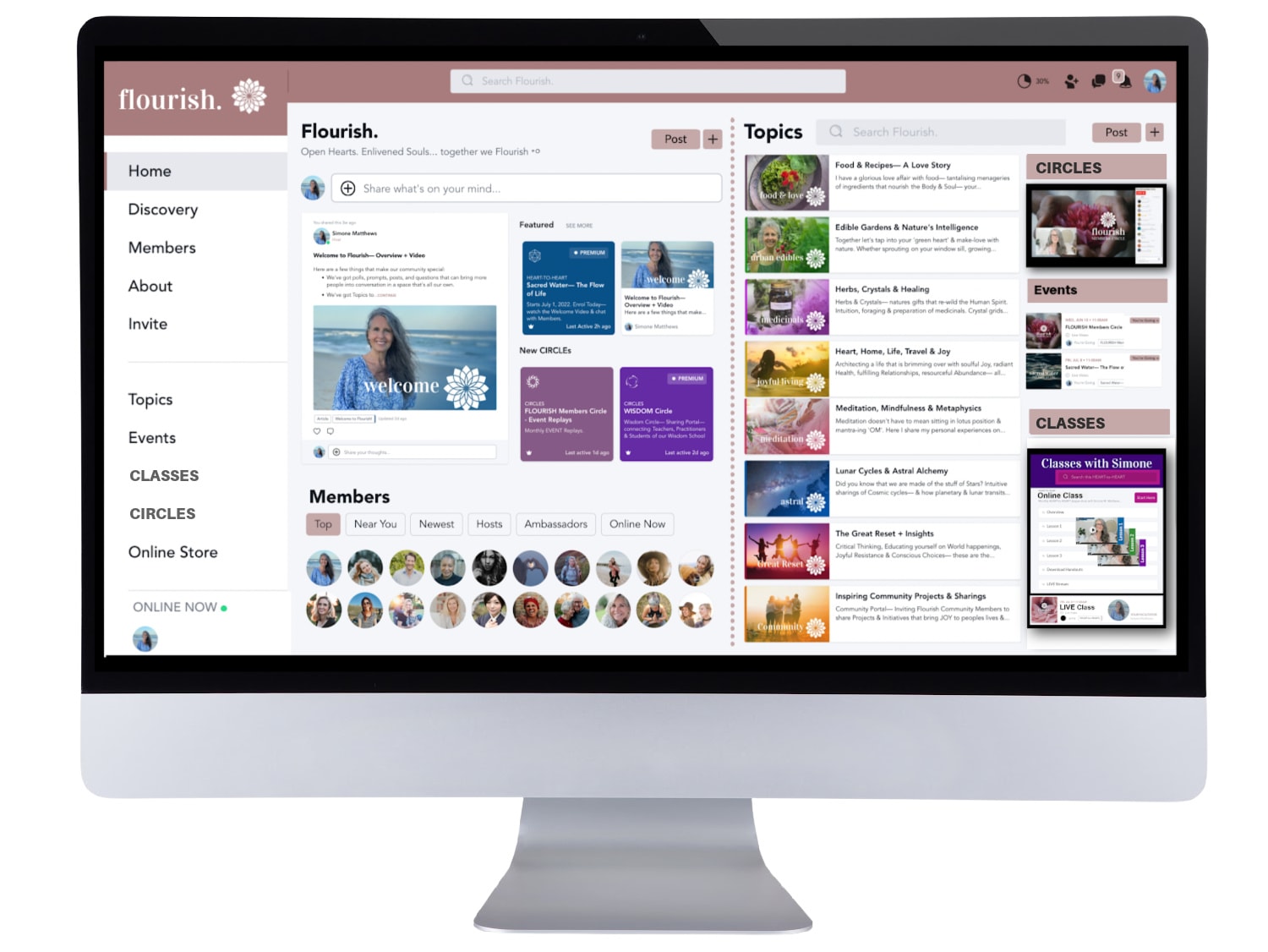 Our Flourish Community Portal can be accessed at anytime on your Desktop/Laptop.  In addition, you can download the App and access Flourish on your Tablet/Phone.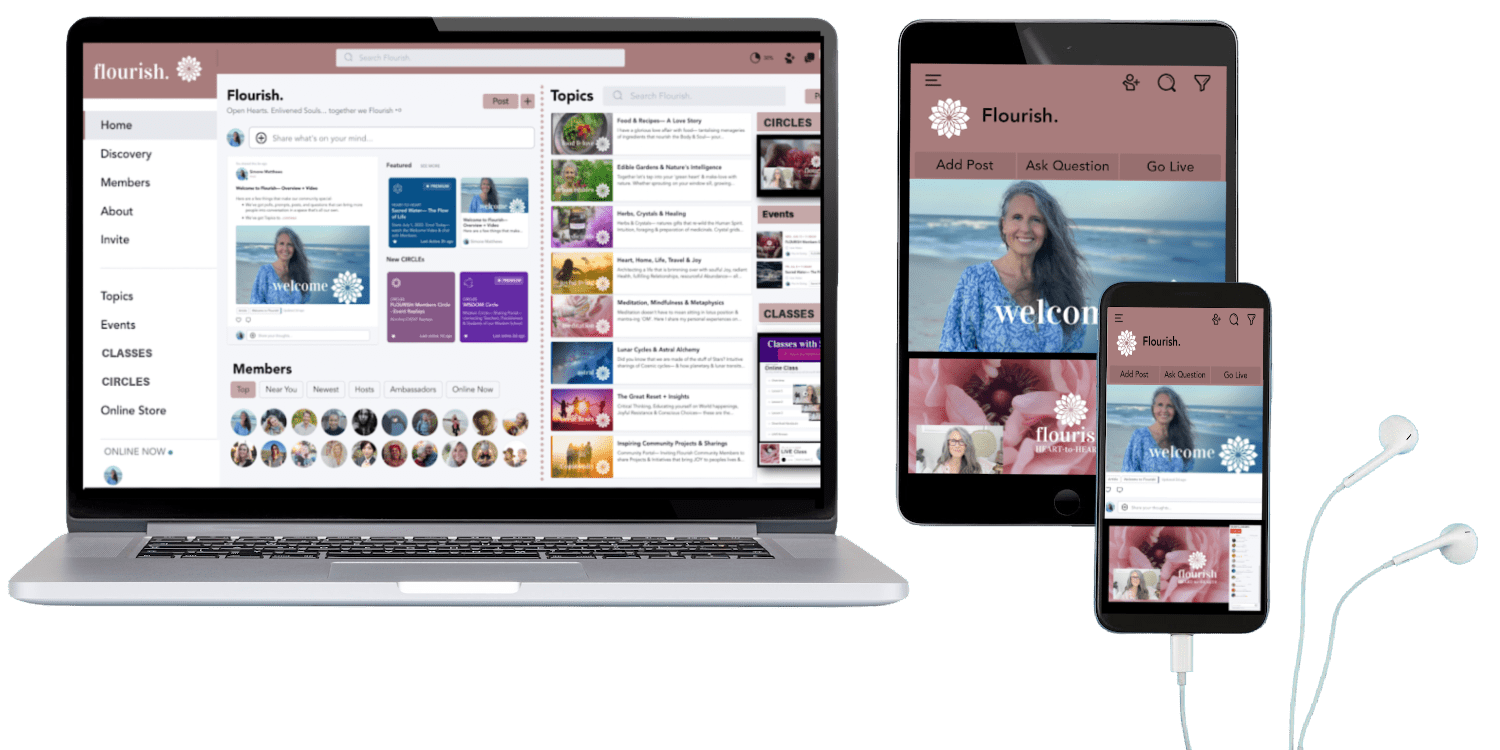 Flourish is all about Community— life was not meant to be walked alone.   Through connection, heartened sharing, celebrating our wins and being held during our lows, our experience of heartfelt belonging within Community engages us to blossom into the best version of ourselves— All Heart, All Soul.
Through Community we feel nourished, encouraged, accepted & discover we are part of something much bigger than ourselves. We belong. We heal. We thrive.
And through Community we are inspired to envision new ways of bringing our lives into natural flow, to not let our lives pass us by without expressing our full Soul Song to the world. 
Community gifts us the courage to BE BRAVE.  Brave enough to to follow our Soulful yearnings, challenge everything we once believed about ourselves, and ultimate be who we really are. We discover that when we shine our inner-flame brightly we create the world we want to live in— a Beautiful New World flourishes.
Flourish is about living your OWN story &
following the calling of your Heart.  
Don't ask what the world needs.
Ask what makes you come alive, and go do it!
Because what the world needs is people who have come alive.
― Howard Thurman
Connection & Inspiration— Our Flourish Community Portal is a place to connect, listen, be seen, witnessed & heard.  You choose your level of involvement, and how deep you wish to dive on your Flourish journey. 
Meet other members, feel nourished, quell any feelings of loneliness & isolation.   Be held & supported in your own personal healing & Flourishment.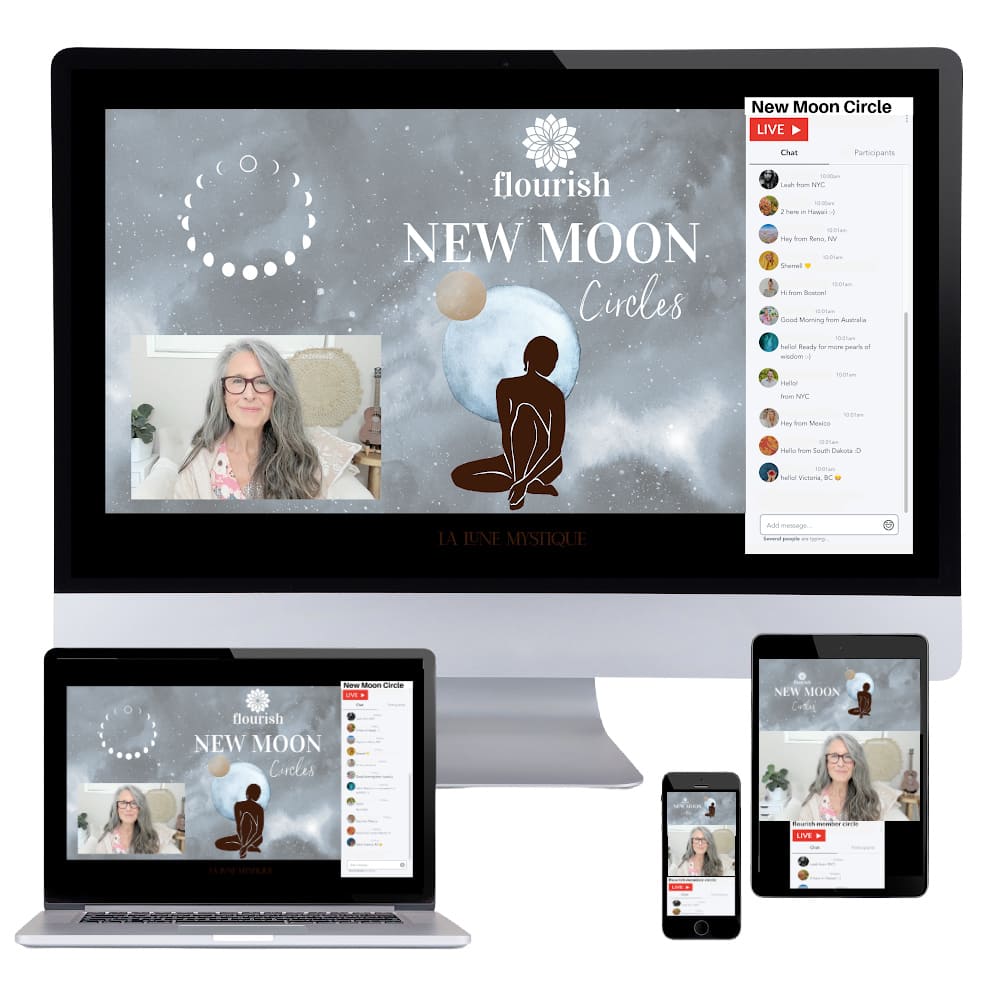 Join Simone LIVE each Month for her Flourish Members Circle— a circle that brings Flourish Members together to explore, share, set intentions & transform through our New Moon. 
During each Months Circle, Members receive:
Simone's monthly intuitive teachings.   Anything & everything will be covered, no stone will be left unturned!   From the flap of a butterfly wing, to world events, to far-flung galaxies & inter-dimensional star portals— we will dive-deep into it all!
Share your experiences during the month, your challenges/wins, synchronicities, stories of hope & beauty.  Or ask for advice / support in resolving a tricky moment in your life.
Be inspired to challenge beliefs, open your heart, step into an expanded version of your yourself.   Deepen your relationships, awaken your experience of abundance, heal that lingering health concern, find meaning & fulfillment in an uncertain world.
Each Flourish Members Circle ends with a NEW MOON Meditation facilitated by Simone, whereby we 'plant the seeds' of our Heartfelt desires into the fertile potential of the upcoming cycle.
Cannot attend LIVE?   Replays are available within your Flourish Membership Portal.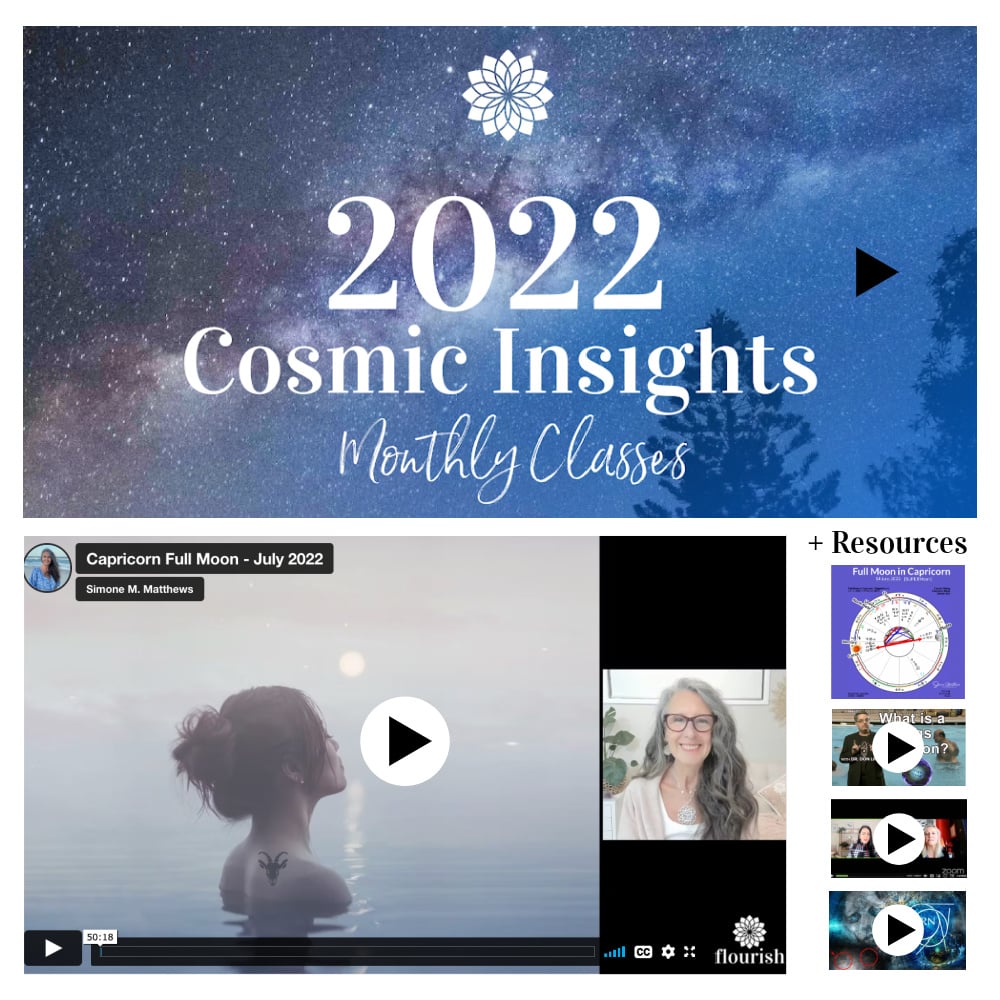 Join Simone for her intuitive Cosmic Insights Videos + expansive resources.
Simone's much requested Cosmic Insights are BACK after a few years break, and now these videos are exclusively available to Flourish Members.  Each Month our Members receive:
Simone's Intuitive insights of Key Astral Transits/Aspects and HOW to make the most of the current months vibrational flows, awaken your intuition, and experience the Heavenly StarMap within you.
Intuitive insights regarding how the current months Transits relate to current WORLD EVENTS.
Crystals to work with to make the MOST of the energy potentials PLUS Key Essences to help access a greater clarity of Cosmic Wisdoms
Additional Resources to help expand your Cosmic Cycle connections, including downloadable Astral Charts, Diagrams & Handouts.
Full Access to the back-catalogue of ALL Cosmic Insights Videos for the life of your membership.
You can join Flourish for just ONE MONTH and check out our Cosmic Insight Videos... I guarantee you will love our space so much you won't want to leave.   Together lets Flourish— JOIN Flourish Today!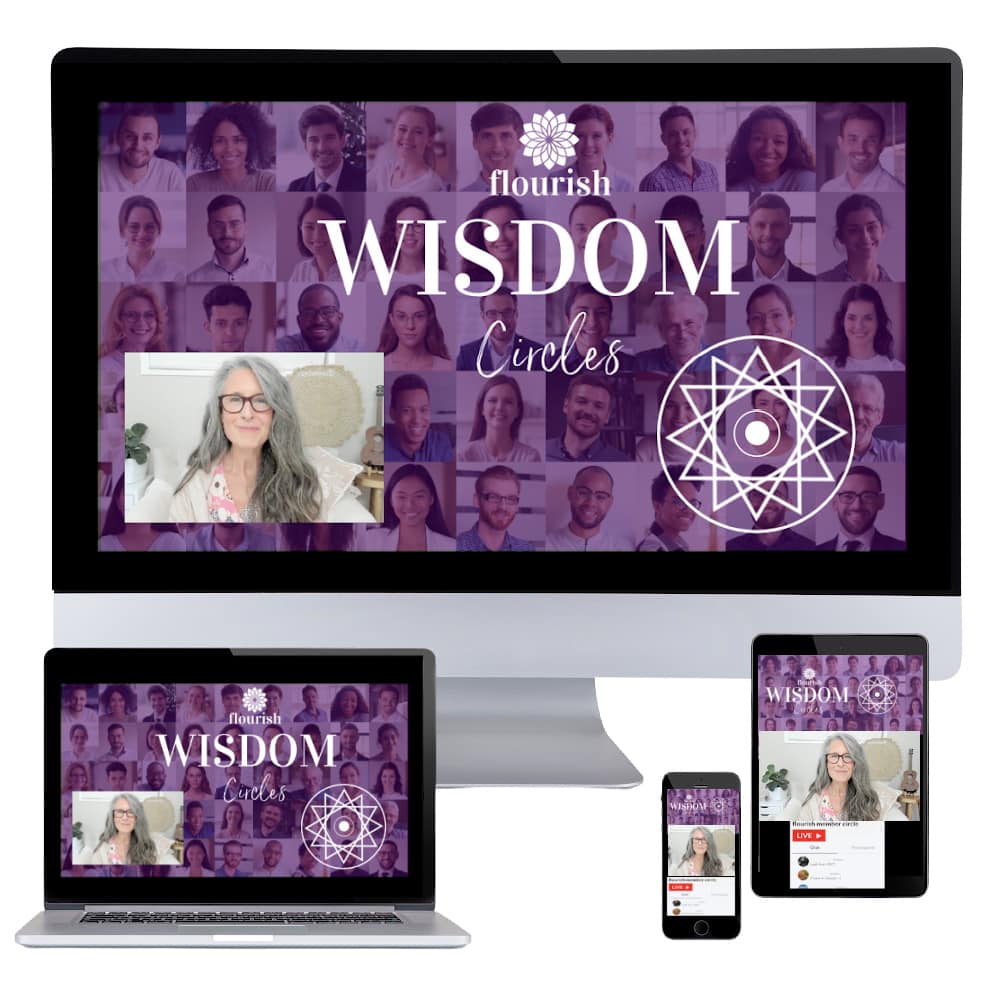 Our Flourish Wisdom Circle is a sacred place of connection for all Students, Practitioners & Teachers within our UniversalLifeTools Wisdom School.
Whether you are enrolled in any of our Wisdom School Courses, are a practicing Health Practitioner, or graduate Teacher through our Wisdom School, we welcome you ALL to our Wisdom Circle.
Within our Flourish Wisdom Circle you are invited to:
Ask Questions during your Wisdom School studies.  Our Wisdom Circle is a safe place to ask ANY question you have on your mind, or that is burning brightly within your heart.
Share a CaseStudy.  Seek support from fellow Wisdom Circlers, or share your success stories.
Explore the deeper yearnings of Heart through OmAhOm,  challenge beliefs, awaken your Soul potential, and transform knowledge into enduring Wisdom.
Receive regular insights from Simone on healing, quietening the mental chatter, and living life through the Heart.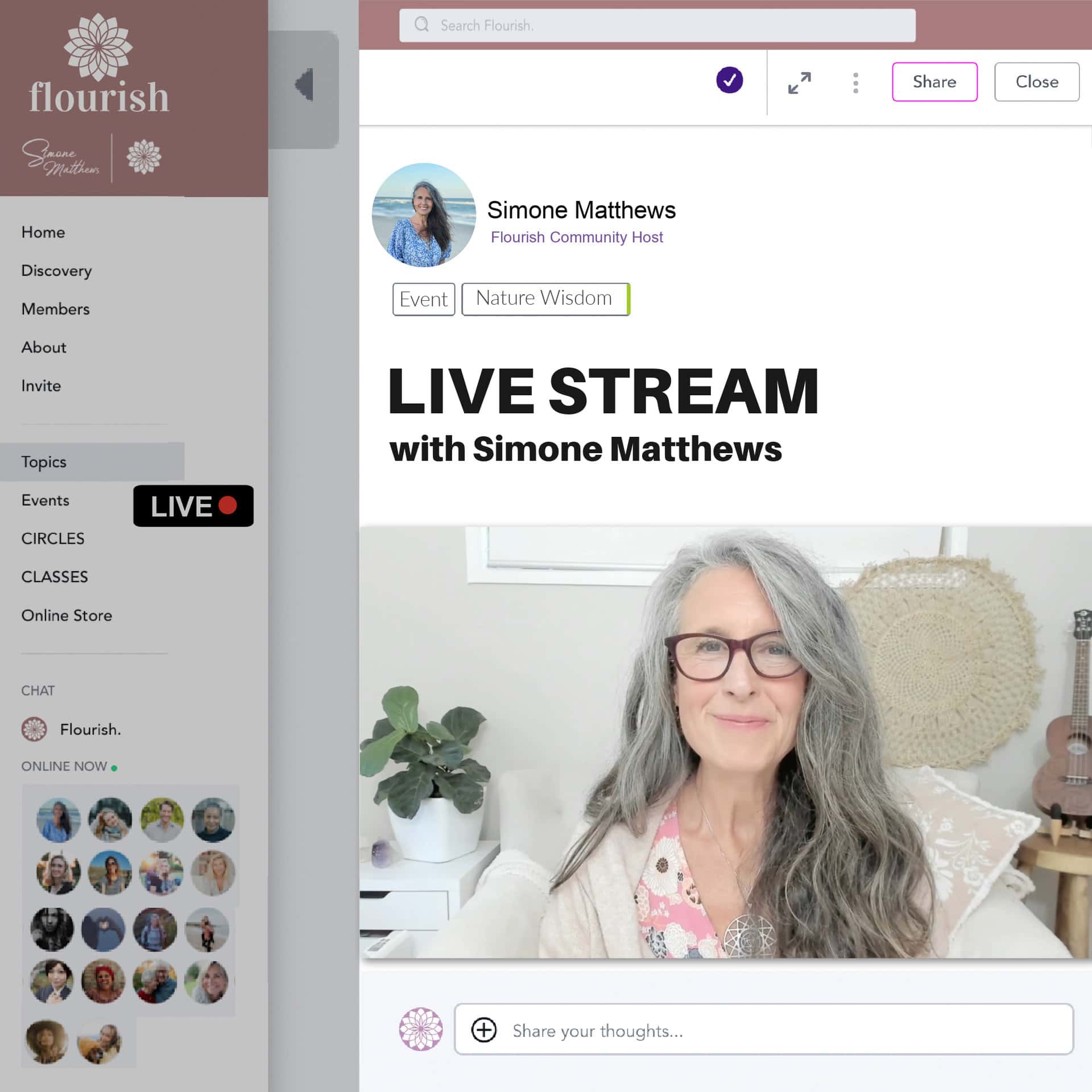 Join Simone LIVE a number of times each month during her POP-Up LIVE Streams in the Portal.
Real-time chat with Simone & Community Members during LIVE Streams. Ask Questions.  Share your experiences. Connect deeply.  Become present with the moment.
Topics are many & varied— everything from relationships, to finances, self-empowerment, intuition, to one of my favourites— food as medicine.  Receive support & encouragement to help navigate life's challenges, quell anxiety & uncertainty, and FLOURISH during these changing times
POP-Ups aren't scheduled events, they are random LIVEs (at any time of the day/night)... allowing in the moment sharing when the energy is flowing-on through!    
These LIVES are responsive to the moment, celestial cycles, world events & the guidance of Spirit.
Miss any pop-up?  Replays are in the Portal.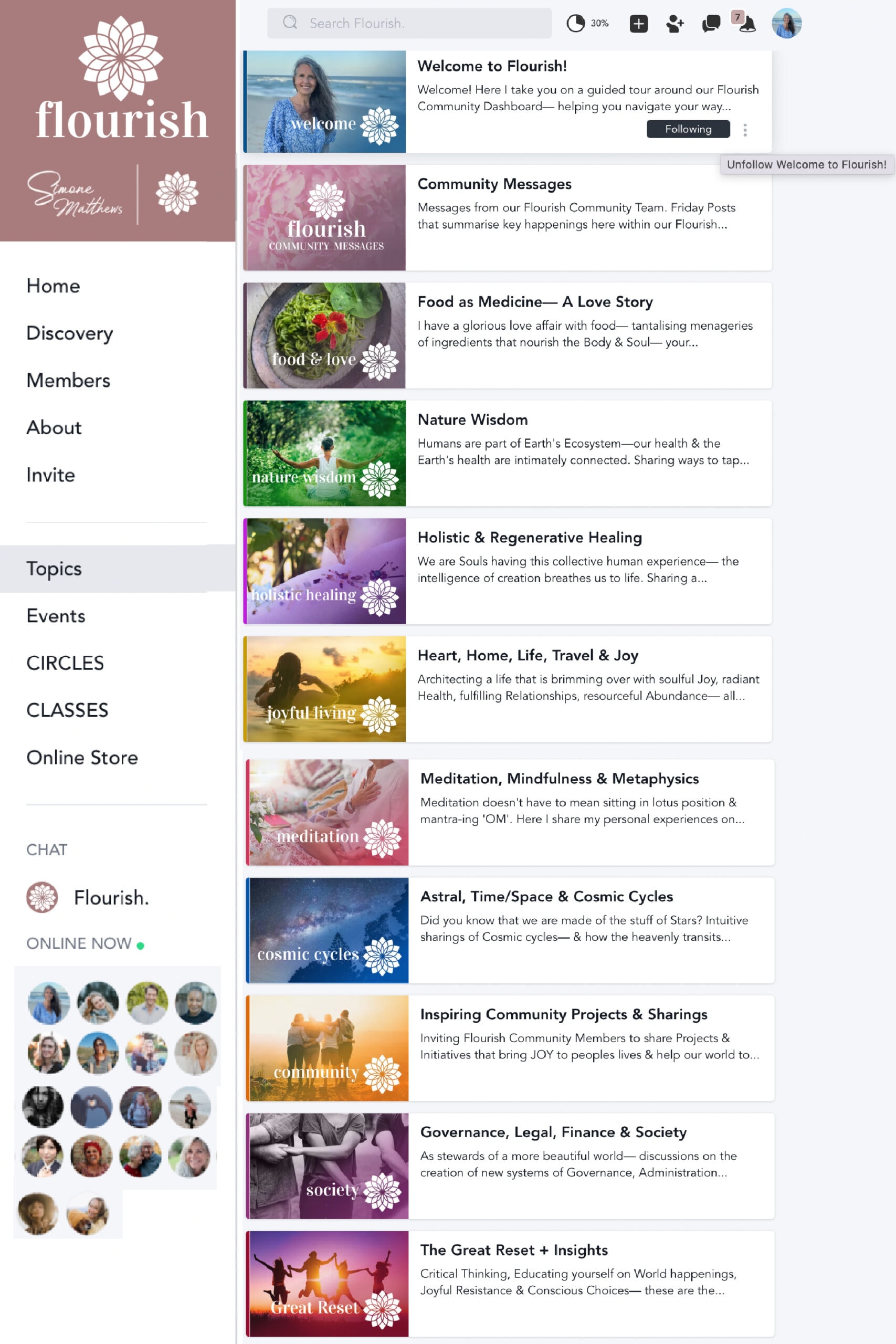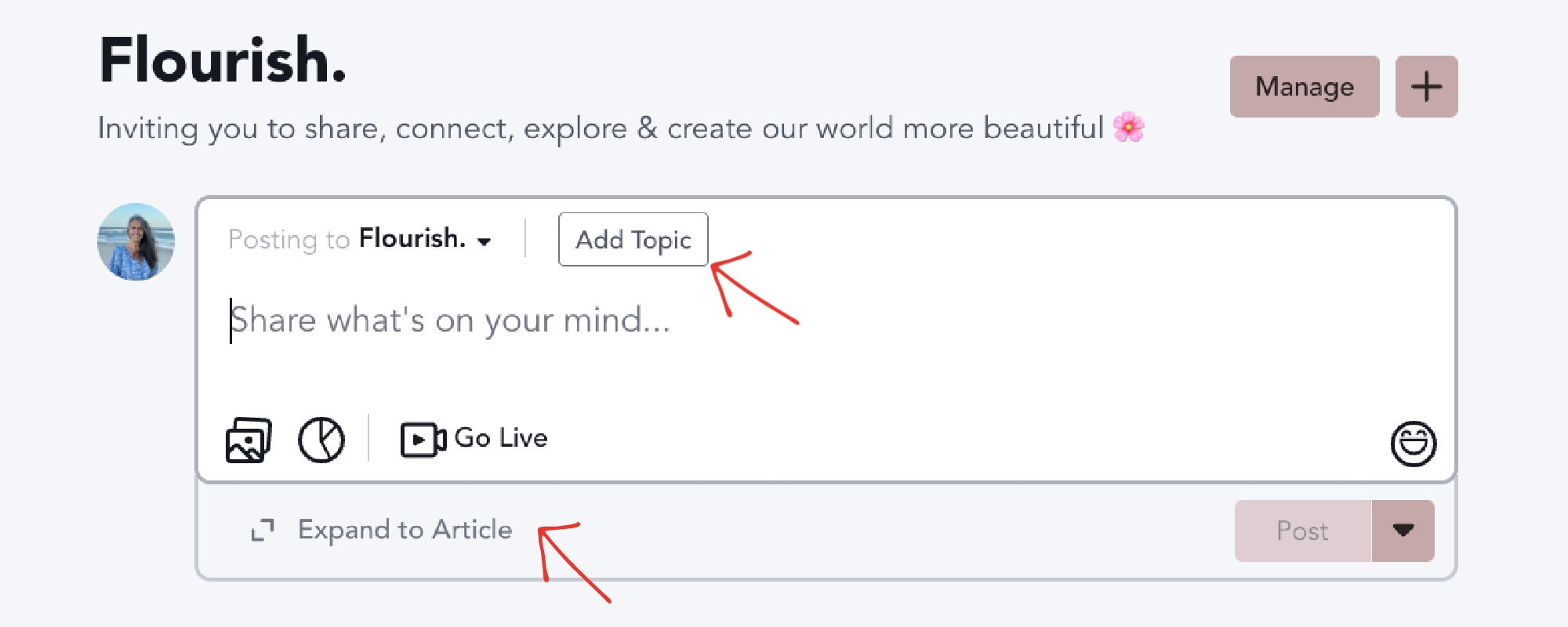 Posts & Articles within our Flourish Portal are categorised by Topic.  Members can comment, add their own Posts & Articles, or attend Simone's POP-Up LIVES within the Topic feeds.   There is a search feature to— great to find back catalogues of sharings!    LIVE Events also take place within Topic activity feeds.
Food as Medicine— A Love Story
Sharing the LOVE of Food as Medicine—our Lightrition! Recipes, helpful tips, learn about the food that fills our body with LIGHT.
Nature Wisdom
Sharing ways to tap into the inherent intelligence of nature for healing of the body, nourishing the heart and enlivening the spirit.
Holistic & Regenerative Healing
Sharing a cornucopia of holistic healing methods, rituals & ceremony that may guide & inspire you to personally heal, grow, evolve & flourish your way toward a better world for all.
Heart, Home, Life, Travel & Joy
Insights on living a life that is brimming over with soulful Joy, radiant Health, fulfilling Relationships, resourceful Abundance— all infused with wild Heart & immense Grace.
Meditation, Mindfulness & Metaphysics
Here I share my personal experiences on living in Meditative Resonance with Nature. PLUS every now & again I will share a guided meditation— for those times where you yearn to shift to an expanded space.
Astral, Time/Space & Cosmic Cycles
Intuitive sharings of Cosmic cycles— & how the heavenly transits serve us! As above, so below, as within.
Inspiring Community Projects & Sharings
Inviting Flourish Community Members to share Projects & Initiatives that bring JOY to peoples lives & help our world to FLOURISH. Feel free to share your own ventures, or any other inspiring project in your local area.
Governance, Legal, Finance & Society
discussions on the creation of new systems of Governance, Administration, Money, Legal, Media. Awakened systems that are born of divine intelligence— collaborative, inclusive, life-giving, and serve a grander story of possibility.
The Great Reset + Insights
Critical Thinking, Educating yourself on World happenings, Joyful Resistance & Conscious Choices— these are the makings of our World More Beautiful. Here I will share everything from C19, WEF, Digital ID, Artificial Intelligence, Transhumanism & 5G. All with a view to educate, inform & empower!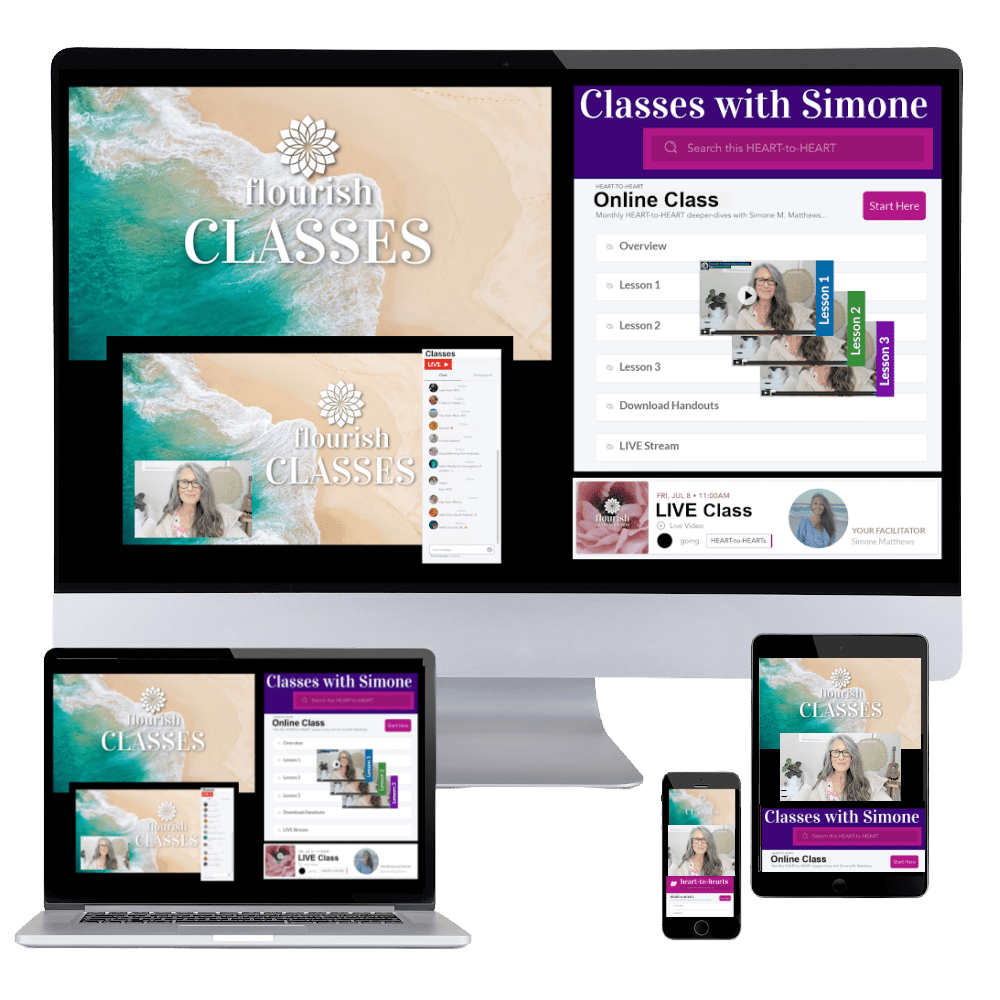 Join Simone for her Flourish Classes— online Learning Classes that take your explorative quests for Healing, Heart expansion & Soul expression to a deeper level. 
Challenge what is holding you back from blossoming, experience body-mind-soul beyond the confines of your mind.  Discover how vibrantly alive your life-experience becomes when you are willing to ignite that spark of magick in your Heart and allow it to FLOW through this World— Wild & Free.
Flourish Members are invited to enrol in our Flourish Classes, which include a mix of the following:
Videos Teachings & explorative sharings by Simone.  Push the boundaries of what you believe is possible for your life— explore new stories of life experience.
Attend LIVE Stream Lessons with Simone & experientially experience the teachings.  Ask questions, share your experiences, take the teachings deeper into your bones.
Downloadable Notes, Diagrams & Handouts
Opportunity to connect with fellow Class Members, ask questions, learn from each other, together let's expand the circle of wisdom.
Access to additional resources to support your continued dive into the current months topic with curiosity & wonderment.
Next Flourish Class: August 2022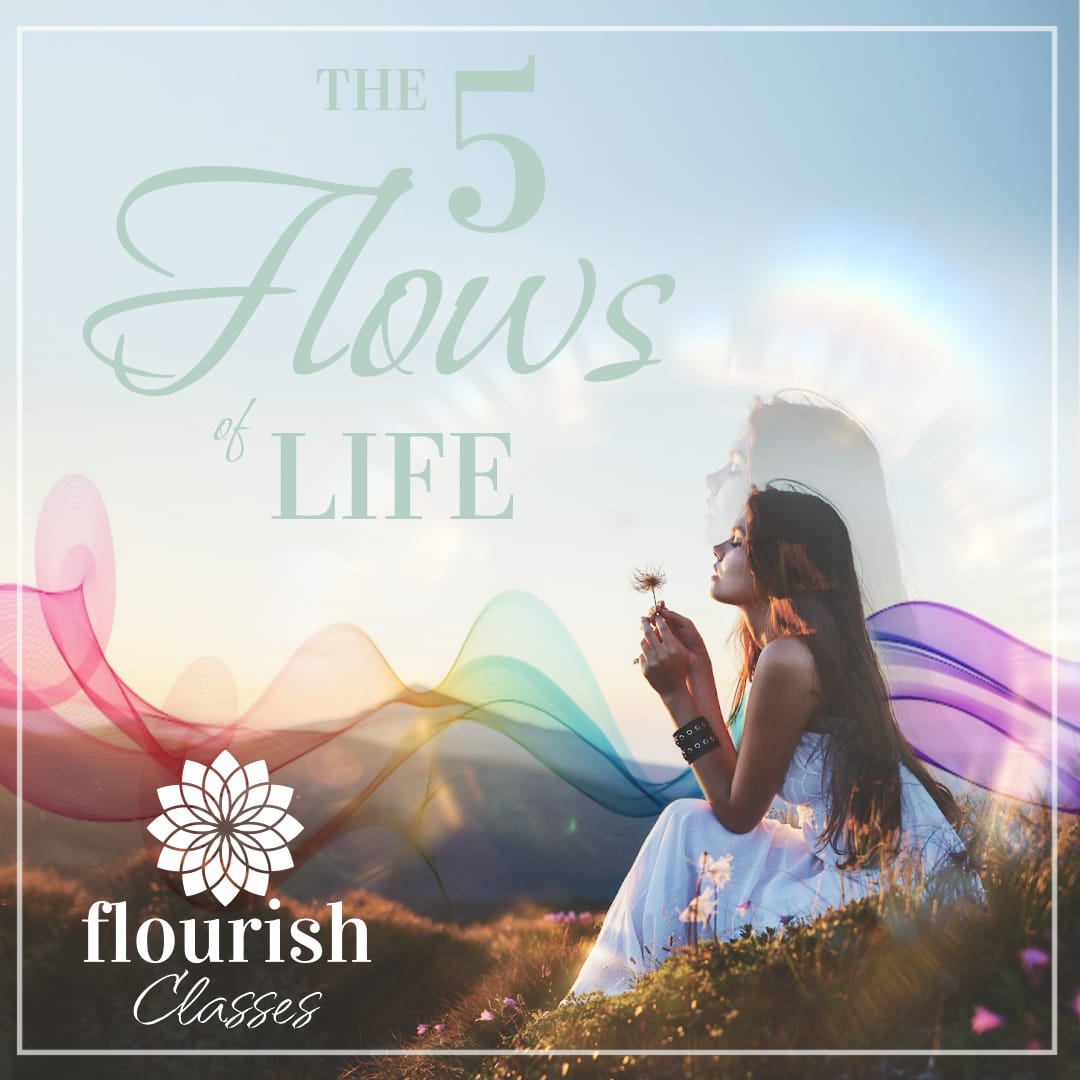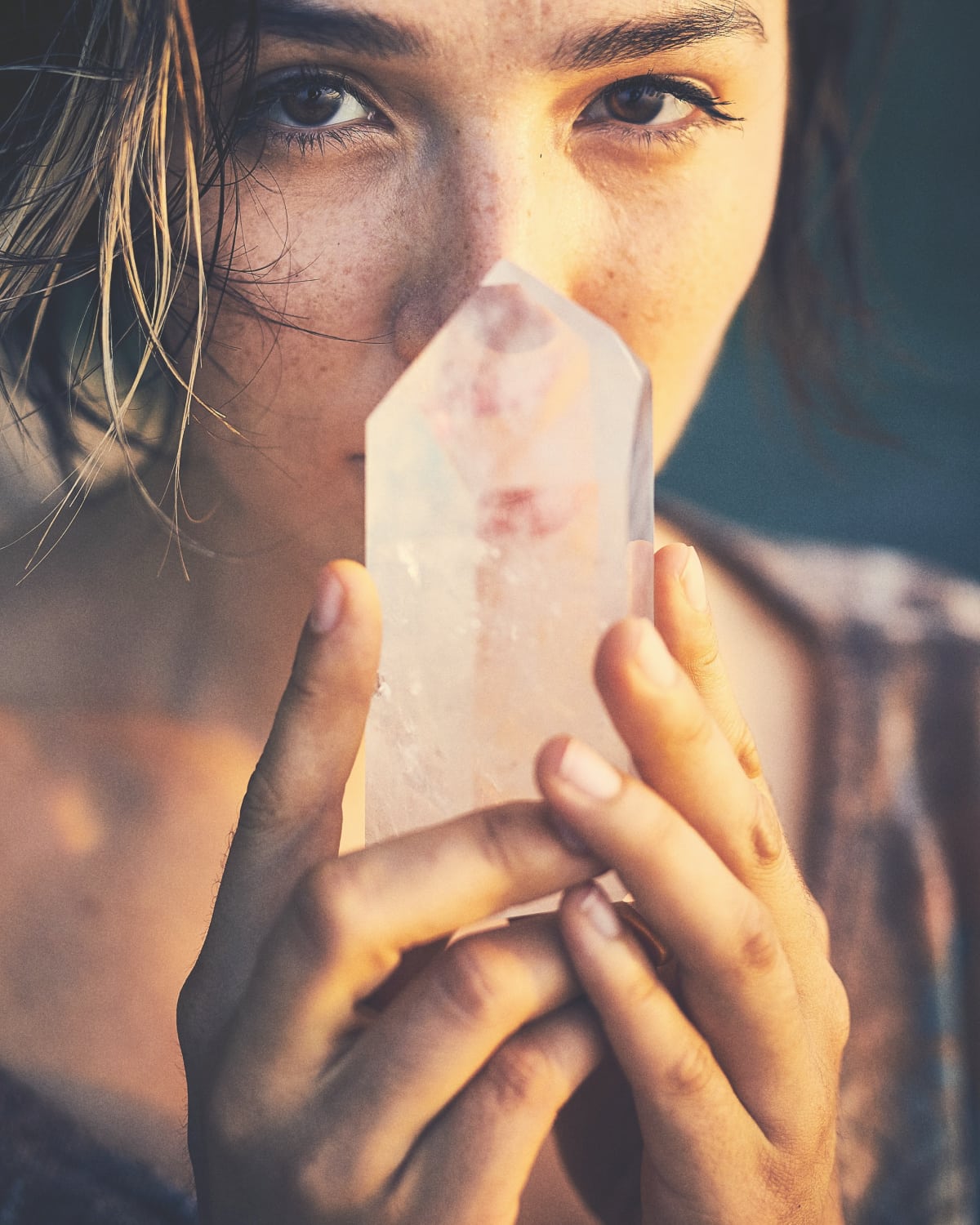 TEACHERS— Enrolled Teachers (Students or Graduates) within our Wisdom School receive FREE LifeTime access to our Flourish Community Portal.  Details of how to access your FREE Membership + receive access to our WISDOM CIRCLE can be found within your private Teacher Course Dashboard (for Students), or within your Teacher Resources Dashboard (for Teachers).
HEALERS— Graduate Practitioners within our Wisdom School are offered discounted Monthly/Annual Membership to our Flourish Community + complimentary access to our private WISDOM CIRCLE.
STUDENTS— Students enrolled in any of our Healer Courses, are gifted ONE Month FREE Membership to our Flourish Community Portal, including access to our private WISDOM CIRCLE— a place for Students, Healers, Practitioners & Teachers to connect.

Interested in enrolling in our Healer or Teacher Courses? 
View our ONLINE Course Catalogue & enrol today.
At the heart of all things lies wisdom— be that our own Hearts, the Heart of the Earth, the Heart of the Galaxy, the Heart of the Creation.  Flourish is about dissolving our experience of separation through duality, and embracing our light & shadow— all Heart.
When we have the courage to unfold (it takes a life-time) our unique Soul Purpose with curiosity & wonderment— the whole community thrives.  Flourish is a space to embrace all aspects of being human— the bliss, the pain, the sorrow & the joy.   This honouring is an invitation of compassion, deeper connection & wholeness.  It takes a village to Flourish.
Creation is circular, everything has an ebb & flow.  Our breath, a 24hr day, our solar year.  There are times where we find it hard to face the day— challenges of the moment may feel insurmountable.  Yet other times our ecstatic dance with life, light & joy is exhilaratingly expansive.  Flourish is a space to nourish each other— both giving & receiving— based on our individual experience of the moment & cycle of our lives.
Creating a better world starts with feeling— the dream, the seed, that deeper yearning within our Heart that just knows there is a better way.   When we lead from feeling, our grander insights of possibility— our daily actions, no matter how big or small, unfold our heart-felt visions into grounded reality.   Each of us are seers of a New Earth, Flourish brings clarity & purpose to your visions.
Whilst at the Heart of all things lies Wisdom, what breathes that Wisdom to life is Love.  Love is eternal, no beginning or end.  Love simply is the All.   Flourish inspires us to lead with Love— through our acts of kindness, generosity & compassion.  To Love ourselves— the good bits + our awkward or painful neuroses (we all have them!).  To Love humanity— the ones we adore + even the ones that are deeply dark— what would love do?  And as a luminous spark of Divinity— to serve something greater than ourselves— Love in action!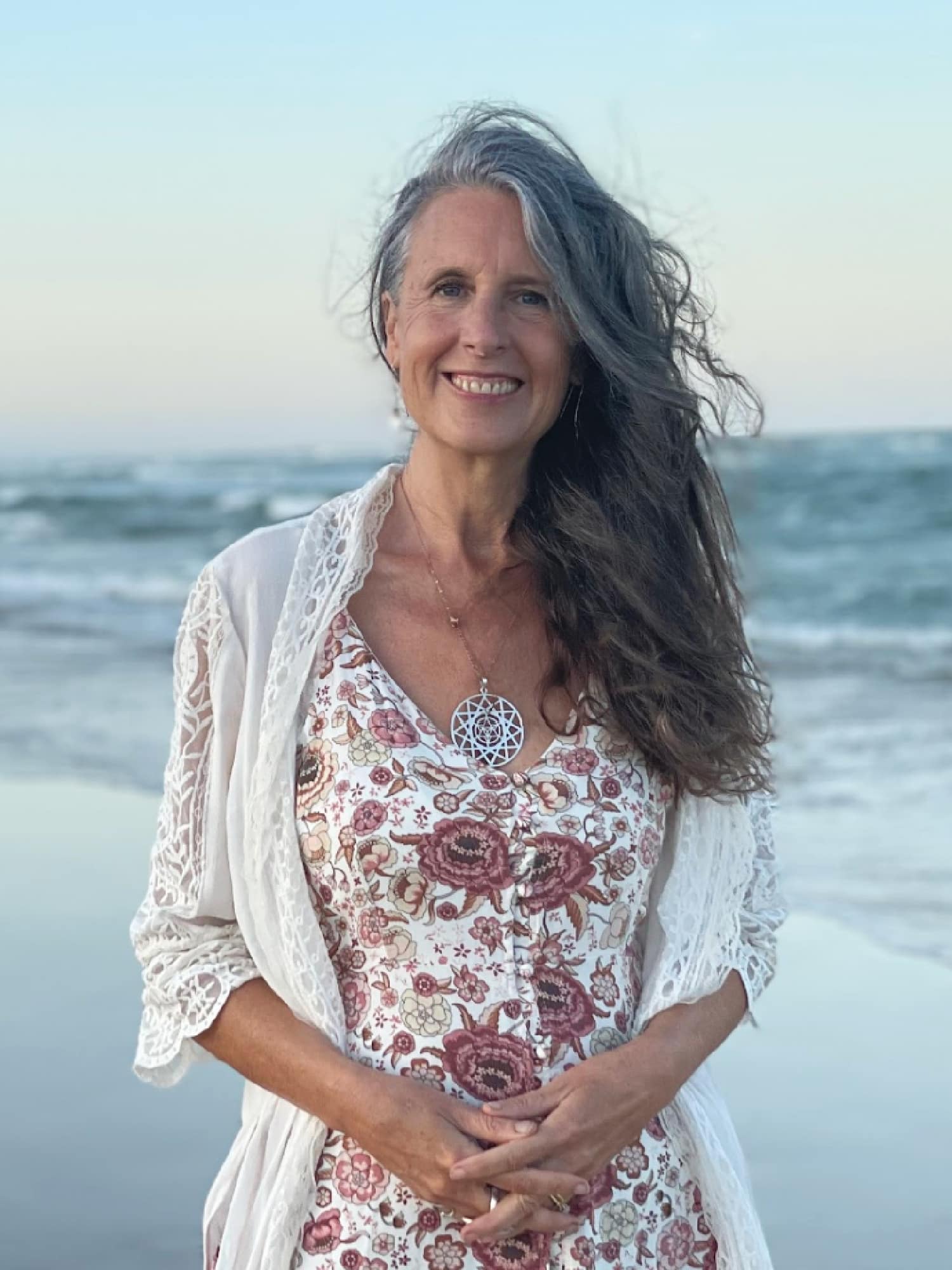 It's an honour to bring Flourish to life— our place for connection, where we hold each other up to greatness and together create our beautiful New World through our Hearts.
A vibrant, light-filled and loving New World awaits us— it is up to us, through our daily acts of in-spirit living, to bring this vision of possibility to life.
This New World already exists, the dream is alive within our Hearts— it pulses through our blood, it breathes us, it illuminates our Souls. 
We taste our New Earth in delicious moments of gazing into a beloveds eyes, through beauty, nature, music, art, meditation, making love— we catch a glimpse, we hear it, we smell it, it even becomes tangible to the touch when we give ourselves permission to feel it all.
As the saying goes 'from little things big things grow'.   Together lets take our collective dream— our small thing— and Flourish it into our big thing — our Beautiful New Earth.
I look forward to walking, loving & reverently journeying right beside you.  Thanks for joining me, thanks for joining us.
xx

Frequently Asked Questions