The Angelic Meditations CD is a compilation of 11 tracks, with each song resonating with sacred angelic vibrations through sacred geometry, colour, light and crystalline vibrations.
The harmonic frequencies are the perfect accompaniment for meditation and healing sessions with Crystal Light Healing®, Essence of Angels® & Aetheric Healing™ modalities as the music enhances the vibratory synergy of healing. The harmonic sounds are also suited when engaging in experiential exercises as part of our Online Learning Mini-Courses.
Each song on the CD is composed and performed by Owen Arnold of www.regattastudios.com.
Owen has the rare gift of synesthesia – where he sees and feels the visual colours/sacred symbol musically… hence is able create form through sound. Thus Owen's gifts were instrumental in combining the sounds of sacred geometry, colour, light and crystalline vibrations in order to resonate with each Archangel.
The musical CD (there is no speaking on the CD) takes you on a journey of self-discovery, re-connecting with your past lives, bringing your future gifts into the now and simply BEing in the moment – acknowledging its Divine beauty.
This product is the purchase of the physical Angelical Meditations CD.
Thus postage is payable on checkout.
Please note, on purchase of this physical Angelic Meditations CD (and upon confirmation of your order), your emailed order confirmation receipt will contain a link giving you access to also download the Angelic Meditations CD. That way you can start listening straight away before your physical CD arrives 🙂
If you would prefer to purchase this CD as a set of 11 downloadable MP3s ONLY (hence as a virtual product no postage would be payable) then please click here >
Recommended Uses:
This musical CD is ideal to play during times of relaxation, meditation, healing sessions or during the last hour of your day prior to bed to support the following:
To accompany Crystal Light Healing®, Essence of Angels® & Aetheric Healing™ healing sessions
To accompany Online Learning Mini-Courses. experiential exercises
For personal or group meditation sessions, to raise the vibration of the session
For relaxation, clearing and harmonising your Crystalline Matrix (auric field)
Balance each of your 13 Energy Centres (Chakra's)
Pregnant women, to help nuture, ground & anchor baby in-utero
To support bonding with mother & child after birth
Wonderful for children, to clear & protect at end of the day & induce sleep – particularly in children that have high energy levels, easily distracted and hence difficult to settle at
Angelic Meditations – 11 Tracks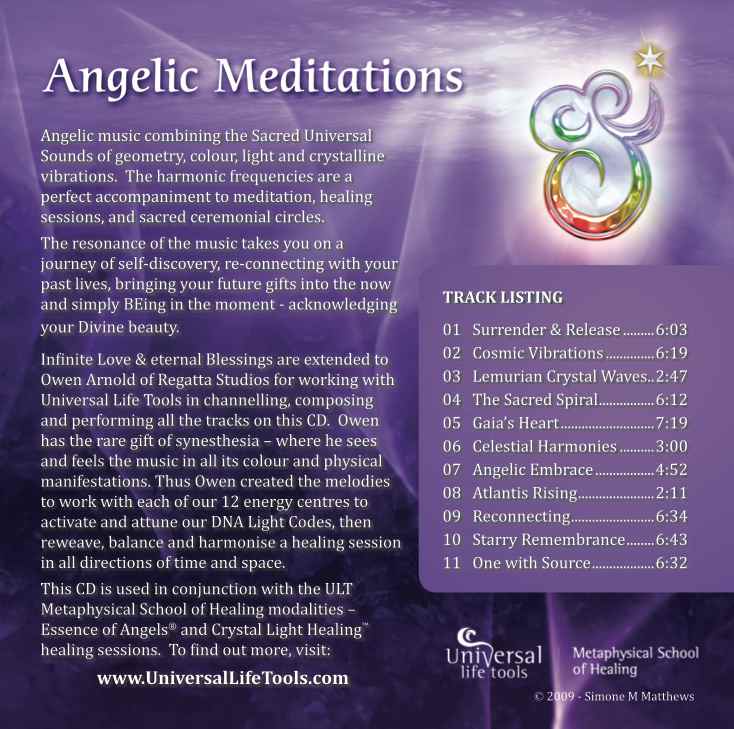 This is the list of 11 tracks (and time) on the Angelic Meditations CD:
Track 01 Surrender & Release 6:03
Track 02 Cosmic Vibrations 6:19
Track 03 Lemurian Crystal Waves 2:47
Track 04 The Sacred Spiral 6:12
Track 05 Gaia's Heart 7:19
Track 06 Celestial Harmonies 3:00
Track 07 Angelic Embrace 4:52
Track 08 Atlantis Rising 2:11
Track 09 Reconnecting 6:34
Track 10 Starry Remembrance 6:43
Track 11 One with Source 6:32
PLEASE NOTE: This is a music only CD to accompany a healing / meditation session (there is no speaking).
Angelic Meditations – Samples
Here are four 30 second soundbite samples from Angelic Meditations CD