Description
Simone M. Matthews is the founder and creatrix of the Essence of Angels® Healing Modality, and over the last decade many people (including Essence of Angels® Students, Practitioners & Teachers) have asked Simone to record meditations for each of the Archangels of Creation.
Simone is now offering her 12 Archangel Meditations for purchase individually, or as a discounted packaged set of 12 Meditations through this on-line shop.
Who would benefit from these Archangel Meditations ?
During each meditation (Meditations 1 to 12), Simone will experientially guide and support you to embrace each individual Archangel from within to heal yourself from dis-ease, bring forgiveness to the past, to know you are worthy to be this divine LIGHT of Source from within and to empower you to find and live your Soul Purpose with joy and graceful ease.
Whether you are a novice, have years of experience working with Crystals / Archangels, or are a holistic health professional, these 12 Archangel Meditations will take your personal / professional growth to the next level as you master the divine elemental templates of Creation from within, the 'Archangels'.
Please note that these 12 Audio MP3's are MEDITATIONS only and are not the full teachings of our Essence of Angels® Practitioners Course.  

If you are interested in studying our full Essence of Angels® Internationally Accredited Practitioner Course, then you can attend a face-to-face Essence of Angels® Practitioner Course with one of our Registered Teachers or you can enrol in our Essence of Angels® Practitioner eCourse and study for International Certification in the comfort of your own home.  When you enrol in our Essence of Angels® Practitioner eCourse, you are gifted these 12 Archangel Meditations to support your studies.
Essence of Angels® Practitioner Course (face-to-face workshops)>
Essence of Angels® Practitioner eCourse (self-study) >
What will be covered in this Meditation 1 – Archangel Azrael ?
During Meditation 1, Simone will guide you on embracing Archangel Azrael from within, and support you in healing the physical/emotional/mental and evolve into the highest expression of your Soul Potential.
Archangel Azrael is the Archangel of Transitions and grounding your body of Light into the Crystalline Field of Mother Earth. This Meditation will focus on an aspect of the energy of Archangel Azrael (see below) and support your Sacred Connection with Archangel Azrael through you.
Our FULL Essence of Angels® face to face Course covers ALL of this information below in detail. Find an Essence of Angels® Course in your local are today.
MEDITATION 1:
Archangel Azrael
Earth Star
Available NOW !!!

o All Life Transitions
o New Beginnings
o Major life stages 0-7yrs, 7-14 yrs, 14-21 yrs etc..
o Birth, Toddler, Childhood, Teens, Adult, Marriage, Parenthood, Retiring, Death
o Career Transitions
o Relationship Transitions
o Death Transitions (Carer & Person crossing over)
o Transcending old patterns
o Forgiveness
o Birthing new projects
o Soul Anchoring (de-fragmentation)
o Physical, Emotional, Mental & Spiritual dis-eases associated with the Base Chakra.
o DNA Activation & Attunement
Do I need to purchase the Essence of Angels ?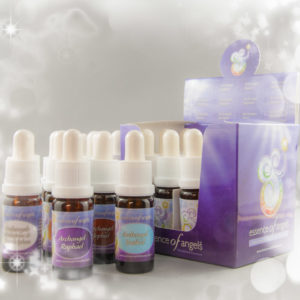 The Essence of Angels Boxed Set of 12 Essences are not just another range of Essences – they are Sacred Liquid Light Templates created through conscious design.
These Sacred Liquid Light Templates are major facilitators of change, helping you to transcend the limiting beliefs of our physical world and open your heart & mind to the miracles that are created through the magick of imagination and the power of Soul-Hearted living.
The Essence of Angels® Essences have helped thousands of people around the world open their hearts and heal their lives from the inside-out.
During the 12 Meditations facilitated by Simone you are invited to use each of the 12 Essences (1 for each Meditation) to experience a most sacred and awakened level enlightenment through the Essence of the Archangels of Creation from within.
However, please note that it is NOT essential to use the Essences in order to connect with or embrace the energy of each Meditation, the Essences are only highly recommended.
If you would like to read more about the Essence of Angels® Boxed Set of 12 Essences please view the product within our eShop >
Alternatively you can purchase each of the Essence of Angels® Individually >
Save