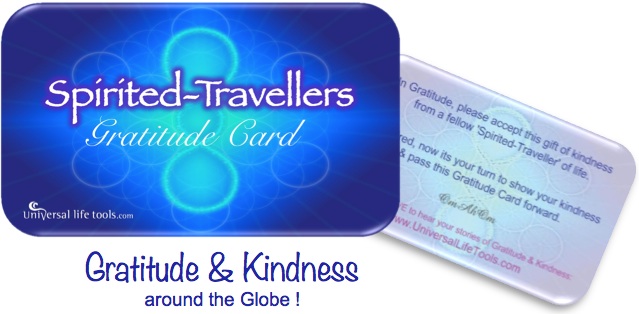 Throughout our Spirited-Travellers Global Tour 2015-2016 we will be facilitating FREE Talks on Sacred Ancient Wisdom and handing out 'Spirited-Travellers Gratitude Cards' to all attendees… as our show of Gratitude to you ♥
If attendees feel inspired (in-spirit), then all we ask is that you pay your Gratitude forward by doing a 'random act of kindness' for another person and leaving the Spirited-Travellers Gratitude Card with your kind act… so they too can feel inspired ♥
Need some 'random act of kindness' ideas ? Here are some thoughts:
Pay for the coffee for the person behind you in queue (+ leave Gratitude Card with Barista)
Leave Flowers + Gratitude Card on a neighbours doorstep
Put a coin in a Parking Meter (+ leave card stuck to Parking Meter or on a Cars Windscreen)
Leave chocolate or fresh home cooked muffins + Gratitude Card on a co-workers desk
Leave a Gift + Gratitude Card in a random place (eg Umbrella at a bus stop on a rainy day)
Gift a homeless person a warm drink or meal + Gratitude Card
Offer/give a stranger a hug + gift them the Gratitude Card
The production and distribution of our Spirited-Travellers Gratitude Cards is being sponsored by the FRIENDS of Spirited-Travellers.  Big etheric hugs and joyous love to our FRIENDS in helping to bring these cards to life.
Would you like us to mail you a set of Spirited-Travellers Gratitude Cards to hand out at your upcoming event, at your place of work or to family and friends ?   Our Spirited-Travellers Gratitude Cards are FREE…  just a small charge to cover shipping….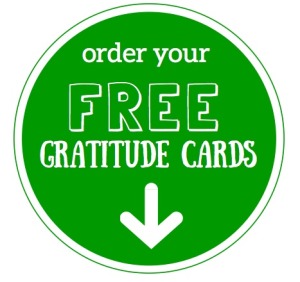 Our Gratitude Cards are printed on recycled paper and it is our vision that by 'paying it forward'
our Gratitude Cards will be recycled for years to come ♥
Spirited-Travellers Facebook
Please take a moment to visit our Spirited-Travellers Facebook page to find out more about our tour and read 'Gratitude Card Stories' from people from around the world.
Please feel free to share your own story too ♥
[divider dotted]