It is great to be back in the United States again… and I have to say I am in LOVE with California and in particular Sacramento !
After a beautiful drive down the Oregon coastline after our last Canadian event on Vancouver Island, we arrived in Sacramento to a warm welcome by our Event Hosts Pattie Meier & Cari Bachelder.   A huge warm etheric hug to you both for so lovingly supporting our tour, showering us with gifts, food, essential items for our events and so eloquently bringing our events in Sacramento to life.. thank you for helping me to open my heart and receive.
On the full/blue moon I facilitated my free talk on the Friday evening on Sacred Ancient Wisdom followed by a fabulous weekend workshop embracing the Essence of Angels®.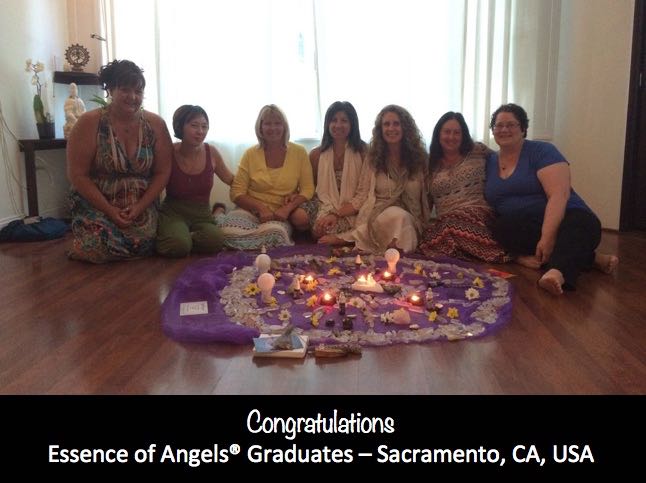 Our small intimate group allowed us to dive deep into our selves, to move beyond our self limitations and quantum leap into our highest soul potential.
It was a deeply moving weekend of sharing, soul connection and the making of new friendships for life.
So many other thank yous are pouring out of my heart for this event….
Thank you to Yoga Shala for your glorious venue, thank you to all those wonderful crystal contributions to our Blessed Earth Crystal Grid and finally thank you to all our participants that opened their heart, shone their light and embrace the sacredness of their Divinity… I LOVE you with all my heart and soul ♡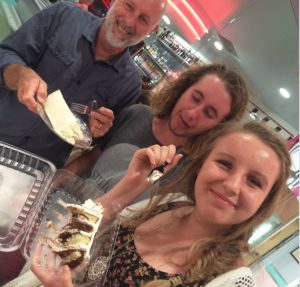 One final thank you to my husband Shaun & our two beautiful children Callum & Indigo, for all of your help and support, I LOVE you all so so very much ♡
Thanks for taking us to this great cake shop too Patti… Indigo & Shaun were in heaven !
Sharing with you below some heart-felt words from a few of our course participants… thank you so much divine Souls for your generosity of heart ♡
Please also view my VIDEO TESTIMONIALS Page where we share testimonials from our previous Spirited-Travellers Events ♡
PLUS… please view our EVENTS SCHEDULE to find an Essence of Angels® or Crystal Light Healing® in your city of the world.
Photo Album – Sacramento, CA, USA
Sharing with you a few photos from our time in Sacramento, California for our Essence of Angels® Weekend Course.
Upcoming USA Events with Simone
August to October 2015
SALT LAKE CITY, UTAH, USA
10 to 15 August 2015 – Crystal Light Healing® Practitioner Course
16 to 18 August 2015 – Crystal Light Healing® Teacher Course
(Earlybird ends Midnight 27 July 2015)
Find out more or make a booking >
MALIBU, CALIFORNIA, USA
2 October 2015 – Fr'ee Talk Sacred Ancient Wisdom
3 & 4 October 2015 – Essence of Angels® Practitioners Course
(Earlybird ends 19 September 2015)
Find out more or make a booking >
View our FULL EVENT SCHEDULE for 2015/16 >