 My Lightbrary

My Lightbrary
This is your juicy list of favourite articles, audios & sharings that you have saved from our Radiance Lightbrary.
You can add as many items to this page as you like... PLUS this page is private... only YOU can see what you have saved.  Consider your Radiant Lightbrary as your personal online space for getting inspired, receiving a boost when you need in most & experiencing a world more beautiful ♡
Further down this page you also have access to EXCLUSIVE content, especially for you [wpv-user field="user_firstname"]!
Frequently Asked Questions
To access your private My Lightbrary, first you must Login to your Member Account. 
It is FREE to become a Member, simply Register your Name & Email on our Members Account page.
Upon Login, you will have instant access to your Members Dashboard. From your Members Dashboard, click on the 'My Lightbrary' button further down the page.
You can ALSO access your My Lightbrary from the 'Lightbrary' dropdown menu at the top of the page (see second screen print below).
Please see the next FAQ for how to ADD posts to your My Lightbrary.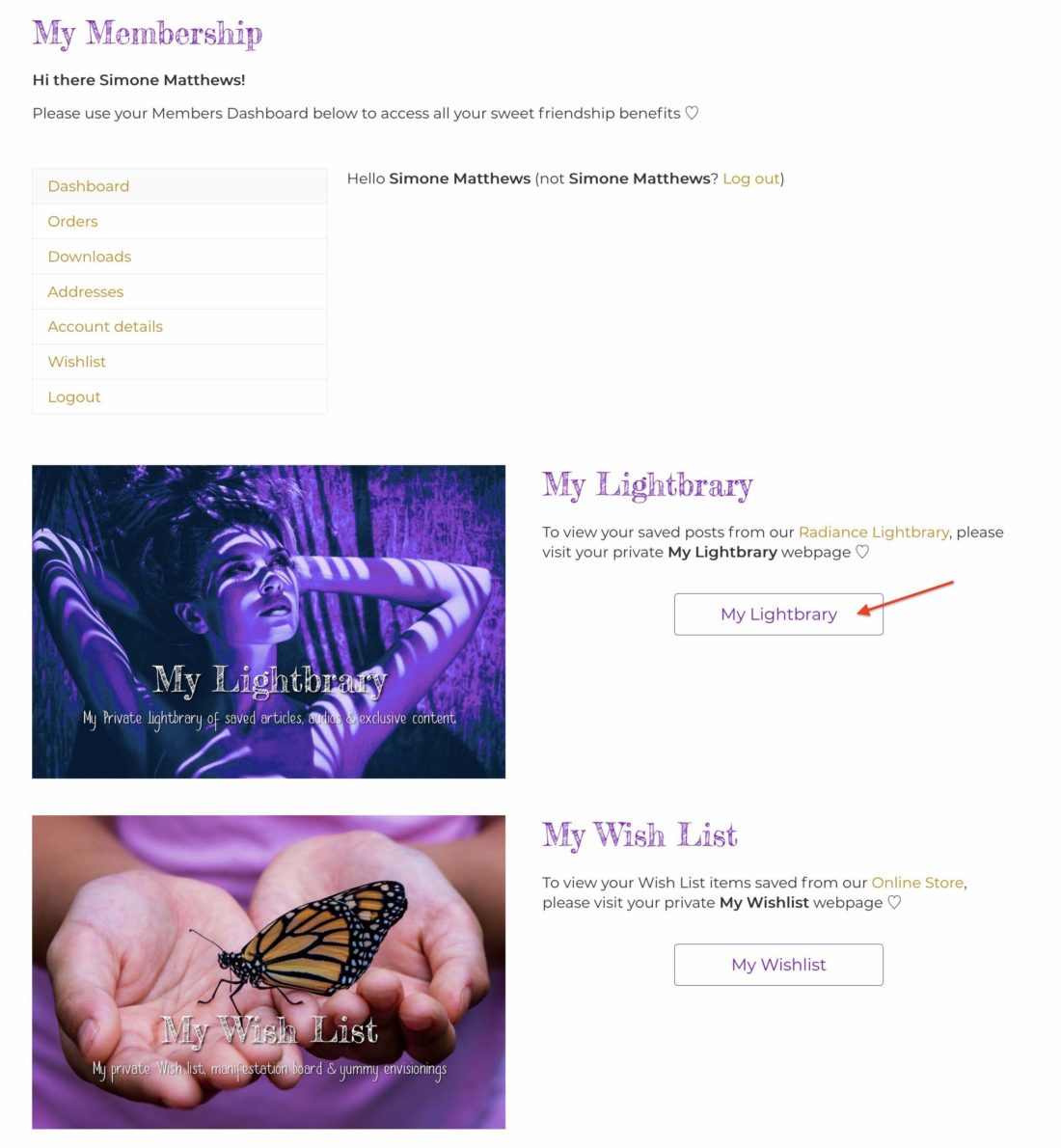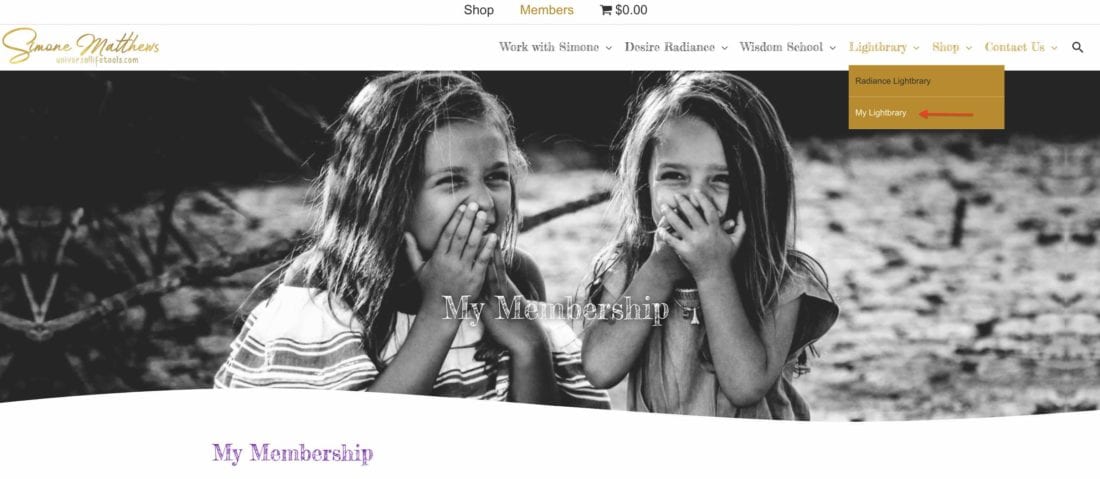 You can add ANY of our Radiance Lightbrary Blog posts to create your very own My Lightbrary.   To add items to your My Lightbrary, you must first be a Registered Member AND you must have logged into your Membership Account.
Login to your Membership account and visit our Radiance Lightbrary page from Main Menu dropdown menu (see screen print below).   From this page, click on any of the Category Tabs (eg Crystalline Energy) to view our Blog Posts and then click on the Image or on the 'Read More >>' link to view the Blog Post.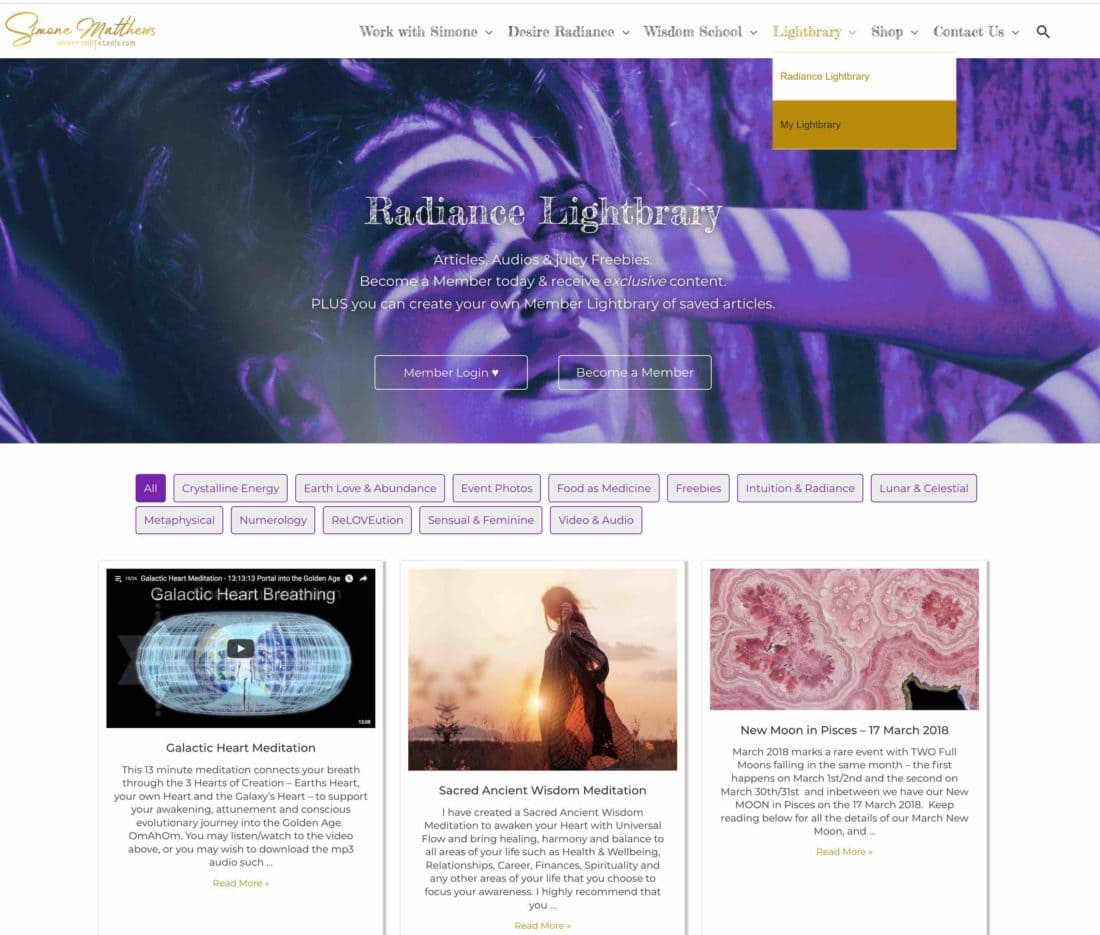 When viewing a Radiance Lightbrary Blog Post, you can add it to your very own Lightbrary by clicking on the 'Add this post to my Lightbrary' purple button that is displayed at the bottom of every Lightbrary Blog Post.   
The button then updates to let you know that the Post has been added to your Lightbrary (see the second screenshot below).  You can then click on the 'View my Saved Lightbrary Posts >>' link below the purple button to view ALL of your saved Lightbrary Posts - that have been saved on your private My Lightbrary Page.
Only YOU can see the posts on your My Lightbrary Page.  They are unique for you and accessible from any device.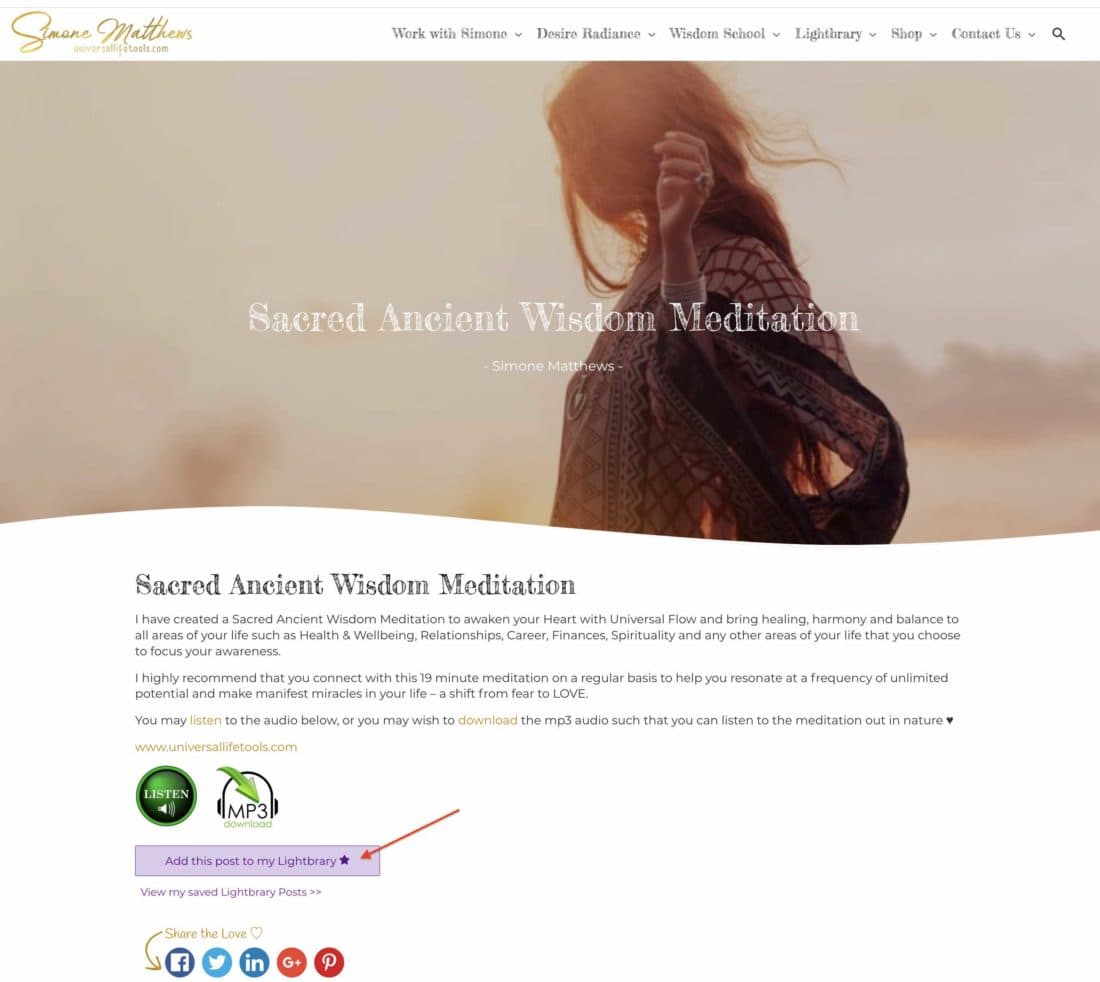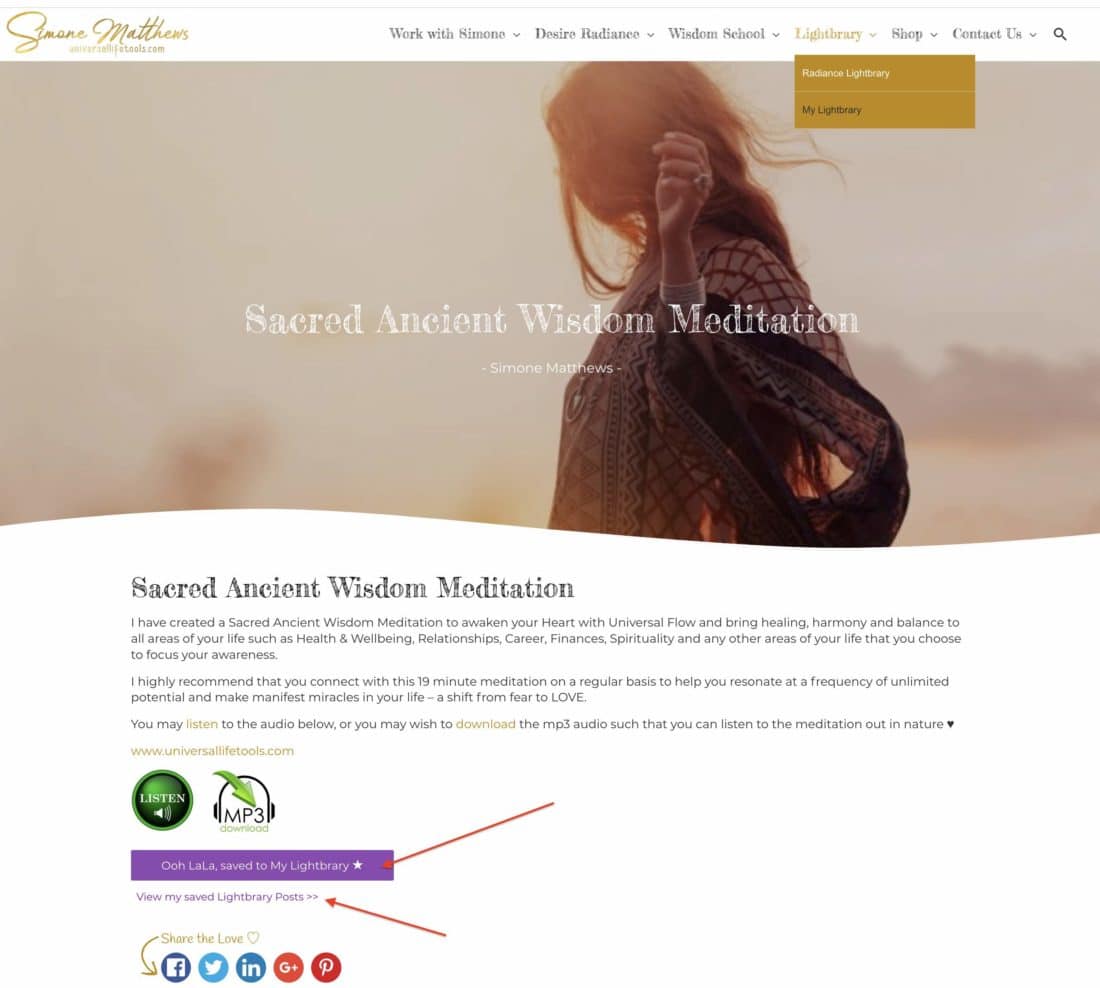 From your saved My Lightbrary posts page, you can view ALL of your saved items and click on the links to read/access these posts at any time.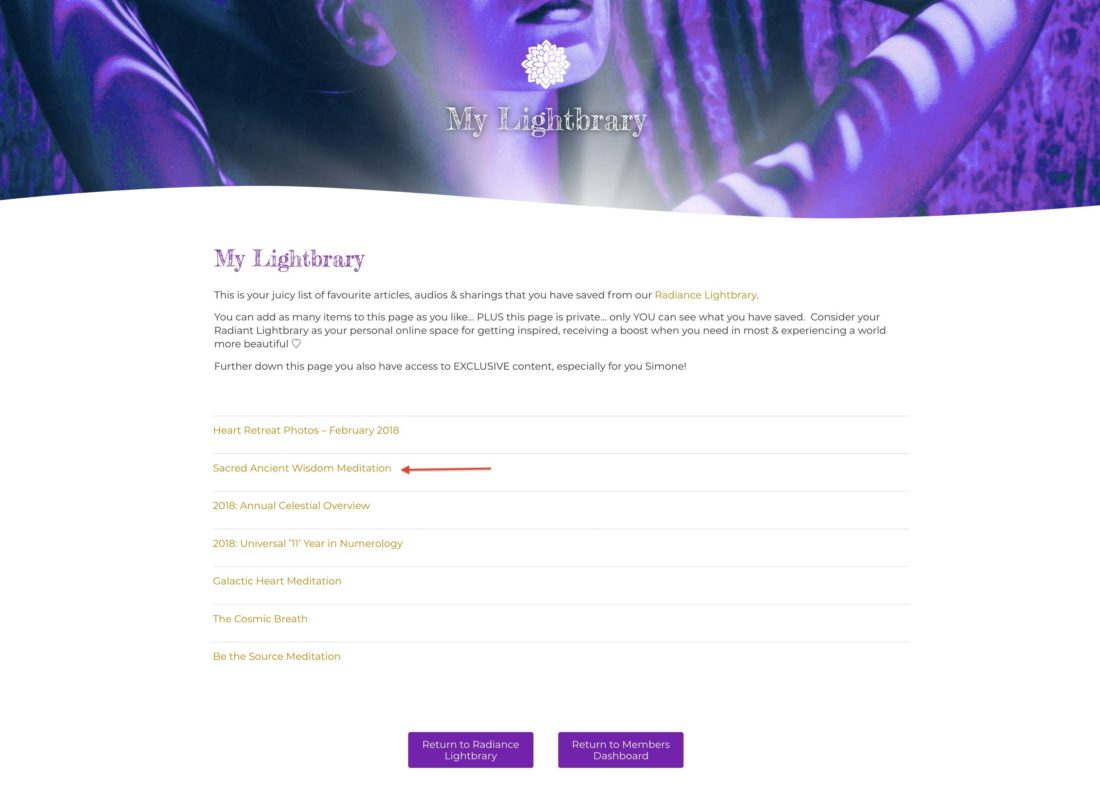 If you are having troubles adding our Radiance Lightbrary Blog posts to your very own Lightbrary, here are a few things to consider:
1. Ensure that you are logged in FIRST.
2. You MUST be a Registered Member to be able to Login.  It is FREE to Register on our Membership page.
Still having problems adding Posts to your My Lightbrary ?  Then please let us know via our Contact Us Form and help will be at hand very soon.