Shealla-Dreaming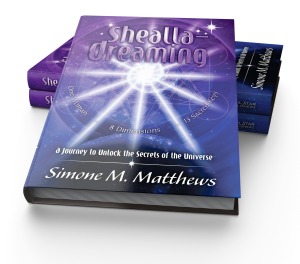 Shealla-Dreaming (pronounced 'SHE-ARH-LARH) is a book by Simone M. Matthews, founder of UniversalLifeTools.com.
Shealla-Dreaming offers a radical yet graceful approach to moving beyond a culture based on fear, war & suffering – by offering the reader a compelling & heart-felt vision of a world built on the foundations of LOVE through GRACE.
Whilst Shealla-Dreaming reads like a wild adventure story, this spiritual parable aspires to be a catalyst to transform your thinking and discover a new way of Soulful Living.
The book follows the adventures of Sarah Martine, a sassy thirty-something woman who has been living in New York City and fast-tracking the corporate ladder. After returning to Australia to attend a funeral, Sarah synchronistically finds herself enmeshed in a thrilling journey of awakening to the 13 Sacred Keys of Creation.
The 13 Sacred Keys form a map, a map that unlocks the secrets of the universe, the secrets that the mystics, sages and monks have revered throughout the ages of time. As a reader you will be compelled to join with Sarah to also unlock each Sacred Key within your own life and join the adventure of awakening, transformation & spiritual enlightenment.
As you journey through Shealla-Dreaming and unlock each Sacred Key, your heart opens, your eyes fill with wonderment and each breath exudes a profoundly deep aura of inner-peace. You are inspired to free yourself from the past and discover a sacred vision of your life, a soul purpose; a commitment to live courageously and dream big, so together we can create a kinder, more compassionate and peaceful world.
Shealla-Dreaming is the perfect companion for Simone's Crystal Light Healing®, Essence of Angels® & Aetheric Healing™ modalities, as it provides a greater depth of understanding and a profound insight into the evolution of the Soul.
Shealla-Dreaming is also the recommended text for Simone's Shealla-Dreaming eCourse & Crystal Light Healing® Sacred Ancient Wisdom eCourse.
BUY NOW
Shealla-Dreaming is available for purchase from the following outlets:
Purchase a KINDLE edition of Shealla-Dreaming on Amazon >
Purchase the eBook edition from our Universal Life Tools Online Store >
Purchase a Physical copy of the Book from our Universal Life Tools Online Store >
Chapter 1 of Shealla-Dreaming is also available as a FREE Download >
SPECIAL NOTE:  When you purchase Shealla-Dreaming (physical book) from our eShop, you receive our Shealla-Dreaming eBook for FREE.  Alternatively you can purchase our Shealla-Dreaming eBook as a stand alone product from our eShop.  Our eBooks are made available in Kindle, iBooks & pdf formats.
Meet the Author - Simone Matthews
I believe that at the heart of every woman there is an electric brilliance that is yearning to be unleashed and when this raw primal beauty is set free, a new era of Radiant Womanhood emerges.
Radiance is bold, it's vibrant, it's provocative. Radiance oozes presence, is the source of creativity and is the activator of heartfelt desires. My passion is helping woman reclaim their Wild Woman Radiance to rekindle the love of the feminine body, bring back sensual in relationships and ultimately ignite a force of creative power that beams a fierce yet Graceful Love.
As the founder of our UniversalLifeTools Wisdom School & creator of our Crystal Light Healing®, Essence of Angels® & Aetheric Healing Modalities, my vision is that the teachings through our school ignite within you a force of creative power that beams a fierce yet Graceful Love.
May my book Shealla-Dreaming help you access an untapped potential within you, that is radiant, that is desiring to seen, to be expressed & ultimately set free...    Read More >
Sponsorship LOVE Money
The publication of Shealla-Dreaming was made possible through the LOVE & support of Sponsors.
Our hearts are overflowing with gratitude to our Sponsors.  These altruistic visionary angels believed in the dream, believed in the wisdoms of Shealla-Dreaming and found it within their hearts & souls to Sponsor the publishing of our book.  Please support the work/visions/gifts of all of our Sponsors as they are the true leaders, the visionary pioneers of bridging a heaven here on Earth.
All the monies raised by our Gold, Silver & Rainbow Sponsors is recycled back into projects/organisations that support conscious evolution.  As each book is sold, our sponsorship 'LOVE money' is gifted to a range of different ventures… revolving the cycle of conscious LOVE money…. through the power of our Hearts.
Please take a moment to view our Giving Back Page to read about the projects we sponsor and our vision of creating a world full of giving.
Book Launch Photos
Sharing the LOVE... here is a glimpse of our official Book Launch... so much JOY!
Save
Save
Save
Save
Save
Save
Save