Shealla-Dreaming 2040
Our dreams are the seeds that awaken our greatest passions, ignite our highest aspirations and transcend our perceived limitations through the power of LOVE.
Here at Universal Life Tools 'we dare to dream', and we 'dare to dream big' in order to embrace and create heart-centred change here on Earth; to unite humanity in Love, Wisdom and Grace as we 'Quantum Leap' into into a new cycle of evolutionary consciousness.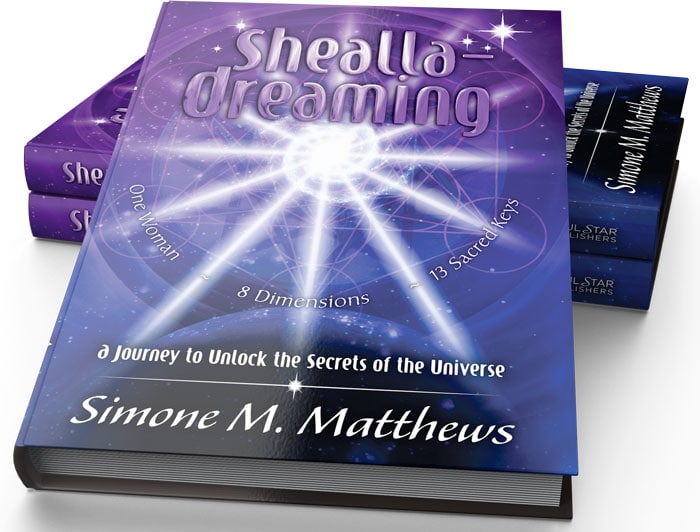 As discussed in our book 'Shealla-Dreaming', on the 8/9 September 2040, a Golden Conjunction will take place in our celestial sky, which will be visible from Earth.  This conjunction, a geocentric alignment of six planets, will all group together at less than 10 degrees apart in the sign of Libra.
The Moon, Mars, Mercury, Venus, Saturn and Jupiter will dance together in Libra, representing the awakening of and union of humanity in the new Golden Age.
This date is not a destination, but rather a celebration of the work that each and everyone of has done in the NOW to ripple out and create an awakened humanity.
Time Capsule 2040
To be active participants in the DREAM of 2040, and to play a role in creating our future in the NOW, we invite people around the world to share your dream, your soul pledge of how you envision an awakened and enlightened humanity in 2040.
We invite you to share your dream of  life on Earth in 2040 eg how we will embrace a reverence for all life by 2040, how we will foster sustainable communities by 2040, how we will honour our diversity within unity by 2040 etc....   It is your opportunity to DREAM a future for Earth, and through your DREAMs and inner soul pledge bring your visions to life  through conscious design.
It is your opportunity to move outside the box of  limited 3D consciousness and problems on Earth today, and DREAM a BIG DREAM, a dream without limitation, a multi-dimensional dream,  in order to create a universal humanity in the Golden Age.
We invite you to fill out the form below and we will add your DREAM PLEDGE to our Shealla-Dreaming 2040 Time Capsule.  We are collecting your pledged DREAMS and adding them into our Shealla-Dreaming 2040 Timecaspule.
The capsule will be opened on the 9 September 2040, and your dreams will be shared with the world via this Universal Life Tools website (or maybe via a more advanced technology that you may have dreamed and created for 2040 !)
Thank you for your role in co-creating the DREAM and pledging to bring your dreams to life through conscious design.
Dream Pledge '2040' Ideas
To help you fill out your dream pledge form below,  here are some topics/areas to consider for your family / community / country / planet:
~ Sustainability / Environment (we are caretakers for future generations);
~ Food / Water (in harmony with the cycles of nature);
~ Politics / Governments (for the people and by the people);
~ Education / Awakening (of the Whole person - body, mind, spirit);
~ Health Care / Holistic well-being (healing through nature & our minds);
~ Financial / Business (working for the highest good of self, and the greater good of all);
~ Relationships / Family (unity in our diversity, compassion, forgiveness, oneness, LOVE);
~ Religion / Spiritual (awakening to source within);
~ Emotional / Mental (the power to quantum leap Earth lies within us - individually & collectively)
Your 'Dreams for 2040'
Please fill out the pledge form below and press 'submit'to acknowledge your pledge
Your DREAMs maybe one word or a sentence or two (up to 50 words maximum).... just connect in with your Higher Self and share whatever comes through in the moment for the highest good of all !

Rest assured that your privacy is important to us and your email address will never be sold or shared. Shop Online
Handmade, HeartFull & Soulicious