At the centre of the Milky Way Galaxy lies the Galactic Centre.  The Galactic Centre is a powerful transmitter of energy waves known as 'Waves of Love'.  Since 1987, the vibrational frequency of these Waves have been increasing in intensity and will continue to do so as we move toward 2040, the Golden Age.
These Waves of Love are facilitating a shift in consciousness; an evolutionary leap for humanity into a new Earth; an awakening of humanity from the dream and into a multi-dimensional reality.
Please keep reading below to understand in more detail what these 'Waves of Love' are, their significance, how they impact your DNA and how you can consciously connect with their vibrations  through video, sacred symbol and sound.
The Wave of Love -  The Movie
The Wave of Love the Movie was created in 2007 by Simone M. Matthews (founder of Universal Life Tools) to assist people in consciously awakening to their Divine Magnificence !!!
By regular viewing of the movie and its symbolic representation of creation, activation and ascension through Sacred Symbols, DNA not only activates but also attunes to its highest potential of multi-dimensional resonance.
The Movie awakens people to their Divine Beauty, the purpose of their Being and paths the way for all of humanity to resonate and fulfill the highest level of their souls potential. That is the purpose of all souls in this momentous time here on Earth, to re-remember who we are and simply Be Love.
The sound track to the above Wave of Love Movie was composed, performed & recorded by Owen Arnold (my brother) of www.regattastudios.com. Owen has the rare gift of synesthesia – where he sees and feels the visual colours/sacred symbol musically… hence is able create form through sound.  Thus Owen's gifts were instrumental in combining the sounds of sacred geometry, colour, light and crystalline vibrations in order to resonate the Waves of LOVE for DNA Activation & Attunement.
Owen Arnold is also the composer of our Angelic Meditations sound track for healing.
FREE Wave of Love Images
To support your personal growth and awakening, it is our pleasure to offer to you for FREE - the 13 Full Colour sacred geometry images from The Wave of Love the Movie.
Print these images on quality paper (or photo paper or glossy paper) and then consider laminating them - the colours are amazing ! You could then display the images in your healing space, meditation room, or place of tranquility within your home. Just by viewing the images you are supporting the awakening, activation and attunement of your DNA via your 13 energy centres/chakras.
Please click on each of the links below to download The 12 Wave of Love Sacred Geometric images:

Image 12 - I am God, Goddess, Spirit
The Wave of Love - Divination Cards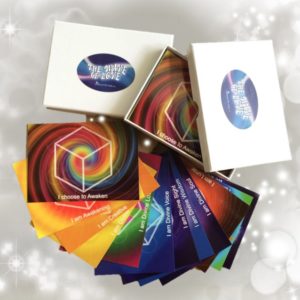 Love the above images and would like to purchase them as a boxed set of 13 Divination Cards ?
Then you are in luck.  Simone M. Matthews, in honour of her Spirited-Travellers World Tour, has released a special edition boxed set of 13 Wave of Love Cards.
The cards help people to incorporate the Wave of LOVE frequencies into their life on a daily basis and truly shine the full potential of their Divine MAGNIFICENCE here on Earth.
The boxed set of Wave of Love cards are ideal for ceremonial work, new moon meditations, hands on healing or personal / client divinatory tools.
Book: Shealla-Dreaming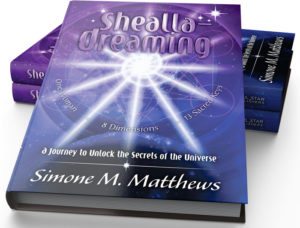 In 2012, Simone M. Matthews released her new book 'Shealla-Dreaming'.
The book is a culmination of over 20 years study of metaphysics, quantum physics, crystalline energy, indigenous wisdoms and the divine teachings of the ancient civilisations of Lemuria, Atlantis, Egypt and the Maya.
Shealla-Dreaming unveils the greater story of creation, discusses in detail what the end of these grand cycles of time (consciousness) means for Earth, and outlines what we potentially are birthing toward 2040 through the Waves of Love.
Each Chapter of Shealla-Dreaming incorporates the 'Sacred Affirmations' from The Wave of Love Movie.
The Wave of Love Song
'The Wave of Love – The Song' was created and performed by the talented Shawn Gallaway (of 'I Choose Love' ) with the help of a few friends…. Lance & Larry Hoppen from Orleans & Jonell Mosser & Charlie Morgan.
The Wave of Love song was created as a celebration song for our Universal Life Tools Community.. an opportunity to rejoice in the birthing of a new world in 2012 and beyond.
| | | |
| --- | --- | --- |
| Shawn & friends riding 'The Wave' | © Shawn Gallaway 2008 | © Shawn Gallaway 2008 |
The Wave of Love Sponsors
Extending our heartfelt gratitude to the following sponsors that reached into their hearts and helped us create a range of FREE products to support humanity's awakening through 'The Waves of Love'.
Thanks for your generosity, support and visionary dreams in inspiring an awakened humanity.
Major Sponsors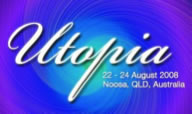 Utopia has been supporting 'The Wave of Love – The Song' from the very beginning… and we are eternally grateful for their support.
Utopia is an 'International Retreat for Awakened Souls', being held here on the beautiful Sunshine Coast, Queensland Australia on the 22 – 24 August 2008.
Over 21/2 days, participants will unite in Love, Joy and eternal Bliss as they join heart centred presenters from all around the world in a series of events designed to enlighten, educate and advance those serious on their spiritual journey. You will leave Utopia with your spirit ready to soar to even greater heights, as you have awakened to your infinite Wisdom, Peace and Grace within.
To find our more about Utopia, the Events, the Presenters, and how to book please visit:
www.Utopia-Retreat.com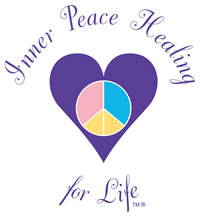 Elizabeth Brewer & Dr Trevor Soole
Inner Peace Healing for Life
www.innerpeacehealingforlife.com

Stella Woods - Astrologer & Tarot Consultant
http://www.stellastarwoman.com/
Stella Starwoman (aka Stella Woods) is one of Australia's leading astrologers with over two thousand satisfied clients and a reputation for offering practical, sensitive and insightful advice.
If you'd like to sort out your love life; make the most of your natural talents and abilities or explore your purpose, vocation or karmic path, a reading with Stella is a great place to start.
Or maybe you'd like to learn astrology yourself? Or buy a gift voucher for a friend? Or download a twelve-month forecast?
You can also call Stella for a quick personal reading on her astrology talkback segment on Melbourne's 3RRR or check out her popular 'Stargazer' column in 'Living Now' magazine.
And if you're really keen, why not sign up for Stella's complimentary AstroUpdate newsletter and receive a full colour copy of your birth chart complete with 20 page report, absolutely free!
All this and more at www.stellastarwoman.com
 - - - - - - - - - - - - - - - - - - - - - - - - - - - - - - - - - - - - - - - - - - - - - - - - - - - - - - - - - -
Gold Sponsors
Film & Television Music Productions
www.regattastudios.com
Located in Queensland Australia, Regatta Studios is the hub for a new age of commercial music. Our credits include music & sound design for international TVCs, documentaries and feature film. Click Here To view our show reel.

Debbie Zywica - USA - Divine Aligners


debbiez@divinealigners.com
Debbie Zywica is an Angel Therapy Practioner®, certified by Doreen Virtue.  Debbie is a heart-centered speaker and coach, and with the help of your Guardian Angels, can help you clear your path to becoming who you truly are.  The "Wave of Love", in all its expressions, will continue to accelerate that flow in Divine grace on the road to peace, balance and abundance for everyone, including Mother Earth.  Start riding that wave now!
www.debbiez.hubhub.org

Elise Clancy - Australia


www.evolvedbeing.com
quest@evolvedbeing.com

Petra Brice - Canada
Love, Light & Laughter for bringing the world together with The Wave of Love – The Song

Weekend Workshops - Australia
www.weekendworkshops.com.au
Weekend Workshops a website whose mission is to inspire you to take that step and the others that follow by becoming part of a group of people who with Enthusiasm, Love, Service, Passion, Humor and Teamwork believe they can change the world.
Sign up today, its free: Click Here

That Crystal Site - Australia - www.ThatCrystalSite.com
Bringing you unique, discerningly selected, Natural Crystals and Minerals with powerful healing energies, delivered promptly to you anywhere on Earth! As much care goes into selecting our tumbled stones as it does for each of our specially chosen crystals. With Crystal Prescriptions to help bring balance and a wealth of information for your use. We are proud to sponsor the Wave of Love as we move to a unified, loving, peace and joy filled future.
rdc@thatcrystalsite.com
Star Gardens - Johannesburg, South Africa - www.stargarden.co.za
The vibration of Love that your project is creating all over the world has brought transformation to so many levels and it keeps on getting bigger! There is a huge wave of Gratitude from South Africa coming your way! Our Star Garden in South Africa is a community Global Gratitude Project. Please send a Star Garden Message of Gratitdue to: Rene Geldehuys rgfisio@iafrica.com or SMS +2782 895 6620

ZENKI


www.zenki.com.au
Zenki drink bottles are made from premium certified food grade stainless steel with no inner linings, coatings, or aluminium and Zenki designs are high frequency to positively enhance your space.  Have you got your Zenki?
- - - - - - - - - - - - - - - - - - - - - - - - - - - - - - - - - - - - - - - - - - - - - - - - - - - - - - - - - -
Silver Sponsor
AGOA Dynamic Movement (Anthea Pert)
Movement that is inspired with confidence has no alternative but to create confidant movers. Release your creativity today through movement.

XoneFM Radio – Vietnam www.xonefm.com
Commercial radio Vietnam – Rock, R&B, Pop – bringing music to over 64 provinces.

GELAGEO - UK -

www.GELAGEO.com
We met under the moon of love & shall look forward to surfing 'the wave of love' into 2012 with our fellow citizens of Gaia.

Lia Scallon  -  The Sounds of Sirius - Sacred, healing music CDs www.SOUNDSOFSIRIUS.com
Exquisite, sacred songs from the stars that will heal your heart & soothe your soul.
"This music uplifts and thrills me" Living Now Magazine.

Deanne Urquhart - Australia -

empower@deanneu.com
or +61 0422 815 714
Deanne Urquhart is an inspirational healer and teacher of Self-Empowerment. Her insightful wisdom has people embracing their inner power and creating a life they love.

Letilla - Singapore
Riding the 'Wave' with you into 2012.

Cecelia Morris - Canada
I have been attending your Wave of Love Teles during 2008.. and I LOVE what you are doing for humanity to assist 'The Shift'. My Love to you.

Jeanne L. Thompson - www.bluemarbleinspirations.ca - USA
Life Counselor & Numerologist - Jeanne teaches about how our lives move in cycles and how to flow with those cycles instead of struggling against them.

One Love, One Light - UK
We are all ONE, One Love, One Light.

Lisa Polistena - conchieta@hotmail.com - Australia
The Nurture House

Miriam Schafer - www.miriamschafer.com - Australia
Miriam is a Wholistic Life Coach and Graduate of the Barbara Brennan School of Healing.  Her passion lies in working with the soul and core essence.

CAIA - www.crystalawareness.com.au - Australia

Vanessa Sumner - Heart & Soul Transformations - www.vanessasumner.com - Australia
Vanessa is a Gifted Intuitive Healer. With her Unique blend of BodyTalk, Intuitive Healings, Readings, Crystals, & Essences - YOU will experience Powerful Healing, Transformation & Freedom, Phone: 0408 493 873

Healing Soul Deep - (Helen King) - Brisbane, Australia - www.healingsouldeep.com
Reiki Master - Spiritual Counsellor - You Can HEal You Life FacilitatorHelen inspires and nurtures you to reach your soul'l full potential. Ph. 0439 824 498

Fatima Bacot – www.diamondconsciousness.com - Australia

T'Leah – Crystal Awareness Institute of Australasia - www.crystalawareness.com.au
T'Leah is a qualified Crystalotherapist/Instructor trained by DaEl Walker of the USA, and is passionate about sharing the healing system that is Crystalotherapy.
- - - - - - - - - - - - - - - - - - - - - - - - - - - - - - - - - - - - - - - - - - - - - - - - - - - - - - - - - -
Bronze Sponsors
Jasmyn Kneen
Inspire Radiance - Australia - +61 420 750 786 - inspireradiance@gmail.com
Inspiring people to radiate their divine beauty and live passionately.
Raelene Byrne
www.medicineforyourspirit.com - Australia
Belinda Cashel
www.soulstar.com.au - Australia
Access the essence of your soul through Intuitive Crystal Guidance
Patricia Hueneke
Golden Light Medicine & Essences - Australia - phueneke@bigpond.com
36 Golden Light Vibrational Plant Healing Essences to take you into the Golden Age of Healing.
Leslie-Anne Menzies
www.angelstoinspire.com.au - Australia
Congratulations on the Wave of Love song what a wonderful way to "surf" into 2012.
Christine Hopkins
www.lotusharmonyhealing.com - Australia
Website Coming Soon
Maria Parkinson
kwanyin@bigpond.net.au- AustraliaBusiness – Want to move forward? Break through limiting decisions, beliefs and emotions to create new choices.
Janice Patterson
USA
Riding with you.
Claire Moreton
UK
Thank you for all you do.
Joshua Biggles
UK
Look forward to sending you my vid to the song !
Tanya White
Australia
Rayna P.
Canada
Anolusha
Singapore
Jessica Messer
Great Inspirations - USA
You inspire me to be the change that the world needs right now. Thanks.
Catherine Fleay
Rainbow Star Healing & Meditation – Western Australia – 0407 607 827
Helping children and adults connect with their Divine Source through Reconnective Healing & teaching meditation.
Cora Gyger
www.mytouchwithcorag.com – Australia
Website coming soon
Leanne Lonergan
Rainbow Revolution – Australia
"Colour is Soul food....are you hungry?"
Megan Twidle
www.bubbalou.com.au/ – Australia
Deborah Johnsen
d.johnsen@optusnet.com.au – Australia
Elegance Stained Glass - Details coming soon
Eadie
pjmiller@netcon.net.au– Australia
with Love and Blessings.
Anna Vistoli
anna.vistoli@gmail.com – Italy
"Taking hand in hand all around the world we can save it. Ocean of love"
Brie Pawlak
bkpawlak@sympatico.ca - London, ON Canada
I am currently studying to be a Matrix Energetics practitioner and love the healing arts.
Dr Susan Smith
www.DrSusanSmith.com – California
Brenda Carige
www.brooloopark.com – QLD, Australia
Visit Brooloo Park for a rural Australian experience – 'The Bush behind the Beach'. Congratulations ULT.
Patricia Johnston
Healing with Theta - healingwiththeta@gmail.com – AustraliaRemove limiting beliefs and feelings with a Theta Healing and live the life you deserve.
Save
Save
Save
Save
Save
Save
Save
Save
Save