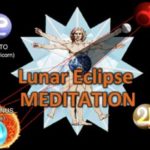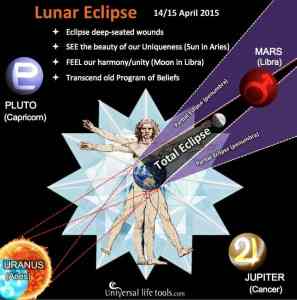 On the 14/15 April 2014 we have a TOTAL LUNAR ECLIPSE – whereby the Moon is full and the Earth blocks the Suns rays from fully reaching the Moon, thus the Moon is cast within the Earth's shadow.
A Lunar Eclipse provides a quantum opportunity to release deep-seated wounds, move beyond old fears and to transcend negative patterns or traits within the shadow self.  It is time to ECLIPSE anything that maybe holding you back.
You can read more about the April 14/15 Lunar Eclipse and the Cardinal Grand Cross here >
Gifting you all an mp3 Meditation to support your connection with the April 14/15 Lunar Eclipse and to guide you in ECLIPSING and TRANSCENDING the old and BIRTHING into a more illuminated state of beingness.
Please also keep in mind the Eclipse energies will be prevalent throughout the month of April, so feel free to listen to / perform this meditation as many times as you like throughout the month !
To receive your FREE TOTAL Lunar Eclipse Meditation, please visit our Gift Page >