Essence of Angels® Vibrational Essences are charged with Sacred Geometric Cosmic Templates of the Archangel Frequencies (through Metatron's Cube) combined with Crystal, Mineral & Plant Intelligence templates.
Each individual Essence of Angels® Vibrational Essence Stock Bottle holds a unique vibratory frequency that supports the body's innate ability to heal itself, uplifts the mind/emotions to awakened states of LOVE and draws your Heart & Mind to radiate your greater Soul Potential.
The Essence maybe used intuitively or as part of our Essence of Angels® online learning course – Healing Modality.
You can also purchase each Essence individually, or as part of the Boxed Set of Essence of Angels®.
Archangel Azrael Essence
Archangel Azrael assists us with all life's transitions, moving from one phase and then transitioning to the next. Archangel Azrael helps us to release an aspect we no longer need, allowing room to 'give birth' to a new aspect. Archangel Azrael Essence is a gentle and loving energy, that takes you by the hand and leads you to new beginnings.
Stock Bottle Key Uses:
o All Life Transitions – Birth, Toddler, Childhood, Teens, Adult, Marriage, Parenthood, Retiring, Death
o Major life stages 0-7yrs, 7-14 yrs, 14-21 yrs etc..
o Career Transitions
o Relationship Transitions
o Death Transitions (Carer & Person crossing over)
o New Beginnings, Moving beyond fear & following your Passions
o Courage to take the steps to be YOU rather than follow the expectations of others
o Transcending old patterns & outmoded beliefs
o Moving beyond Anxiety, debilitating Fear, Stress
o Moving beyond 'Victim' & choosing Self-Responsibility
o Quantum Forgiveness
o Birthing new projects & realising your Soul-Hearted dreams
o Soul Anchoring (de-fragmentation)
o Detoxification, Cellular Cleansing, Cellular Alkalinity
o Letting go of the Past, embracing the Present Moment
o Physical, Emotional, Mental & Spiritual dis-eases associated with the base chakra.
o DNA Activation & Attunement.
o Awakening your DNA & Body/Mind/Soul to a New Earth Era.
Preparation & Application:
Understanding the Energetics of each of the Essence of Angels® Stock Bottles and how to work with the Essences for personal & planetary healing toward a New Earth Era, is taught in depth via our Essence of Angels® online learning course.
However, you can also work intuitively with our Essences to prepare your own personal Dispenser Bottles, or administer direct from the StockBottles. The Images below may support your intuitive use of the Essence of Angels® Stock Bottles.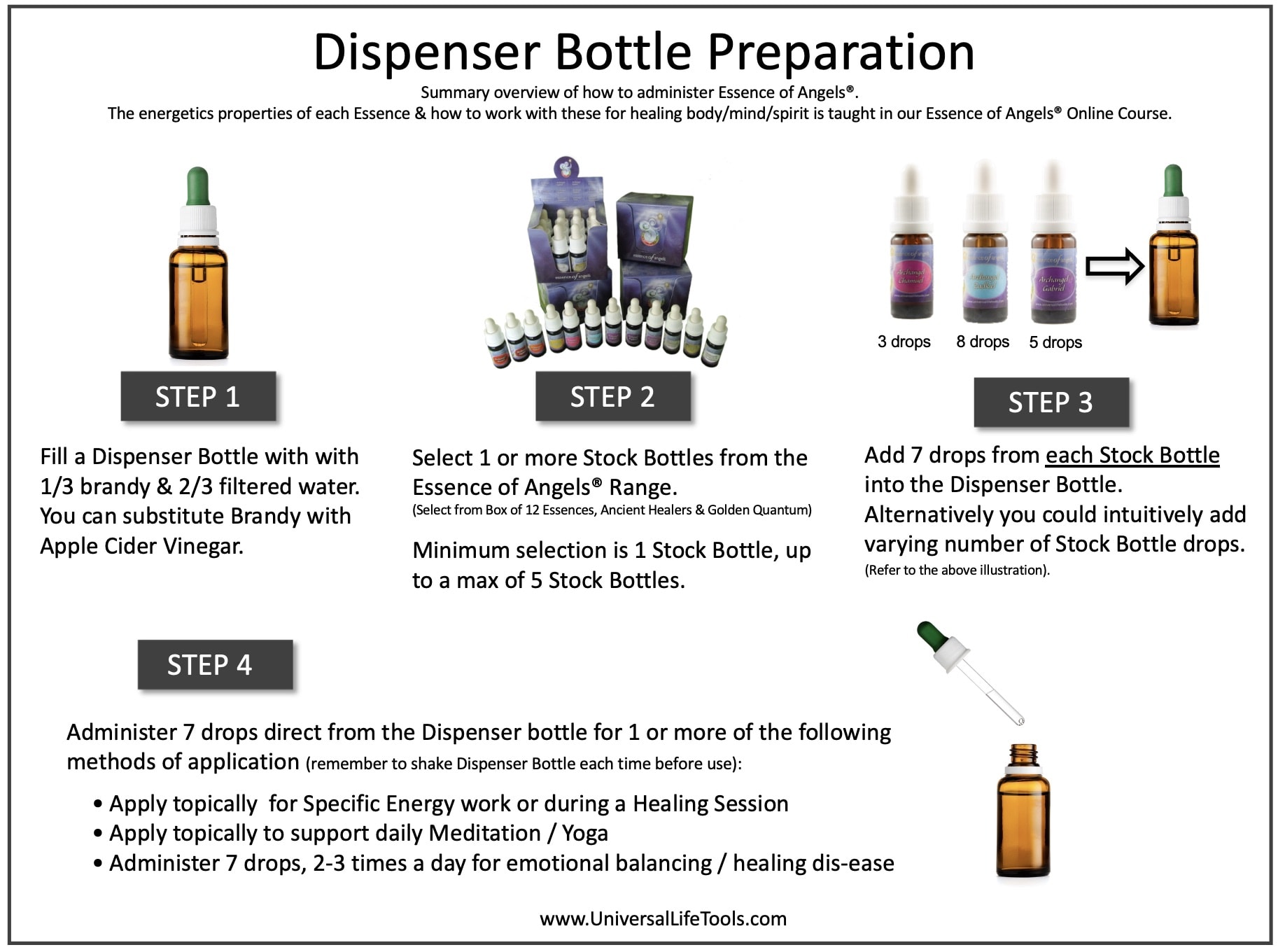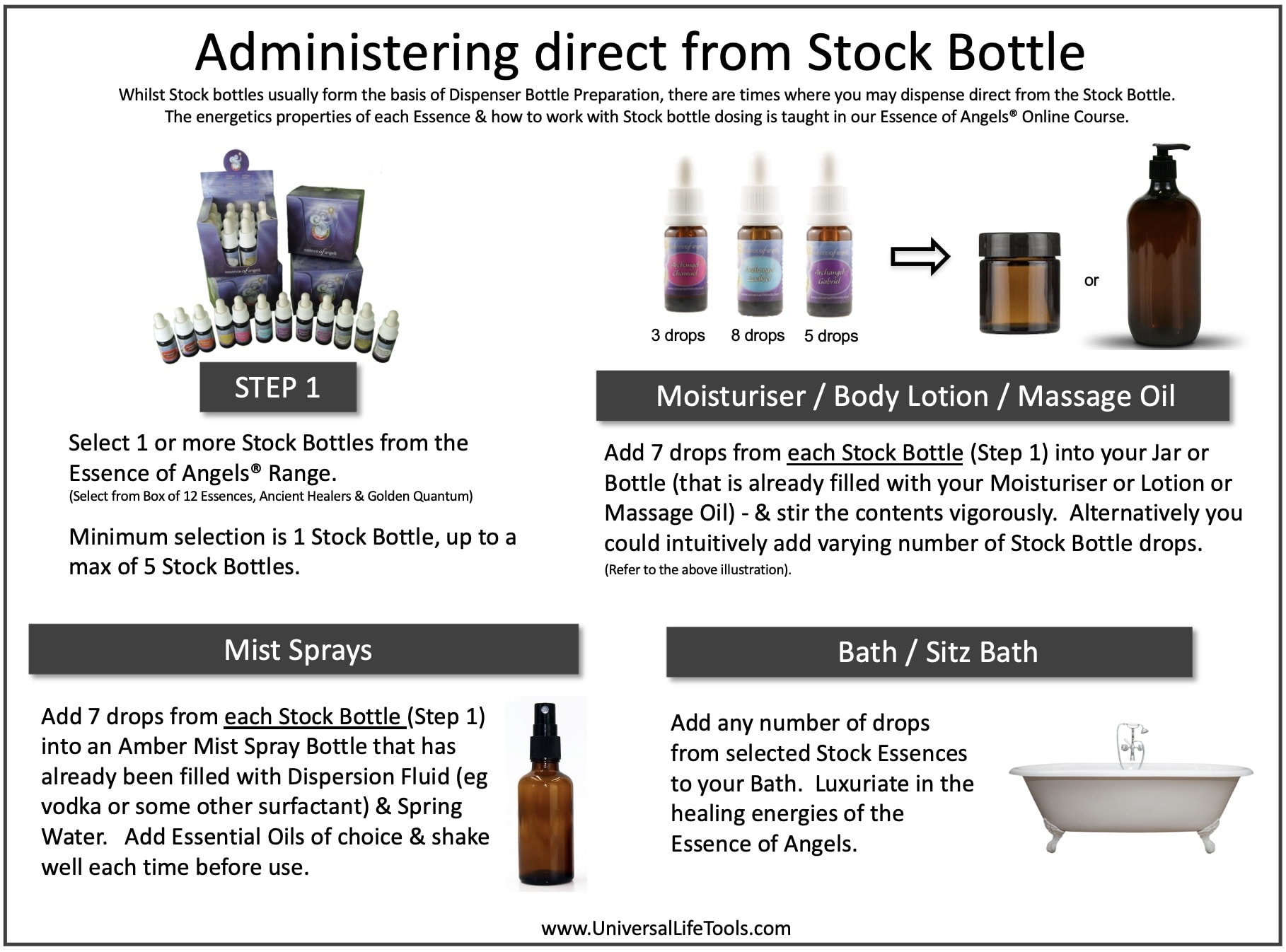 Save
Save
Save
Save
Save
Save