The feedback from Simone's new book 'Shealla Dreaming' has been phenomenal !!!!
The big question people are now asking:
"I felt the truth of this ancient wisdom within my heart,
but how can I live these truths as part of my daily life?"
To help people practically live and BE the wisdoms within Shealla-Dreaming, Simone M. Matthews created a series of 13 self-study modules, taking the ancient crystalline wisdoms of her book 'Shealla-Dreaming' to a greater depth of experience.
The Shealla-Dreaming Self-Study Course is a guide to understanding the evolution of the Soul and how to navigate this journey through the universal wisdoms found within the sacred symbol that is Metatron's Cube.
This Course will help you to practically live the wisdoms of the 13 Sacred Keys (Divine Laws /Emanations of Creation) within your life in order to transcend your fear based stories and break the cycle of needless suffering. If you feel within your heart that it is time for you to live your life from a place of joy beyond anything you may have experienced in this lifetime…. then this is the course for you !
The course is facilitated completely on-line. You can enrol at anytime and then complete the course at your own pace in the comfort of your own home.
Whilst this is an older course within our Wisdom School, the sharings within are eternal, and now more than ever play an important role in awakening & evolving the Human Spirit. We have put oodles of Heart-n-Soul into this course, we hope that our sharings help you discover the luminescent radiance of Soul.
About Shealla-Dreaming
Shealla-Dreaming takes readers on a voyage of discovery to unveil the most cherished wisdoms of our ancient ancestors – the 13 Sacred Keys of Creation.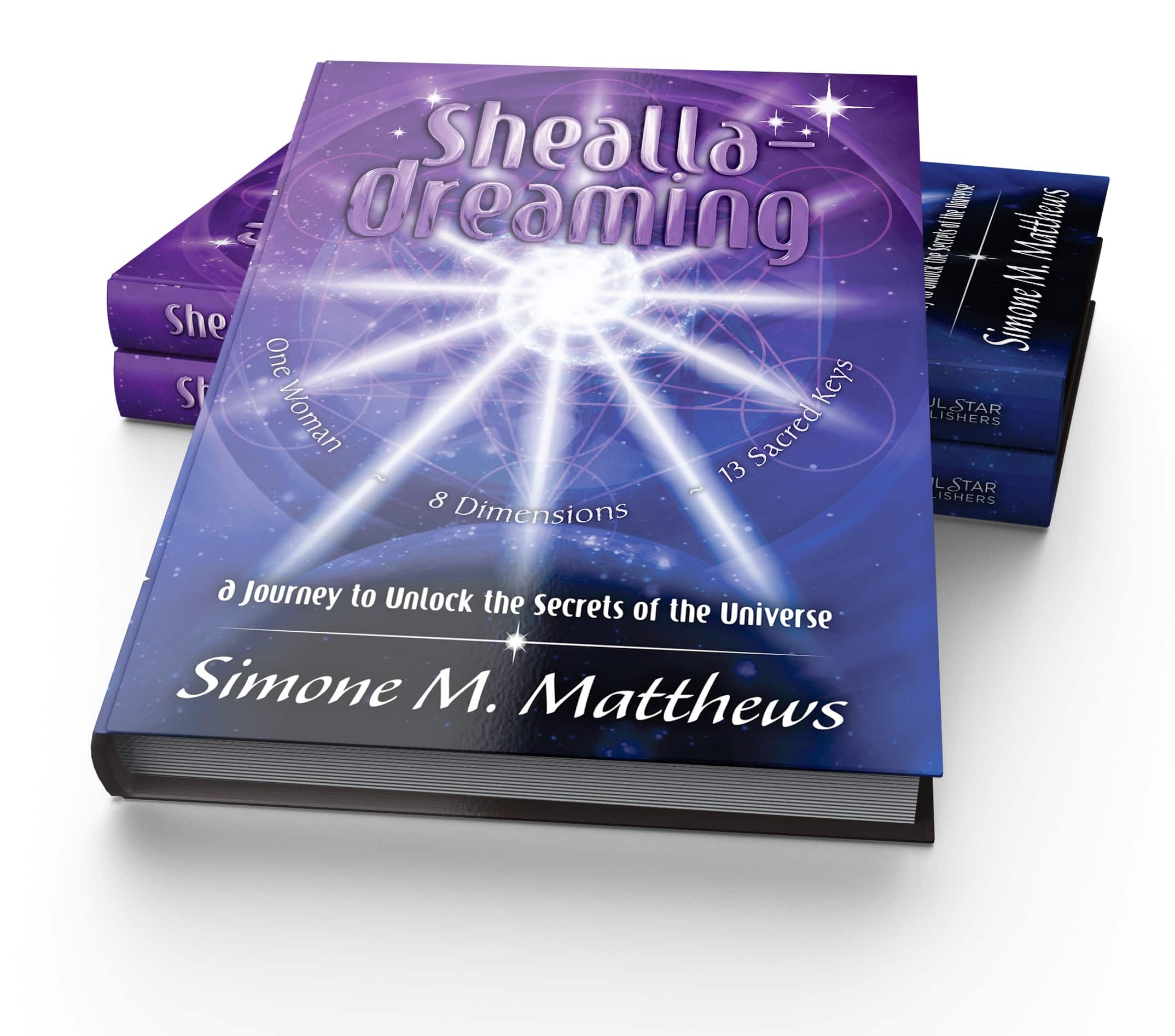 The 13 Sacred Keys form a map, a map that unlocks the secrets of the universe, the secrets that the mystics, sages and monks have revered throughout the ages of time. These keys are principles of evolution and the foundations upon which the entire cosmos evolves.
The book guides the reader through the 8 Dimensions of our galaxy, to facilitate the awakening of each Sacred Key within your life. You will discover how your dreams seed the discovery of your greatest passions, ignite your highest aspirations and transcend the perceived limitations of your physical world through the power of LOVE.
Shealla-Dreaming 13 Modules
Shealla-Dreaming is a 13 Module Self-Study Course.
Each module focuses on a Sacred Key of Creation (ie Divine Laws / Divine Emanations) – providing a greater depth of understanding of each Sacred Key and practical tools of how to embrace and LIVE that Sacred Key within your day to day life.
Each Module includes leading edge quantum mechanics, new scientific understandings as well as diagrams, audios, videos etc.. to support your understanding of each Sacred Key.
The aim of the Self-Study course is to help students connect intimately with each of the Sacred Keys of Creation AND most importantly be able to practically LIVE these crystalline wisdoms in each and every moment.
On completion of the course, students will have mastered the Universal Laws/Sacred Keys that provide real evolutionary tools to:
Quantum leap from the 'rat-race' and co-create the life of your dreams
Create loving, joyful relationships …. lover, family & friends.
Live abundantly, receive $$$ as a natural flow of your passion.
Transform those limiting beliefs that are holding you back from expressing your potential.
Live your life from your heart… not from the wants, needs & demands of others.
Fulfill your desires and make then a physical tangible reality.
Improve health, vitality & wellbeing… and finally shed those pounds of pain !
Awaken & Attune your DNA to its highest potential of vibration.
Deeply embrace the ancient crystalline wisdoms of creation.
Transcend the old program of struggle and live life with Grace & Ease.
Course Overview
Each of the 13 Modules of Shealla-Dreaming Self Study contain the following teachings/materials:
Video of the Modules teachings (approx 45-90 mins)
Audio of the Modules Meditation (approx 15-30 mins)
Module Notes – Including Diagrams & Visual Aids
Supportive Resources eg Books, Videos, Audios etc..
All Module Videos you can watch on your computer or stream to your TV.
All Module Audios you can listen to on your computer, or download to a CD, MP3 player or ipod.
All Module Notes you can read/view on line (and print if required, though this is not necessary).
Please note that this is a virtual Self-Study course in that the course is e-generated (ie no physical workbook or audios are shipped to you, the entire course is downloadable or completed on-line).
On completion of the 12 Module Course, if you are listed within the Practitioner & Teacher Directory of our website – then you also qualify to have this Self-Study Course included as an additional qualification through our School.
There are no pre-requisites for enrolment, everyone is invited to enrol and learn online. There is no time-limit for completion of the course, and infact you receive a lifetime of access to the course – such that you can come back and review the course content at any time.
Soul Evolution Self-Study Course makes a perfect companion to this course.
There is no obligation to enrol in Soul Evolution Self-Study – it is just highly recommended !
What do I receive on Completion ?
On completion of the 13 Module Course, you receive a Certificate of Completion
If you are already a Practitioner or Teacher through our school, and are listed within the Practitioner & Teacher Directory of our website – then you also qualify to have this Self-Study Course included as an additional qualification on your profile page.
How do I Enrol ?

'Add to Cart' this course at the top of the page and proceed through to checkout.
On completion of your purchase, you will receive a confirmation email that contains an access link to the Shealla-Dreaming eCourse – thus you can start studying online straight away !
PLUS this email also contains a link to our Shealla-Dreaming eBook, whereby you can download the eBook and read it along side your eCourse studies.
You receive a LIFETIME of access to this SelfStudy Course, such that you can revisit the teachings at any time!
To ensure that you receive this email, please add the following email address into your email address book:
orders@universallifetools.com
Save
Save
Save