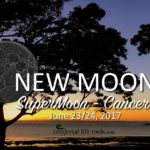 Our June 23/24, 2017 Cancer New Moon, falling after our Summer/Winter Solstice on June 20/21, heralds a welcome relief of a little nurturing, some tender 'mothering' and a gentle soft respite into ourselves.
Sharing with you below the energy of our June 2017 Solstice & Cancer New Moon – a SUPER MOON !
SOLTICE: June 20/21, 2017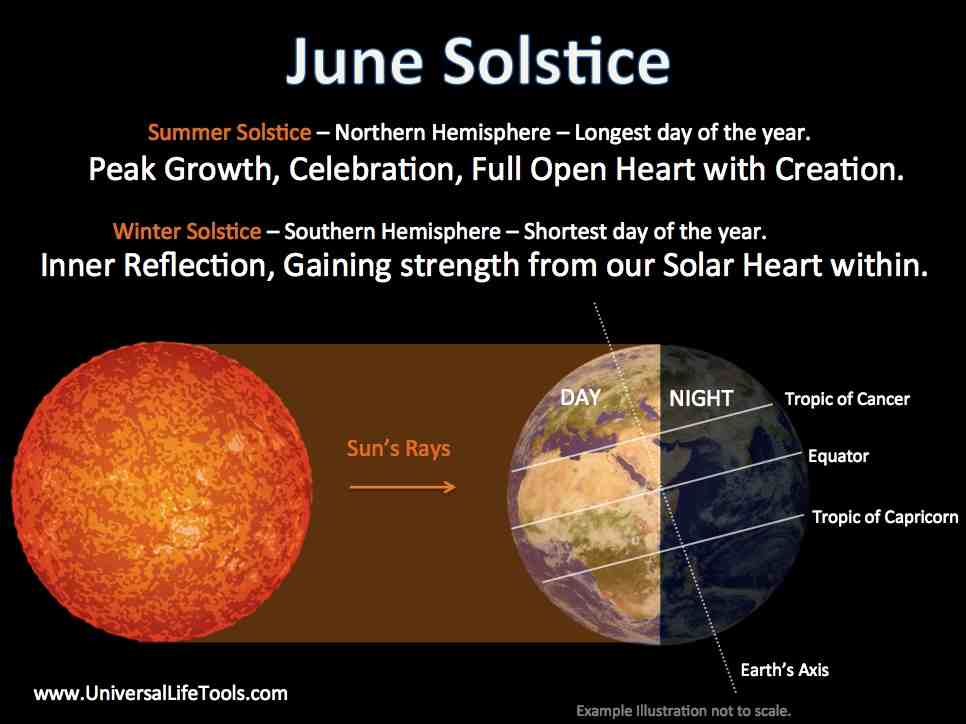 As the Sun enters Cancer toward the end of June we have the Winter Solstice (Southern Hemisphere) and Summer Solstice (Northern Hemisphere). This years June Solstice falls on the 20/21 June 2017.
Click here to view time in your city>
Due to the tilt in our Earth's axis of rotation, throughout the calendar year the Sun appears to rise and fall in different regions of the Sky. This is not of course due to the Sun moving, but due to the Earth moving relative to the Sun.
Read More about Soltices & Equinoxes >
Where ever you are on Earth, the Summer/Winter Solstice represents an opportunity to celebrate your LIGHT. As we move into the threshold of a new cycle, it is a time to come together with all humanity through the LOVE of our LIGHT and send a wave of unifying peace through the Crystalline Wisdom Field of our Earth.
The June Solstice in the Northern Hemisphere is called the 'Summer Solstice' – this marks the longest day of the year in the Northern Hemisphere (daylight hours). As we commenced our journey from the last Winter Solstice we have been energised from Sun in our Heart through to the Divine Heart of all creation. We now reach the peak of growth – and it is a time of celebration for all. As the days post Summer Solstice become shorter, it is a time of inner reflection/review as we move toward the next cycle.
The June Solstice in the Southern Hemisphere is called the 'Winter Solstice' – this marks the shortest day of the year in the Southern Hemisphere (daylight hours). It is a time of inner reflection, turning to the Sun within, our solar selves. It is a time to gain strength from within, and get ready to embark on the new journey as our days of daylight get longer beyond the Winter Solstice and we are being energised from within.
To embrace the energy of the June Solstice, consider lighting a candle and honouring the LIGHT of joy, blissful abundance, compassion, peace and kindness illuminating your Heart and entraining the field of the Infinite All. OmAhOm.
The diagrams below are for explanation purposes and are not drawn to exact scale/specifications 🙂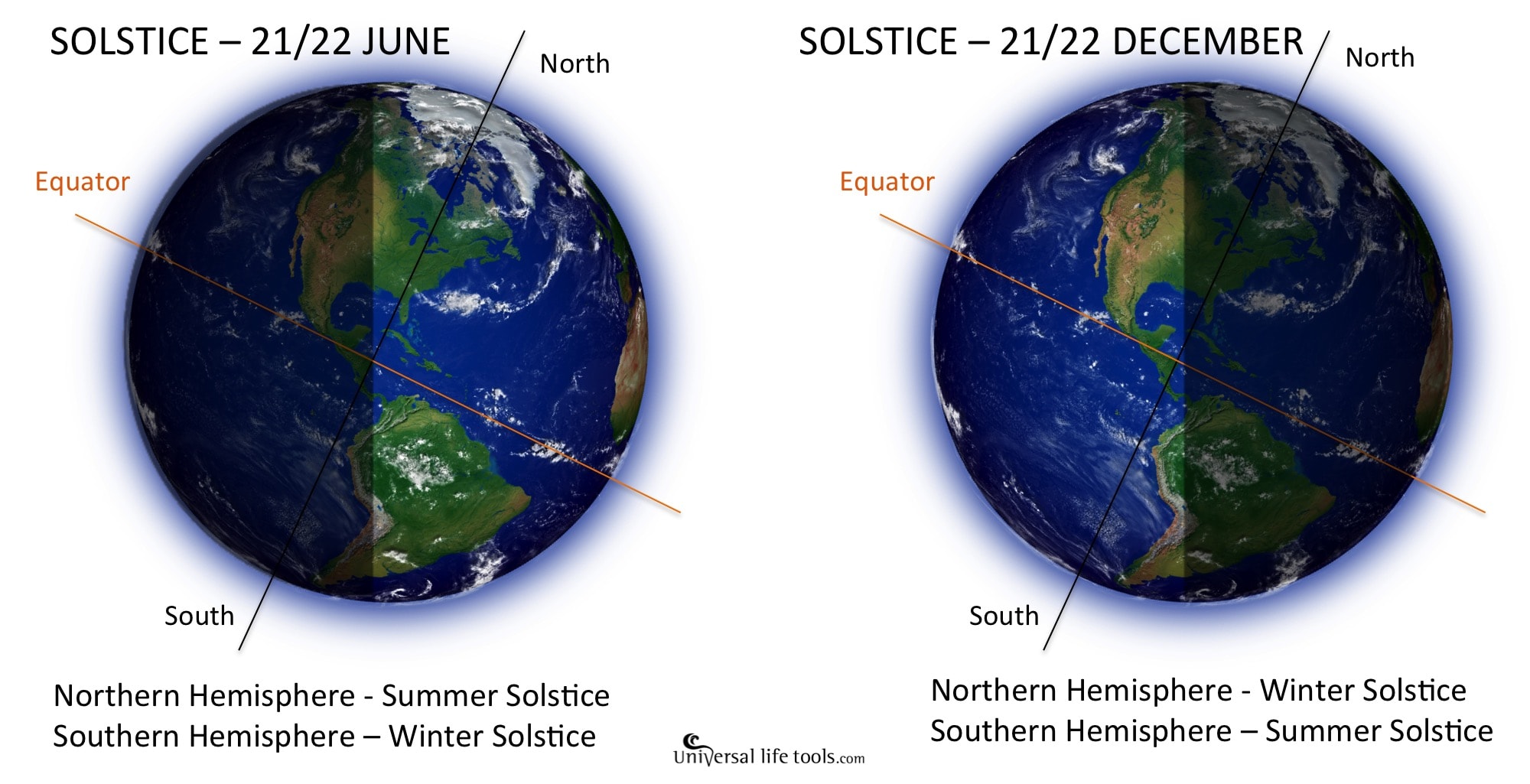 GENERAL MEANING: New Moons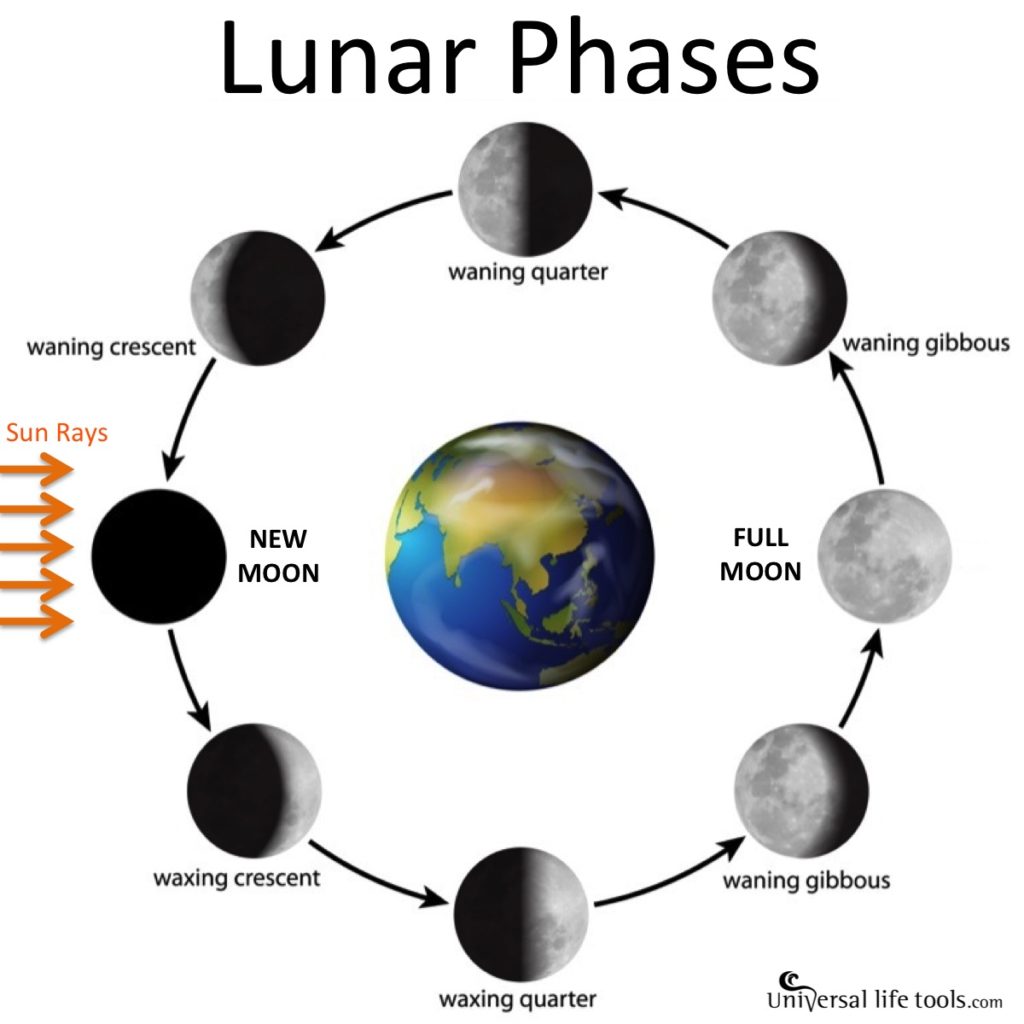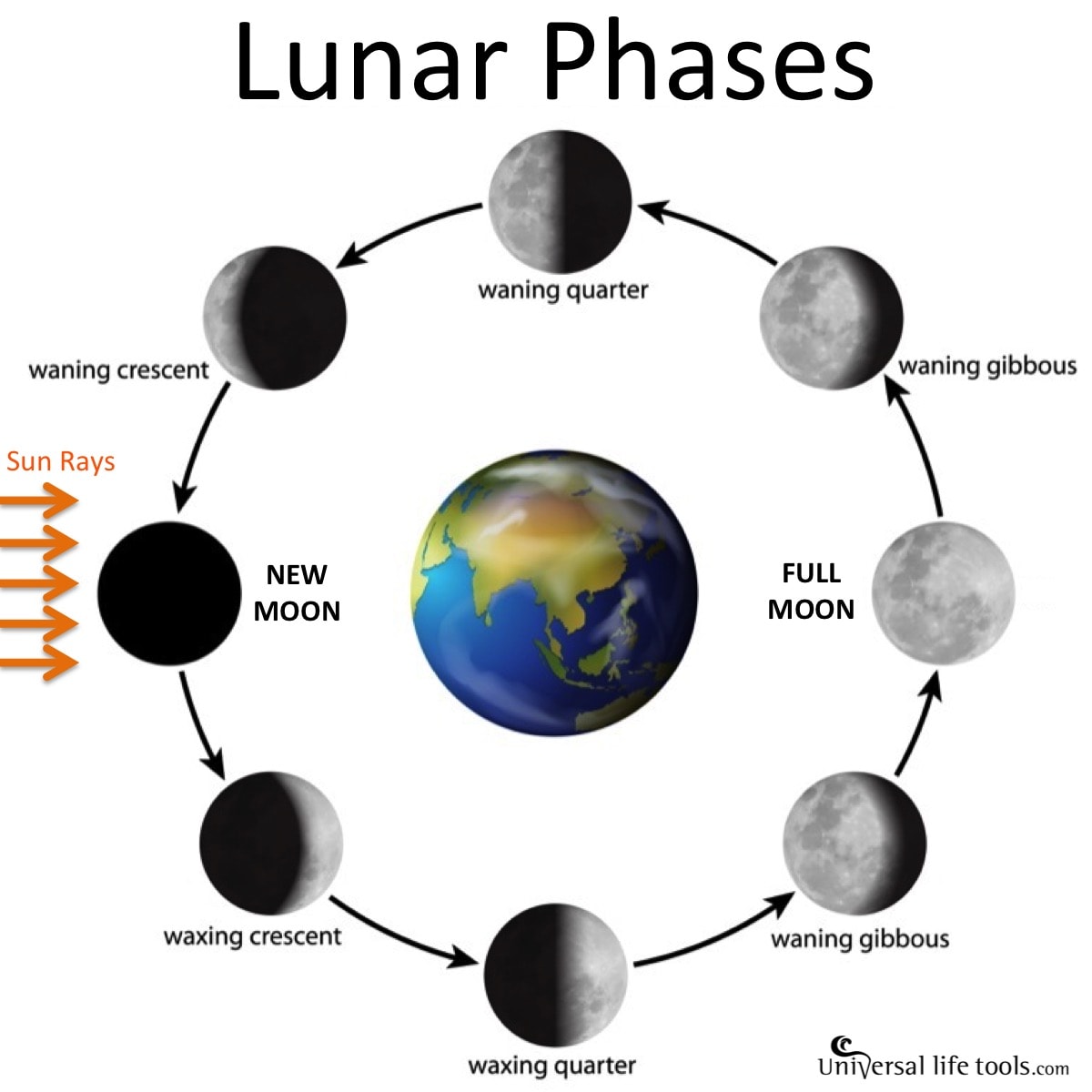 The NEW MOON represents the beginning of our 29 day lunar month. During a New Moon, the moon is roughly sitting between the Earth & the Sun, hence the Sun is shining on the 'dark side of the moon', the side of the moon we never see. As a result, we cannot see the moon as the side that faces the Earth is not illuminated.
The Moon & the Sun emanate frequencies and these energy waves influence the tides, and all life forms on Earth, including human behaviour / consciousness. In addition, during a NEW MOON, both the Moon & Sun are in the same Zodiac sign… giving an exponential boost or concentration of the energy.
The SUN represents our 'outer-world', our identify, our personality, our ego. It represents how we 'shine our light' out into the world, the present moment, our yang or masculine archetype expression. The Sun offers us strength, courage and illuminated insight of the Soul.
The MOON represents our 'inner world', our hidden emotions, desires, our shadow-self, fears/worries and our dreams. It represents our feelings, our unconscious beliefs, the past and our yin or feminine goddess archetype. The Moon offers us the ability to feel, learn from the past and creatively unlock and express our essence.
During a NEW MOON, the side of the moon that remains invisible to us here on Earth is being illuminated by the Sun. Thus our own 'invisible' side, our inner feelings, emotions and desires are also being illuminated during a new moon. During this illumination, we are given a window of opportunity to start a fresh, let go of the energy of the previous cycle and set our intentions, dreams & inner-most desires into conscious action.
The NEW MOON is a great time to set your intentions, write down goals or begin new projects for the forthcoming cycle. Consider sitting in ceremony or personal meditation and affirming to the Universe your intentions & inner-most heartfelt desires for the cycle.
ENERGY: New Moon – June 23/24, 2017

Moon & Sun in Cancer
(2.470 Cancer)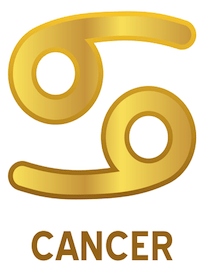 Moon – past, Intuition, unconscious, emotions, nurturing, feelings
Sun – now, Identity, consciousness, self-esteem, expression
CANCER (water) – nurturing, family, sensitive, emotional, moody, psychic
Friday, June 23, 2017 – 7:30 pm PDT (USA/Canada)
Friday, June 23, 2017 – 10:30 pm EDT (USA/Canada)
Saturday, June 24, 2017– 2:30 am UTC
Saturday, June 24, 2017– 3:30 am BST
Saturday, June 24, 2017 – 12:30 pm AEST (Australia)
Friday, June 24, 2017 – 2:30 pm NZDT (New Zealand)
View times in your City/Country>

Our June NEW MOON falls in the Zodiac sign of CANCER. Cancer is a Water sign and is ruled by the Moon… thus our Cancer New Moon heralds a welcome relief of a little nurturing, some tender 'mothering' and a gentle soft respite into ourselves.
This Cancer new moon is a time to feel deeply into yourself and give love to every nuance, action, thought and feeling. Simply rejoice in yourself, and acknowledge yourself as already whole and perfect… you are simply LOVE!
Cancer is the sign of the Sacred Feminine, the creative Mother energy and the nurturer. This new moon offers an energy to peer within and view our relationship to our 'Mother' within, our sacred intuitive natures (whether we are male or female).
What can your 'Inner-Mother' teach you at this time… and allow that wisdom to be imparted from a place of unconditional love of self.
During the 'Divine Feminine' Cancer New Moon we transcend the egoic need of power struggles, destruction of life and pain and suffering. It represents a return of the feminine, in order to balance the male and female polarity in humanity and foster oneness. Oneness in our hearts and minds, oneness in our physical and spiritual selves, and oneness of our selves with all creation.
During this Cancer New Moon each of us holds the potential to 'Dream the Dream' of the Goddess, and create harmony and loving union of the Masculine and Feminine breath of LOVE.
This Cancer new moon energy represents a time to honour your needs… in order to fill your cup full and over-flowing to be of service to others. This new moon represents a wonderful time to also nurture your home life.. maybe spend time gardening, cleaning up clutter, organise a family gathering or make a scrummy meal for loved ones.
In addition, our New Moon is also being influenced by the dance of Venus. Venus represents the Divine Feminine archetype, the embodiment of love, beauty, sensuality, passion & desire. As an archetype I am referring to both Men & Women and how we emotionally, & psychologically integrate, manifest and express the Divine Feminine within our daily lives.
Our Cancer New Moon is also a SUPER MOON – see further details below.
New Moon: Super Moon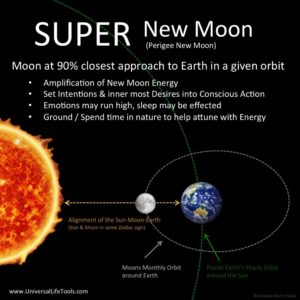 Our June 2017 New Moon is also a Super Moon !

Energy runs high during a SUPERMOON… you may feel more emotional, electric, experience sleep disturbances or have expressive / lucid dreams.
You may also find your intuition is heightened, synchronicity more pronounced and you become more aware or sensitive to the energy of the environment / people / plants / animals… actually everything !
OmAhOm
© Simone M. Matthews
www.UniversalLifeTools.com
Invitation from my Heart ♡

Inviting you to study with us or join one of our Soul Session Webinars and surrender to a greater vision of our World through your Heart ♡
FREE Community Newsletter ♡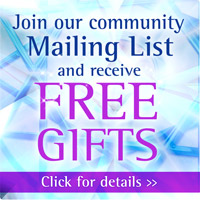 Inviting you to signup to our community newsletter & receive lots of free gifts… such as free meditation audios, videos and our regular posts/articles on Crystal Spirit Wisdom.

Subscribe Now, it's FREE:
https://www.universallifetools.com/mailing-list/
Rest assured your privacy is of utmost importance, thus your details are never sold or shared with anyone !
Save
Save
Save
Save
Save
Save
Save
Save