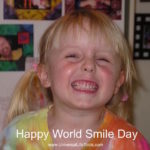 It is my gorgeous daughters 15th Birthday today, on World Smile Day (the first Friday in October)… and her smile is quite infectious (as you can see from the picture). I just couldn't resist sharing !
A smile is so so easy to do… it helps to release endorphins (feel good chemicals), releases stress & anxiety and improves your immunity.  Smiling not only makes you feel great, but also is quite contagious… such a great way to foster more happiness & kindness in the world.  Consider doing an act of kindness today and making one person SMILE 😀
Something to Smile about…
I was going to share this with you all next week, but as it is World Smile Day (not to mention the joy of my daughters Birthday)… well I thought I would share this with you today 😀
I am ecstatically excited to announce (BIG BIG smiles) that today, on World Smile Day, I am launching my Crystal Light Healing® Sacred Ancient Wisdom workshop as an eCourse. 
AND… to bring a even greater smile to your face… when you enrol in my Crystal Light Healing® Practitioner eCourse SPECIAL PACKAGE (enrol before the 30 November 2016) you also receive my new Crystal Light Healing® Sacred Ancient Wisdom eCourse for FREE !!!
OR… if you enrol in my Crystal Light Healing® Sacred Ancient Wisdom eCourse as a stand alone course, you receive my Shealla-Dreaming Book as a FREE eBook:
Sharing with you below a little of my story and how my Crystal Light Healing® Sacred Ancient Wisdom came into being.
But if you are short for time… you may wish to scroll further down the page to find out more Crystal Light Healing® Sacred Ancient Wisdom eCourse course contents and details about my great offer !
Back in Time Reflections
It was the late eighties (ooh, that's nearly 30 years ago now), and I was working in Sydney in the corporate field.  I was as unhappy as hell, but excelling at keeping everyone in my life happy… I was fast-tracking the corporate ladder, my parents were proud as punch with all my successes and I lived a life of affluence that many aspire to achieve.
On the outside I had it all, but on the inside I was miserable.  I wasn't living a life that was true to my heart and soul.  I was purposely hiding my gifts, my soulful side and the callings of spirit in order to be accepted and feel that I was of value in the world.   I truly convinced myself that staying in a dysfunctional relationship, detesting every minute of my job and being an obedient daughter was the right thing to do and would make me a responsible and loving/lovable wife, employee, daughter and citizen of the world.
That all changed when I played hooky from my life and secretly attended a talk by Shakti Gawain.  Side note, for those that attended my Shealla-Dreaming book launch in 2012, I shared this same story with you on the evening.
It was the early nineties, and Shakti Gawain, the author of 'Living in the Light' was presenting an evening talk in Sydney Australia.   It was a break from my illusionary persona to attend a talk like this but I just had this compelling urge to be there.  I remember arriving on the evening of the talk in my business suit (OMG, yep, big padded shoulders were the flavor back then) and slinking into a seat up the back of the room in the hope that no one would see me.
I marveled at hearing Shakti's stories of her world travels, her visions for the world and how each of us has the power to be the change.   It was as if I was the only person in the room that night and Shakti was speaking direct to me, to my heart, to my soul.
Shakti shared that it would take less than the square root of 1% of the worlds population to create a wave of change within the field…and at that time that would have been approx 7,000 or so people.   This was doable I thought.
I wanted to be a part of this wave.  My spirit was rising up and wanting to scream YES YES YES, lets do this together Shakti !
But instead, I stayed quiet.  Who was I to think that I could be a leading visionary of this change, let alone a best selling author like Shakti (after all my dyslexia had always been a stumbling block).
I went home that night in a whirl of possibility and struggled getting to sleep as I battled the inner-workings of the ego.  I had known ever since I was a child that this had been my calling… but my life was now such a complicated façade of falsehood & expectation that I had no idea now to unravel my fictional life story and simply be myself.  Isn't it funny, I felt like I was living someone else's life by living up to the expectations of others, but had no idea how to live my own life !
In my dreams that night, I was shown a school, a place for people to embrace their Light, spark their curiosity and step into the path of living through Soul.   I had had this same dream hundreds and hundreds of time since I was a child… but never before had my dream taken on such a deep meaning.
I awoke in the morning, just like I had done many times before, pushing the memory/feeling away and holding my attention to what I HAD to do (or at least convinced myself I had to do), instead of what my heart YEARNED to do.
Then in 1994, 22 years ago now… all of this changed !   A near-death experience showed me a path of light and expanded on the vision within my dreams.   I was guided to establish a School (Universal Life Tools) and bring to life the teachings & wisdoms of the ancients.
I started to write my first book 'Shealla-Dreaming' (which took me 18 years to release, I had no issues there at all.. LOL), studied to be a Naturopath & Herbalist (among a range of other modalities) and shared the wisdoms of my School with clients and through my meditation gatherings.
It took me until 2004 to formally release these teachings as Professional Certification Courses (Crystal Light Healing® Practitioner Course later followed by Essence of Angels® Practitioner Course) and to finally in 2008 release my first Teacher training courses.   In that same year (2008) I also summoned ALL of my courage to release my Crystal Light Healing® Sacred Ancient Wisdom Course (I will talk more about this soon).
Then just last year (2015), we stepped out of our comfort zones and embarked on our Spirited-Travellers World Event Tour.   We took our School's teachings on the road to inspire thousands of people to see the beauty and sacred light of their own presence here on Earth…to KNOW they are GOOD ENOUGH and to step into CONSCIOUS ACTION of being the change through the Heart.
It was then that last years World Event Tour inspired me to release this year my new Aetheric Healing™ Modality as an eCourse… and feedback from this course has been AMAZING.
And well, my Aetheric Healing™ eCourse guided me to open new doors of opportunity for you all…
The Opening of New Doors…
The last couple of decades have been a truly magical ride of sharing our Essence of Angels® & Crystal Light Healing® wisdoms with the world.   I feel so very humbled to have personally spent time with thousands of people from around the globe and shared sacred wisdoms from my heart.
And I also feel so very blessed that we have thousands graduate Practitioners/Teachers rippling out a WAVE of LOVE round the world too ♡
However, our travels last year highlighted that it was time to grow the ripples of LOVE even further… and it was time to quantum leap the square root of 1% of the worlds population.
Whilst I LOVE LOVE LOVE facilitating face-to-face workshops, I understand that it is not always possible for people to attend a live event with either myself or one of our Teachers.  This could be due to work or family commitments, illness, some people have young children at home which prohibits them being away, other people are single parents, others are carers or others are in their senior years and wishing to study for their own personal growth & development but in the comfort of their own home.
Then there are many many countries around the world where we do not have Essence of Angels® or Crystal Light Healing® Teachers… so offering eCourses in these countries opens up opportunities for people to study with us for the first time !
In addition, Social Media, YouTube, Vimeo and the speed of the world wide web have exponentially brought the world together like never before.  PLUS technology has enabled people to learn, study and empower themselves in ways I never dreamed of 22 years ago.
So yes, now in 2016 the time has arrived for us to open new doors and bring our Internationally Accredited Courses online… and YES our eCourses have now been birthed !
International eCourses
I have dedicated this year (2016) to bringing all of our Schools Internationally Accredited Courses on-line.  We now proudly offer the following Internationally Accredited eCourses as Self-Study options through our Universal Life Tools Wisdom School:
Crystal Light Healing® Practitioner eCourse
Essence of Angels® Practitioner eCourse
Aetheric Healing™ Master Certification eCourse
I must say, I am really LOVING bringing all of our courses online.  It is a HUGE HUGE job, but well and truly worth it.   I just LOVE that all of our students receive a LIFETIME of access to our eCourses PLUS they have access to additional self-study tools (videos, articles, websites, books etc) that just aren't possible to connect with during a 2 day workshop.
But I have been holding back a little… debating whether I will release as an eCourse the one workshop that is so very dear to my heart… the workshop that underpins the birthing of all the above Courses through our school… that is:   Crystal Light Healing® Sacred Ancient Wisdom.
Crystal Light Healing® Sacred Ancient Wisdom – eCourse
Well today, on World Smile Day, I am excited to announce that the time now feels right to release Crystal Light Healing® Sacred Ancient Wisdom as an eCourse.
The wisdom within this course sits very deep in my heart… as it is a personal eCourse where I share with you channelled wisdoms of the ancient Mystery Schools of Earth – Lemuria, Atlantis, Egypt & Mayans.
I share with you my knowledge, my dreaming, my direct experiences and my future predictions… as received direct from the Akashic Field.
This eCourse dives deep into the Mystery Schools cherished teachings.   Firstly I look at what is our Earth, why/when humans came to Earth and what part do each of us individually / collectively play in alignment with this bigger picture of creation.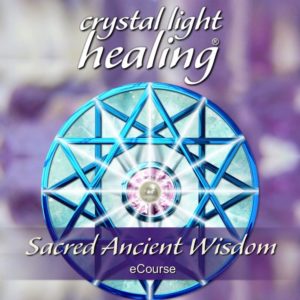 During the eCourse I work with the 13 Sacred Keys Map of Creation (an ancient Metatrons Cube).  We then experientially spend 'time' in each individual Mystery School (of Lemuria, Atlantis, Egypt & the Maya) and learn about how this Map of Creation paves the way of evolution.
Within each Mystery School I share with you daily life, community & customs, relationships, sexual union/reproduction, metaphysical wisdoms, crystal healing, archeon essences, breatharian / lightarian / activated food, multi-dimensional skills (eg inter-dimensional travel, astral projection, lucid dreaming etc), holographically repatterning, akashic readings, aetheric channelling and a whole lot more.
When we reflect on the past, we are empowered to understand ourselves more deeply in the present moment and are inspired to BE the CHANGE… for we are the ancestors of future generations.
My Crystal Light Healing® Sacred Ancient Wisdom eCourse presents you with the tools to foster quantum forgiveness, finally release the shackles that hold you back and surrender to the joy, love, kindness, compassion & happiness that life is waiting for and wants you to embrace NOW.
This eCourse is designed for YOU.  To help you understand yourself, your past, your gifts / talents in this life-time and will propel you to step into the highest potential of your Soul in the NOW.   This eCourse will support you in awakening to the beauty of your Light, to help you experience the infinite LOVE within you and will transform your life
I invite you to join me on this Crystal Light Healing® Sacred Ancient Wisdom eCourse journey.
Special Offer
As I mentioned toward the top of this page, when you enrol in my Crystal Light Healing® eCourse SPECIAL PACKAGE before the 30 November 2016, then you will receive access to my Crystal Light Healing® Sacred Ancient Wisdom eCourse for FREE :

Enrol in Crystal Light Healing® eCourse SPECIAL PACKAGE today >
Alternatively, you can enrol in my Crystal Light Healing® Sacred Ancient Wisdom eCourse as a stand alone eCourse.    When you pre-enrol you also receive access to many free gifts too including my Shealla-Dreaming Book as a FREE eBook:
Enrol direct in Crystal Light Healing® Sacred Ancient Wisdom eCourse today >
Join our Community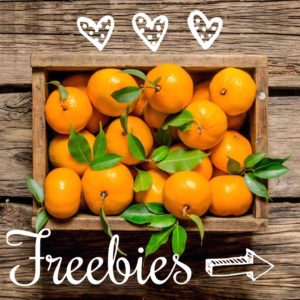 Inviting you to signup to our community newsletter & receive lots of free gifts… such as free meditation audios, videos and metaphysical/energy articles. 
PLUS… on sign-up you will receive a special Coupon Code offer for use within our eShop – on all products, services & eCourses.

Subscribe Now, it's FREE:
https://www.universallifetools.com/mailing-list/
Rest assured your privacy is of utmost importance, thus your details are never sold or shared with anyone !
Save
Save
Save
Save
Save
Save
Save
Save
Save
Save
Save