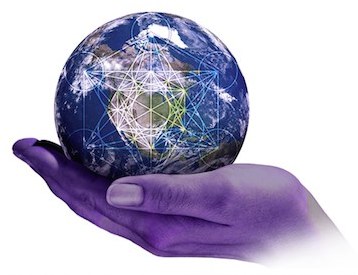 During 2015-16, we travelled the world as part of our Spirited-Travellers Tour – the sharing of Sacred Ancient wisdom through our FREE Talks, Community Events & Courses.
Our Vision was to inspire a movement of passionate people in service to transforming the world into a kinder, more loving and compassionate place. And our aim was to inspire CONNECTION, bringing people together to re-remember that we belong to one another. WE are all ONE.
As part of our Spirited-Travellers World Tour, we released Blessed Earth Crystals into Earths Waterways (Oceans, Lakes, Streams & Waterfalls) and we also buried these Blessed Earth Crystals into leyline grid points, portals & sacred sites around the world.
Our vision is to map the release of over 1000 crystals around the world and create a Sacred Geometric Crystal Grid Map, which will form the basis of NEW Vibrational Essences, Healing Modalities and Global Meditation Linkups in the years to come. Watch this space !
Global Sacred Geometric Crystal Map
Update – January 2016
Now that our tour has ended and we are back in Australia, we will be putting the finishing touches to our Global Sacred Geometric Crystal Map. Though the Mapping doesn't end here… as we will continue to expand the mapping over the years as we travel to regions of the world less travelled, continuing to release our crystals on the way.
Over the coming years, we will be activating & attuning this Global Sacred Geometric Crystal Map to work with Earths Electro-Magnetic Field & her Schumann Resonance Frequencies. This Grid Map will play a key role in amplifying the greater potential of our Essence of Angels® Essence range and will form the basis of the creation of new Vibrational Essences in support of awakening Humanity's Heart to the New Earth.
Gratitudes & Photos
Our Gratitude to everyone that believes in & supports our work… without your heartfelt support our visions could never be realised, thank you !
Please find below a selection of photos that capture our release of some of the Blessed Earth Crystals that we gifted back to Mother Earth. Many of the crystals that we released were in regions where photography was not allowed (or was disrespectful)… but we have ensured that these are still all marked on our Map. We look forward to updating this page over the years to come ♡
You may click on the following quick links, or scan down the page:
PHOTOS – Australia

Please click on the first photo below to view the full photo gallery slide show, thank you ♡
Photos will be added here throughout 2017 ♡
PHOTOS – Cambodia & Singapore

Please click on the first photo below to view the full photo gallery slide show, thank you ♡
PHOTOS – Ireland, Italy & Romania

Please click on the first photo below to view the full photo gallery slide show, thank you ♡
PHOTOS – UK
Please click on the first photo below to view the full photo gallery slide show, thank you ♡
PHOTOS – MEXICO
Please click on the first photo below to view the full photo gallery slide show, thank you ♡
PHOTOS – USA & CANADA
>Please click on the first photo below to view the full photo gallery slide show, thank you ♡
[divider dotted]
Save
Save
Save
Save
Save
Save
Save
Save
Save
Save
Save
Save
Save
Save
Save
Save
Save
Save
Save
Save
Save
Save
Save