Recently I came across a most beautiful community project… and the memories came flooding back to me of the inherent healing powers of the Teddy Bear!
As I child I remember fondly cuddling a Teddy Bear at night whenever I was scared. And on days where I was unwell, my Teddy Bear always made me feel oh so much better.
Self-Healing through Teddy Bear's
So what is it about the Teddy Bear that fosters such an immense inner-sense of well-being ?
To answer this question I did a quick 'google', and to my surprise found a myriad of community projects dedicated to helping people of all ages find joy, healing and happiness through Teddy Bear magick !
There are many care agencies and community funded projects established to make and distribute Teddy Bears to children around the world in their time of need… whether sick in hospital, orphaned through natural disasters, or in times of warfare, severe trauma and violence.
When children are afraid or suffering from anxiety, hugging a Teddy Bear alleviates the enormity of the symptoms, bringing comfort and reassurance to the hugee. In times of illness, acute trauma or loss, holding a Teddy Bear helps a child to feel LOVE, feel nurtured and feel a sense of hope from within.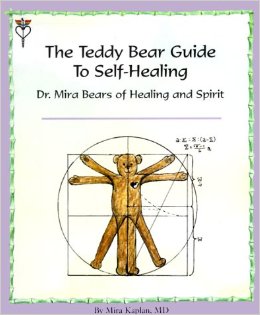 Dr Mira, in her book 'The Teddy Bear Guide to Self-Healing' uses Teddy Bears in helping people to heal no matter what their age. The Teddy Bear is used as a bridge between Eastern and Western medicine, ancient and New Age approaches, in order to empower healing from within. The Teddy Bear, synonomous with healing the inner-child, is a gentle approach to support people in embracing healing concepts including chakras, acupressure, aromatherapy, meditation etc..
On a physical level, holding a Teddy Bear triggers a release of 'feel good hormones' in body, such as serotonin and endorphins, which act to reduce anxiety, improve your ability to deal with pain and helps to elevate your mood. In this state of nurturing, the real healing can begin with the aid of care givers, counselors and medical staff… as the heart is open and ready to heal.
Trauma Teddy
So back to the community project that I mentioned at the beginning of this post… the project is called 'Trauma Teddy's' and it is run by the Red Cross.
Volunteers around the country knit 'Trauma Teddy's' (it is a very simple pattern), and once inspected and labeled with a Red Cross Tag, the Teddy is ready for shipment to hospitals and community organisations in need.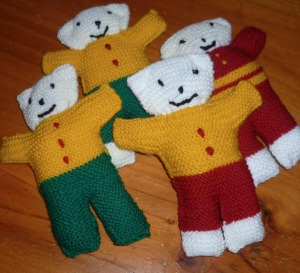 The picture to the right is of a few Trauma Teddy's that Barbara, my mother-in-law, knitted this week…. these Teds will be be handed out at the local children's hospital. Barbara also has knitted booties and caps for little premmy babies… all in high demand in hospitals.
When a child hugs a Trauma Bear, not only is the child feeling the comfort of this woolly bear, but the child is also feeling the LOVE and deepest heartfelt healing prayers that have been woven into the bear with each stitch. Bear hugs to all the volunteers around Australia who donate their time to the care and nurturing of others… our children LOVE you for it !
Here are some links to find a bit more info about Trauma Teddy's & how to volunteer:
http://www.redcross.org.au/trauma-teddy.aspx
© Simone M. Matthews