Over the weekend just passed, I had the pleasure of facilitating our Essence of Angels® weekend Course on Vancouver Island, BC, Canada.
There were many challenges leading up to this event, including the Event Host cancelling our venue booking (oh, don't ask), our last minute relocation of the Event on Vancouver Island (it is peak holiday season, so quite a feat unto itself) and then participants unable to make their committment to attend at the very last moment after we bent over backwards to pull this all together within 48 hours whilst travelling !
It led me to pen this article on 'Courage, Challenges & Awakening' and express my deepest feelings… so feeling gratitude for all that has transpired.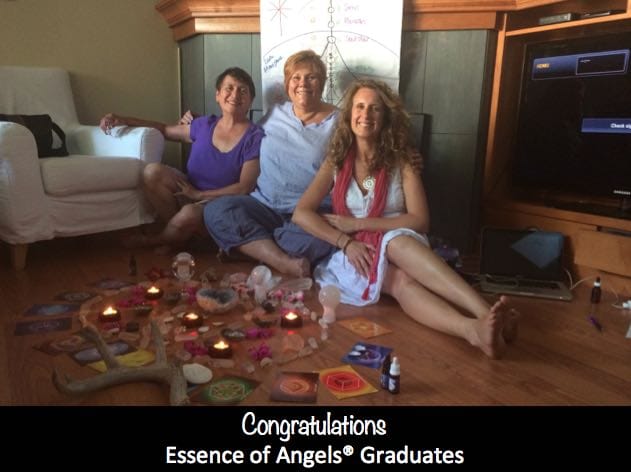 Of course spirit has a magical way of weaving light… and whilst this is the smallest workshop I have facilitated in over a decade… the LOVE expressed and the healing that occurred was transformative as if 100 were in attendance !
Thank you to Nimisha & Marian for bringing your LIGHT to our Blessed Earth Crystals and inspiring us to continue on this tour even in the face of challenges.
Photo Album – Vancouver Is. BC, Canada
Sharing with you a few photos from our time on Vancouver Island, BC, Canada for our Essence of Angels® course ♡
Past Events
Please also view my VIDEO TESTIMONIALS Page where we share testimonials from our previous Spirited-Travellers Events ♡
PLUS… please view our EVENTS SCHEDULE to find an Essence of Angels® or Crystal Light Healing® in your city of the world.
Upcoming Events with Simone
August to October 2015
SACRAMENTO, CALIFORNIA, USA
31 July 2015 – Fr'ee Talk Sacred Ancient Wisdom
1 & 2 August 2015 – Essence of Angels® Practitioners Course
(Earlybird ends Midnight 24 July 2015)
Find out more or make a booking >
SALT LAKE CITY, UTAH, USA
10 to 15 August 2015 – Crystal Light Healing® Practitioner Course
16 to 18 August 2015 – Crystal Light Healing® Teacher Course
(Earlybird ends Midnight 4 August 2015)
Find out more or make a booking >
MALIBU, CALIFORNIA, USA
2 October 2015 – Fr'ee Talk Sacred Ancient Wisdom
3 & 4 October 2015 – Essence of Angels® Practitioners Course
(Earlybird ends 19 September 2015)
Find out more or make a booking >
View our FULL EVENT SCHEDULE for 2015/16 >
OmAhOm
xx Simone