Over the last week and a half, here in Noosa, Australia, I facilitated my last live event for the next 18 months. It is always a little scary as one door closes, but also a feeling of exhiIaration has been pulsing through me as I open up to this next exciting chapter in my life & our Universal Life Tools School.
Whilst I won't be facilitating live events over the next 18 months, rest assured I will of course still be involved in the day to day operations of UniversalLifeTools.com, including the creation/facilitation of my Self-Study Courses, including an exciting announcement in July 2016 !
As you can imagine, the last couple of weeks have meant the world to me, as it was a time to teach my last live Crystal Light Healing® Teachers course (well at least for a couple of years), reflect on how far our school has come…. and then of course graduate beautiful ladies who are being called to take Crystal Light Healing® out into the world.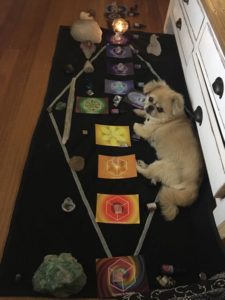 I do love running my Teacher courses from home and as you can see our dog Shikaylah (pictured right) is oh so going to miss my Teacher Courses too. She is such a wise little Tibetan Spaniel who is getting on in age and something tells this will be her last Course, so again… another important memory to hold in my heart.
A big thank you to the beautiful participants who came together in my home, opened their hearts and gave new meaning to the world caring. You reminded me from deep in my heart how much I LOVE teaching, sharing and inspiring people with the wisdoms of our ancients. Thank you also for your nurturing (I am still getting my health back since last years whirlwind trip around the world facilitating events) as it enable me to teach from a deep space of spirit.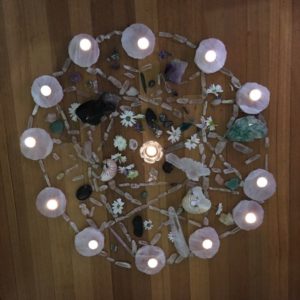 As I reflect on the last couple of weeks, our laughter, our tears and our heart openings… I am in awe of our group, all that we created and all that we are now choosing to step into. It takes a HUGE amount of courage to face the shadow and release its hold… but each of us was brave, fiercely owning our light and peacefully surrender to the LOVE that is just waiting to ooze into our beingness.
The photo to the right shows our last grid that brings together a number of the crystals that we shared in ceremony during our 2015 Spirited-Travellers trip around the world, many of the crystals that were gifted to us along the way… and a uniting with a number of crystals that have travelled with me for the last 22 years. Feels like I have come full circle in a way, but a circle that revolves within a Vortex and I am ready to make that quantum leap into the next cycle.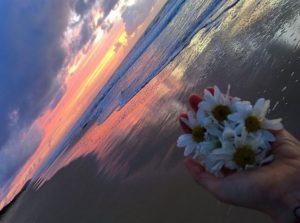 After our course, I headed to the beach on the weekend and released crystals and many items from nature within our grid to the ocean. I gifted back to the Earth all that we had woven & shared ♡
Once again, thank you everyone for your tenderness. I was so very very touched by the love, care, nurturing and kindness shown by all those who attended.
And one final thank you… to my beautiful husband Shaun for helping get all the tech equipment ready and to our children that helped with set up and pack down… many hands make light work ♡
Happy Full Moon & Winter/Summer Solstice everyone… may we dance together bathed in the light of our hearts.
Photo Album – Noosa, Australia
Sharing with you below some heart-felt pics from our time together at our Crystal Light Healing® Practitioner & Teacher Course, Noosa, Australia. Thank you so much divine Souls for your generosity of heart ♡
Save