Spring is starting to emerge here in Australia – the first buds appearing, birds building their nests and the circada's are chiming their orchestral waves at twilight. I just LOVE this time of year, the freshness, new beginnings and the excitment of heading into my Spring/Summer Teaching schedule.
Next week we launch my Aetheric Healing™ LIVE workshop, followed by my NEW ELI: Esoteric Liquid-Light eCourse, then later in October my SoulFULL Heart Retreat (there are still a couple of vacancies too… more about that in a moment).
In preparation for my upcoming Workshops & Retreats (helped along by the warmer weather may I add), I have been spending oodles of time in nature, tapping into the Soul-Song of Spring & setting my intentions & heartfelt visions for the months ahead.
Sharing with you a few wisdoms that I have been writing about this week in prep for my upcoming events!
We reside within Soul
The Soul doesn't reside within us… but rather we reside within Soul.
It is a rather mind-boggling thing to contemplate I know, but I believe that is where our HEART comes in… the Heart just KNOWS it. The Heart feels this truth of Soul… it feels the nourishing, warm, nurturing & tender residence within Soul… it feels whole & complete.
The Soul is like the Mother Ship (the Mother Ship of an even greater Mother Ship… thoughts for a future post I think) that sets off sail on the course of life. The Mothership doesn't ever get lost, she knows the route and flows the currents with grace & ease.
In our humanness however, there are times when we may lose sight of Soul – her effortless guidance and her grandest vision of our life.
During times of loss, deepest grieving, sorrow, unbearable burden, or maybe even grave illness it may feel as though grey clouds or a thick blanket of fog is separating our life's experience from our Mothership Soul. We may feel lost, maybe even abandoned, and at times we may even feel isolated and alone.
But as we reside within Soul, Soul is all encompassing, it is ever-present in every breath, every blissful moment and even can be found deep within every heart-ache.
If we reside within Soul and hence Soul is ever-present, how then can we consciously live with more Soul in our lives ? Or in other words, how can we connect with Soul more fully through each and every moment – both the joyous moments of our life as well as the most challenging of times ?
How can I live more Soulfully ?
The first word I think of when someone asks me 'How can I live a more Soulfull life?' is the word – Retreat.
Let me explain.
The word Retreat comes from the Latin word retrahere meaning to 'withdraw, call back, fall back from battle'.
When you Retreat, you are allowing yourself the time and space to fall back into yourself. Through frequent withdrawal from the everyday busyness of life, retreat enables you to be nourished by Soul, uplifted by her wisdom and provides you with an opportunity to gain clarity of your life's direction.
You could say that frequent retreats are your treat to self, to 'Re-set', 'Re-vitalise', 'Re-juvenate' & 'Re-kindle' the sacred connection with Soul.
So what then is a Retreat ?
When I say the word Retreat… what may come to mind is a white-sand-azure-blue water beach escape, escaping to a treehouse in a faraway forest, or even a 3 day retreat of silence in a temple or sacred place of worship.
YES, all of these are divinely gracious Retreats… but what about daily RETREATs that you bring into your life many times each day ?
Retreat moments that enable you to move inward, discover the rich essence of SOUL that permeates your entire beingness, and that inspire you to emanate this essence out into your life as you resurface back into the world.
Each and every day I create space to gift Retreat moments / Retreat experiences to myself as nourishing food for Soul. They support me in finding a deeper-sense of peace in my inner-world, such that I can heartfully bridge this peace into my outer-world. They enable me to experience a profoundly SOULFULL & reverently meaningful life.
Whilst my daily Retreat rituals may seem quite simplistic… when applied on a regular basis they create profound shifts in the long-term trajectory of your life. They fertilise and ultimately cultivate a deeply SOULFULL life experience.
AWE… Find something EVERY DAY to be in awe of. Don't name it, don't try to understand it, don't try to analyse it with your mind… rather cast your gaze upon at least one thing in your life each & every day and let yourself sit in wonderment & veneration of its presence.

For-instance, today I started my work day by placing a single Sunflower in my favourite glass vase on my work desk, and periodically (say every hour or so) I have cast my gaze over the Sunflower and simply soaked in the majesty of her beauty. I feel the essence of the Sun in her yellow petals, I drink in the mystery of the sacred geometry in her darker centre and I simply absorb the beaming radiance of her presence. What a miracle that this sublime flower started life as a little seed… and here she sits before me, vibrant & full of life – from little things, big things grow & flourish.

Another idea… each evening, take a moment to look up to the night sky. Let yourself be awed by the sheer vastness of the starry sky, the beauty of the twinkle of each light, the unfathomable size, the resplendant awe that you are alive in the mystery of this galaxy, this universe.

Awe takes you out of the limited world of your story of experience of life – we all have our stories, our beliefs, our unique perspective on situations. Awe enables you to feel, tap into, and be uplifted by a love that has no limitation, no end. Awe does that – it connects you to the ominipresent.
BEAUTY… Fill your life with beautiful things. Now I don't mean max out your credit card on consummeristic stuff… I mean choose to invite beauty into your everyday life. And this choice does not need to involve money at all.

Beauty is everywhere, you just need to open your eyes & your Heart to its presence. Let the world dazzle you with its beauty, uplift moments & inspire you to express this beauty through all you do.

You could start by beautifying your home. Your home is your temple, a sacred place of ReTreat. How can you Treat your home, which in turn ReTreats you ?

Spend a little time each day in service of your temple-home. Clear away unnecessary clutter, make your bed each day, open the windows to breathe life into every room, ensure the dishes are washed & put away each night & lighten-up your living space with incense/essential oils. Fill your home with gifts from nature – a seed pod, a pinecone, a shell, a flower – inviting the outside in.

Your sacred acts of beautifying, as simple as they maybe, are invitations to experience more beauty in your life. By gifting beauty to yourself from your outer-world, you connect with the experience of beauty in your inner-world. And as you experience a reverent beauty within everything – no matter how small, dark, or outwardly ugly – a deep realisation arises within you that ultimately everything you smell, see, touch, feel is actually the beauty of YOU.

Remember you reside within Soul, so everything external to you is a mere reflection of the essence of you.
Bringing more Soul to Life
As you cultivate a life through AWE & BEAUTY… even through the darkest moments of your life – grief, despair, loss, hardship – you can still encounter JOY and be awed by the beauty of your depth of feeling.
Living SOULFULLY does not mean you will only ever experience bliss!
A deeply Soulfull life is in fact a rich tapestry of a multitude of experiences – often quite paradoxical & shadowy. The bliss, the laughter, the playfulness, but also the grief, despair & deepest sorrow create the complexity of a full bodied life. Like hands on a pottery wheel, these diverse experiences mold you into a person capable of deepest compassion, empathy & connection.
During shadowy times of life, open yourself to the experience of what is arising within you – feel & drink in the full spectrum & depth of emotions.
This is the road of the SOULFULL pioneer of life. To live FULLY. To laugh, cry, break, rise-up, shatter, heal & restore.
Through the highest of highs, & the lowest of lows… allow yourself to expand your SOULFUL presence & ultimately let it expand what is at the deepest core of you… LOVE ♥︎
---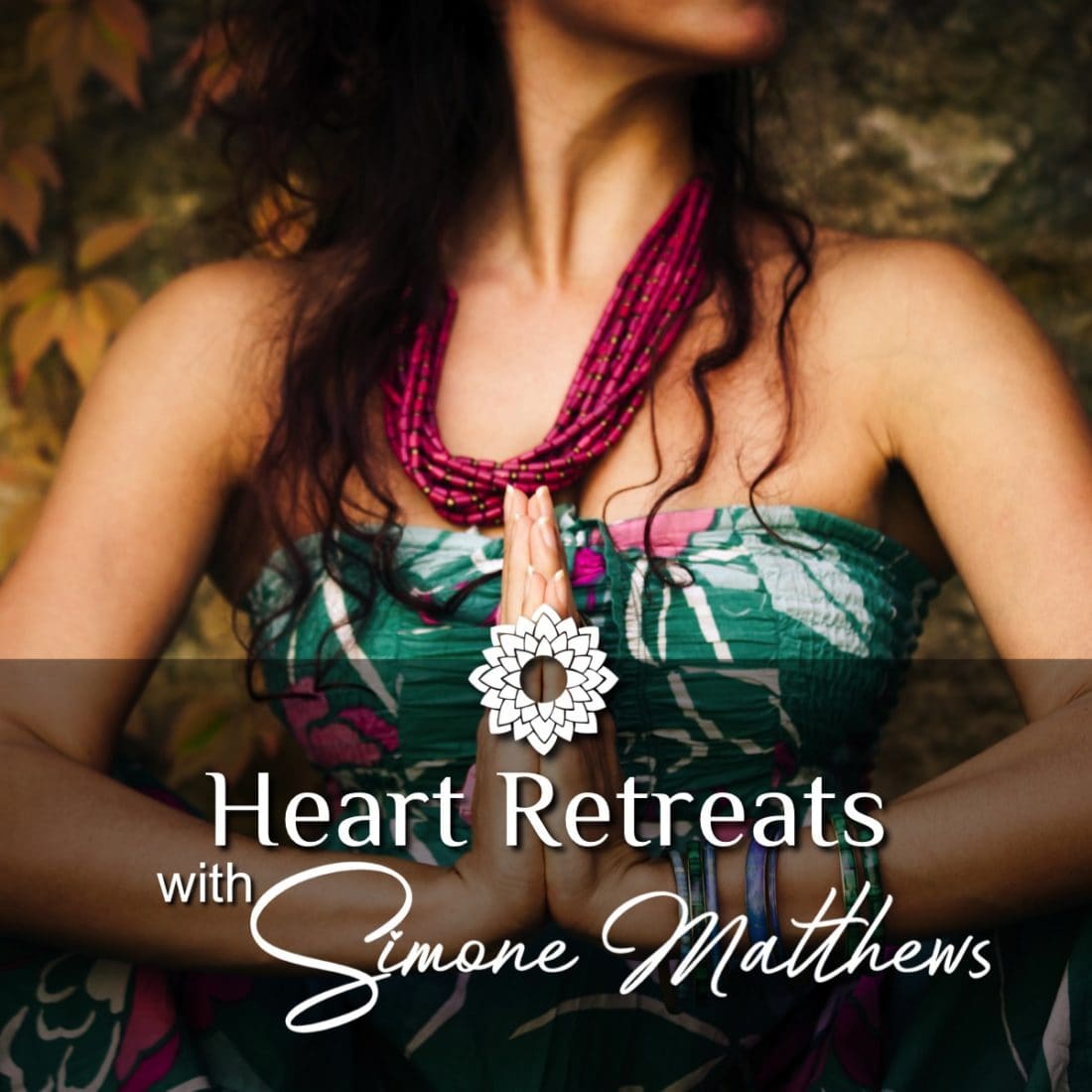 Inviting you to join with me at my upcoming Heart Retreat, a coming together of Mind -ancient wisdom, with Heart – the depth of your Soul.
Our Life Mastery Teacher Heart Retreats are powerful immersions in Heart awakening. A time to savour silence, get back in touch with the healing power of nature, rediscover your soul song and nourish your body, mind & spirit through mindful presence, awe & beauty.

Your Heart Retreat experience will awaken a revitalised vision of your greater potential. You will be inspired to live a bolder & more courageous life and will feel confident, ready & able to tackle any challenges that may keep you from thriving. You will feel lighter, clearer & in touch with your deepest desires & sacred pleasures.
Join us for our next Heart Retreat and press pause on your life, fill up your cup through Soul-full healing and return to life filled with a deeper Grace & sacred Presence. Find out More >