How are you feeling as we head into these last few days 2018 ?
I am sensing a global 'breath out' (ooh & it feels good), a huge release, a feeling of relief that the year is nearly over and a fresh new start awaits us all in 2019.
For me personally, I love this space between Christmas & New Year – spending a little quiet time each day in reflection of the year just past & pondering my life in the year ahead.
My reflections aren't about creating a 'to do list', or making a list of dreaded New Year resolutions – which lets face it are bound to be broken before the first month of the year is out. Rather, to me this time is about focussing on my feelings. How do I wish to feel during 2019? What can I make space for, invest in & focus my energy on during 2019 to make these joyful desires of my heart a reality?
Downloadable Gift
Today I created a 'Celebrating, Reflecting & Envisioning' handout that I thought you may wish to download to help guide you in stepping into 2019 with clarity & fierce Grace – click on the image below to download & print.
I recommend pouring yourself a cup of tea (I believe magic happens over cups of tea) and setting aside a little time to celebrate, reflect an envision – detailing your thoughts/feelings within the blank spaces on your handout. You may prefer a few minutes each day, maybe a couple of hours one evening… or better still a whole afternoon or even day dedicated to YOU. You are after all WORTH IT !
You may wish to then place your completed handout on your altar, or sacred place in your home/bedroom that holds a special place in your heart. Light a candle, read the words out loud & feel into the essence of a New Year of Soulfull potential.
Hope you find this 'Celebrate, Reflect & Envision' handout helpful!
From my Heart to yours,
xx Simone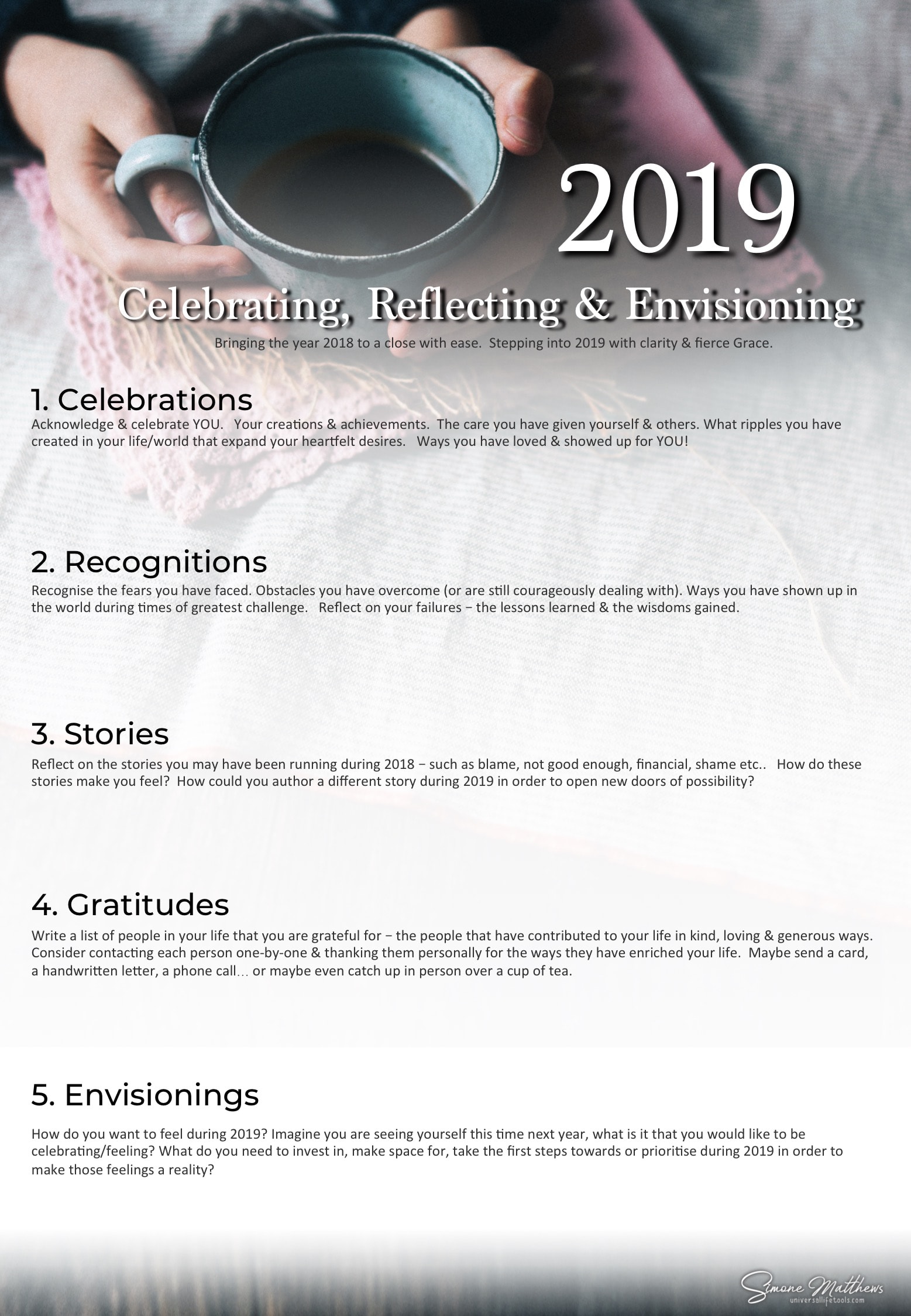 Image Credit: Gaelle Marcel