Description
Essence of Angels® Boxed Set of Essences
Using an ancient form of alchemy called Archeon, Simone M. Matthews (the founder of Essence of Angels healing) was guided to align high frequency Archangel Elemental Templates (8th Dimensional) with their Master Crystal Energy (1st Dimensional) counterparts and synergistically blend these energies with sound, colour, sacred geometry, sacred symbol and astral alignments.
The result is a range of exceptionally high frequency vibrational essences that are programmed into the Grand Cycle of Evolution to assist people in creating and fulfilling their destiny.
The Essences are not just another range of Vibrational Essences – they are Sacred Liquid Light Templates that activate and awaken your DNA, help you move beyond fear/separation, foster healing from dis-ease and support you in experiencing yourself as a Divine Human.
As a Divine Human you free yourself from suffering as you easily and coherently access a higher/awakened level of consciousness and you live your life from a place of grace and sacred ease. You have the tools and intuitive knowledge to awaken your medical intuitive ability, heal yourself/others from dis-ease and become a seer of future potentials through your activated claircognizant and/or clairvoyant gifts.
Our Essence of Angels® vibrational essences are referred to in leading edge science as 'Liquid Crystals' or more commonly 'Structured Water'. Science states that water (H2O) can be found in 3 phases – Gas (eg steam), Solid (eg ice) and Liquid. However, the new science is now discovering that water has a fourth phase, which is called 'Structured Water'.
Structured Water is where H2O molecules structure themselves into a regular hexagonal matrix that create OH4 water molecules. This OH4 structure of water creates a Liquid Crystal as it displays the same properties as Quartz Crystal SiO4. This means that Structured Water can absorb energy, store energy, emit/amplify and transduce energy (convert energy from one form to another eg colour to sound).
When you apply the Essence of Angels® to the body, these Sacred Liquid Light Templates (or Structured Water Templates) entrain the water within your own body to 'structure' the water. As you body's water becomes optimally structured, you promote health and healing in that region of the body, transmute negative emotions/stuck cellular memories, let go of old/subconscious beliefs and activate/attune your DNA and awaken to a higher level of consciousness as you access the field of infinite intelligence.
Structured Liquid Crystal Water or Sacred Liquid Light Templates have been used by indigenous peoples for thousands of years, now this ancient wisdom is being remembered and brought into modern day usage through the Essence of Angels®.
The Essences are major facilitators of change, helping us to transcend the limiting beliefs of our physical world and open our hearts and minds to the miracles that are created through the power of LOVE.
The Essences maybe used intuitively or as part of the Essence of Angels sacred healing of the ancients.
The Boxed set of Essence of Angels
There are 12 Stock bottle Essences within the range which maybe used for your own personal use, family and/or clients.
To find out a little more about each Essence and how to apply/use each Essence externally, please view each individual Essence for sale within this section of the shop.
The Essence of Angels Boxed Set of Essences (12 x 10ml bottles):
Archangel Azrael
Archangel Raphael
Archangel Jophiel
Archangel Gabriel
Archangel Haniel
Archangel Raziel
Archangel Michael
Archangel Jeremiel
Archangel Chamuel
Archangel Uriel
Archangel Zadkiel
Archangels Metatron & Sandalphon
Golden Quantum Essence:
The Golden Quantum Essence is included in the making of all 12 Bottles of the Essence of Angels (plus Ancient Healers Essence).
The Golden Quantum Essence – is a high vibrational essence that assists your 'quantum leap' into the next cycle of evolutionary consciousness of our Milky Way Galaxy. The essence connects your 'Heart' with the 'Heart of the Earth' and the 'Heart of the Galaxy'. When this 'Tripple Heart' beat/breathes together as one, we are free to transcend the old paradigm of Earth and emerge as co-creators of a universal humanity coming together in LOVE, Unity and enduring Peace. We embrace our full soul potential as we consciously enter the next 225 million year cycle of our Milky Way Galaxy.
Prior to the 21 Dec 2012 this Essence was referred to as the 'Golden Age Essence'. On the 21 December 2012 (Summer/Winter Solstice) this Essence became fully activated, and as such was renamed the 'Golden Quantum Essence'. Golden Quantum Essence potentiates the resonance of the Essence of Angels as we embark on a new 225 million year galactic cycle.
FREE Golden Quantum Essence: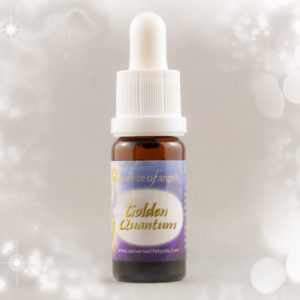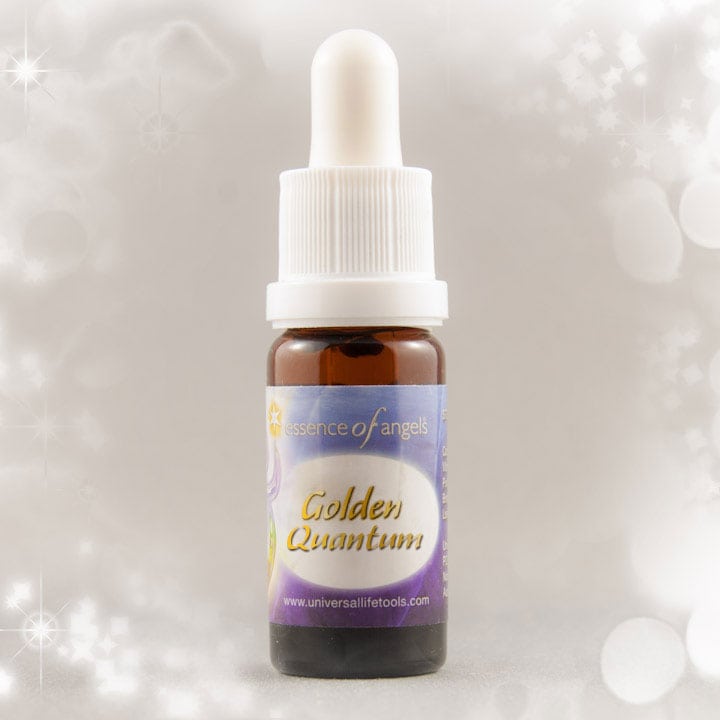 When you purchase the box set of 12 Essence of Angels, you will receive a FREE bottle of 'Golden Quantum Essence'.
This Essence can be used on it's own to potentiate Quantum shifts with your life, huge evolutionary transitions and to expand your light-body beyond your perceived boundaries/beliefs/limitations.
Please visit our Golden Quantum Webpage to read more about this Essence:
Read more about Golden Quantum >>
Other Resources:
Self-Study Courses:
Inviting you to enrol in our International Practitioner Certification Essence of Angels® Course and learn how to use the Essence of Angels® for personal, client & planetary healing. You can attend the Essence of Angels® as a live event with one of our certified Teachers, or study via our on-line eCourse.
The Full Boxed Set of 12 Essence of Angels is used during for the practical exercises in our Shealla-Dreaming Self-Study Course and our Soul Evolution Self-Study Course.
The Golden Quantum Essence is also used in both our Shealla-Dreaming Self-Study Course and our Soul Evolution Self-Study Course.
Save
Save
Save
Save
Save
Save
Save
Save
Save
Save
Save
Save
Save
Save
Save