Essence of Angels® Vibrational Essences are charged with Sacred Geometric Cosmic Templates of the Archangel Frequencies (through Metatron's Cube) combined with Crystal, Mineral & Plant Intelligence templates.
Each individual Essence of Angels® Vibrational Essence Stock Bottle holds a unique vibratory frequency that supports the body's innate ability to heal itself, uplifts the mind/emotions to awakened states of LOVE and draws your Heart & Mind to radiate your greater Soul Potential.
The Essences maybe used intuitively or as part of our Essence of Angels® online learning course – Healing Modality.
The Boxed set of Essence of Angels
There are 12 Stock bottle Essences within the range which maybe used for your own personal use, family and/or clients. To find out a little more about each Essence, please view each individual Essence for sale or study each individual Essence in detail via our Essence of Angels® online learning course.
The Essence of Angels Boxed Set of Essences (12 x 10ml bottles):
Archangel Azrael
Archangel Raphael
Archangel Jophiel
Archangel Gabriel
Archangel Haniel
Archangel Raziel
Archangel Michael
Archangel Jeremiel
Archangel Chamuel
Archangel Uriel
Archangel Zadkiel
Archangels Metatron & Sandalphon
PLUS you receive as part of this Bundle Package:
BONUS Poster – Key Use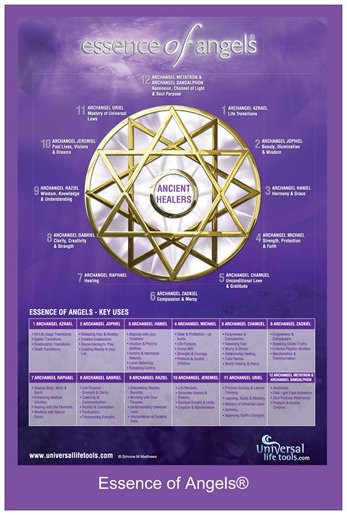 Our Essence of Angels® Key Uses Poster is a High Resolution pdf file that you can use to print your own full colour poster to any size.
The Poster contains a summary of the Key Uses for each of the 12 Essence of Angels as they relate to Essence of Angels® healing.
This vibrant poster is ideal to print and hang on your wall for your own reference and support clients on integrating the Essence of Angels® wisdoms into their day-to-day lives.
Additional Resources
To accompany your Essence of Angels® Vibrational Essences, you may also wish to work with our Sacred Geometry Crystals & Supportive Tools. These be used during Healing Sessions, for Distance Healing, Personal Healing & Meditation, as well as for Ceremonial work.
Preparation & Application:
Understanding the Energetics of each of the Essence of Angels® Stock Bottles and how to work with the Essences for personal & planetary healing toward a New Earth Era, is taught in depth via our Essence of Angels® online learning course.
However, you can also work intuitively with our Essences to prepare your own personal Dispenser Bottles, or administer direct from the StockBottles. The Images below may support your intuitive use of the Essence of Angels® Stock Bottles.