For further insight into Lightrition™, please read our Lightrition Course page.
Our Lightrition™ – 8 Module Course was filmed during 2020, hence synchronistically this gifted the opportunity to specifically tailor the Lightrition Course Material to meet the unprecedented global experience we find ourselves during this time.
Lightrition Module 3 onwards – Simone directly addresses the deeper experience of CoronaVirus, what it means for each of us individually, the greater spiritual experience of COVID-19 (Germ Theory, Awakened Understanding of the Anima Realm), & how we can use the gift of this moment to transform ourselves both personally, planetarily & cosmically.
Lightrition™ – Practitioner Online Course
Deep from my Heart, inviting you to enrol in our ONLINE Lightrition™ Practitioner Course.
Our Lightrition™ Practitioner Course is completed ONLINE, in your own time and at your own pace. There is no need to engage in any aspects of the course at a certain time and date, as all the teaching videos/audios are pre-recorded you can watch/listen to them as many times as you like at your own leisure. Plus you receive Lifetime Access to our Lightrition™ Practitioner Course., such that you can refer back to the teachings at any time.
Your enrolment includes:

Enrolment in our Lightrition™ Practitioner Course (8 Modules) – free lifetime access
On completion of your Studies, International Accreditation Lightrition™ Practitioner
Free Lifetime Access to our Online Lightrition™ Practitioner Resources
Free listing on our Practitioner Directory (no obligation, this is optional)
Gifted benefits such as Lifetime Discounts & periodical Special Offers
I look forward to sharing with you the cherished wisdoms of Lightrition
with LOVE,

Lightrition™ your Life

Lightrition is the holistic life-experience of nourishing your body in symbiotic resonance with natures cycles. Cultivating a fresh & vibrant relationship of breathing/eating/dreaming/& working in accordance with the same patterns found in the natural world.
During this tumultuous & changing time on Earth, Lightrition helps you make sense of this moment in Herstory. The bigger picture of Humanity Awakening. And will help you open your Sacred Heart & truly thrive! Lightrition is a KEY accelerator of personal & planetary consciousness… learning to live, breath, eat & thrive through ancient wisdom.
During your studies with Simone, throughout Modules 1 to 8 she will draw upon ancient wisdom to…
Discover the Realms of the Natural World through Sacred Geometry
Breathe your Crystalline Light Body into 5D Consciousness
Access the 8 Realms of the Alchemy of Wellness
Access the inherent Wisdom within the Mineral Realm
Feed yourself with the Light Codes (Natures Intelligence) within food
Nourish yourself with Cosmic wisdoms from the Moon, Sun & Stars
Transform your DNA through the Imaginal Realm (no mRNA needed!!!)
Awaken to the mystical power of Structured Water
Discover the impact of 5G on ALL lifeforms & how you can limit your exposure & thrive
Awaken to a NEW Story of the Anima Realm (Pathogens/Viruses) & their Sacred Purpose in catalysing shifts in Consciousness
Boost your Immune System & THRIVE through Terrain Theory wisdom.
Emerge into a more Heartful way of life, with clarity & Soulful purpose.
Discover & Engage in a New Earth Story through your Cosmic Heart & Sacred Geometry
Become isomorphic with the reality around us, the memory of the Universe.
Join us for our Lightrition your Life online learning course, plant your seeds for a reLOVEutionary Future… and together lets pioneer a NEW Human Story of Earth for this new decade & beyond.
Lightrition™ – Certification
Once you have completed all facets of our Lightrition™ Practitioner Course (Modules 1 to 8), you graduate as a Lightrition™ Practitioner through our Universal Life Tools Metaphysical School. As a Lightrition™ Practitioner Graduate you receive the following:
Lightrition™ Practitioner Certificate
FREE Lifetime Registration on our Universal Life Tools Directory
Free Lifetime Access to our Online Lightrition™ Practitioner Resources
As a Lightrition™ Practitioner, you also receive gifted benefits such as a Lifetime Discounts & periodical Special Offers
Graduates may also apply for International Registration with the IICT a professional association that recognises Lightrition™ as an Internationally Approved Modality in over 26 countries around the globe – see details below.
Lightrition™ – International Accreditation
Our Universal Life Tools Metaphysical School is a Platinum Training Provider with the IICT (International Institute for Complementary Therapists). As a result, our Lightrition™ Practitioner Certification course is an Internationally Accredited Course through the IICT in over 26 countries around the globe (coming early 2021).
On graduation as a Lightrition™ Practitioner you may apply for membership with the IICT and enjoy such benefits as professional indemnity insurance, Practitioner Directory Profile with IICT, marketing resources, promotion through IICT etc.

Lightrition™ – Course Detail
Lightrition™ is an 8 Module ONLINE Course. Please view our Lightrition™ Course Information page for a deeper insight into the Course Content.
Module 1 – GENESIS – Lightritional Alchemy
Module 2 – CONNECTION – Mineral Realm
Module 3 – NOURISHMENT – Botanica Realm
Module 4 – ACTIVATION – Sonal & Solar Realms
Module 5 – REGENERATION – Imaginal & Lunar Realms
Module 6 – MORPHOGENESIS – Anima Realm
Module 7 – CRYSTALLOGENESIS – Crystal Realm
Module 8 – COSMOGENESIS – Lightritional your Life
The Full 8 Lightrition™ Module Course takes approximately 60 hours to complete, plus contains a further 100+ hours of additional course content to support your ongoing education & application of Lightrition™. These 100+ hours are non-compulsory and can be accessed at any time, even after graduation.
Each Module within our Lightrition Course contains the following:
Up to 6 Course Videos per Module (up to 6 hours)
MasterClass Video per Module (1.5-2.5 hours)
Downloadable Notes, Tables & Diagrams
Additional Resources for further education/learning.
Why Enrol in Lightrition™
Simone Matthews has brought together nearly 30 years experiential wisdom as a Naturopath, Herbalist & Energy Transformational Specialist in the creation of Lightrition™. The course is based on her decades of study & practical experience working with clients, extensive knowledge & research into leading-edge health & self-care practices, and personal reflections & intuitive insights into the Medicine of the Future.
Lightritioning supports you in establishing life-long practices that are nourishing, life-giving and heartened toward a life well-lived. Lightrition is your daily guidebook that cultivates & navigates the way for you live/breathe/eat/sleep/& work in the direction of living a life that is not only Soulful, but also reverently meaningful.
Where ever you are on our healing path, Lightrition your Life will be a powerful amplifier of Healing Alchemy in your life. This course contains FRESH & NEW Content & is NOT a replication of our other healing modalities through Simone's Wisdom School.
If you are ready to move beyond the hype, dogma & conflicting information about Health & Wellbeing and are truly ready to step into a greater possibility for your life… then this is the course for you!
As a Graduate Practitioner, you are also certified to share the wisdom of Lightrition™ with clients, family & friends. Lightrition™ makes a wonderful adjunct to not only your personal life, but of being of Service to others on their path to Alchemical Wellness.


---
How to Enrol
You can enrol in our Lightrition™ Course at ANYTIME and there is no time limit for completion of the Course. To enrol in our course, simply 'ADD to CART' at the top of this page and proceed through to checkout. Your enrolment in our course is agreement to our Course Terms & Conditions.
Once Enrolled, LOGIN to your MyAccount to access the Lightrition™ Course Dashboard at any time, from any device. You receive a LIFETIME of Access to the Course, even once the course has been completed in full.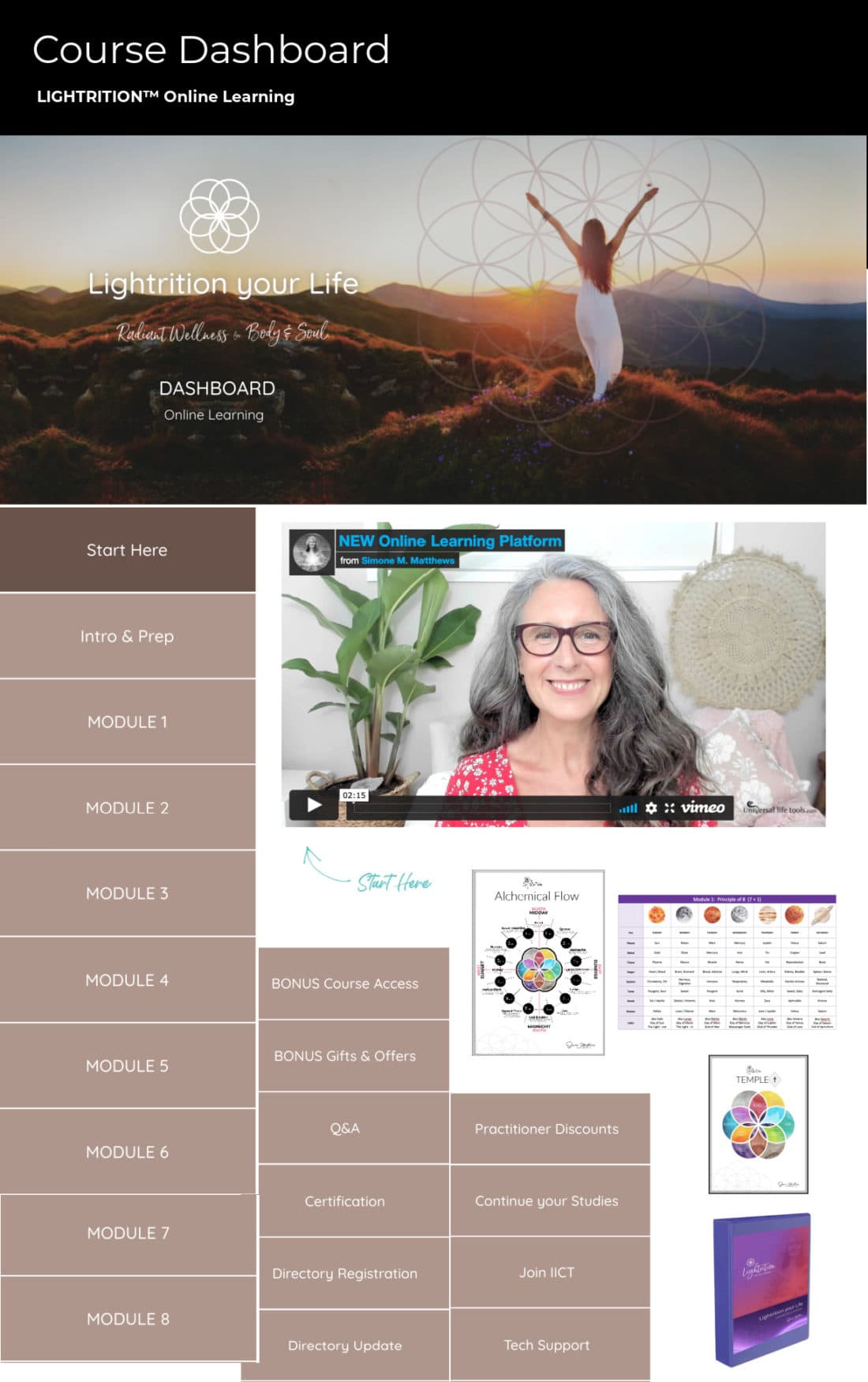 Sign up TODAY for instant Access to your COURSE Dashboard and start your studies!