Solar Eclipse –
Wednesday 14 November 2012
During tomorrow's new moon (see details below) we will experience a Solar Eclipse…. where the moon moves between the Earth and Sun, obscuring Earth's view of the Sun.
The energy of a Solar Eclipse 'obscures' the now or potential future, and allows one to reflect on the past.  Not to drag up old energy, or relive painful events or experiences, but rather to positively reassess where you have been and use this knowledge to re-adjust your path moving forward.  Solar Eclipse's create the potential for huge personal and hence planetary transformations.
It is a time to release the egoic need of power struggles, destruction of life and pain and suffering.   It represents a return of the feminine, in order to balance the male and female polarity in humanity and foster oneness.  Oneness in our hearts and minds, oneness in our physical and spiritual selves, and oneness of our selves with all creation.
The eclipse providing a doorway for each and everyone of us to rebirth into the collective consciousness the power of the Divine Feminine within.   We each have the potential to 'Dream the Dream' of the Goddess, and create harmony and loving union of the Masculine and Feminine breath of LOVE.
Refer NASA – visible PNG, Australia (best viewing spot Cairns), New Zealand and Pacific Islands
Check out time in your place in the world >
Sharing with you some Pics !
My family and I sat on the beach and watched the entire eclipse.. it was an amazing experience of light to dark to light.. a place of inward reflection, release and transformation.
Here are a couple of pics from the morning…
or view all the pics on my Facebook Universal Life Tools Page >>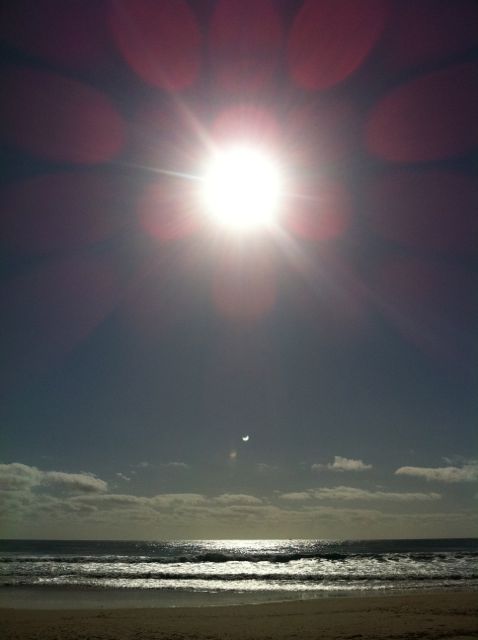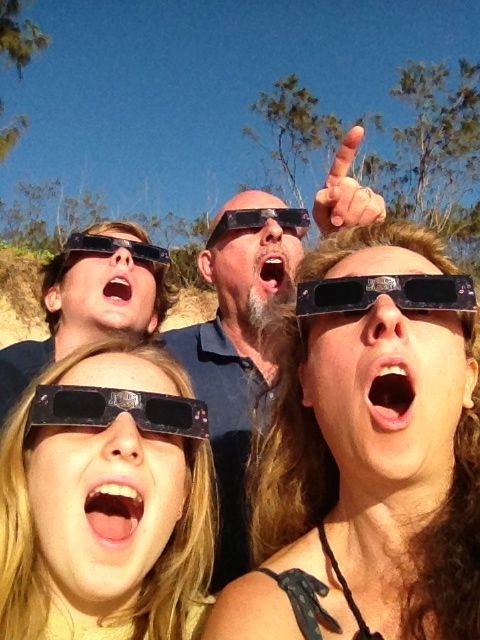 How to View the Eclipse
Remember, you cannot view a Solar Eclipse directly as you can damage the Retina of your eyes.
If you haven't already purchased eclipse glasses, then please watch the 2 minute video below of how to make a pin-hole viewer yourself.
New Moon
Wednesday, 14 November, 9.08am
Moon & Sun in SCORPIO
Moon – past, Intuition, unconscious, emotions, nurturing, feelings
Sun – now, Identity, consciousness, self-esteem, expression
Scorpio (water) – passionate, emotional, willpower, psychic
The energy from the New Moon up to the full moon is gradually building in strength and intensity.  Thus the New Moon is a great time to set your intentions, write down goals or begin new projects for the forthcoming cycle.
This new moon is a very personal time, a time to go within and view your issues with power.  Do you own your own power, do you give your power away to others, do you miss-use your power to control – and in acknowledging the truth we have the power to transform and change.
The Sun entered Scorpio on the 23 Oct and will be in Scorpio most of this month until the 22 Nov.  The Sun in Scorpio (stubborn, passionate, psychic) heralds a time of self-reflection… owning your intuitive senses/gifts for the greater good of all.  When you take ownership of how you 'FEEL'… you are then speaking the language of the Universe, and authoring your life's experiences.
Then when the Sun moves into Sag on the 22 Nov, all that fire energy will liven up things as we count down the days to Christmas.  Sag is about freedom, higher ideals, optimism and having fun… so this is a time to remember that the spiritual journey is meant to be enjoyable… throw a party with friends and have a good laugh 🙂