On Friday evening the 4 Dec, we gathered in the home of Elisabetta Invernizzi (our blessed Event Host) to share in my FREE Talk on Sacred Ancient Wisdom, followed by my Weekend Essence of Angels® Workshop and my Essence of Angels® Teachers Course the following week.
It was interesting that all those enrolled in my free talk did not show up… only those that had enrolled in my workshop.  I have learnt so much about human nature on this global trip and one thing I feel is vitally important for people to embrace is the Toltec wisdom from the Four Agreements 'Be Impeccable with your word'.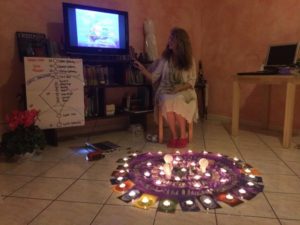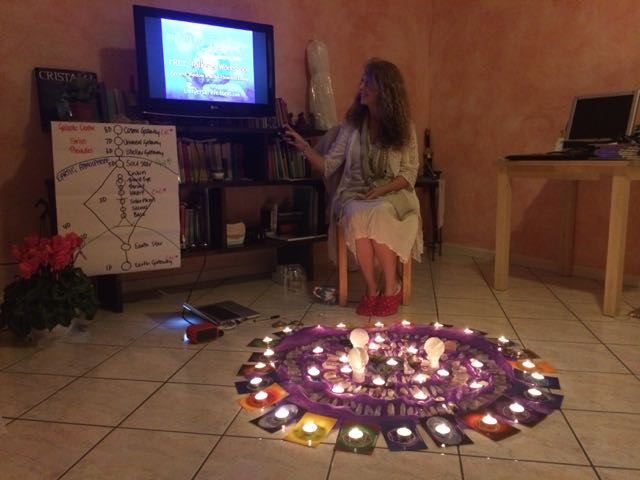 If we are to move forward as a compassionate, kind and unified humanity, we must choose to take responsibility for our actions and our words.  For me, I can see that as my Spirited-Travellers Tour comes to an end, from 2017 I will not be facilitating any free talks again, as I see an exchange of energy is essential in order to inspire people to be impeccable.
However, even though there were just the three of us, Elisabetta, WhiteFeather (from Israel) and myself, it was none-the-less a beautiful gathering of hearts.
We spent a peaceful weekend delving into the energy of the Archangels of Creation through Metatron's Cube and how we can BE the Light & LOVE of the field in our day to day beingness.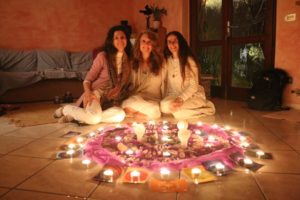 At the end of my two day Essence of Angels® Practitioners, the three of us then came together in ceremony to acknowledge all that we were leaving behind and all that we had now chosen to step into in the NOW.
Thank you Elisabetta for hosting our Events and opening of your home.   Thank you also for graciously cooking for us the most fabulous Italian food and showering us in love and support.
After completion of our Essence of Angels® Practitioners, I then facilitated my Essence of Angels® Advanced Practitioner Course & Essence of Angels® Teachers Course at the B&B were were staying at in Codogno, Italy.
Irina Plescan (from Romania) who had attended my Essence of Angels® Practitioner Course in the UK in November 2015, flew all the way from Romania to complete with me both her advanced studies and Essence of Angels® Teachers Certification.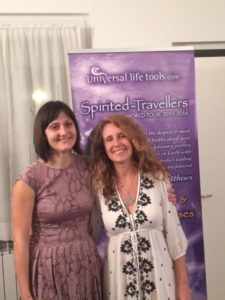 Over a number of days the both of us dived deep into a myriad of subjects… from colour, sound, astrology, astronomy, quantum mechanics, numerology.. you name it !   We learnt so much from each other and most importantly our experience of the Essence of Angels® deepened and awakened our DNA profoundly.  Thank you so much Irina for all that you brought and now continue to bring to Essence of Angels®, I love you.
And a big big juicy hug to my beautiful family, my husband Shaun & our gorgeous children Callum & Indigo… for all your help in creating the sacred space and helping everyone feel so very loved ♡
Just before we left Italy, to head to Romania for our last events for 2015, we had the pleasure of visiting Venice and gifting many of our Blessed Earth Crystals into the waterways.  Please see the pics below from our few short hours walking the streets of Venice and gifting her our LOVE ♥︎
Photo Album – Italy
Sharing with you below some heart-felt pics from our time together at our Free Talk on Sacred Ancient Wisdom, our Essence of Angels® Weekend Workshop and our Essence of Angels® Advanced Practitioner & Teacher Courses in Italy. Thank you so much divine Souls for your generosity of heart ♡