Whilst we originally had planned on facilitating our last event for 2015 in the Netherlands, spirit had something else in mind for us and we were instead guided to Romania to share with a wonderful spiritual community in Bucharest.
The last few weeks of our trip had brought with it many challenges (for those on my email list, you may remember my last emails of December 2015)… but we were so incredibly grateful to two beautiful Souls – Irina Plescan (who completed our Essence of Angels® Teachers in Italy a week earlier) & Sylvie Stoian for being there when we needed it the most and showering us with their LOVE.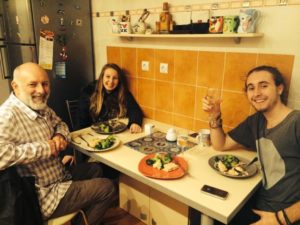 Both Irina & Sylvie picked us up from the aiport (with our 11 bags of luggage we needed two cars) and drove us to our accommodation, a delightful healing centre that had been gifted to us by Irina's relative Monica.
Irina & Sylvie had arranged for our family air-mattresses, sheets/towels/blankets, stocked our pantry with food and Irina's mother had prepared for us a warm meal for dinner after our 12 hours of travel.  My family and I were emotional, tired and challenged with our tour…. but the love of these gorgeous people in Bucharest Romania really helped us to be of service and facilitate our final events for 2015.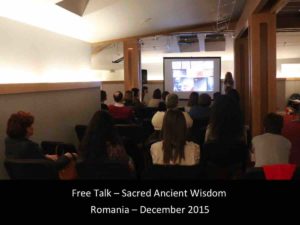 On Friday evening the 18 Dec, a beautiful group came together at 'Mind Evolution Society' for a wonderful evening of sharing at my free talk on Sacred Ancient Wisdom.  Our evening together was in the 'Happiness Room', just perfect !
It was interesting group, many attendees were medical doctors (as Romanian law dictates that natural therapists must first study medicine).   I loved the questions that people asked, their interest in our work and energy of the space.   I think that Vibrational Essences is still a very new modality in Romania, so it was a blessed opportunity to awaken peoples hearts/minds to the potential healing benefits of the Essence of Angels®.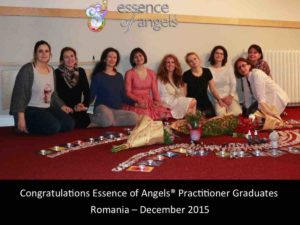 Following my talk, we spent a deeply transformative weekend delving into the energy of the Archangels of Creation through Metatron's Cube and how we can BE the Light & LOVE of the field in our day to day beingness.
At the end of my two day Essence of Angels® Practitioners, we all came together in ceremony and individually each of shared what we had chosen to leave behind and what we were now choosing to quantum leap into.  As the energy flowed, so did the tears, laughter and joy… I couldn't think of a more beautiful group of people to have spent the weekend with to mark our last events for 2015.
Many many thank you's too to everyone who joined us over the weekend.. for those that brought food, helped at snack time and opened their heart for transformational change.  Please take a moment to view the album of our time together and the beautiful dress that was made for me…. thank you Doina ♥︎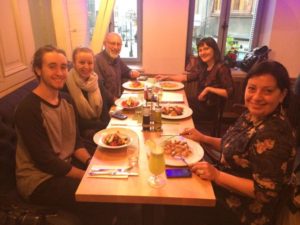 Thank you and heart-felt blessings to our Events Hosts Irina & Sylvie.  We really couldn't have brought this event together without you blessed help and emotional support.  I love you deeply from the depths of my beingness. I love this photo of us all sharing a meal together post workshop.  I had spent the morning crying (curled up in a foetal position on the floor… it wasn't a good look) and I had no idea how I could possibly go out to lunch… but I am so glad I did as it was a lovely afternoon of sharing and opening to receive ♥︎
And a big big juicy hug once again to my beautiful family, my husband Shaun & our gorgeous children Callum & Indigo… for all your help in creating the sacred space and helping everyone feel so very loved ♡
Photo Album – Romania
Sharing with you below some heart-felt pics from our time together at our Free Talk on Sacred Ancient Wisdom, our Essence of Angels® Weekend Workshop in Romania. Thank you so much divine Souls for your generosity of heart ♡
Upcoming Events – March 2016
Save