On the weekend just passed, I spent the most glorious weekend immersed in the wisdoms of the mystery schools of Lemuria, Atlantis, Ancient Egypt and the Mayan Civiliations as I facilitated my Crystal Light Healing® Sacred Ancient Wisdom workshop. How blessed to have spent many days in Sydney Australia, sharing these cherished wisdoms with a group of lively, heart-filled and soul-centred women.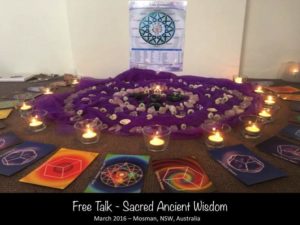 After unpacking my 70+kg of luggage for my events (oh, I miss travelling with my family and sharing the load), I then spent the afternoon, creating and dedicating our Crystal Grid, setting up our venue room and pouring my heart-n-soul into creating a high-energy sacred space for our events. Thank you Rebecca Brown for hiring your space to us, it was lovely to experience the energy of your new venue SoultoSoul. A big thank you too Rebecca, for gifting us your space on the Friday night in support of the FREE Talks that we gift to people as part of our Spirited-Travellers World Tour.
That evening, I facilitated my complimentary talk on Sacred Ancient Wisdom to an intimate group of beautiful women. Thank you to those that showed up, stepped into the miracle of beingness that is you and raised the vibration of our grid to help create a powerfully transformative weekend.
I must say, the Crystal Light Healing® Sacred Ancient Wisdom weekend workshop was a HUGE one for me personally. This is the first event that I have facilitated in over 18 months without my support team (my beautiful family that travelled with me during 2015 on our Spirited-Travellers World Tour)… and the first away from home event in many years that I have facilitated without staff/assistants. As often happens leading up to a powerfully energetic weekend, I too was experiencing a very big healing (ooh, a bout of gastro made it most challenging for me).
It is the little things that make a difference and show the real meaning of the word COMMUNITY. Thank you for being such a delightful caring community over the weekend… from offering me lifts (stomach cramps made it difficult to walk long distances), washing of dishes, helping with snacks and then those that stayed back and helped with packdown. I love you for simply being the change and leading our world into a new way of beingness through the Heart, thank you.
Whilst on the physical level I was a little challenged… I know on the energetic/spiritual level our group came together in awakened cosmic consciousness. On a personal level, I experienced profound insights into my shadow side but I also bloomed into greater awareness of my lightness of being. So many painful memories had been locked away deep within my cells/DNA from when I lived in Sydney in the late eighties/early nineties (only 3 streets away from the SoultoSoul venue). Old, old, old dark memories, the feelings of isolation, being unloved, unsupported, burdened by life, being let down, wedding vows broken and the insecurity or lack of belief in being able to show the world my authentic self.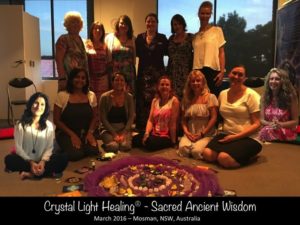 Now today, as I reflect on the weekend just passed, I have such gratitude for the energy of this group, the caring heart of these sacred souls in helping not only me, but also being there for each other and shining a light so bright that the beauty and blessed LOVE triumphed and simply shined brightly from each of our Hearts.
Thank you to our sacred group of '13' for the sharing of your stories, choosing to be vulnerable and opening your selves to experience quantum creativity. What a truly joyous start to our 2016 schedule of events… thanks for firing up the grid of potential and choosing to take the leap of faith of the heart.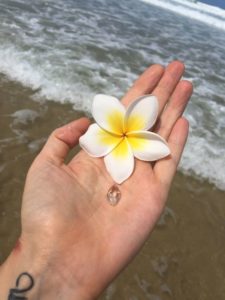 Yesterday I returned home to the Sunny Coast and before collecting my children from the school bus stop, I went for a walk along the beach. I released into the Pacific Ocean a Crystal from our Grid (it was an Isis – Ancient Egypt – Crystal) and gifted to the world all that we had co-created, envisioned, dreamed and anchored during our weekend workshop together. My intent is that this offering inspires people to be kind to themselves, kind to each other and kind to Mother Earth ♡
Once again, thank you everyone for your tenderness. I was so very very touched by the love, care, nurturing and kindness shown by all those who attended. Thank you to all participants that went out of your to help, as the saying goes 'many hands make light work'.
And one final thank you… to my beautiful husband Shaun for helping get all the tech equipment ready for our Sydney events and taking over all of the 'children' duties in my absence, LOVE you ♡ (Thanks also for cleaning the house.. heaven !!!).
Update April 2016 – Sharing with you a beautiful email that I received from Felicity Wheeler after our workshop:
I wanted to thank you for a most profound and healing workshop (Crystal Light Healing®) – it was a pivotal moment for me, and filled in some major missing pieces. Not only about how everything fits together, but also, about why I am, how I am, and why I feel drawn to share particular things. I so enjoyed how you presented the information – you would share something so amazingly complex in such a simple, truthful way that it just made sense. And yet, when I stopped to think about what you had shared, it was massive. Your sharing style and the innate wisdom of your channelled information just allowed enormous things to slide seamlessely through into understanding. The meditations were stunning, and I loved all of the products you shared too. I told friends when I booked into the workshop that I was going away for a weekend of magic, and it really was. I felt so nourished, grounded and nurtured on every level after your workshop… Read More >
Photo Album – Sydney
Sharing with you below some heart-felt pics from our time together at our Free Talk on Sacred Ancient Wisdom, our Crystal Light Healing® Sacred Ancient Wisdom Weekend Workshop in Sydney, Australia. Thank you so much divine Souls for your generosity of heart ♡
Upcoming Events – May/June/July 2016
OmAhOm
xx Simone