I am feeling a little teary today. In actual fact I have been experiencing waves of teariness for well over a year now. There isn't any one thing that I can necessarily pinpoint to feel sad about, these are simply waves of emotion that wash through me and flood my heart & soul.
The tears can be tears of happiness, tears of beauty or tears of joy. They can also be tears of sadness, of loss, of grieving and even blubbering tears of deepest sorrow.
I am learning to surrender to these waves, to feel deeply into them, the messages that they are bringing me… allowing the tears to flow and the e-motion to be released with grace & ease. Truthfully though… sometimes the tears don't look all that pretty, let alone graceful.
Peri-Menopausal Season of Life
As I transition through this peri-menopausal season of my life, I really am in awe of our human experience. For me, entering mid-life and making the choice to age gracefully has unexpectedly brought with it so many break-throughs, twists, turns & inevitably decisions to be made.
I am changing, I am certainly not the person that I used to be. I am vying to be fully present and comfortable with this new me. Though vying is probably not the best word as this denotes struggle & striving, something I have no interest for anymore. And as for the 'new me'… I actually think this is the real me, the wisdom me, the me that seeks freedom to simply be me beyond the expectations of others or any desire to conform.
As I reflect back on my 20's, 30's and even 40's, I always had so much to do. So much to birth. So much to become. So many things on my list of busi-ness. The juggle of work, family, children, relationships & friendships. The hunger to change the world – oh and it had to have be done yesterday of course! The need to keep moving, pushing, onward & upward in pursuit of my goals & dreams. I saw & felt within my heart a greater potential for this world, for humanity… and I was relentless in my pursuit to bring these visions & dreams into reality. I felt my life on Earth was so so short, so much to be done, how can I possibly do it all ?
And then there was the struggle to balance finances whilst I made it all happen, to be fully present in my life, to wear the super-woman / mother / wife / teacher /author badge of honour. To have it all. Be it all. Do it all. Oh I feel weary just thinking about it all. How I wore myself so thin in order to create a meaningful legacy for future generations, whilst also sculpting a nourishing, present & harmonious life for myself & my family… there is an oxymoron in all of that somewhere!
A message from the Universe
Yesterday was a rainy old Sunday and I was drawn into my apothecary to make up Essences ahead of next weeks Heart Retreat. For many years I used to delegate this task such that I could focus on other work (the gazillion other things I had on my 'to do list'). But these days I am more drawn to focus on what I LOVE to do… and letting my inner-child free to create Essences for others is not only joyful but such a humbling privilege.
After my playtime came to an end, to bring a little joy to the clearing up I pressed play on an audio book that I had been meaning to finish for a while now. The author asked us to say the first word that popped into our heads that describes how we feel in this present moment. Now whilst I would love to share with you all that the first word that popped into my mind was 'Joyous' or 'Loving' or 'Happy' or even 'Fulfilled'. Do you want to really know what was the first word that popped into my mind ?
Ouch, I am even cringing as I write this… the word that popped into my mind was 'Exhausted'.
There, I said it. E X H A U S T E D.
Exhausted. It wasn't the kind of word that could have been interpreted as meaning in need of a little rest, a quick forty-winks and all would be well again. The word felt exactly like it sounded… weary, spent, in need of soul-rest.
The funny thing is, on the surface I don't feel exhausted at all… but I do know deep within me there is a Soul-exhaustion as I grieve a life I am leaving behind and transition into new beginnings.
I think the word 'Exhausted' was a way for my Higher-Self, my Soul, my Light to say…
'Hey Beautiful One, during this time of huge change in your life do what makes you feel good.
Do what makes your heart sing.
Do what is nourishing to your Soul.
Do what brings you pleasure.
Let go of the 'have-tos', anything that drains your energy.
Let go of anything that isn't supportive of YOU in this present moment.
To Soul-fully transition succumb to more beauty & pleasure in your life.
More time Human Being and less time doing'.
The 'Transition' before the Birth
Just like in childbirth itself, before a new life emerges there is a space of transition. An in-between time. A time of surrender, of tuning in to a force greater than you in order to know/feel the divine time of when to push and the divine time of when to rest.
For me at this time in my life, this time of transition, I am seeking peaceful rest, stillness & Heart-Full moments.
I desire long walks in nature to feel the beauty of the Earth under my feet.
I desire more sleep.
I desire more time spent waking up in the morning cuddling my darling and more time spent making love on a lazy afternoon.
Nude swimming. Moon baking. Flirting with my beloved.
Hearty belly laughs with my children.
I desire more quality time with those I love.
Heartfelt chats over a home cooked meal.
Giggles over a glass or two of vino.
I desire to move my body to music and feel the rush of the universe through me… to dance like no one is watching and sing like no one is listening.
I desire the space to contemplate, to be spontaneously creative, to follow an inkling of curiosity from my heart (not my head).
I desire quiet.
Actually quiet is a craving felt deep in my bones in this moment.
A lulling quiet of birdsong, wind in the trees, the roar of the ocean at midnight & the sound of steam rising up from my tea on a cool morning.
And I desire alone time, and I mean hours & hours of alone time to reflect, rest & integrate.
The last 50 years of my life has been a fantastical journey.
Where is my head/heart for the next 50 years?
It is a little scary. How does all of this practically work? I still have bills to meet, food to buy, a life that continues on despite my choice of stillness. But I trust that this process of inner-work, this space to connect with a force greater than me and a deep desire to emerge into this next season of my new life will come to pass with graceful presence if I just get my head out of the way and follow my Heart.
My new Life
As you have probably gathered from this post… there are many new changes being birth in my life/work at this time. I have no dates on these changes, no 'deadlines' I must meet (that is such an interesting expression 'deadline', fodder for another post I think) and no timetable for release.
Firstly, I am in creative heaven dreaming into existence our new UniversalLifeTools.com website. I have been working on our new website for a few months now and it is looking/feeling so very beautiful. I don't mean this in an egotistical way, but in a way that really expresses the heartfelt joy, vision, grace & presence of my life, my work and our school that is being birthed.
Gone are the days of working late into the early hours of the morning to make things happen by an official date. I am rolling with each day, getting into the zone, creating through my Heart and letting the Universe breath through me the pace of the creations. Our new website might launch March 2018, it maybe April 2018… who knows the birth date. Just like babies, I am allowing 'her' to set her entrance date into the world, I am surrendering to divine timing.
Until our new UniversalLifeTools.com website is launched, I am also limiting my work in other areas… such as public talks, webinars & community events. I plan on spending a lot less time on my emails too… even though I LOVE your connections, spending hours each day responding to you queries is just a little too much for me at this time.
Also gone are my days of multi-tasking – I must say I used to be the holder of 'first prize' in this category. I have discovered that when I say 'no', lightning doesn't strike me and in actual fact the world still continues to turn. Between time with my gorgeous family, husband & friends… as well as creating space for this big transition… there really isn't the space to try and squeeze in anything else. And to be honest, I have no desire to 'squeeze' anymore, I really am seeking restful expansion.
My desire at this time is to follow the path of pleasure.
What turns me on.
What compels me to show up to life and be my bestest self.
What nourishes me at the deepest level.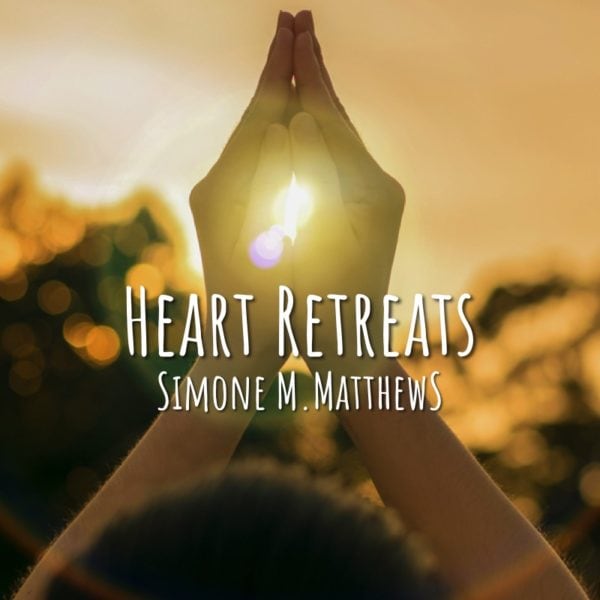 My Heart Retreats are experiences that do just that. These have become blissful blessings in my life, one of the most nourishing things I have ever ventured into.
I have my first Heart Retreat for 2018 starts next week (we still have one room left in case your Heart is calling) and then I have a second Heart Retreat later in the year in October 2018.
I look forward to bringing myself, my Heart, my tenderness & my presence to our Heart Retreats this year.
Thank you to YOU my beautiful community, our tribe, our village of Soul-FULL lovers. Thank you for kindly giving me & for holding space for me to transition and emerge from my chrysalis with outstretched wings.
Whilst the greater vision of my work/my life still remains the same at a Soul level, the 'how' of bringing these visions to life is changing rapidly. I look forward to updating you all regularly on my discoveries & experiences on ageing gracefully… and opening my Heart to you as we journey together. I LOVE you.
OmAhOm
xx Simone