This is a FULL MOON of HEALING – a deep metamorphosis from the inside-out, and just like the butterfly, choosing to set yourself free.
As our Aries Moon opposes our Libra Sun, we are super-charged to transcend obstacles/ fears / doubts about what is possible in our lives and BELIEVE with wholeheart in something more beautiful for ourselves, for our families, for our planet.
We may find ourselves delving into the deep wounds of our past, particularly childhood wounds that may relate to people in authority during our formative years of our life. A light maybe shed, acceptance & forgiveness offered and the sweet nectar of transformation is yours for the taking.
Image Credit: Ye Fung Tchen
Update 24 Sept 2018
Sharing my latest video on my new IGTV (InstagramTV) Channel. Here's me at the beach, drinking in the Sun as she sets, feeling into the rising Full Moon… & sharing my Butterfly reflections ????
FULL MOON
Moon ARIES (1.590) & Sun in LIBRA (1.590)
Tuesday, 25 September 2018 – 12:52 pm AEST (Australia)
View times in your City/Country>
Moon – past, Intuition, unconscious, emotions, nurturing, feelings
Sun – now, Identity, consciousness, self-esteem, expression
Aries (Fire) – Leader, impatient, risk taker, action-oriented, outgoing
Libra (Air) – Romantic, indecisive, harmony, social, helpful
Energy – Aries Full Moon
During this weeks September Full Moon (Moon opposition the Sun), the MOON in ARIES (a fire sign) is reflecting the light of the SUN in LIBRA (an air sign).

Aries is the first sign of the Zodiac and exudes a wilful independence, a pioneering spirit that presents to us as the feeling of anything is possible. Aries is ruled by Mars the GOD of war, bloodshed & fighting. Aries is all about 'Me' and what do 'I' want.
Opposing this fierce energy is our Libra Sun, encouraging us to walk our paths in harmony, co-operation & blessed community. Libra is ruled by Venus the GODDESS of Love, beauty & harmony. Libra is all about 'Us' and what do 'We' want.
As our Aries Moon opposes our Libra Sun, we are super-charged to transcend obstacles/ fears / doubts about what is possible in our lives and BELIEVE with wholeheart in something more beautiful for humanity.
Deep within our Hearts, at the core of our very beings… is a longing to shed the superficial story of separation, anger & fear… and a transcendent desire to simply LOVE one another.
Both Chiron & Mercury are influencing this months Aries-Libra Full Moon (refer to Astro Chart below, click to enlarge).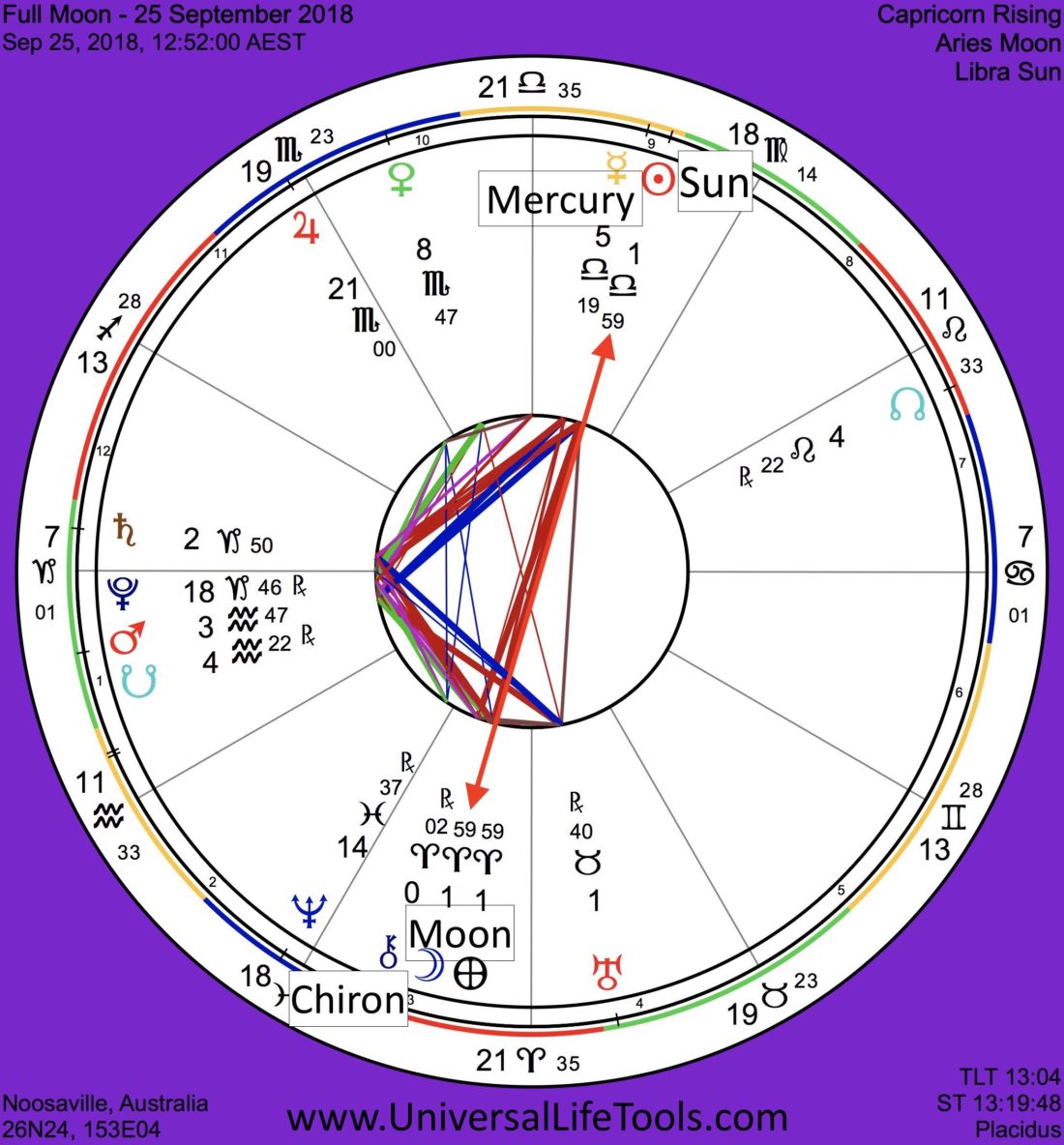 CHIRON (currently retrograde) is conjunct our Aries Full Moon (less than a couple of degrees apart). When planets are conjunct the energy merges… creating an intense, amplified feel. Chiron represents the 'Wounded Healer', where we hold our deepest wounds, hurts, sorrow & shame in our lives – body, mind & spirit.
With the Moon amplifying Chiron during its retograde, this FULL MOON may have you introspectively revisiting your wounds. The Sun in Libra may take you deep into woundings of your childhood, your relationship with Women or the Mothering figures in your life. As Chiron is also in opposition to our SUN, the role of Father/Father Figures in our lives, may also rise up to our awareness too.

Did you feel that you were misunderstood as a child ?
Did you feel like the 'black sheep', always different from the crowd?
Did you long to be held, accepted, loved ?
Did you yearn to hear the words 'I Love you' or 'you are enough'?
Did you yearn to feel safe?
Did your role models support & encouraging you in loving your body – every bump, curve, and perfect imperfection?
Did your role models encourage you to own your fierce spirit, stand up for what you believe in… to OWN your uniqueness, celebrate it.. and ultimately share it with the world ?
Now today, have you swept your wounds of the past under the carpet ? Have you soldiered on and not really ever felt into and subsequently let go of your wounds? Or have you mentally deal with your wounds of the past – but never really process them with Whole-Heart? This Full Moon is an opportunity to reflect on the story of your wounds and what / how the story has themed your life to date.
With the Sun in Libra (independence, fresh beginnings), this FULL MOON may cast your story in a fresh new light & offer pioneering solutions that weave GRACE into your life moving forward. You may find that acceptance of the past or forgiveness (self & others) means that the wounds no longer have any hold over you… but rather serve you in delightfully radiant ways.
MERCURY is conjunct our Sun in Libra (few degrees apart), and hence in opposition to our FULL MOON. This may create a little more nervous tension & anxiety this Full Moon… so take things easy, be gentle… LOVE yourself like it is your job!
Summary
There is power in the collective when we let go of the fear/darkness and BELIEVE in a grander, more beautiful possibility for humanity in our hearts. When individually (Aries) we see the Light in each other (Libra) we remember we belong to each other, the truth of who we are is LOVE.
Next month we head into a 40 days transit of Venus Retrograde… so I feel this FULL MOON is preparing us in our deep dive into the FEMININE – a collaborative, powerful yet gentle force of creation, that oozes sensuality, pleasure and sacred purpose. I will be writing more about this next month !
But for now, envision yourself as the butterfly this Full Moon. It can be dark and at times lonely in the Chrysalis. The pain may feel excruciating. You may never feel the agony will end. But in the Chrysalis lies a vision of possibility, and her future is LIGHT, graceful & free.
OmAhOm
xx Simone M. Matthews