Our November 2018 Full Moon is all about our relationship & communication with the Divine Feminine – reflecting on how we nourish ourselves through her Sacred Essence.
With our Moon being influenced by expansive Jupiter as well as Alcyone (the archetypal Feminine on our Natal Chart) – we will be drawn this Full Moon to let go of the need to PUSH to make things happen, and instead weave a more graceful, restorative & nurturing rhythm to our daily lives.
Update:
Here is a photo of my backyard the morning after the Full Moon… feelin' a whole lotta LOVE today ♡
FULL MOON
Moon in GEMINI (0.520) & Sun in SAGITTARIUS (0.520)
Friday, 23 November 2018 – 3:39 pm AEST (Australia)
View times in your City/Country>
Moon – past, Intuition, unconscious, emotions, nurturing, feelings
Sun – now, Identity, consciousness, self-esteem, expression
Gemini (Air) – Fickle, witty, nervous, scattered, fun-loving, curious, versatility
Sagittarius (Fire) – freedom, leadership, adventure, spiritual, optimistic
Energy – Gemini Full Moon
During this weeks Full Moon (Moon opposition the Sun), the MOON in GEMINI (an Air sign) is reflecting the light of the SUN in SAGITTARIUS (a Fire sign).

As the forces of the Sun & Moon oppose each other (Ego vs Emotions, I vs We) … our FULL MOON will have a super-charged effect as the Moon is also conjunct Alcyone in the Pleiades – The Divine Feminine.

Gemini is all about communication (the ruling planet is Mercury after-all) and beloved Sagittarius wants to freedom to express herself freely when-ever and where-ever she likes.
With Mercury still in retrograde during this Full Moon, you may find yourself reflecting on how you communicate and the power of your words. Do your words set you free ? Or do your words keep you trapped in your limited beliefs ? Are your words encouraging & collaborative with others, or do your words reinforce a barrier of fear around you ?
With Jupiter (the planet of expansion) moving in Sagittarius earlier in the month (for the next 13 months), the intensity of this Full Moon will be felt even more strongly.
PLUS… it gets even better…
Beloved Venus (Divine Feminine) moved out of her retrograde transit last week, and now on this weeks Full Moon, the Moon (at 0.520 Gemini) is CONJUNCTING Alycone (at 0.150 Gemini) – our archetypal Divine Feminine.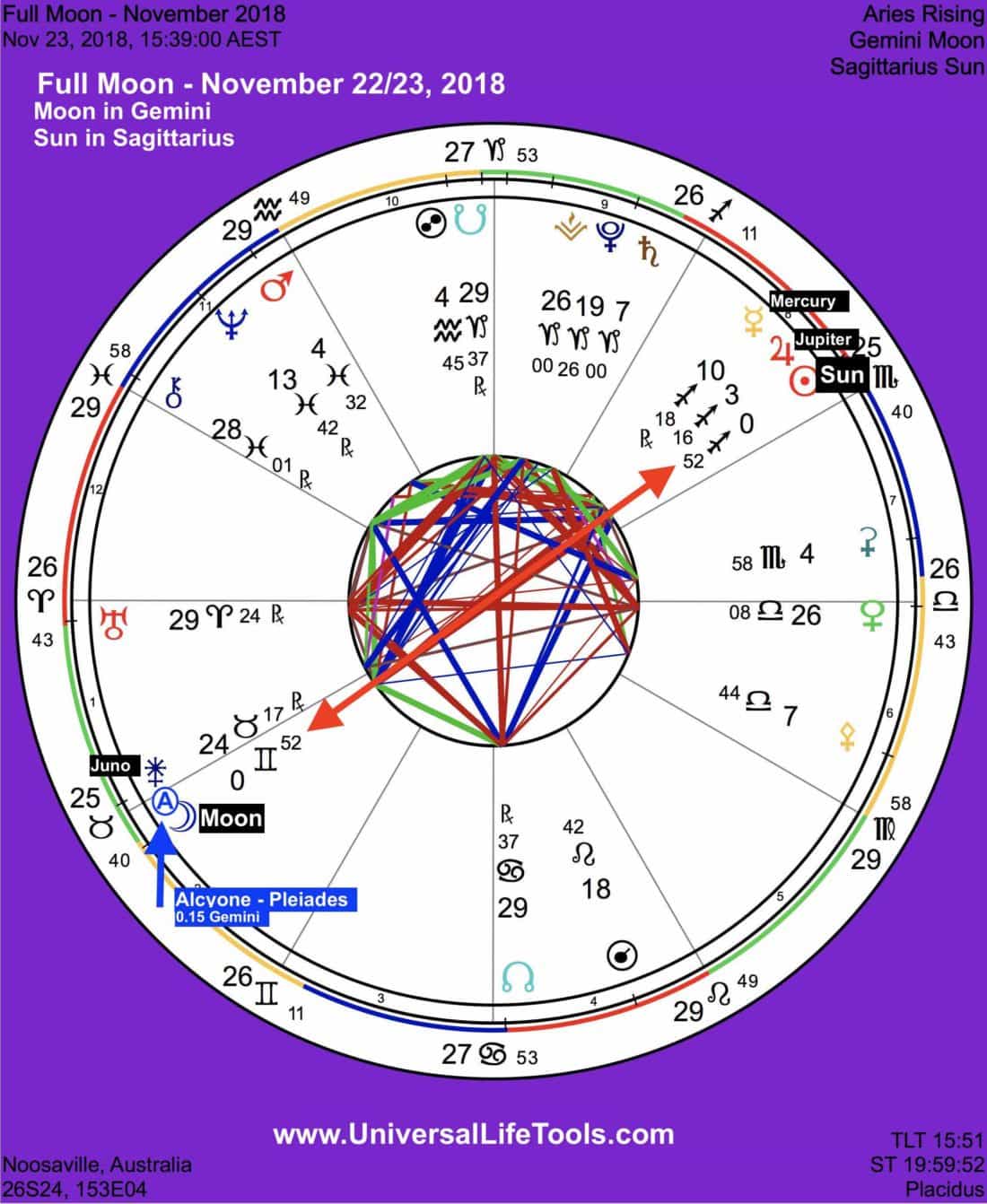 Alcyone, is the brightest star in the star cluster Pleiades (also called the 7 sisters). Alcyone is the weaver of the Silver Ray of Creation, the archetypal Feminine or Lunar Ray of Consciousness. She embodies the creative Mother, the nurturer, the intuitive – and is an integral part of our Divine Blueprint as she supports us in stepping into our Greater Evolutionary Soul Purpose.
Overall Energy of our November 2018 Full Moon
Our November 2018 Full Moon is all about our relationship & communication with the DIVINE FEMININE – reflecting on how we nourish ourselves through her essence.
This Full Moon, through the duality of GEMINI we are being called to get ourselves back into balance… to surrender to the FEMININE essence…. through our words, our thoughts & how we express ourselves to the world.
If you have found the frenetic pace of 2018 exhausting, our November Full Moon is like a reset button. A time to get out of your head and discover a more authentic way of being in the world – to give voice to the greatest desires of your Heart.
The Feminine is the mystic, the healer, the intuitive, the nurturer. There may have been times during 2018 where you didn't give yourself permission to surrender to the Feminine in order to not appear weak or even helpless. Or maybe you have a belief system that 'nothing will get down in my life if I following my Feminine feelings', hence you resign yourself to your rational Masculine logic.
Our November Full Moon is a time to re-write that old story. The Feminine creates through fierce grace. In fact she is at her most powerful when she embues softness, tender touch & empathetic words. She move mountains not with physical force, but by following intuitive & mystical guidance of the Divine.
During our November Full Moon (which also falls on Thanksgiving this year) – together lets rise up and embody the FEMININE collectively. May we use our words in the direction of healing and may our gentleness foster a profound & enduring uprising of the authentic sacredness of the MASCULINE.
Together lets experience this Full Moon as an opportunity to unite people… by simply being a SOURCE of LOVE.
OmAhOm
xx Simone M. Matthews