Jupiter takes around 12 years to transit the Zodiac, spending just under 13 months in each zodiac sign.
Since 8 November 2018, Jupiter has been transiting through Sagittarius, and now on the 3 December 2019, Jupiter begins its transit of Capricorn. Jupiter then moves into its next 13 month transit, through Aquarius, on 19 December 2020.
Jupiter in Capricorn
The path to Mastery requires dedication, a step-by-step plan, and putting in the work to achieve your desired goals.

If you want to implement the discoveries that you made about your life during Jupiters transit of Saggi, then as Jupiter enters Capricorn she is emboldening you with the steps to make it happen…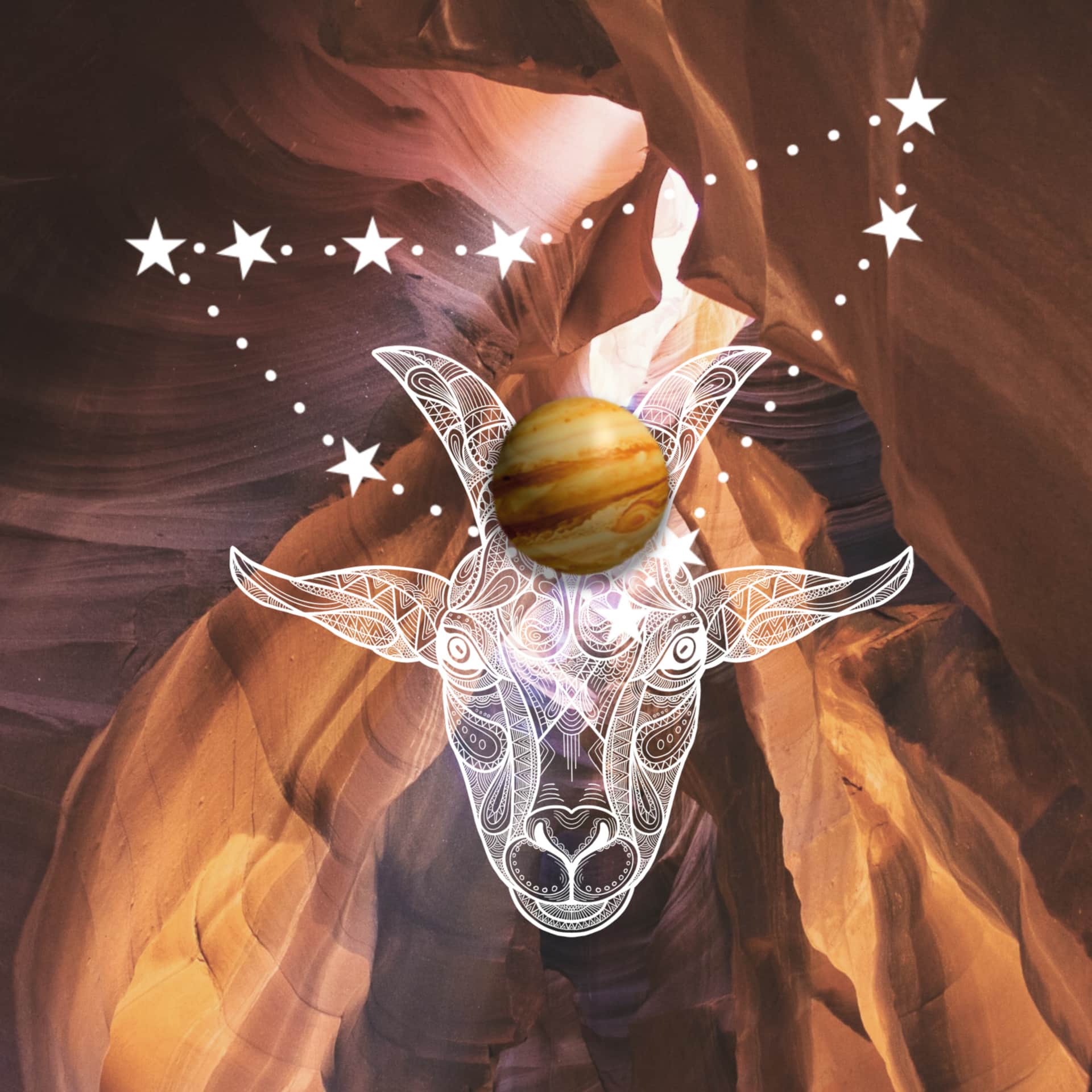 JUPITER Transits
12 Year Transit of the Zodiac

The personal planets – Sun, Moon, Mercury, Venus & Mars – move quickly through the Zodiac and represent our individual personal characteristics and experiences.
The outer planets – Jupiter, Saturn, Chiron, Uranus, Neptune & Pluto – take a much longer time to transit the Sun, hence they shape the big picture themes of our lives.
When Jupiter transits a sign, it 'expands' the energy/archetypal theme of that sign. And in fact Jupiter rules the fire sign of Sagittarius, so during 2019 Jupiter has been naturally at home during its transit of Saggi.
Sagittarius yearns to explore, travel, learn new things & make sense of a spiritual life in a physical world. She can be restless, fun-loving & craves freedom to move & be herself. So as Jupiter has been expanding Saggi's energy over the last 13 months, we have been called to expand the view of our lives – our work, our relationships, our knowledge/wisdom – and let go of constriction, parts of ourselves we have kept small.
With all of that searching, insight (and knowing Saggi, maybe a tad of impulsive risk-taking too)… what questions/answers have you explored during 2019 ? What discoveries have you made about your life that makes room to experience more joy, meaningful work, fulfilling relationships… whilst living to the beat of your own drum ?
JUPITER enters Capricorn
3 December 2019

With Jupiter now entering Capricorn on the 3 December 2019 for the next 13 months, the energy is shifting into new territory.
Capricorn is a cardinal Earth sign. It is practical, grounded, realist. Capricorn knows that for success to be achieved there are no shortcuts… the path to Mastery requires dedication, a step-by-step plan, and putting in the work to achieve your desired goals. If you want to implement the discoveries that you made about your life during Jupiters transit of Saggi, then as Jupiter enters Capricorn she is showing you the steps to make it happen.
At first, this may feel a little deflating, a big leak in the balloon of your life. You may feel constrained, tight, restricted, maybe even downright peeved that the big wheels of jubilant Saggi excess are coming to a grinding halt.
Jupiter in Saggi dreamt big. She showed you what was possible, she took you to the Moon & beyond with your dreams. It was exciting, you may have felt alive, exhilarated with possibility.
But now Jupiter in Caps is about sobering up from the Jups/Saggi high and getting real, grounded & practical. A plan. Considered & thoughtful steps that are meaningful… nothing is wasted with Capricorn. Dedication, resourcefulness & heartful strategy will guide the way.
Think of a tree putting its roots down deep in the Earth. Sure… it may take a lot of energy to build those roots when all you want is the end product- the glorious fruits. But a tree that is deeply rooted, watered, fertilised, will in fact bear the most delicious fruit you have ever eaten AND continue to bear fruit for years to come.
JUPITER & Friends
Cere's, Venus, Lunar South Node, Saturn & Pluto

And what a combination of astral friends, all waiting in Capricorn on the 3rd December to welcome in Jupiter. Asteroid Ceres the Earth Mother, Divine Feminine Venus of Love & Beauty, Saturn the wisdom of our limits and Pluto the transformer.
I think you can see a big picture opening here… as Jupiter enters Capricorn, we are called to the Earth. We are called to fall back in love with the gifts she provides. We are called to change/transform our lives to fall back in right relationship with Earth Mother. We are rebirthing new ways of nourishing ourselves, simplifying our lives and living in restorative ways.
Global Impact of Jupiter transiting Capricorn
With Capricorns practical-earthy stance, and her conservative views, we may see changes not only in Financial Markets, but also in public policy. A revision of societal structures that are more respectful of Earths resources, more honest, of higher moral standing & integrity, practical & well thought out… living within our means.

As a reflection of how Jupiter in Cap can reset the clock, when Jupiter was last in Capricorn in 2008, you may recall that Lehman Bros went bellyup spearheading a global recession, there was the Fannie Mae sub-prime mortgage crash, as well as the stock market crash toward the end of 2008 – to name but a few !

We may find skeletons coming out of the closet over the next year. Those in places of authority in business, politics, finance will be held accountable for their greedy actions & predatory behaviours.

And there may even be a greater swelling in programs or initiatives that ensure a more mindful & resourceful way to embody a life on Earth. Mindless consumerism & the desire to live a more regenerative life in harmony with the Earth will gain even more momentum.
---
Soulful Journey 2020
Ready to move into Soulful Alignment with 2020 ?

Inviting you to join me for my NEW Online Learning LIGHTRITION your LIFE Course.

Lightrition is about life reclamation. Putting your life back in sync with natures medicine, leading to radical healing & a deep sense of inner-peace & sacred purpose.

Lightrition will change the way you experience every aspect of your life, emboldening yourself to radiantly thrive in sacred resonance with the Earth.