Sensually feeling, deeply nourishing, and vibrantly creative – welcome to our New Moon for February 2020.
With 2020 being such an intense/transformative year of astrological transits, our February New Moon in Pisces brings a welcome respite to the Heart & Soul.
The path is being paved ready for late March/ early April conjunction of Jupiter & Pluto in Capricorn, kicking off a new 12 year cycle – the work & dedication that it takes to bring to LIGHT your deepest desires of Heart & Soul.
Pisces New Moon
Moon &  Sun in PISCES (4.290)
Monday, 24 February 2020
01:32 am AEST (Australia)
View times in your city

Moon – Past, Unconscious, Intuition, Feeling
Sun – Now, Conscious, Identity, Expression
Pisces (Water) – Sensitive, psychic, dreamy, creative, charitable, impressionable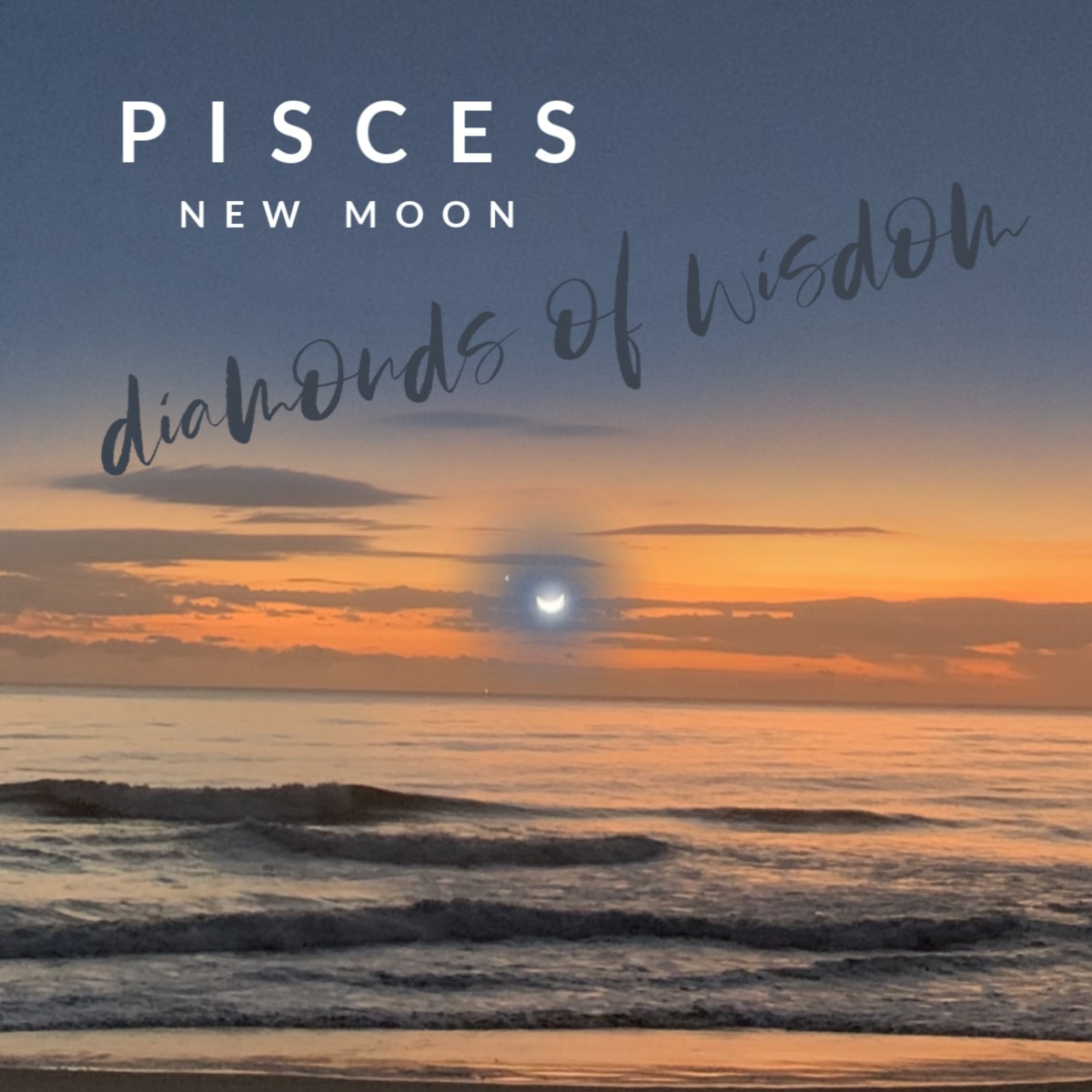 With the Moon & Sun conjunct (same degree) in Pisces, we are moving inward, receiving insight into our sacred sexuality, the sensuality of our bodies, intuitive insights… a deep nurturing of our heartfelt dreams. To understand the energy of our New Moon, let me share with you some of the major influencing transits that are bolstering the effects of our Pisces New Moon.
MERCURY RETROGRADE influencing our New Moon
In the week leading up to our Pisces New Moon, Mercury the planet of communication moved retrograde (appearance of moving backwards) in Pisces.
I know many people perceive Mercury Retro to be a negative transit… but I prefer to experience Mercury Retro as a time to move inward. A time to rest, regenerate, re-evaluate and be still with your heartfelt desires.
With our New Moon in Pisces AND Mercury retrograde in Pisces, this New Moon is taking us deep into our psyche, digging up our feelings, our inner-longings, those intuitive yearnings of the Heart that are bubbling up to the surface of our awareness. It will be a time to get clarity on our lives, maybe insight where we have kept ourselves small, or where we maybe have got distracted and ventured off track.
We are called to move inward and FEEL.
What does your life FEEL like in this moment.
Are you dancing, singing, moving with the juicy inspirations of your higher-self?
Or does each day blur into each other in monotony.
What would you do in this moment if money/time/education (you insert the word applicable to you) didn't present a barrier ?
The answers to the above questions are VERY significant this New Moon… as it is time to take the action and GO FOR IT. Mercury Retro will gift you insight on how to proceed forward after this months Full Moon!
PALLAS + other Planets in Capricorn

Our February New Moon in PISCES takes place just days after moving through a stellium of planets in Capricorn – Mars, Pallas, Jupiter, Pluto & Saturn. In the photo below (taken on the 20 February 2020), I captured Jupiter dancing with the Moon before Sunrise… with Mars & Pallas above, and Pluto & Saturn below.⁠.. ALL within Capricorn.
⁠
With the Moon, conjunct Jupiter… I feel the primary influence this energy is having on our February New Moon is due to the aspects of Pallas.
Pallas is one of the 4 Major Asteroids (each representing a different aspect of the Feminine).⁠ Pallas represents wisdom & independence – for in Mythology – Pallas Athene – born from the head of Zeus, and symbolized by the owl and the snake. ⁠
⁠
Pallas did not ally herself with any man, but rather was a strong and warrior-like figure who aided men of good will and whose advice was prized for its intelligence.⁠ Pallas represents the creative intelligence in combination with ageless wisdom.. and an intuitive use of medicinal herbs & natures elements for healing.⁠
⁠
So I feel strongly that Pallas has left an Essence imprinted on this February New Moon in Pisces… guiding us to step into our strength, our graceful warrior self… and be a voice of creative & resilient change within the world 🌙 ⁠
And this of course is all setting the foundation for the big conjunction of Jupiter & Pluto coming up in just over 5 weeks time!
Overall ENERGY of our PISCES New Moon
This New Moon (leading into the big Jupiter-Pluto conjunction) marks a massive shift in our relationship with the feminine.
A step out of the mundane, the imprinted perceptions of possibility and awakening at a feverish pitch to a more sensual connection to the divine within. A deep knowing that anything is possible, that we are Diamonds of Wisdom, Stars of Light.
You may find your life being shaken up a little during this New Moon… it a good, or I feel GREAT way. Here are a few ideas to help you navigate & make the most of this months transits:
Rejoice in Beauty. Liberate yourself from societies definitions of 'beauty' and be your own beautiful. Spend the New Moon and maybe everyday there after, SEEING (smelling, tasting, touching, feeling etc) the beauty in everything.
Nature up. Experience the sensual pleasure of nature.. sand in your toes, ocean breeze in your hair, planting your own herb garden, breathing in the air from forest trees. Love the Earth and be grateful for all she provides you. Give yourself permission to enjoy the simple pleasures in life, the feminine thrives in nature.
Simplify. You are not your 'stuff', yet society is pre-occupied with possessions being a symbolic representation of worth, status & success. This New Moon is guiding you to experience a worth that is beyond the physical, a love, a wealth that is eternal. Give things away, spring clean your home/office, eat 'lighter', clean out your wardrobe and feel a weight lifted off your shoulders… maybe watching a few episodes of Marie Kondo may inspire you this New Moon
Lightrition your Life

Ready to make the most of 2020 ?
Inviting you to join me for my NEW Online Learning LIGHTRITION your LIFE Course.

Lightrition is about putting your life back in sync with natures cycles & her inherent medicine.

When you shift the foundations of your life in resonance with the Earth & the movement of the Cosmos- something mystical happens- you embrace a deeper sense of inner-peace & sacred purpose.

Life begins to flow with ease. Relationships heal. The body transforms into a temple of Soul Radiance. Your work becomes an expression of your Creative Heart. And life streams abundance, fulfillment & joy from the depths of the Divine.

Make 2020 the start of a whole new way of being – body, mind & soul.