There is a heartening of energy this week as our Full Moon reflects Taurean light – the WESAK FULL MOON.
As the veil between worlds thins on the Wesak Full Moon, our inner-pilot-lights are illuminated with a higher possibility for humanity. Our inner-sight bursts wide open with sacred awe of what is truly possible as the LIGHT of a new world becomes more & more tangible with each breath.
Wesak is a time to make space for silence, receive the LOVE of Creation and acknowledge that you are also the Source of this LOVE.
Full Moon in Scorpio
Moon SCORPIO (17.200) & Sun in TAURUS (17.200)
Thursday, 7 May, 2020 – 8:45 pm AEST (Australia)
(opens in a new tab)">View times in your City/Country>

Moon – past, intuition, unconscious, emotions, feelings
Sun – now, identity, consciousness, self-esteem, expression

Scorpio (Water) – Passionate, emotional, willpower, psychic
Taurus (Earth) – Patient, pleasure-loving, material, determined
Wesak Full Moon
The Wesak Full Moon is the first Full Moon of light in Taurus – Moon in Scorpio reflecting the light of the Sun in Taurus. Wesak Full Moon is the second of three powerful Full Moons for the year. Together they form a trinity, a sacred trine of potential for birthing heart-n-soul vision into physical form.
1. Christ Full Moon – April 7/8, 2020 (Sun in Aries)
Honour of the Christ within all of us / within all of Creation
This Full Moon is the instigator of ideas, mental thoughts or 'sacred envisioning' from the Heart.
2. Wesak Full Moon – May 8, 2020 (Sun in Taurus)
Buddha's birthday, honouring the God within all of us / within all of Creation.
This Full Moon awakens the desire, emotional Heart intensity and practical fulfillment of the sacred vision.
3. Goodwill / World Invocation Day Full Moon – June 5/6, 2020 (Sun in Gemini).
Honouring of Spiritual Unity in humanity.
This Full Moon creates the aetheric divine pattern in order for the sacred vision to be manifest in physical form.
During the Wesak Taurus Full Moon, Divine Rays of LOVE bathe the Earth flooding our Hearts with Compassion & Kindness.
Taurus is ruled by Venus, the spiritual ruler of Earth. Venus represents the Divine Feminine – the Mother Mary (May is the Month of Mary). During the Wesak Full Moon it is said that a divine Pentagram of Venusian Light opens a portal to Shambhala (the number 11 in numerology) through our Hearts.
We are called on the Wesak Full Moon to SURRENDER (number 5 in numerology – the Pentagram) and simply receive the LIGHT (11 in numerology), the ENERGY (11 in numerology) & HEALING (11 in numerology).
We then emerge from the Wesak Full Moon in an awakened state of WISDOM (11 in numerology) & ENLIGHTENMENT (11 in numerology) = 11:11

Wesak is a time to make space for silence, receive the LOVE of Creation and acknowledge that you are also the Source of this LOVE.

It is a time for forgiveness, a time of deepest compassion and time of blessed joy and sacred celebration of what it means to be a Divine Human. It is a time to acknowledge and simply be the LOVE for self, LOVE for family/community and LOVE for all humanity.

Through your LOVE you change the field and inspire Unity and enduring Peace.

Wesak is an opportunity for humanity to come together in Heart Quintessence and be of service to self, each other and Mother Earth. Whilst Wesak is traditionally a Buddhist practice, I feel that the celebration of Wesak is Universal as it focuses on what connects us – LOVE.
During this high-point of the year our greatest service is to prepare ourselves spiritually for the energy pouring into humanity, and to hold the inner connection in daily life, visualizing ourselves as a pure channel of light in alignment with the keynote of Taurus: I see, and when the eye is opened, all is Light.

The goals of "clear seeing, pure joyful will and the death of personality desire" lie before us; and as these goals are progressively achieved, it becomes possible to live consciously within the aura of the spiritual group to which our soul naturally belongs. LucusTrust.org (founder Alice Bailey).
Compassion & Kindness
With the Moon in SCORPIO & SUN in TAURUS, our May 2020 Full Moon potentiates the energy of taking responsibility for what is happening around you and on the Earth today…. the questions that may come up for you are:
Why do I allow myself to be a victim ?
Why do I blame others for my own condition ?
Why do I allow myself to feel powerless ?
With the Sun in Taurus we are wanting to anchor the divine energies available to us at this time and make a commitment to ourselves for self-responsibility and growth. Conversely, the moon in Scorpio intensifies the energies, getting us in contact with our feelings and emotions… intuitively you know why the last few months have been difficult/challenging for you !
Wesak Full Moon embodies compassion & kindness… so remember to imbue those energies to yourself as the planets awaken you to the hard facts of exactly WHY each of us are in the position we are in… and that we have the choice to make the change. With these intense energies, the next two weeks maybe turbulent for some as we reassess what it is we feel in our heart, what is important to us and any issues in our lives which are not congruent with our heartfelt feelings.
With Mercury in opposition to the Moon (hence conjunct the Sun) this Full Moon, you may find a little inner-conflict, maybe even cognitive-dissonance. Where maybe the 'thoughts or insights' arising within you this Full Moon maybe in stark contrast to either your beliefs or the current narratives of the world in this time of COVID-19.
My advice is to not struggle internally with these feelings. Allow yourself time for quiet reflection. Maybe even spend a little time chatting to a beloved friend who you entrust to 'talk things through', without fear of shame or judgement.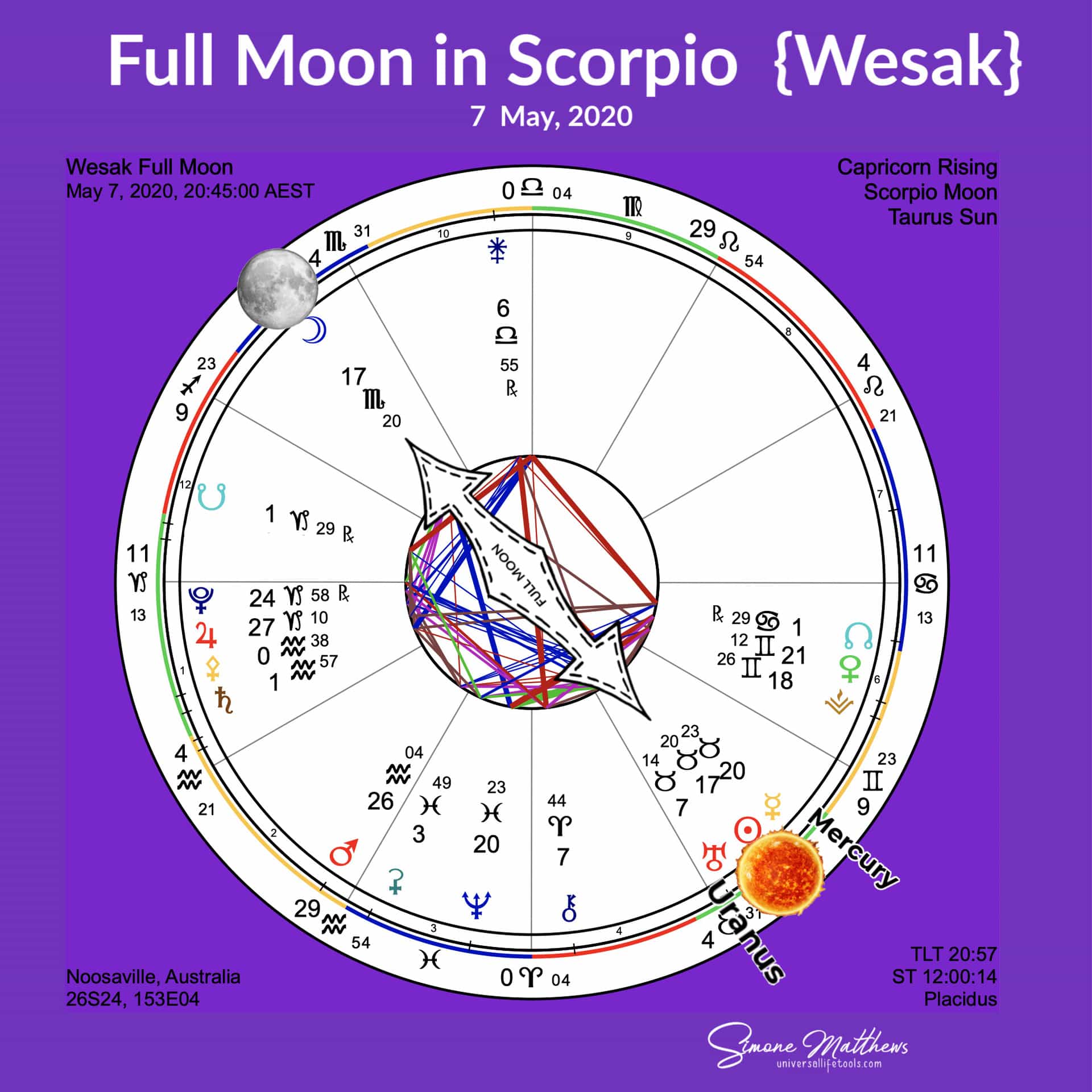 This Full Moon is about LOVING all aspects of self, acknowledge your divine magnificence and hand over any pain to spirit.
It is time to be truly authentic, and in your authentic love, compassion & kindness of self you expand the consciousness so others may too embrace authentic love of self.
A new world is now being conceived by many – it is being actively looked for, and when the eye of the soul is opened, it will be seen to be more real than the world that is revealed by the five senses. The new light is on its way. The annual Wesak blessing plays a crucial role in the coming of that light. LucisTrust.org