As we enter the last 3 months of 2020, we are heading into a period of healing our deepest wounds within the chrysalis. A time to release who we may have thought ourselves to be and step into full Heartful presence of our I AM, our BE-AM.
You may wish to make a note of all the astrological transits between now and the end of 2020. I will be writing about each each of these over the coming weeks, so do join my Community Newsletter to keep up-to-date.
October 2 – 7:05am AEST – Aries Full Moon
October 17 – 5:31am AEST – Libra New Moon
November 1 – 00:49 AEST – Taurus Full Moon (Blue Moon in Northern Hemisphere)
November 13 – Third & final Jupiter, Pluto & Pallas Conjunct in Capricorn
November 14 – 3:08pm AEST – New Moon in Scorpio
November 30 – 7:29pm AEST – Penumbral Lunar Eclipse Full Moon in Gemini (Blue Moon in Southern Hemisphere)
December 14 – 2:16am AEST – Total Solar Eclipse New Moon in Sagittarius
December 19 – Galactic Plane Alignment
December 21 – 8:03pm AEST – Summer/Winter Solstice
December 21 – 9:00pm AEST – Elders Uluru Magick Box (Box opened & switched on)
December 22 – 1:19 am AEST – The Great Conjunction – Jupiter, Saturn, Pallas in Aquarius – Lemurian Star of Bethlehem
December 30 – 1:28pm AEST – Cancer Full Moon
Aries Full Moon Energy
As our Aries Moon opposes our Libra Sun, we are super-charged to transcend obstacles/ fears / doubts about what is possible in our lives and BELIEVE with wholeheart in something more beautiful for ourselves, for our families, for our planet.
We may find ourselves delving into the deep wounds of our past, particularly childhood wounds that may relate to people in authority during our formative years of our life. A light maybe shed, acceptance & forgiveness offered and the sweet nectar of transformation emerges.
Aries is the first sign of the Zodiac and exudes a wilful independence, a pioneering spirit that presents to us as the feeling of anything is possible. Aries is ruled by Mars the GOD of war, bloodshed & fighting. Aries is all about 'Me' and what do 'I' want.
Opposing this fierce energy is our Libra Sun, encouraging us to walk our paths in harmony, co-operation & blessed community. Libra is ruled by Venus the GODDESS of Love, beauty & harmony. Libra is all about 'Us' and what do 'We' want.
Deep within our Hearts, at the core of our very beings… is a longing to shed the superficial story of separation, anger & fear… and a transcendent desire to simply LOVE one another.
CHIRON (currently retrograde) is conjunct our Aries Full Moon (a couple of degrees apart). When planets are conjunct the energy merges, creating an intense, amplified feel. Chiron represents the 'Wounded Healer', where we hold our deepest wounds, hurts, sorrow & shame in our lives – body, mind & spirit.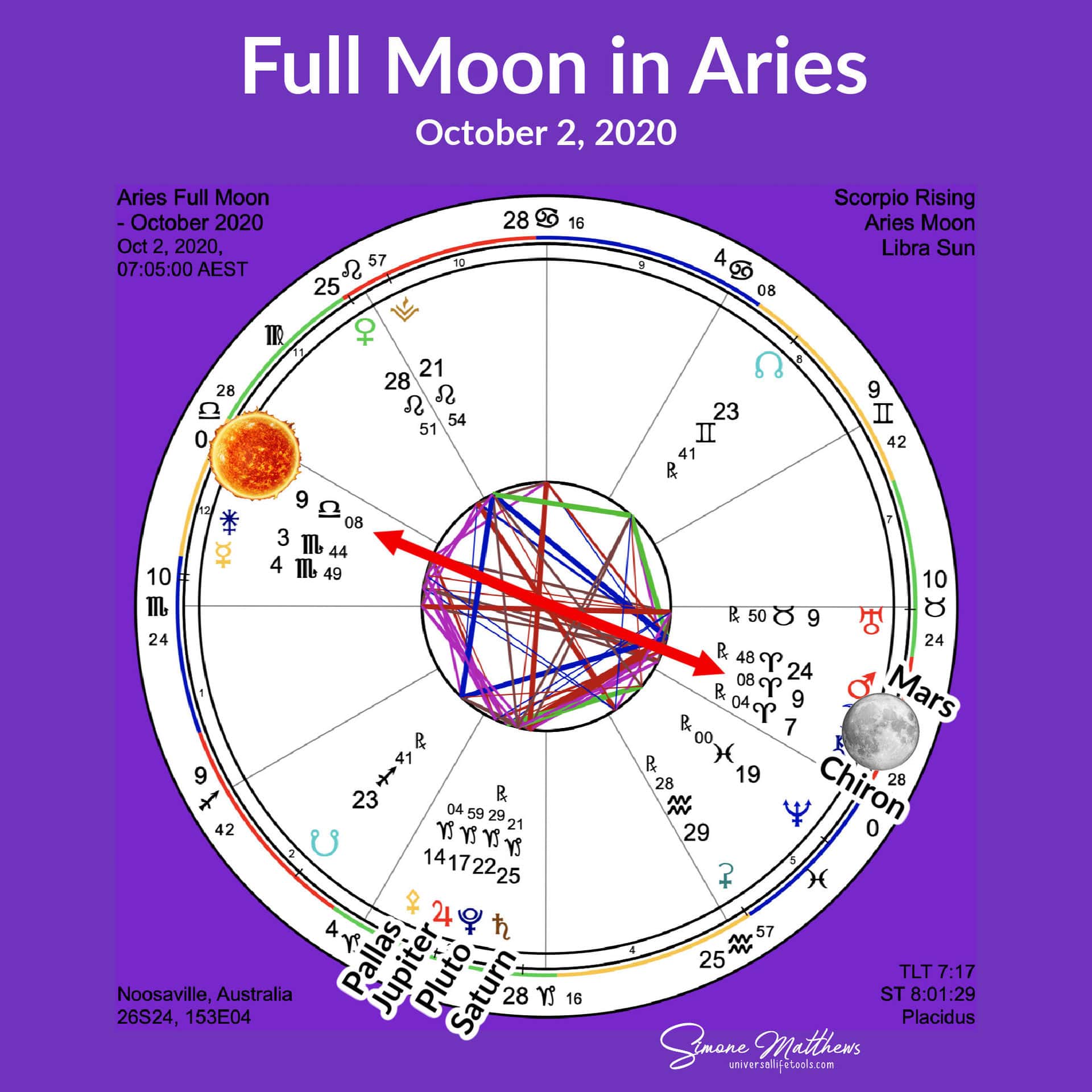 With the Moon amplifying Chiron during its retrograde, this FULL MOON may have you introspectively revisiting your wounds. The Sun in Libra may take you deep into woundings of your childhood, your relationship with Women or the Mothering figures in your life. As Chiron is also in opposition to our SUN, the role of Father/Father Figures in our lives, may also rise up to our awareness too.

Did you feel that you were misunderstood as a child ?
Did you feel like the 'black sheep', always different from the crowd?
Did you long to be held, accepted, loved ?
Did you yearn to hear the words 'I Love you' or 'you are enough'?
Did you yearn to feel safe?
Did your role models support & encouraging you in loving your body – every bump, curve, and perfect imperfection?
Did your role models encourage you to own your fierce spirit, stand up for what you believe in… to OWN your uniqueness, celebrate it.. and ultimately share it with the world ?
Now today, have you swept your wounds of the past under the carpet ? Have you soldiered on and not really ever felt into and subsequently let go of your wounds? Or have you mentally deal with your wounds of the past – but never really process them with Whole-Heart? This Full Moon is an opportunity to reflect on the story of your wounds and what / how the story has themed your life to date.
With the Sun in Libra (independence, fresh beginnings), this FULL MOON may cast your story in a fresh new light & offer pioneering solutions that weave GRACE into your life moving forward. You may find that acceptance of the past or forgiveness (self & others) means that the wounds no longer have any hold over you… but rather serve you in delightfully radiant ways.
Look up to the heavens this Full Moon, and beside the Moon you will see the red planet Mars – the planet of energy, passion, action, war, initiative and asserting yourself out in the world. Mars is currently retrograde, so the energy is directed inward… which is great for self-reflection, but can also lead to rising frustration. And if emotions get way too hot under the lockdown-curfew-hood, then just like a volcano peoples tempers may also become angrily explosive. Patience will be the KEY this Full Moon, and holding the grander vision of The Great Conjunction of Jupiter, Saturn, Pallas in Aquarius on 22 December 2020, that will enable you to walk a higher path. Mars moves direct on November 14 (just hours before the New Moon)… watch out for the sparks of action or even unexpected firey-warlike events around this time!
We were born with Love
There is power in the collective when we let go of the fear/darkness and BELIEVE in a grander, more beautiful possibility for humanity in our hearts. When individually (Aries) we see the Light in each other (Libra) we remember we belong to each other, the truth of who we are is LOVE.
We have a powerful stellarium of transits over the next few months, and I feel our Aries Full Moon is preparing us to rise up to a greater potentiality for our human family.
But for now, envision yourself as the butterfly this Full Moon. It can be dark and at times lonely in the Chrysalis. The pain may feel excruciating. You may never feel the agony will end. But in the Chrysalis lies a vision of possibility, and her future is LIGHT, graceful & free.
Would LOVE for you to join me this coming Thurs/Friday the 1st/2nd October 2020 for my LIVE Zoom session with the Pleaidian Mothers – Lemurian New Earth Era Sharing #8 – helping us embody the LOVE that we were all born with. If you can't make it live, once you enrol you can watch the replay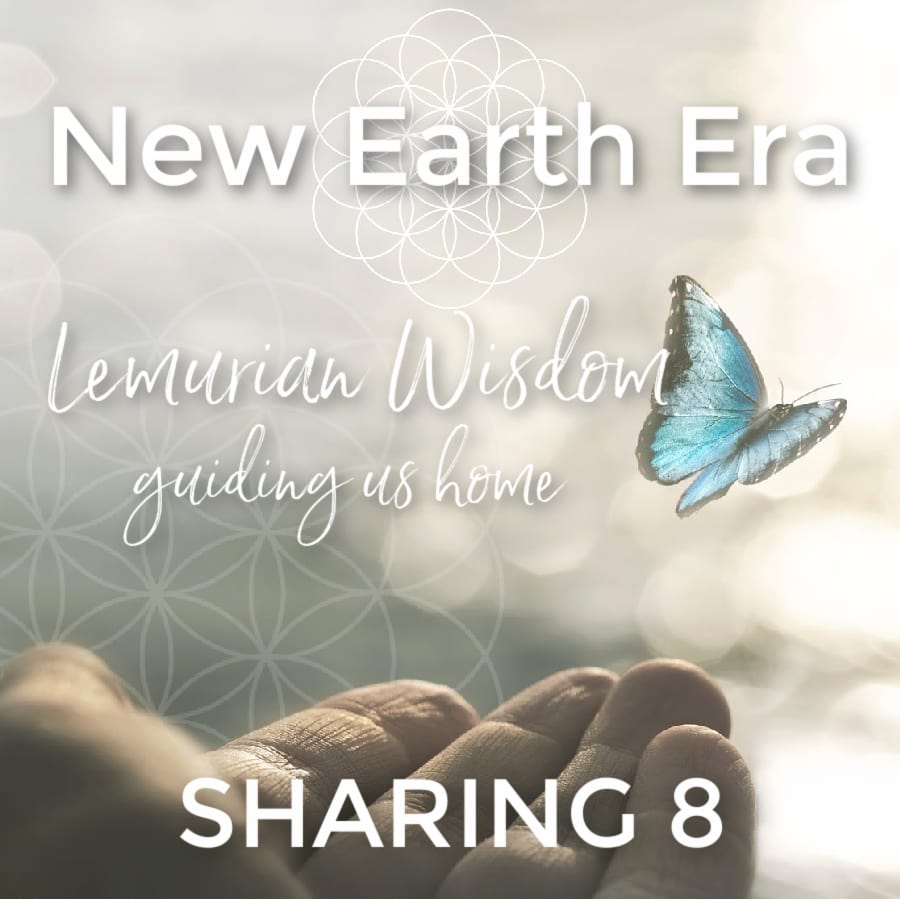 LOVE the Nazi within
A friend shared this heartfilled video with me this week, which I feel so reverently applies to these last few months of 2020. Today as I write this, 29 September 2020 is Dr Edith Eger's 93rd Birthday. Dr Egar is a survivor of the Holocaust, educator, esteemed therapist and speaker. In this video, Dr Eger, shares her experience and advice about choosing 'love over hate' and embracing our perceived enemies, the Nazi within.
Dr Egar also has a new book out this week called The Gift.
Robert F. Kennedy Jr – Historic Speech in Berlin
This video is well worth a watch, to consider the Dr Edith Eger's wisdom within the context of this moment.
And for those that live here in Australia…. something to reflect on as it relates to the Omnibus Bill (Health & Wellbeing Act) up for vote in the upper house on October 13, 2020. Thank you DigitalW for being a voice of many.