You may find this Full Moon challenges you. With the Moon conjunct Uranus retrograde, the energy is ripe for things to be revealed, or startling news comes to light. You may even find yourself a little unhinged, reactive, or even acting from your emotional body with rage at the injustice of it all thanks to the rebellious nature of Uranus.
But there is a balm to all of this in sight. There always is. And each of us have the power to work with the uncomfortableness of this Full Moon to help bring the darkness to light, and serve a grander path for our humanity, our children & future generations.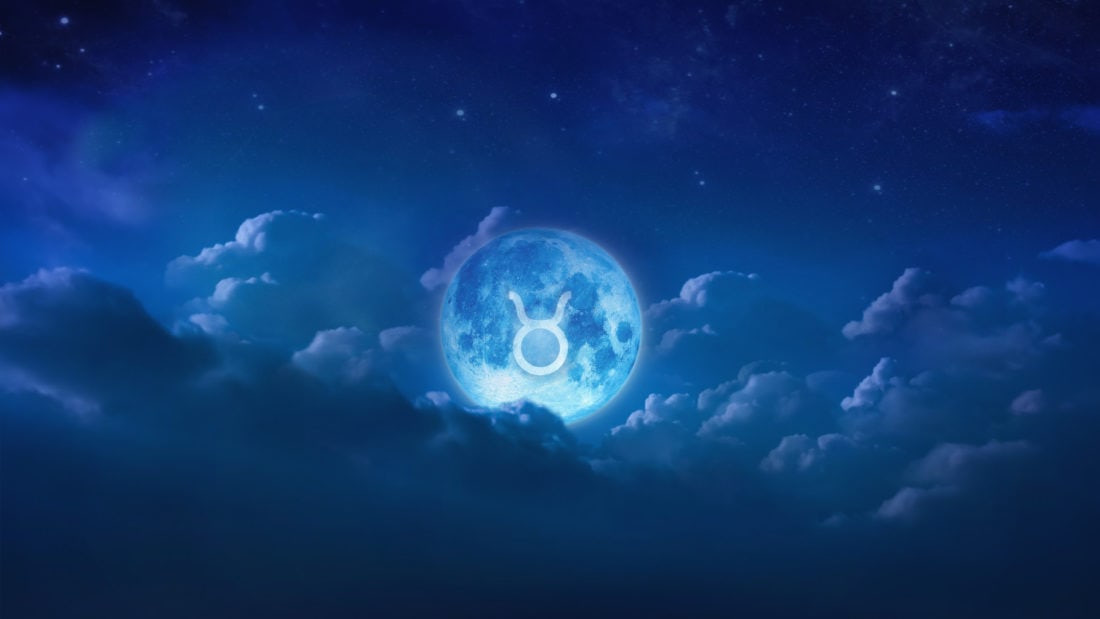 Taurus Full Moon Energy
When the Sun & Moon oppose each other on a Full Moon, the tug-of-war creates both an uncomfortable friction but also a greater amplification of vision & potential possibility. A time to let go of what what may not be serving the grander vision of your Soul, and gifting yourself permission to nourish & cherish your life in tender ways.
Taurus is an Earth sign and is ruled by the sensual Goddess of love & beauty Venus… so the Taurus vibe gets all oozy in the pleasures in life – good food, sensual touch, comforts… as well as a deep love of material treasures.
Such that the Taurus Full Moon takes you deep to question… when was the last time you had your bare feet upon the Earth? The Sun beaming on every square inch of your body? Raindrops falling on your forehead? Experienced the flutter of a butterfly in the breeze? Or the wind pricking up the hairs on your skin?
All of these things are FREE. They are gifts from the Earth… and she longs to share them with you. So this Full Moon, ask yourself the question 'Are you letting yourself receive her abundance'? Could your luck of abundance in your physical world (be it money as a physical unit of measurement), be correlated to your inability to receive that which is given you in LOVE for free ?
There is however a twist to the energy of our October/November Taurus Full Moon, due to the conjunction of Uranus with the Moon, combined with Juno transiting close by the Sun. See diagram below. These aspects are adding an amplified intensity to our Full Moon, let me explain!
Uranus Conjunct Moon
The planet Uranus moving Retrograde, is conjunct the Moon in Taurus this Full Moon. Uranus is like a wildcard of the pack, unpredictable, original and out of the box thinking. Uranus can spark revolutions as it has its gaze on more humanitarian, freedom loving and unconventional pursuits. With Uranus, simply 'expect the unexpected'.
With Uranus conjunct our Full Moon, we may experience added tension, our emotions may feel highly charged, we may feel and increased desire to rebel and break free. Take this opportunity to explore what freedom means to you and what you need to change to be this freedom.
With Uranus Retrograde, chaos is often the order of the day as you expect the unexpected of an unexpectable planet ! Unexpected news may come to light, some major revelation maybe revealed, or something out of the blue may suddenly be brought out into the open. Considering this is also a BLUE Moon (2nd Full Moon in Calendar month in the Northern Hemisphere), as well as Samhain festival / Halloween on the 31 Oct … then maybe this saying will ring very true!
Whilst I would like to say that this Full Moon will help to diffuse the intensity of late, it instead feels the energy may just add a bit of fuel to the fire. I do however intuit that our upcoming final Conjunction of Jupiter, Pluto, Saturn & Pallas on 13 November, followed by the Eclipse Season starting 29/30 November will begin to provide a much needed salve of visionary solution.
Also, please keep in mind that Mercury (planet of communication) is still moving Retrograde, and will be until end of November, so please keep your wits about you during this time… as much false information, propaganda & smoke screens of information maybe the order of the day. I recommend engaging with Uranus & standing up and being a voice during this time, don't let the media manipulators silence what you know within your heart.
Juno & the Sun
The 4 Major Asteroids (Minor Planets) – Ceres, Pallas, Juno and Vesta – were discovered within a few years of each other at the beginning of the 19th century. These 4 asteroids were named after female goddesses of the Roman pantheon, and symbolize four different facets of the feminine.
Pallas represents the wisdom of the female spirit,
Cere's represents modern women, our roles of nurturing / motherhood & our relationship with our Mother (or mothering figures in our life),
Juno represents intimate relationship/partnership and
Vesta represents inner flame of service to the Goddess.
Asteroid Juno (13.450 Scorpio) is making a weak conjunction with the Sun (8.380 Scorpio), having an influence on the melting pot of Full Moon Energy. In mythology Juno (or the Greek Hera) was wife and consort to Jupiter, and therefore the astrology of Juno represents the partnering energy of intimate relationship.. BUT with a more modern slant.
In the bigger context of our lives Juno brings clarity to your Heart Values, what are you committed/married to in your life AND do you live your life in service of these values ? With Juno conjunct the Sun this Full Moon, she takes you inward, to re-evaluate who you see yourself to be in relationship to the world at large. Is it time to breakdown OLD beliefs & systems, fixed ideals that no longer are relevant as we enter a New World Era ?
Making the Most of our Taurus Full Moon
The question you may find yourself asking this Full Moon is 'Well what is stopping you?'. What is stopping you from receiving ? What is stopping you from standing up and speaking out about your values ? And what is stopping you from loving yourself enough to set boundaries and say NO. NO to what you don't want. And proclaiming to the world a big YES of what you DO WANT, and YES to what you are going to do to create the wave that makes it happen.
This Full Moon is going to challenge you. It will challenge all of us. As things are revealed, or startling news comes to light, you may find yourself a little unhinged, reactive, or even acting from your emotional body with rage at the injustice of it all.
But this is where you have the tools to engage in the healing balm of Moon in Taurus and remember who you are & your sacred connection with this cherished Earth. So get back to the Earth & luxuriate in all her sensual offerings. Indulge in simple sensual pleasures and love yourself enough, rejoice in life, & believe in yourself enough to CHOOSE to believe in the power of you.
And finally, this Full Moon will have you let go of the infrastructure that keeps you separate from the Earth, your body, and even your connection with others. Consider 'Who do you want to be as you come into 2021'… and let go this Full Moon of anything that does not support this grander vision of possibility.
The next 8 weeks will be quite intense energetically as we build up to the The Galactic Alignment & The Grand Conjunction in late December 2020. Stay posted for my weekly blog post updates on astrological transits that are helping flourish The Great Awakening 2020.