Our November Full Moon is both a Lunar Eclipse, plus a Blue Moon here in the Southern Hemisphere. With the Moon in Gemini reflecting the light of the Sun in Sagittarius, there is something quite beguiling & reverently healing about this Full Moon.
Reflecting back our June 2020 Full Moon Lunar Eclipse, the placements of the Moon & Sun were reversed, whereby the Moon in Sagittarius reflected the light of the Sun in Gemini. So here we are, 6 months later coming FULL CIRCLE with this last Lunar Eclipse of 2020.
Back in June we were shown 'what we were capable of becoming' when we aligned with the Immeasurable Heaven of the Cosmos. And now for our last Lunar Eclipse of 2020, we are drawn to make the changes in our lives that weave a more graceful, restorative & nurturing rhythm to our daily lives as we bring 2020 to a close.
Energy Gemini Full moon
As the forces of the Sun & Moon oppose each other on a Full Moon (Ego versus Emotions, I versus We), the potency of potential this friction provides is based on the zodiac placements of the Sun & Moon. Gemini is all about communication (the ruling planet is Mercury after-all) and beloved Sagittarius wants to freedom to express herself freely when-ever and where-ever she likes.
The energy of our Gemini Full Moon engages us in finding our voice. Free expression. Moving beyond the chains of conformity, judgment & shaming to express from the Heart our Soulful Truth. To communicate our feelings with a view to 'adding beauty to the world', as opposed to unleashing a weighted shadow of fear.
Since our Gemini Full Moon is also a Lunar Eclipse, this urge to free expression of voice may challenge our inner shadows. Highlighting where you maybe sabotaging your full creative expression, and calling you to bring healing to these deep woundings from the inside-out.
Some questions this Gemini Lunar Eclipse may call you to answer are:
Do your words to others reflect your TRUE feelings?
Or do you use words that are pleasing to others and not really reflective of your beliefs/desires/inner-most feelings?
Where in your life are you hiding from the world for fear of not being liked or accepted?
Are you worried about being publicly ridiculed or humiliated if your truth contravenes the norm ?
Whilst being a communication warrior can be confronting, this Full Moon Eclipse will help you discover that the TRUTH sets you free. Speaking your truth is in fact one of the most courageous acts of self-love you can gift yourself. Letting go of the facade, the masks, the story of others feels like a giant suppressive lid of control has been pried wide open, and there is now NO LIMIT to the beauty, awe, & sweetness that can be both woven into and reciprocally experienced within the world.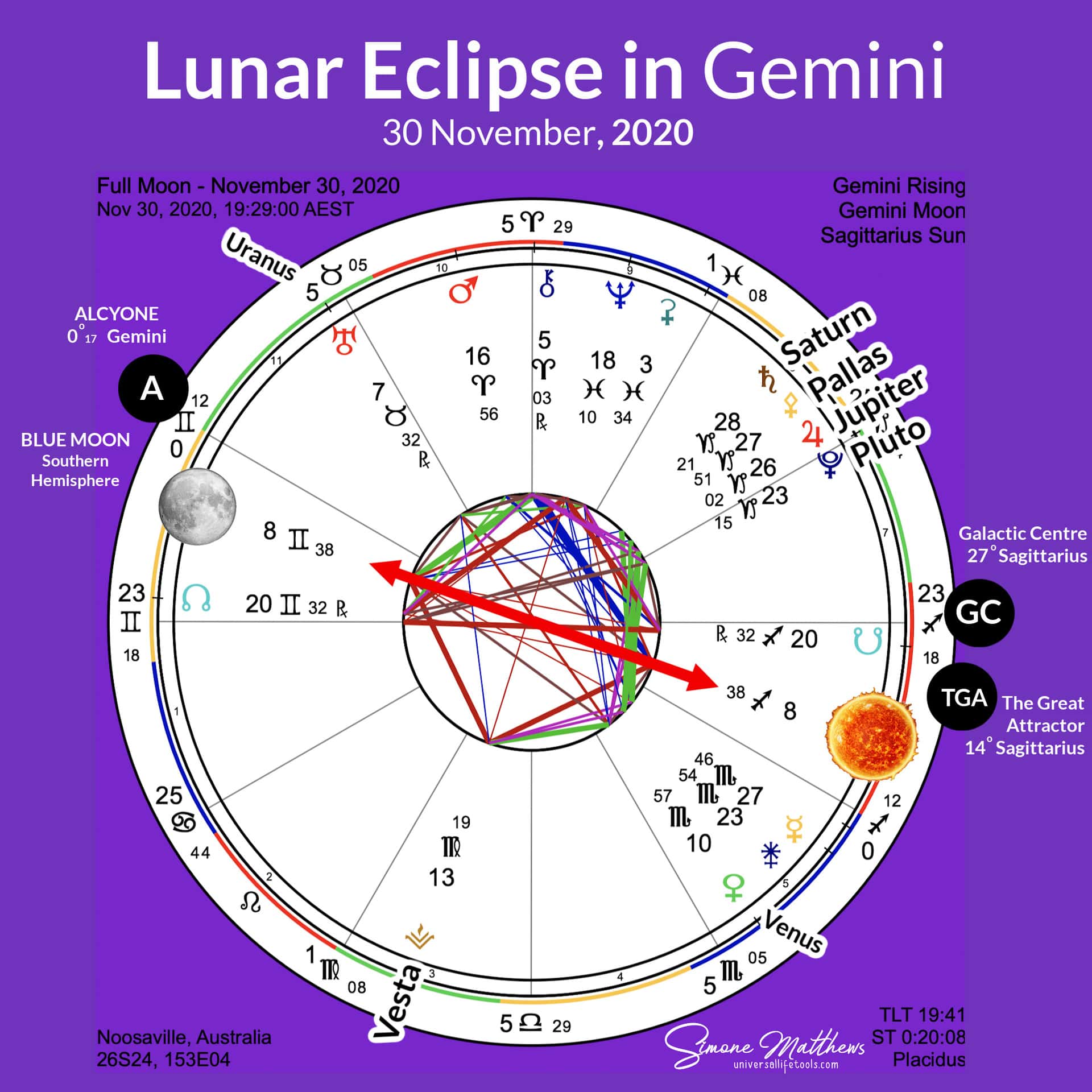 Penumbral Lunar Eclipse
The word ECLIPSE comes from the Greek word "ekleipsis" meaning "to abandon, to leave, to vanish" – and that's exactly what we may experience during this weeks Lunar Eclipse – the desire to surrender and let go of parts of our self that limit our greater potential.
Our November 2020 Lunar Eclipse is Penumbral– whereby the moon moves through the penumbral part of the Earth's shadow hence this eclipse is very feint. Here is a map of who will be able to see the eclipse – visible from much of Europe, Much of Asia, Australia, North America, South America, Pacific, Atlantic, Arctic.. And here on the East Coast of Australia, we will be able to see the maximum eclipse Moon above the Eastern Horizon a good hour after sunset.
Energetically during a Penumbral Lunar Eclipse, as the Moon is partially sitting in Earth's shadow (ie unable to reflect the I AM Light of the Sun), a window opens and we are drawn into ourselves, the part that we don't show to the world, the emotional and deepest part of our psyche. Through Gemini we are being called to allow the parts of ourselves that stifle our freedom of communication to simply fall away, such that we are free to sing our Soul Song into the world with grace, courage & passionate individuality.
Eclipses usually come in pairs, and this Lunar Eclipse sets the scene for our Total Solar Eclipse in mid-December 2020.
Alcyone & The Great Attractor
As I mentioned at the beginning of this post, there is something quite beguiling & reverently healing about this Full Moon. So much so, that this Gemini Lunar Eclipse will engage us in making changes in our lives that weave a more graceful, restorative & nurturing rhythm to our daily lives as we bring 2020 to a close.
During our June 2020 Lunar Eclipse, where the Moon in Sagittarius opposed the Sun in Gemini, the Moon was conjunct The Great Attractor. And now for our November 2020 Lunar Eclipse, where the Moon in Gemini opposes the Sun in Sagittarius, the Sun is conjunct The Great Attractor, albeit a weak conjunction. It feels like we have come full circle in embracing the YIN & YANG of what this conjunction means!
To cast your mind back, as I share in Aetheric Healing™, The Great Attractor lies at the very centre of the Laniakea Supercluster – a Supercluster that contains our very own Milky Way Galaxy plus around 100,000 neighbouring Galaxies. The Great Attractor has a mysterious gravitational influence over all of these Galaxies… with our Milky Way Galaxy currently being pulled towards The Great Attractor, and numerous others Galaxies being pushed away… akin to the movement of energy in/out of a torus.
So what does The Great Attractor / Laniakea mean energetically for Earth ? Laniakea is Hawaiian for 'Immeasurable Heaven'… and for me that kinda says it all ! When our Full Moon conjuncted The Great Attractor back in June 2020, through our dreams we began to embody a greater possibility for Earth at this time. And now as the Sun conjuncts The Great Attractor this Full Moon, we are propelled into conscious action, to communicate and walk the talk of what we have been feeling as possible within our hearts.
With Alcyone, brightest start of the Pleiades close by our Full Moon, her LIGHT is reminding us to step out of the linear shadow of the masculine, and rise up to the flow of Feminine Wisdom. Attune yourself to the cycles of the cosmos. Move into living in ceremony with nature. And discover the miracle power of LOVE to heal all things. I wrote these words at the time of the June eclipse, and today I am feeling the power of their presence even more deeply…
We are being called to Evolve.
We are being called to move beyond our 'war' mentality.
We are being called to heal the trauma & set ourselves free.

Together lets unite and become Ambassadors of Peace.
Sacred Activists of Joy.
And Emissaries of Love.

Today lets END the cycle of separation.
Today lets Rise & Shine TOGETHER.
The future, she is calling us to action NOW.

We are being called to Evolv
13 GrandMothers of the Pleiades
I feel within my heart that a Divine Intelligence is weaving a higher vision of possibility through our dreams, helping us to let go of the fear & separation of the old-Earth consciousness and truly embrace a higher cosmic relationship with ourselves, the Earth & each other.
The immeasurable heaven of the Cosmos exists within our Hearts. This Full Moon eclipse is about feeling the Divine Hand of its presence and choosing to walk, talk, live a life in service to this HIGHER LOVE.