Whilst Full Moons can be challenging with the Moon & Sun sitting on opposite sides of the zodiac, they can also be wildly expansive & potently illuminating as the Lunar & Solar (yin & yang) are in natural harmonic balance.
And I promise you, this weeks Full Moon in LEO reflecting the light of the Sun in AQUARIUS will do a tremendously amazing job at both !
Our FIRST Full Moon of 2021 will guide us– from a place of self-love rather than ego-centric neurosis– to OWN our gifts, stand proud in our talents and to take that plunge to both OWN & REVEAL our god-given Graces to the World.
Full Moon LEO Energy
Our first Full Moon for 2021 is in LEO – a vibrant fire sign that is ruled by the Sun and is outgoing, affectionate… and just like the Lion exudes warm-hearted courage. When the Moon is in LEO we are guided to connect deeply into our Hearts and unearth our passions. What creatively inspires you and brings you the greatest emotional fulfillment ?
Our Moon is reflecting the LIGHT of the Sun in AQUARIUS -an air sign that is ruled by Uranus and weaves qualities of humanitarian pursuits, pioneering skills & can be very rebellious in nature… love that Uranian flare!
When our Moon is in Leo, reflecting the Sun in Aquarius – these two create quite an intense, yet deeply uplifting resonances. We are guided– from a place of self-love rather than ego-centric neurosis– to OWN our gifts, stand proud in our talents and to take that plunge to both OWN & REVEAL our god-given Graces to the World. To let go of the need to please & blindly follow the advice of others (as well meaning as they may be), and instead believe that only YOU know what is right for YOU through the WISDOM of your Heart.
Basically, LEO Full Moons implore you to have the courage to OWN YOURSELF. Believe in yourself. Trust in the miracle of LIFE & the guidance of your SOUL.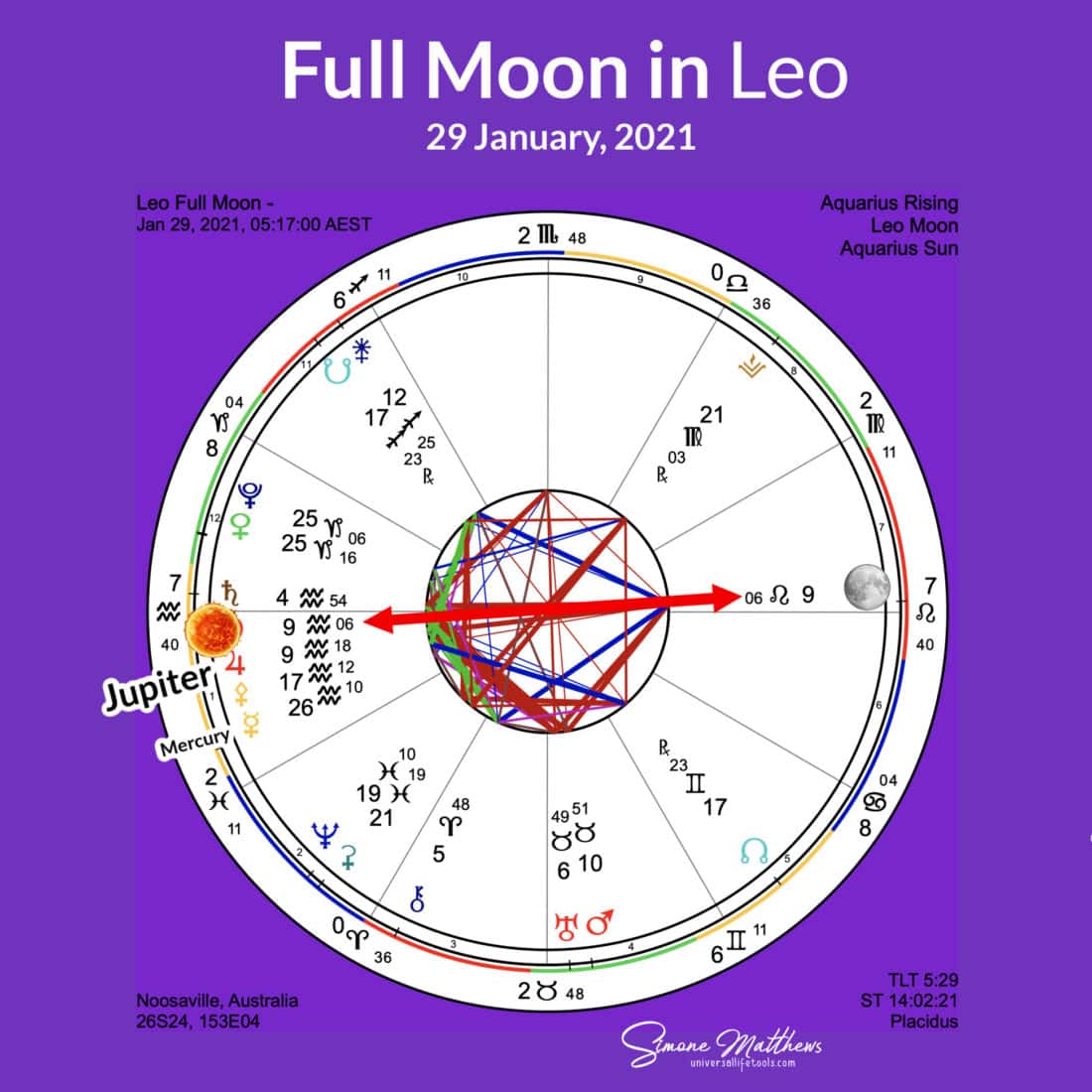 The planet Jupiter is conjunct the Sun this Full Moon, creating an uplifting & expansive vibe. Even though you may have been in a rough place of late, this Full Moon helps you to 'see' through the fog toward opportunities & possibilities as the Jupiter vibe moves your awareness from IMPOSSIBLE toward I'M POSSIBLE.
The planet Mercury moves Retrograde a couple of days after our Full Moon, so don't be perturbed if your big LION-HEARTED plans seem to be slow to take traction. Use the illuminated insight from this Jupiter inspired Full Moon, to keep the LIGHT of your visions burning as we countdown to the beginning of the Astrological Calendar when the Sun enters Aries toward the end of March at the Equinox.
Engaging with our LEO Full Moon
Our LEO Full Moon inspires you to have the courage to OWN yourself and follow your intuitive guidance. There is so much mis-information taking up a crazy amount of band-width within the world of late, our LEO Full Moon helps us to re-center ourselves & trust in what our HEART knows. The mind maybe so mixed up with fear, yet the HEART inspires us up to rise up & live a TRUTH from a place of all KNOWING Spirit.
This vibrant Full Moon is just the medicine we need at the moment, to help us focus on what is important in our lives, and to TRUST ourselves & our inner-guidance. As we near the end of the Astrological Calendar, the energy may feel quite intense over the next couple of months, so use the INSIGHT from this Full Moon to help keep you on the straight & narrow, and not waiver your HEARTfelt knowingness.
Own your Grace this Full Moon. When you choose to radiate the light that is within your Heart and follow the beat of your own Soul, you move into a place of least resistance. From this place you step into FLOW… you begin so see your life as part of something greater than you… and your relationships & work take on a greater depth of meaning. Finances begin to step into harmonic flow, doors begin to open for you and opportunities abound for you to make the greatest impact in the world through the UNIQUENESS that is YOU !
Each and everyone of us are an integral golden strand in the web-of-life and our LEO Full Moon is offering us the opportunity to move deeply within, really OWN that fact and have the lion-hearted courage to live your life in alignment with a world more beautiful that each and everyone of us knows is possible.
Take Heart that there is a BIGGER plan unfolding, and all you need do is step out of the hypnotic state of FEAR from the mind/media. Now more than ever is a time to STEP up, be the lion-hearted courageous leader in YOUR life. Let go of the need to follow the opinions of others, and believe & trust in YOUR OWN HEART. Your Heart is the place of ALL TRUTH.