Our March 2021 Pisces New Moon, takes us deep into our Sacred Sexuality, the Sensuality of our Bodies, & the warming Bosom of Mother Earth. Deeper and deeper we will go, till we experience ourselves born OF nature, eternal drops of the one ocean of life.
This New Moon is a return to feeling into the inherent Wisdom that illuminates every cell within our bodies and giving ourselves permission to own the glory of this Sacred Divinity. That is where the magick happens. When the world looks dark, give yourself permission to shine-on-brightly, and LIGHT up the World by radiating a HIGHER LOVE.
New Moon Pisces Energy
Our March NEW MOON falls in the Zodiac sign of PISCES a Water Sign (ruled by Jupiter & Neptune), weaving a feminine, yin, feeling, sensitive, sensual & intuitive energy.
During a New Moon, the moon sits between the Earth & the Sun, hence the Sun is shining on the 'dark side of the moon', the side of the moon we never see. So with both the SUN (your outer personality) and the MOON (your inner emotional world) is both sitting together in PISCES… you are being drawn deep into the darker recesses of your psyche to explore your unconscious mind.
Pisces New Moons are deeply emotional, a feeling of heightened sensitivity, and intuitive instincts will be at at all time high… so much so, it may at times be hard to discern, what is 'yours' and what is 'others' stuff. Water will help you clear the emotions/energy of others from your field (ocean swim, salt water baths, bodybrushing in the shower with salt) and keep you focused on what YOUR unconscious mind is bringing to your awareness.
I just adore the heightened creativity that flourishes during a Pisces New Moon. You may find yourself dreaming solutions to problems in your life or seeing new paths of opportunity beyond your perceived limitations. Allow the Piscean energy to amplify your dreamy state such that it knows no boundary. Don't 'play small' with your dreams during a Piscean New Moon.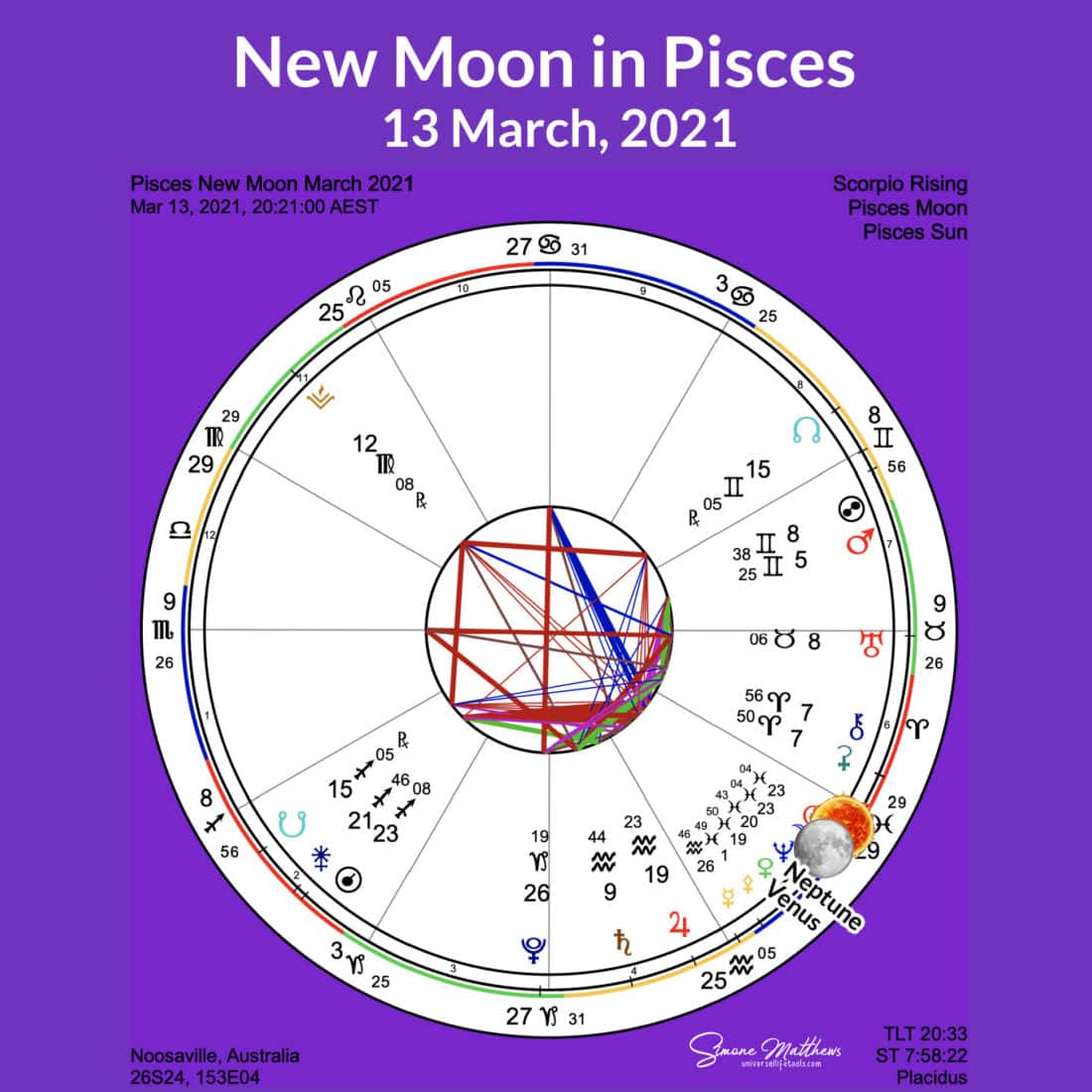 Neptune & Venus
Our New Moon falls at 23.040 Pisces, and is being serenaded by both Neptune at 20.430 Pisces & Venus at 19.500 Pisces.

Neptune is often referred to as the 'higher octave' cousin of Venus. Thus our values for love, beauty and passions become more 'universal' through Neptune. Neptune is the planet of the mysterious, the illusionary and beyond the confines of the program. It calls us to gain insights from higher states of conscious/awareness/dream state.
Venus is LOVE… love of family, friendships, relationships… all relationships including our business relationships. And she plays with our Hearts as we fall in love & appreciate the beauty in life – art, nature, bees, a cup of tea, a starry night & our deepest passions.
Together both Venus & Neptune are showing us that the Heart, the Wisdom of Life, the Divinity of Spirit exists within us… and all we need do to tap into this eternal LIGHT is to give ourselves permission to LOVE. Love ourselves. Love the perfection of each moment. Love & be grateful for what you have.
And… let go of being a victim to life's follies… and lets face it, there's an awful lot of folly in this 2021 year. Instead rise up from the hypnotic fanciful delusion that you are separate from Divinity… and take your passion, creativity, dreams, heart, soul, your body, and every OUNCE of your beingness to the HIGHEST LOVE possible.
Engaging with our PISCES New Moon
Dream big, bold, beautiful & joyously this New Moon in order to create opportunities from the HIGHEST LOVE possible.
As I shared during our last Full Moon, that was also serenaded by Venus & the Priestess Vesta (the lower octave of Earths Moon)… there is a great uprising happening in the Human Heart. Give yourself the space to be still, listen, feel and engage is not only the grander wisdom of your Soul, but also the sacred whispers of Divinity guiding your path.
Through Pisces, give yourself permission to FEEL it. Dance with it. Sensually embrace it. Make love to it. Let it rise up and ooze out of every pore within your body.
There is a great LOVE at play that is guiding your path. Surrender to the LOVE. Relish the warmth and comfort it brings your life. And let the miracle of LIFE unfold a more beautiful future.