With our Full Moon in Capricorn, reflecting the light of the Sun in Cancer, you may find the story of your life or the world is seen through a completely different lens this Full Moon. All that you thought you knew and had figured out about life may appear 'upside-down, inside-out or back-to-front' this Full Moon. Be gentle with yourself, this is EXACTLY what being a Soul having a human experience is all about, learning, growing & evolving a grander Wisdom.
Practical Capricorn is softened by the gentler Cancerian energy, together they will help us bridge the knowledge of our Mind, with the Wisdom of the Heart. This may all appear disconcerting at first, particularly since the SuperMoon energy is heightened, but if you allow yourself to be vulnerable enough, and trust in your Heart Wisdom, all will fall into place with time & grace.
View ALL Lunar Transits for 2022
Full Moon in Capricorn – Time Travel & Portals
I am back to recording my monthly Astrology insights Videos— intuitive cosmological insights about each months key astral aspects. This months video focusses upon our Capricorn Full Moon, intertwined energetically through aspects with Pluto, Mercury, Ceres, Chiron, and the biggy… North Node conjunct Uranus in Taurus… and how this ALL relates to the God Particle, Time Travel & Portals... WOW oh WOW !!!
Interested in finding out WHY this months Cosmic transits relates to Time-Travel, Portals, Dimensions and the future trajectory of Humanity? If YES, then I invite you to join our Flourish Membership and each month receive my FREE Cosmic Insights Video as part of your Membership.
When you join Flourish, you receive each Month's Cosmic Insights Video including:
Astral Chart – Diagram of Key Transits
Simone's Intuitive insights of Key Transits/Aspects
Personal insights from Simone regarding how the current months Transits relate to current WORLD EVENTS
Insights on HOW to make the most of the current months vibrational flows
Crystals to work with to make the MOST of the energy potentials
Key Essences to help access a greater clarity of Cosmic Wisdom
Additional Resources to help expand your Cosmic Cycle connections
Full Access to the backlog of ALL Cosmic Insights Videos for the life of your membership.
You can join us for just ONE MONTH and check us out... I guarantee you will love our space so much you won't want to leave. Together lets Flourish— JOIN Flourish Today!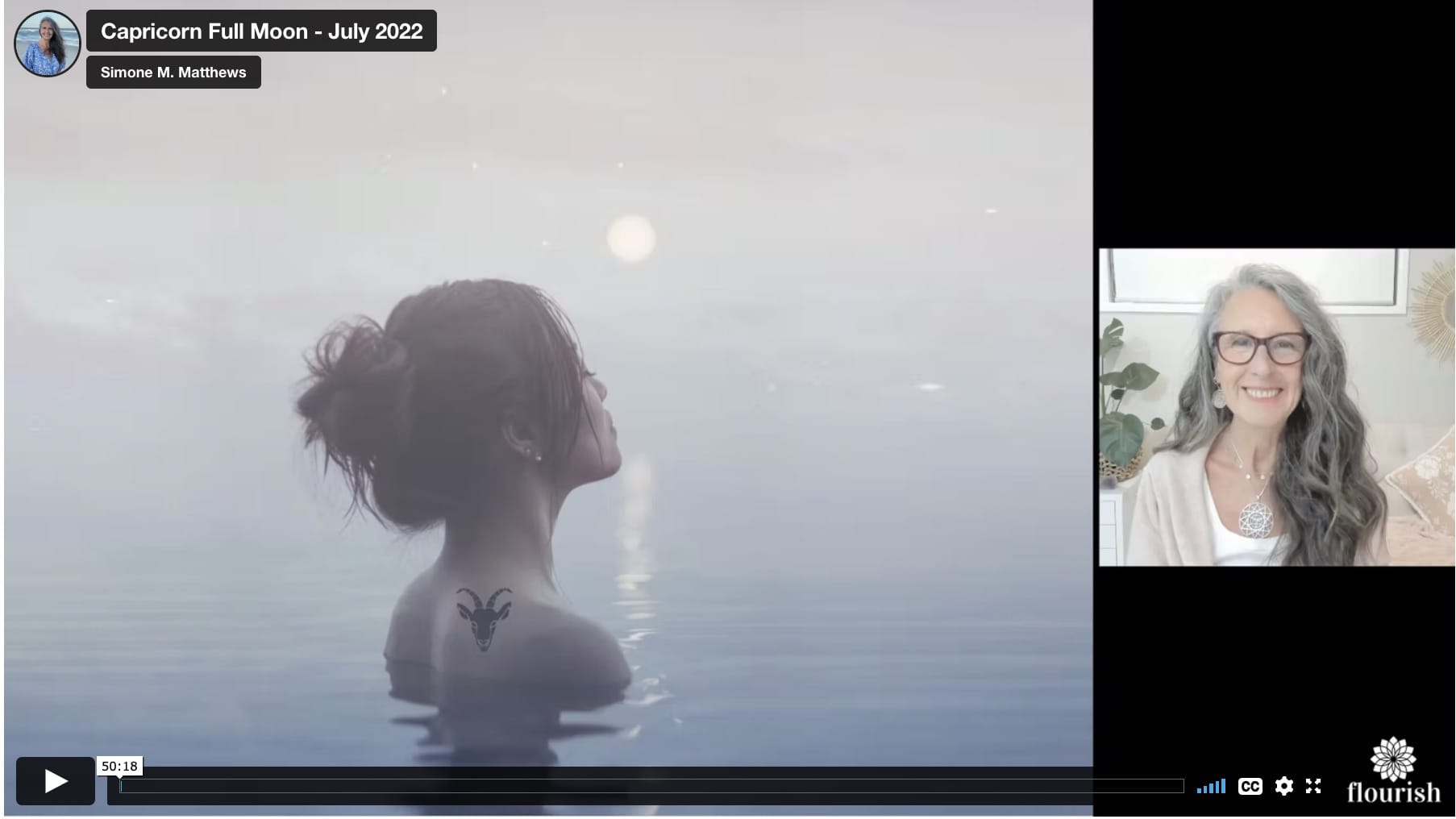 Full Moon in Cancer
The Moon (our inner-world) at 3.280 CAPRICORN is hardworking and gets things done. Capricorn has a vision, rolls it's sleaves up and is prepared to do the hard-yards to reach its goal. Capricorn can however get a little too caught in process at times, or even maybe a little bit too rigid in executing the 'plan'.
Bringing a tender softer edge to the Moon, is her reflection of the light of the Sun (our outer-world) at 13.380 Cancer. Cancer is the sign of the Sacred Feminine, the creative Mother energy and the nurturer. Tenderness, lightness… and offers an intuitive/creatively playful edge to the more rigid Capricorn Moon.
Together, this polarity of energy guides us in releasing control. Moving into a softer space of imagination, dreaming, intuition & nurturing. Softness doesn't mean weakness, but rather a profoundly luminous Grace being exuded from the Heart, rather than a harsh egoic control of the mind.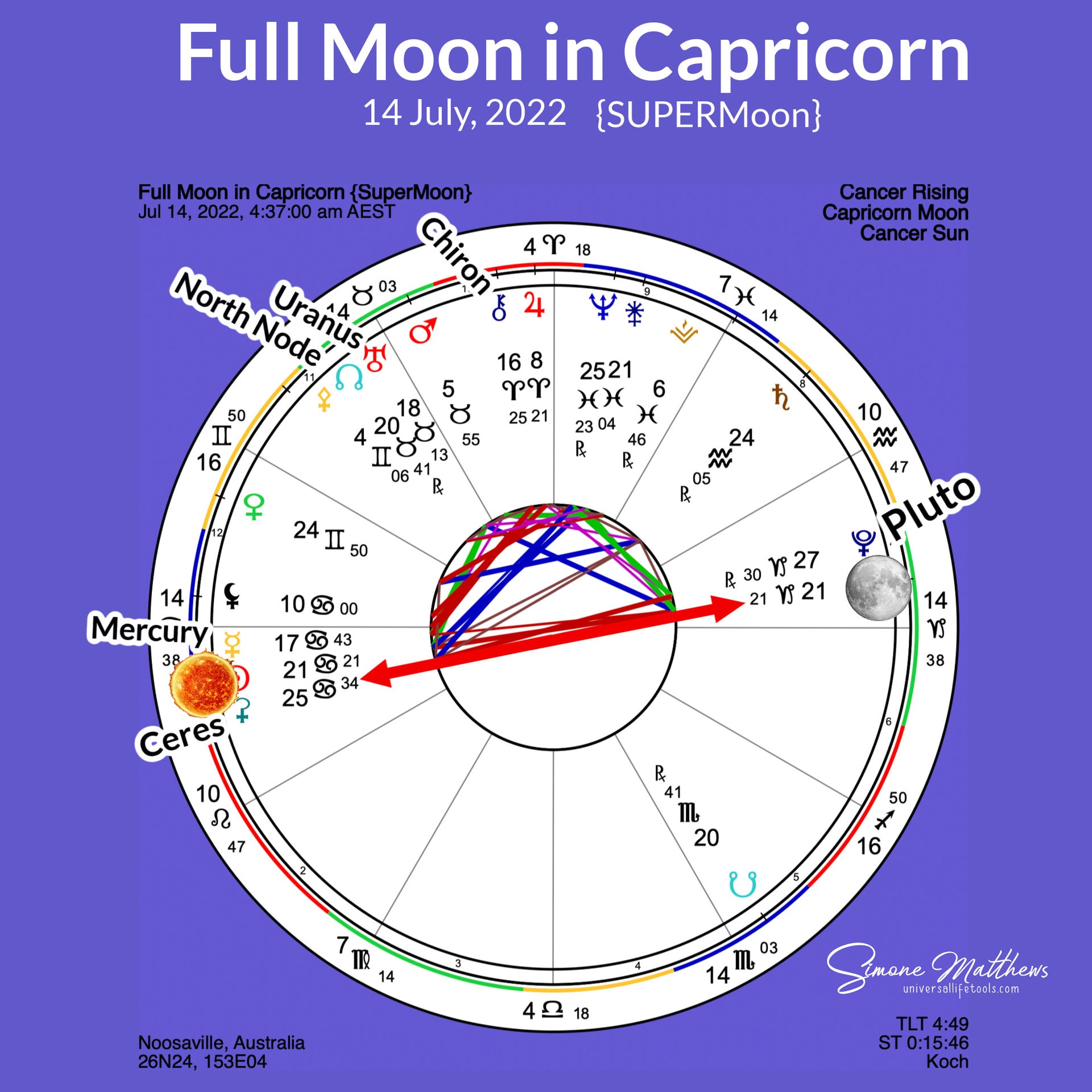 Influence of Pluto, Uranus & a whole lot more…
Pluto is the planet of transformation, death & rebirth, the ultimate empowerer through lessons of extremes.
Pluto takes 248 years to transit the Zodiac. Pluto has been transiting Capricorn since 26 January 2008 and will move into Aquarius in March 2023, and will retrograde in and out of Aquarius June 2023 to November 2024 , to finally transit back through Aquarius from 19 January 2024 until 2044.
Pluto in Capricorn is about death and rebirth or endings and beginnings. It is a time of breaking down all old outdated structures… structures that may embody power & control such as governments, corporations & religion. This dismantling then creates opportunities to rebuild solid foundations from the ground up and inside-out… structures that support communities, humanity and the sustainable life of this planet.
Uranus (rebellion, freedom, unconventional, technological advancement, humanitarianism) moved into Taurus (patient, pleasure-loving, material, determined, conservative) in May 2018. Uranus then briefly retrograded back into Aries in December 2018, but now on March 6, 2019, Uranus moves back into Taurus where it will transit for the next 7 years. So what happens when Uranus transits Taurus for 7 years ? Well these two clash and make some hell of a ruckus… leading to radical changes in the bigger themes of our lives! When Uranus the planet of revolutionary growth / awakening unites with the Taurean vibe of comfort, security and conservatism… Uranus wants change NOW & Taurus doesn't want to budge… well life as we know it can get turned upside down, inside out in the blink of an eye. Expect the unexpected in the months and years to come with the clash of these two titans yielding change whether we like it or not!

In this months Cosmic Insights Video (in my Flourish Membership Portal), I share HOW/WHY the influence of Pluto & Uranus (with the North Node) is so potent for the NEXT 4 years, particularly as it relates to this months firing up by CERN of the Large Hadron Collider (think the Higgs Boson 'God Particle'), which also coincidently will run for the next 4 years !
I reflect back historically to the last time the human ego 'played' with Divine Matrix, building Merkabah fields to alter time/space— which ultimately led to the downfall of Atlantis.
And here we are, potentially repeating the same cycle again— YET we have the Grace to learn from the past and through Wisdom create a more beautiful potential future.
Plus in my Cosmic Insights Video, I dive deep into the influence of Mercury, asteroid Ceres (one of the 4 aspects of the Feminine), as well as the influence of Jupiter & Chiron. Including HOW to make the most of these energies in your personal life!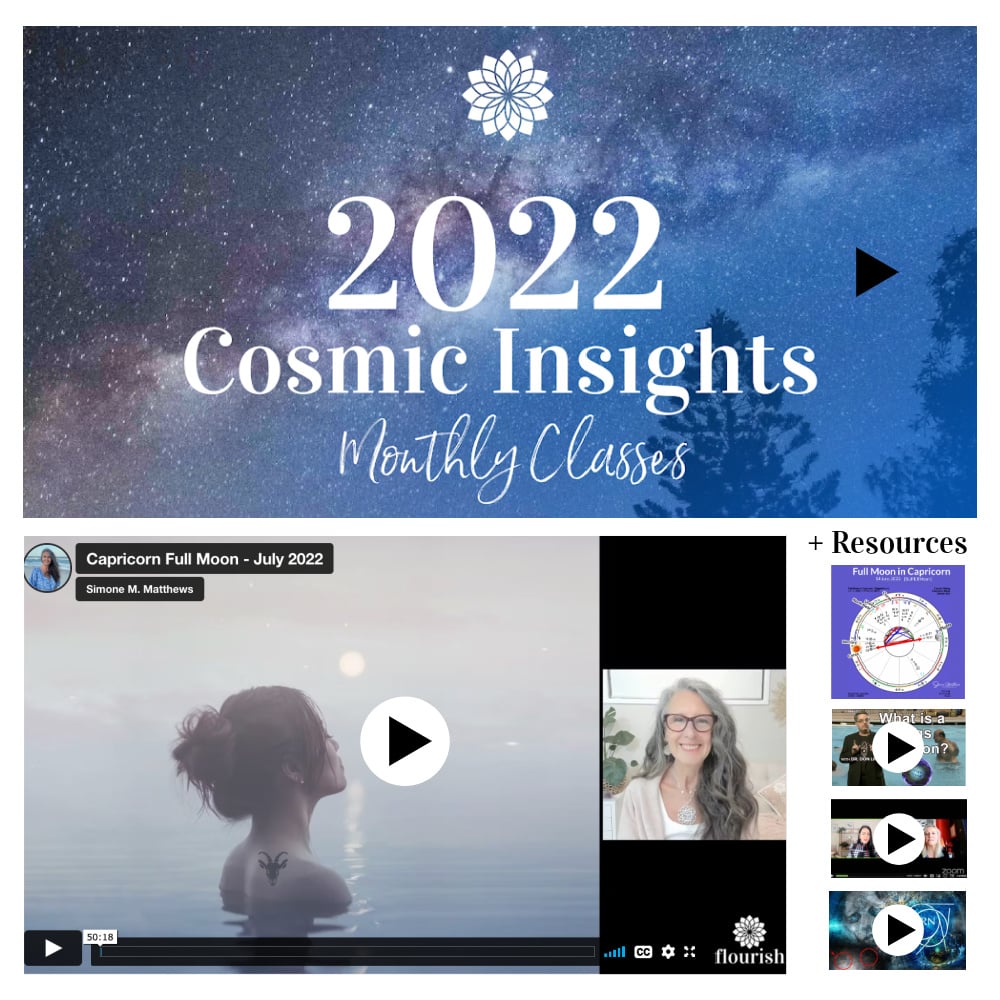 Full Moon Potential
Practical Capricorn, softened by the gentle Cancerian energy, together will bridge the knowledge of our Mind, with the Wisdom of the Heart this Full Moon.
We may find ourselves, friends, family, loved ones 'waking up' to some greater truths this Full Moon, as they see the story of this world through expanded vantage points. This may lead people to feel completely discombobuted this Full Moon, like life has suddenly become 'upside-down, inside-out or back-to-front'. As if the rug of illusion has been pulled out from under their feet, and the reality of deception is fully exposed.
This Capricorn-Cancer Full Moon is calling you to let go of anything that inhibits the Song of your Soul. That impinges upon you living your best life forged through the uniqueness of YOU. That dampens creativity. Or anything/anyone that dims the luminosity & intensity of your LIGHT that is guiding your pathway forward. As that Frozen song says… 'Let it go, Let it go…'
Be gentle with yourself, this is EXACTLY what being a Soul having a human experience is all about, learning, growing & evolving a grander Wisdom. If you allow yourself to be vulnerable enough, and trust in your Heart Wisdom, all will fall into place with time & grace.
Truth will prevail, and the LOVE we in our Hearts will ultimately set us free.