It's not in the stars to hold our destiny but in ourselves.

~William Shakespeare
I love this quote. As we transit through todays Spring/Autumn Equinox, these words of wisdom take us deep into the importance of self-agency, responsibility, and being in the drivers seat of our own futures.
Don't get me wrong, I am someone who is in awe of the night sky, and how our astral transits weave potent potentials of opportunity in our lives- which is why I write about them all the time. But that is just it, POTENTIALS. We each have free-will on how we CHOOSE to work with each breath, the rhythm of a 24 hour day, or the vibrational whispers of each season. The Stars are our guides, not dictators!
Spring/Autumn Equinox
As our Sun leaves Virgo, and enters a new phase of Libra, a pivotal shift in energy takes place. Just like the space between the in-and-out breaths, we enter a space of stillness where Day & Night are of equal length, our Spring/Autumn Equinox. As the days become longer here in the Southern Hemisphere we have Spring, and days become shorter in the Northern Hemisphere for Autumn.
I adore this time of year here on the East Coast of Australia. The winter vegetables in the garden are flowering and preparing to release their seeds. Seeds filled with intelligence, light from the stars, and a memory of the entire history of that vegetable lineage here on Earth. All of that trapped inside a seed often smaller than a pin-head.
Some of the flowers have already wilted and I am collecting the abundant crop of seed-love. To think one Broccoli plant gifts me hundreds of seeds is a complete miracle. Nature is so very abundant, giving, and seeks to thrive.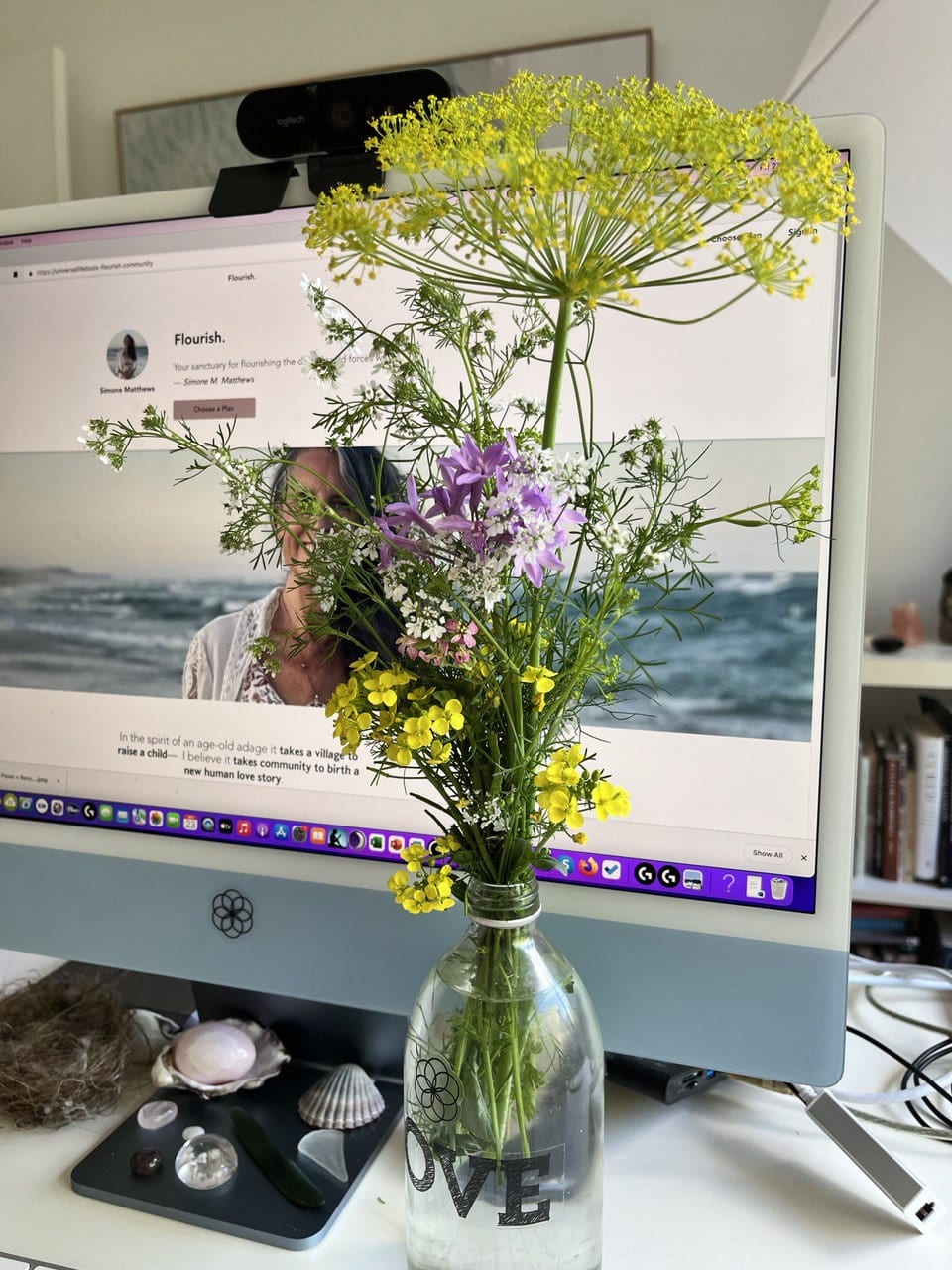 I have also picked a few of the veggie garden flowers for my office— there is Dill, Basil, Coriander (cilantro), Rocket (aragula), Tatsoi & Society Garlic in the photo. I can see some green Coriander seeds too interspersed with the flowers, and I have earmarked those for tonights dinner!
Equinox Flow
Turning my gaze to my veggie floral blooms, for today's Equinox I have been deeply immersed in contemplation with Flow. Within nature EVERYTHING flows. Notice how there aren't any straight lines in nature, everything has an ebb-n-flow that is cyclical, wavy, circular, yet constant.
Within the constancy, NOTHING is ever the same. For instance as my Winter Veggie crop goes to seed, I notice no two plants are ever exactly the same, and the colours of flowers or the hue of the seeds are always uniquely distinct year to year. It's subtle, yet also tangible. How a plants physical form reflects the state of the environment over the last season— everything from the amount of sunshine, to rainfall, to nutrients & biomal (I think I just made that word up) diversity within the soil.
Plants choose to grow, thrive & flourish in spite of the sometimes harsh realities of the environment. They actual respond to environmental stimuli accordingly to ensure their survival, and plants even communicate to each other in community (through root/soil mycelium), to support resilience during more challenging growth times.
This is what I am breathing in this Equinox, how life simply wanes & waxes just like the Moon, every second passed is never repeated EVER again, yet at the same time every 28 or so days we always see the Full Moon.
5 Flows
My immersion in Equinox Flow has also been more generous & giving this year, as I bring to life my new 5 Flows Course. This Course has been a baby of mine for a while now, and today on the Equinox it has birthed and is ready to be received by the world.
5 Flows is all about the Feminine Flow of Sacred Geometry, transforming our views/beliefs on the form & structure of this world, and entering the realm of the mysterious, intuition, creative force, and inviting flow to move our bodies in potent & liberating ways. Flow empowers us, where as structure without flow can disempower. And flow guides us to take our own destiny into our hands.
If our 5 Flows is calling to your heart, please take a moment to find out more about my 5 Flow Course on my info page. May your day/weekend flow with much Grace & Ease this Equinox, and I look forward to sharing the Flow with you all.