Join Simone Matthews for her The Great Awakening Event REPLAY. Enrol TODAY & from your The Great Awakening – Event Dashboard receive INSTANT & lifetime access to the following:
Video REPLAY of our LIVE Stream (3 hours)
Downloadable Meditation mp3 (33 minutes)
Downloadable Handout
Extensive links/resources
Links to many free Online Events
The Meditation (within the LIVE Stream + Download) not only helps you to 'seed' the Great Awakening, but also will help you embody your Soulful Purpose as we enter 2021. I recommend this Meditation to help anchor your Heartfilled yearnings as we head into a fresh new year of reLOVEutionary change
Once enrolled, you receive a LIFETIME access to our The Great Awakening – Event Dashboard, such that you can return at any time access resources, re-watch the replay or listen/download the Meditation.
Image: Greg Hogan Photography – The Great Conjunction
The Great Awakening – Event Topics
There was so much energy that needed to be embodied during this event, our Event ended up running for 3 hours. During our Event we covered
Pleiadian/Lemurian wisdom of Naturo Sophia & Gnosis Cardiaca
HerStory and the calling of Earth at this time
The Wisdom of BEEs & their Solar/Photonic Intelligence
The Sacred Tetrahedron of LIFE, Divinity.
The Galactic Plane Alignment & becoming Liquid Crystal
Uluru Prophecy & Ceremony – A World Call to Align
The Great Conjunction – Jupiter & Saturn – Lemurian Star
The 5th Aetheric Human Heart Chamber of 2021 & Bee Wisdom
Quantum Evolution, The Golden Age, Humanities Quantum Leap
Meditation Ceremony – to 'seed' The Great Awakening
And so much more to to reset, restore & rise into 2021 & beyond
Here is a short Video Event Invitation from Simone.
During our Event, I brought to light what I believe is opening & activating within Humanity, our 5th Aetheric Human Heart Chamber. This chamber is our direct link to embracing our Meta-Human or Soulful-Human experience. This opening & activation will awaken Humanities Collective Conscious into a New Age, and transform our lives into 2021 and beyond.
The 5th Aetheric Human Heart Chamber will transform humanity into beings of Sun-LIGHT, and change the way we engage with Cosmos as we stream higher vibrational fields of 5th Dimensional Cosmic Light through our Hearts. Honey Bee's have 5 Heart chambers, and are guiding this process of both cellular & aetheric transformation.
"In our time there are certain changes taking place in the heart, by which gradually a fifth chamber will develop. In this fifth chamber man will have a new organ which will allow him to control life forces in a different way than is possible at the moment." "All that happens in the moral life, and all that happens physically in the world…the moral and the physical….are found in their real union when we learn to understand all the configurations of the human heart."
Rudolf Steiner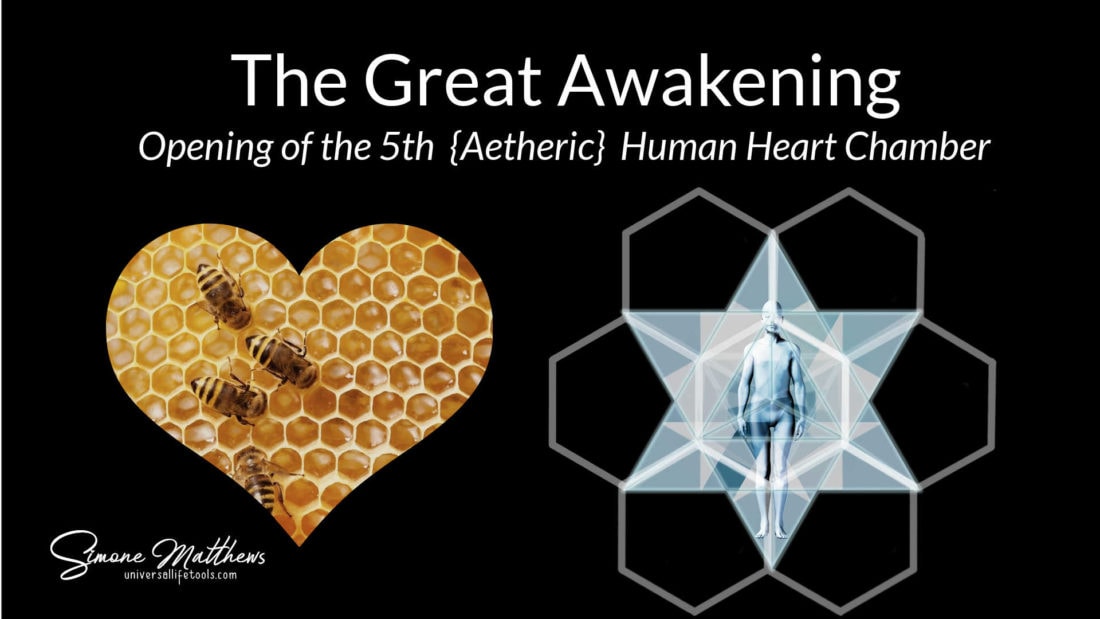 And finally during our LIVE Event, our Meditation will embody the Uluru Magic Box Prophecy, as we collective embrace the World call to connect together in Ceremony.
We need to be truly focused on a singular, focused, specific thought, feeling and intention. The purpose of this Ceremony is for the Rainbow Serpent to become the Rainbow Bridge, to rise up to connect with the light of the sun and go straight into the heart of Mother Earth. Cleansing, energising and reinvigorating Mother Earth and ushering in a new era for Mother, and her children.

With a cleansed body, heart, mind, and soul the intention is ~ A pure love for Mother in our heart as we ask to energise the heart of Mother Earth with our love and energy

Julia Williams (posted on EvenStarCreations)

This picture below is Uluru in Central Australia.
It is the Heart of a Comet that fell to Earth millions & millions of years ago.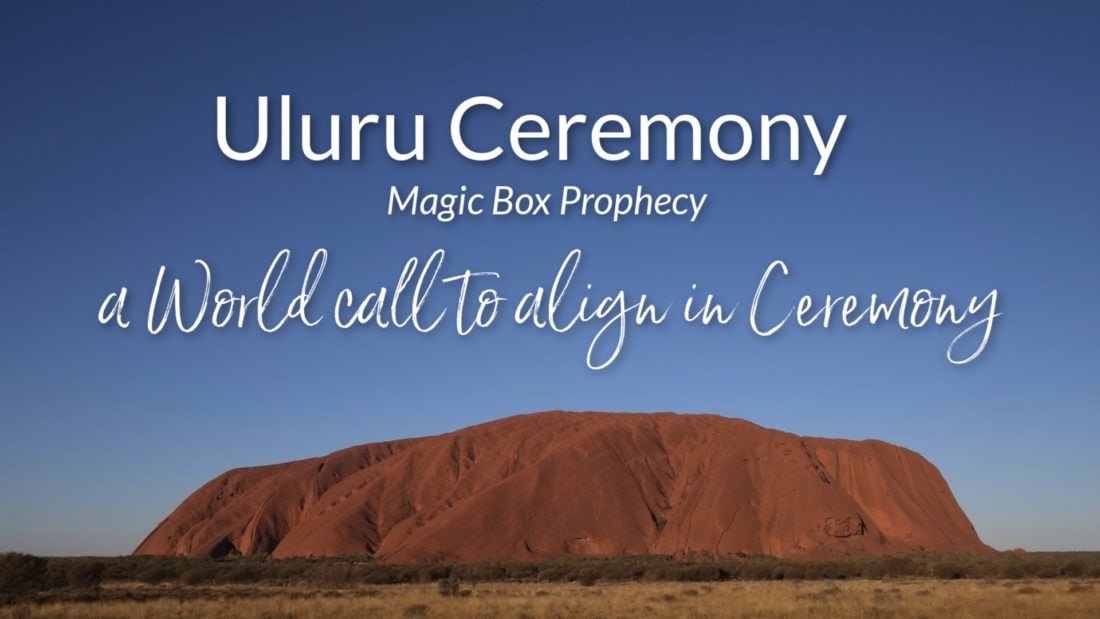 How to Enrol
To Enrol in The Great Awakening, click 'add to cart' at the top of this page and proceed through to checkout.
Upon Enrolment, LOGIN to your MyAccount to then access your The Great Awakening – Event Dashboard. Once enrolled, you have a LIFETIME access to your Event Dashboard (accessible from your MyAccount).
The Great Awakening Meditation is also available for download from your Event Dashboard. Our Meditation will help you embody the energy of this moment as we envision a world more beautiful through our Hearts.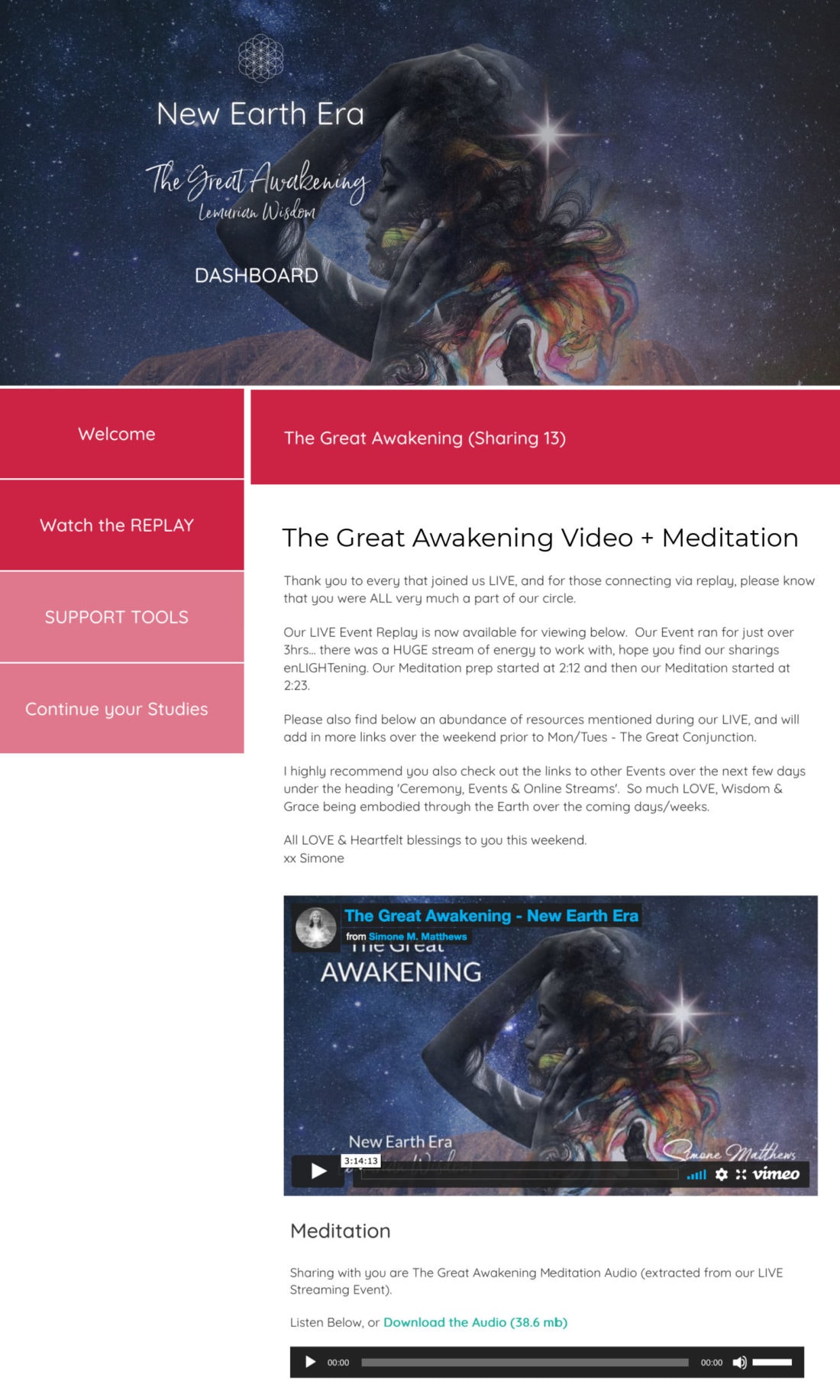 Please Note: If you are enrolled in our FULL New Earth Era series of Sharings, then there is NO need to purchase The Great Awakening, as this sharing is already included within your All Sharings Course Dashboard.