Each year around the time of our December Winter/Summer Solstice, we experience a GALACTIC ALIGNMENT of the Earth, Sun & Galactic Centre in the Astrological Sign of Sagittarius.
This alignment forms the GALACTIC EVOLUTIONARY TRIANGLE – a tetrahedron of energy formed by the Earth, Sirius, Alcyone & the Galactic Centre, which is further amplified by our Earth-Sun-Galactic Centre alignment along the galactic plane.
Our 2020 Galactic Alignment takes place toward the end of an 8 week energetic window, amping up the energy of our Galactic Plane Alignment. The following celestial events mark the key transits during this energetic window, culminating with The Great Conjunction (Star of Bethlehem) on 22 December 2020, and finally our Full Moon in Cancer on the 30 December 2020. I will be writing more about each of these transits over the comings weeks.
November 1 – 00:49 AEST – Full Moon in Taurus
November 13 – Third & final Jupiter, Pluto & Pallas Conjunct in Capricorn
November 14 – 3:08pm AEST – New Moon in Scorpio
November 30 – 7:29pm AEST – Penumbral Lunar Eclipse Full Moon in Gemini (Blue Moon in Southern Hemisphere)
December 14 – 2:16am AEST – Total Solar Eclipse New Moon in Sagittarius
December 19 – Galactic Plane Alignment
December 21 – 8:01pm AEST – Summer/Winter Solstice
December 21/22 – Elders Uluru Ceremony

December 22 – 1:19 am AEST – The Great Conjunction – Jupiter, Saturn, Pallas in Aquarius – Lemurian Star of Bethlehem
December 30 – 1:28pm AEST – Full Moon in Cancer
Overview Galactic Alignment
Each year around the time of our December Winter/Summer Solstice, we experience a GALACTIC ALIGNMENT of the Earth, Sun & Galactic Centre in the Astrological Sign of Sagittarius, along the Galactic Plane of our Milky Way Galaxy.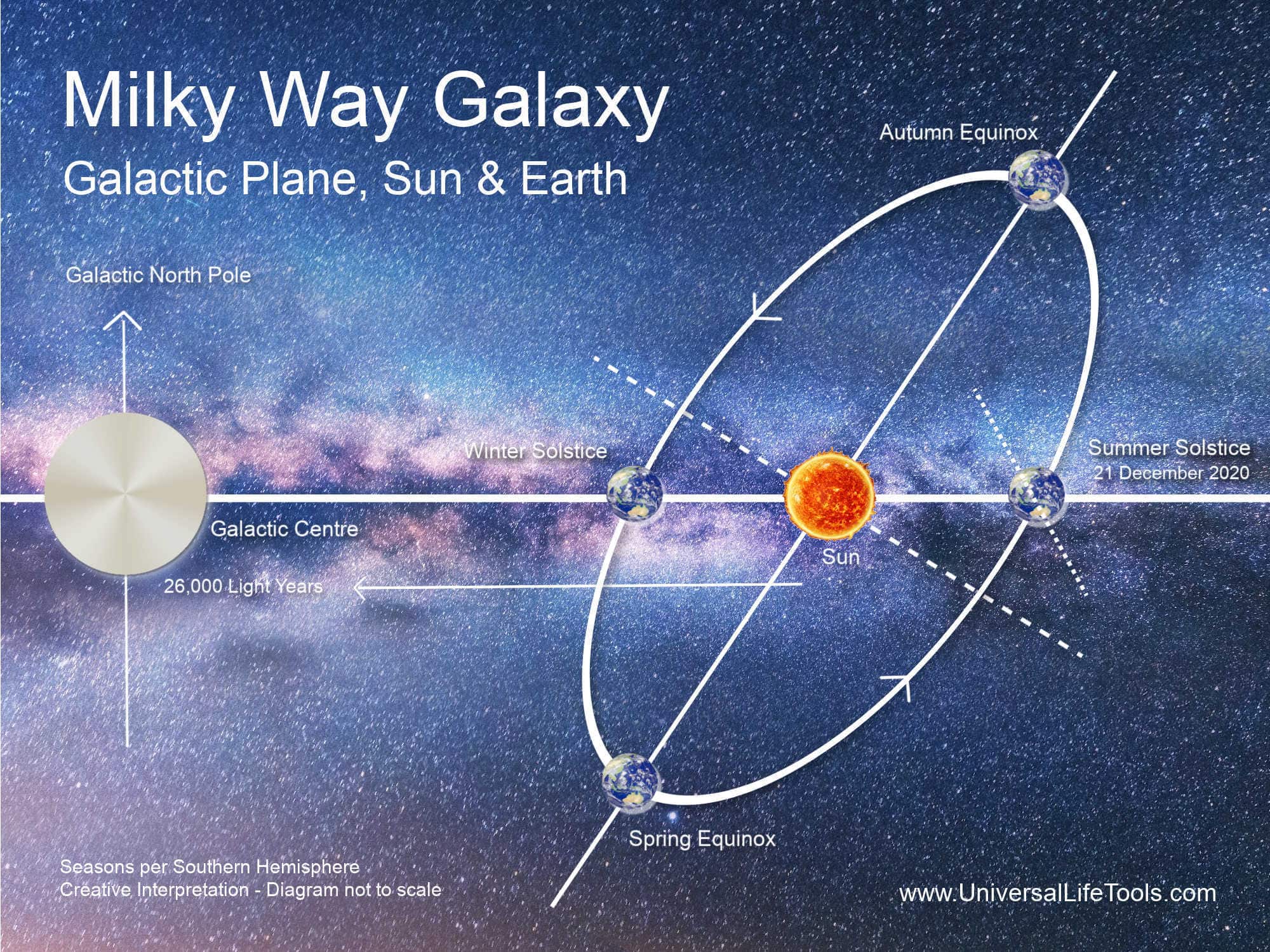 During this Alignment, our astrological GALACTIC EVOLUTIONARY TRIANGLE – a tetrahedron of energy formed by the Earth, Sirius, Alcyone & the Galactic Centre is AMPLIFIED into its GREATEST POTENTIAL for the year. This amplified TETRAHEDRON of energy that surrounds us, seeks to 'STRUCTURE the WATER' within our bodies into LIQUID CRYSTALS – bathing all 100 Trillion cells within our body in GALACTIC LIQUID CRYSTAL Template frequencies.
When we structure the water within our bodies, we become walking Liquid Crystals. Liquid Crystals have the capacity to absorb, store, emit, amplify & transduce energy (convert from one form to another). Meaning, we have the capacity to absorb the cosmic evolutionary triangle frequencies and align with their Divinity – awakening to our grander evolutionary purpose.
Every thought, feeling, word, action is amplified during this time, enhancing our capcity to transmute old cellular memories, shift the expression of our DNA and support the body to naturally heal, awaken & evolve.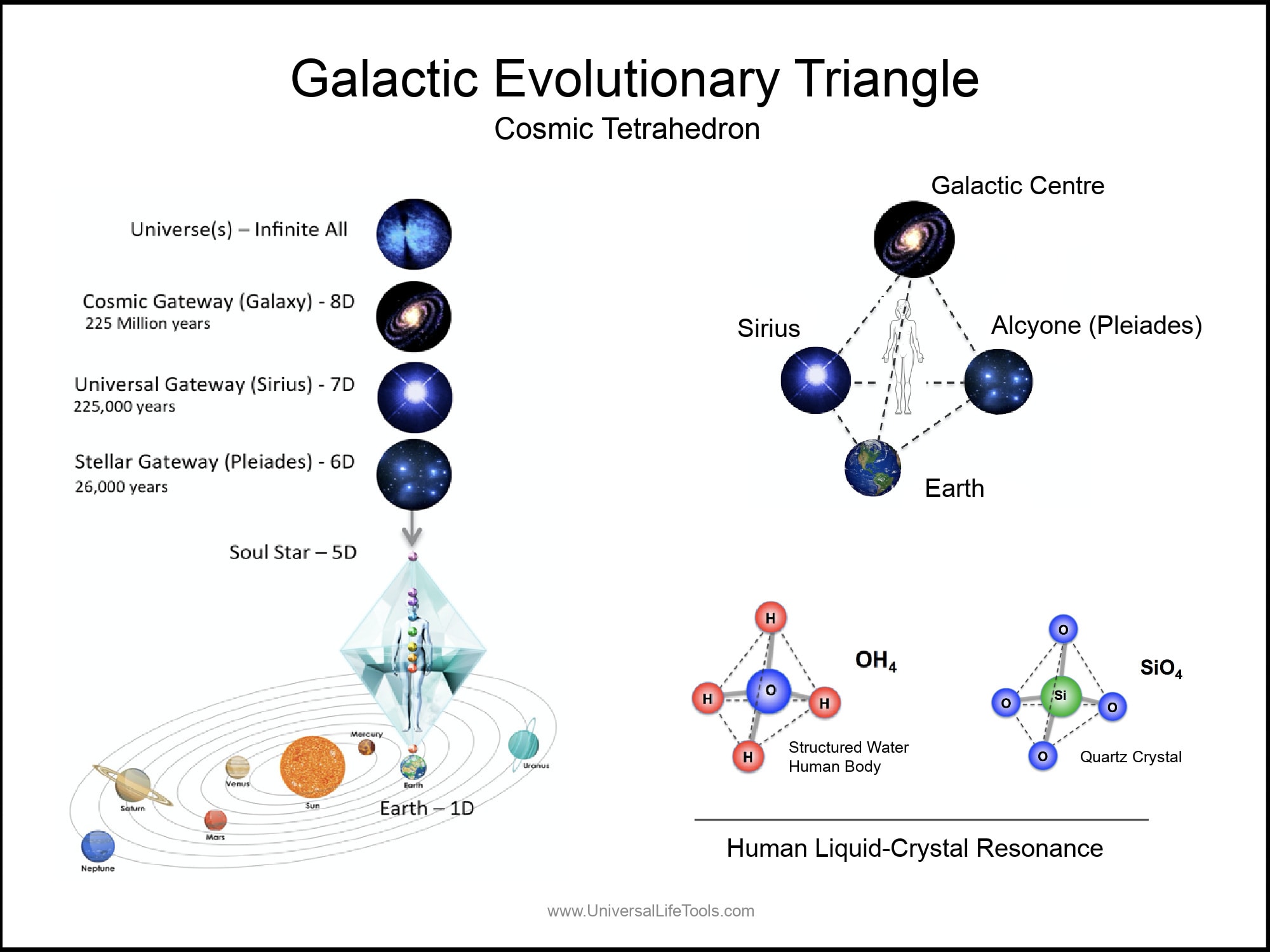 GALACTIC ALIGNMENT – 19 December 2020
This years Galactic Alignment falls on the 19 December 2020… leading us into our Summer/Winter Sosltice. (21 December) and THE most illuminating astrological event of the year – THE GREAT CONJUNCTION of Saturn & Jupiter (22 December). It feels like all of these astrological transits are contributing something wildly transformational for humanity… creating a momentum greater than the sum of the individual parts.
SUN + GALACTIC CENTRE in SAGITTARIUS (27.090)
EARTH in GEMINI (27.090)
Saturday, December 19, 2020 – 00:41 am AEST (Australia)
View times in your City/Country>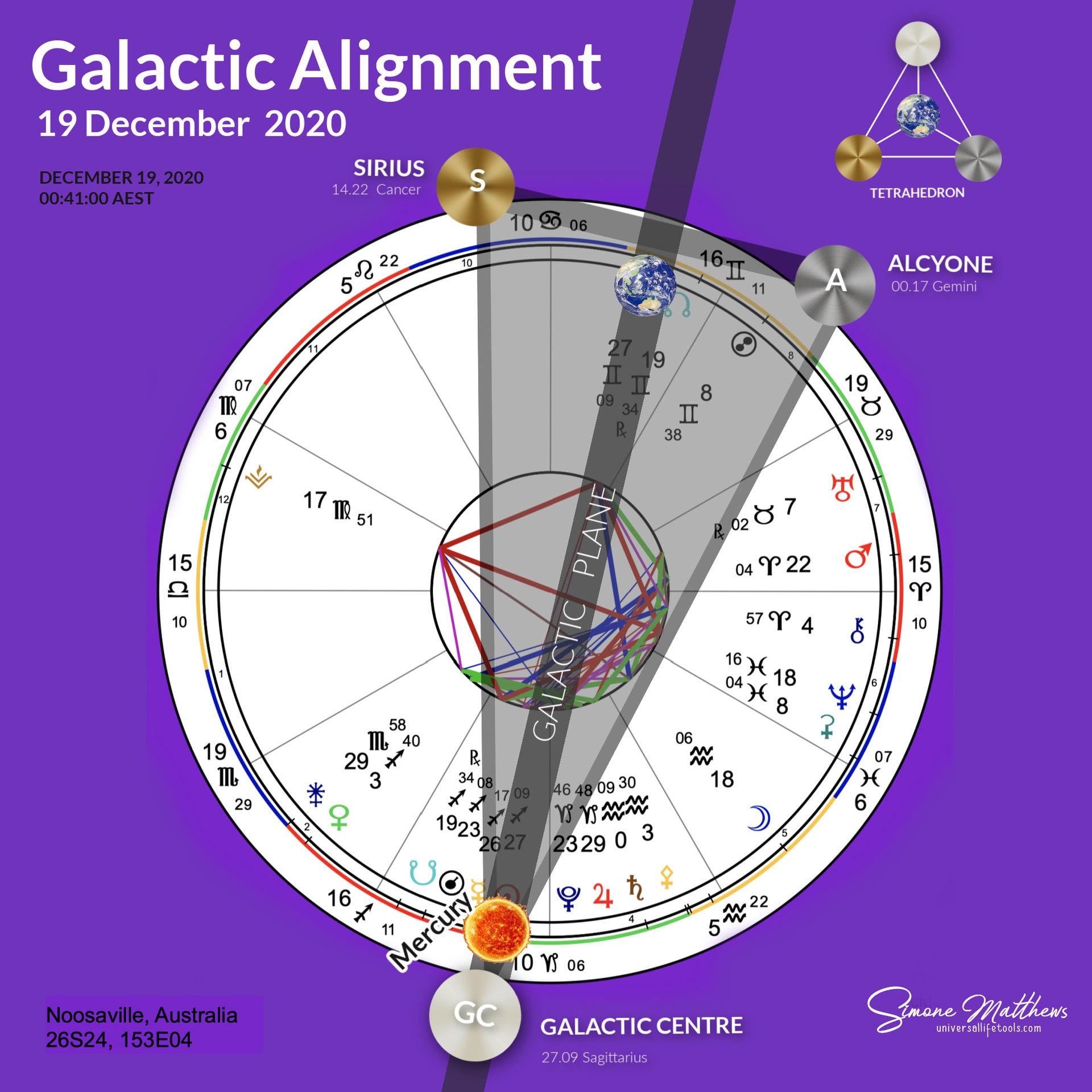 The resonance of the GALACTIC ALIGNMENT is also amplified through our Solar Systems transition through the Photon Band/Belt of Alcyone – essentially weaving/birthing 'The Divine Feminine' within our hearts, minds and souls. Catalysing 'The Great Awakening' of humanity.
With Mercury (planet of communication) conjunct the Sun during this years Galactic Alignment, I feel there is an awakening to a grander truth. A call to embody a higher wisdom of divinity, a greater intelligence that is accessible through the Heart. And we are moving our 'heart-minds' into an awakened understanding of who we are as Souls having this most glorious experience of life on this heavenly planet called Earth.
How to work with the Energy ?
As we transit through the following 8 weeks, each and every day the intensity of the energy will build in support of The Great Awakening. The most reverent & sacred practice to embody during this time is a deeply enriching connection with nature.
Rather than get trapped in the 'mind game' of needing to know how this all ends, instead surrender yourself to the inherent intelligence of nature and the wisdom of your Heart. Collectively we have the power move beyond this old system that is fast crumbling around us, and dream into being a future that reveres nature & the miracle of the human body to heal. And from that grander dream, be guided to walk the steps of gracefilled action that rebuilds a New Earth from the ground up.
Here are 5 suggestions to help you navigate this time with fierce Grace, and embody waves of blessed ease.
Wake up each day in GRATITUDE for the gift of this life. YOU are a miracle. YOU a Soul that chose to be here during this time to be part of this reLOVEutionary ascension of humanity.
As you feel into this feeling of Gratitude, then Breathe in the Song of this brand new day and ask the world 'How may I serve you today?'. Let go of the mind (and its story of fear, terror & darkness), and embrace the joy of what nature requires of you today.
EVERY day spend some time with your bare feet on the Earth. Or is that is not possible then hug a tree, or at the very least lovingly stroke a pot plant or pot of herbs. This will help keep you centered in the Divinity of the natural world and the grander story that is unfolding… rather than getting swept away in the mental fear & anguish that is being spun by those seeking to control.
Let yourself feel. FEEL everything. And let the feelings move through you. This is not a time to hide from your feelings, but also not a time to be controlled by your feelings. If you are feeling overwhelmed, angry, scared, uncertain, anxious etc… then do something LOVING to help let the molecules of these emotions move through you, rather than attach to you. Sit in a quiet space with your favourite cup of tea. Have a salt bath with your favourite essential oils & let the water wash away your tears. Spend time in nourishing conversation with a loved one… hugs heal! Feelings speak the language of the field, so give yourself permission to feel, and also permission to transmute lower vibratory e-motions with LOVE.
Dream. Align your mind, thoughts, words, actions, prayers, meditations… basically every moment of your day… in the direction of what is it you wish to birth with this world. Feeling these dreams in the affirmative (ie don't focus on what you don't want), and attune your body, mind & soul with the source of all that you know is possible to truly be.
The Great Awakening
Join me for my The Great Awakening LIVE Stream event where I will be talking in depth about the Shift of the Ages that is occurring in December 2020, the Grand Alignment on the Galactic Plane, The Great Conjunction Lemurian 'Christmas' Star, and what I believe is possible for humanity as we begin a new year in 2021. I will also share with you sacred practices and insights how to work with the Aquarian energy, and engage in the sacredness of our tender humanity. PLUS we invite you to download our The Great Awakening Meditation to help you rise-up to the possibility of this moment.