Sacred Ancient Wisdom – Future of Humanity Course
Deep from my Heart, inviting you to enrol in our Crystal Light Healing® Sacred Ancient Wisdom – Future of Humanity ONLINE Course (CLHSAW).
CLHSAW is completed ONLINE in your own time and at your own pace. There is no need to engage in any aspects of the course at a certain time and date, as all the teaching videos/audios are pre-recorded and you can watch/listen to them as many times as you like at your own leisure. Plus you receive Lifetime Access to our CLHSAW Course, such that you can refer back to the teachings at any time.
Your enrolment in this bundle CLHSAW package includes:

Life Time Enrolment in CLHSAW
BONUS Enrolment in Shealla-Dreaming Online Course
BONUS Download Shealla-Dreaming eBook
BONUS Enrolment in Soul Evolution Online Course
Certificate of Completion for CLHSAW
I look forward to sharing with you the cherished wisdoms CLHSAW,
with LOVE,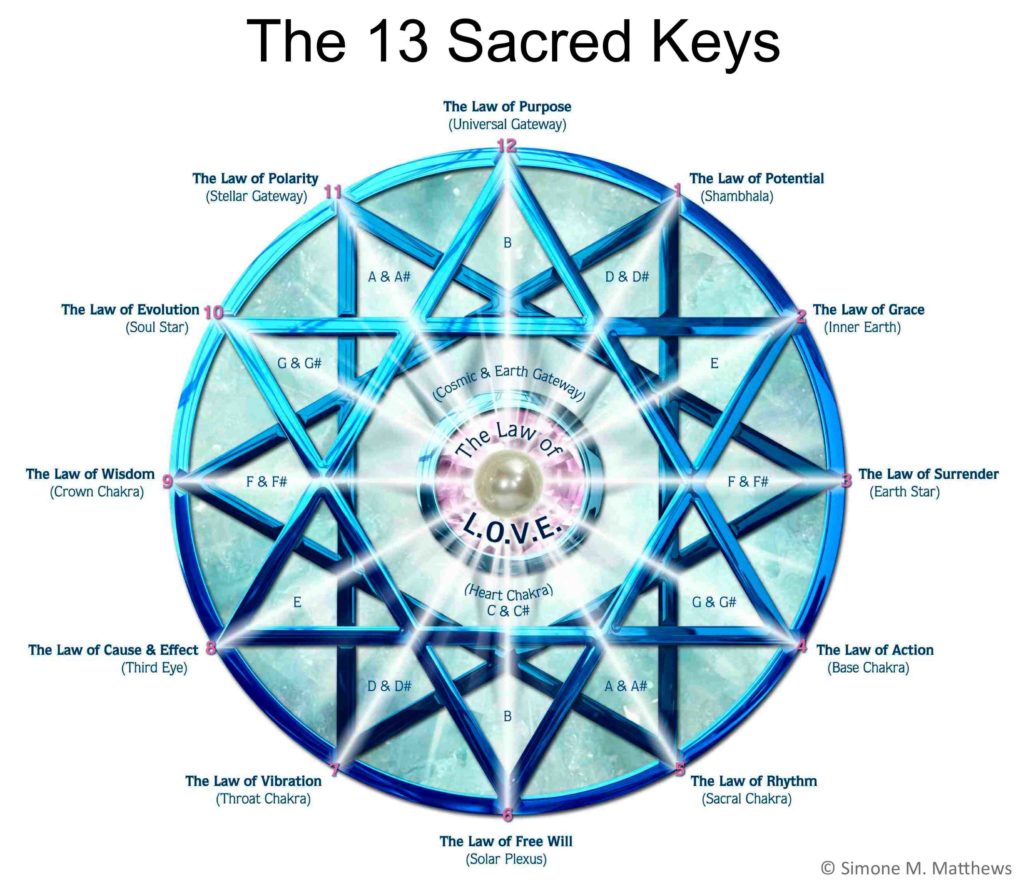 The 13 Sacred Keys
CLHSAW is a deep exploration of our Creation Story & the Ancient Mystery Schools of Lemuria, Atlantis, Egypt & Mayan Civilisations through the 13 Sacred Keys.
Over 6 Modules, CLHSAW dives deep into ancient/sacred maps of our Creation, when/how/why StarSeeds first seeded Earth, the epochs of Human Evolution through the ancient mystery schools and finally offers prophetic insights Human Metamorphosis during these transformational times.
CLHSAW contains some of the foundational wisdom that supports our Schools Practitioner Courses & Ancient Wisdom Online Courses
Essence of Angels®
Crystal Light Healing®
Aetheric Healing™
Lightrition your Life
Lemurian New Earth Era
If you have never studied with us before – please know that there are no prerequisites when enrolling in our Crystal Light Healing® Sacred Ancient Wisdom eCourse. In Module 1 of this Crystal Light Healing® Sacred Ancient Wisdom eCourse, we share some background principles, diagrams and terms to support your learning… thus EVERYONE is invited to enrol in this profoundly life-changing eCourse – whether you are novice or have been on your conscious journey of expansive awakening for many decades.
If you have already studied any of the above Practitioner Healing Modalities then you will just LOVE the deeply insightful and NEW teachings of our CLHSAW.
CLHSAW – Course Overview
MODULE 1:
Profound insight into the ancient/sacred MAPS of our CREATION, the formation of Universe(s), Galaxies, Solar Systems & ultimately our Earth through the weaving of multi-dimensional octaves of infinite expansions. The when/how/why human civilisation first seeded Earth and understand the epochs of human evolution and the cycles of evolutionary consciousness. Awaken to the Akashic Halls of Amenti – the DNA lightbrary records within Crystalline Field of Earth – to 'read' the past, 'understand' the present and to 'pre-cognise' the future.
MODULE 2:
Re-remember the Ancient Wisdom's & Teachings of LEMURIA – day to day life, relationships, community, crystals, teleportation, telekinesis, healing grids, crystalline temples, archeon essences liquid crystals, breatharian / lightarian / activated food, sexual union, evolutionary knowledge, Pleiades & Alcyone and the Council of 13/8 through the Galactic Federation.
MODULE 3:
Re-remembering the Ancient Wisdom's & Teachings of ATLANTIS (Early & Late Atlantis) – day to day life, relationships, crystals, community, devic wisdom, inner-earth beings, crystalline activated food, sexual union/tantric sex, crystal implantation, genetic merkabah engineering, fear/control, evolutionary knowledge, Thoth the Atlantean, Sirius and the Council of 13 through the Galactic Federation.

MODULE 4:
Re-remembering the Ancient Wisdom's & Teachings of ANCIENT EGYPT – crystals, dolphin wisdom, community, devic wisdom, holographic repatterning, Thoth (Hermes, Merlin etc), Sirius, the wisdom of the Sphinx, Great Pyramids, Ankh, Sun Dial, Sun Gazing, Ra Energy, Orion, Horus, Emerald Tablets, Sacred Geometry, Holographic Repatterning, DNA re-engineering and the Council of 13 through the Galactic Federation.
MODULE 5:
Re-remembering the Ancient Wisdom's & Teachings of the MAYAN CIVILISATION – understanding the Calendars, the evolutionary wisdom of cycles and how this relates to today. The future for our children and the ending of cycles and quantum leaps into a new Galactic Cycle of evolutionary potential – polar shifts, schumann resonances etc Simone also dives deep into Earth's mapping system, leylines, songlines, crop circles, Order of the Magi (including Ace of Spades, our Sacrum, Primordial Cells, Number 33 & the 'Christ' flow of CSF).
MODULE 6:
Simone's personal analysis and philosophical / theoretical insights into the '4th Turning' of our world. Simone will support her futurist findings as she explores Astrological alignments, Sun's Heliospheric Changes & Earth's potential Polar Shift over the coming decades and charts 'predictions' of the ancient peoples of Earth. As Simone weaves together her own prophetic visions into these teachings – this expanded format of Crystal Light Healing® Sacred Ancient Wisdom is cutting edge, has never been taught before and represents a fervently new era in Simone's life's work.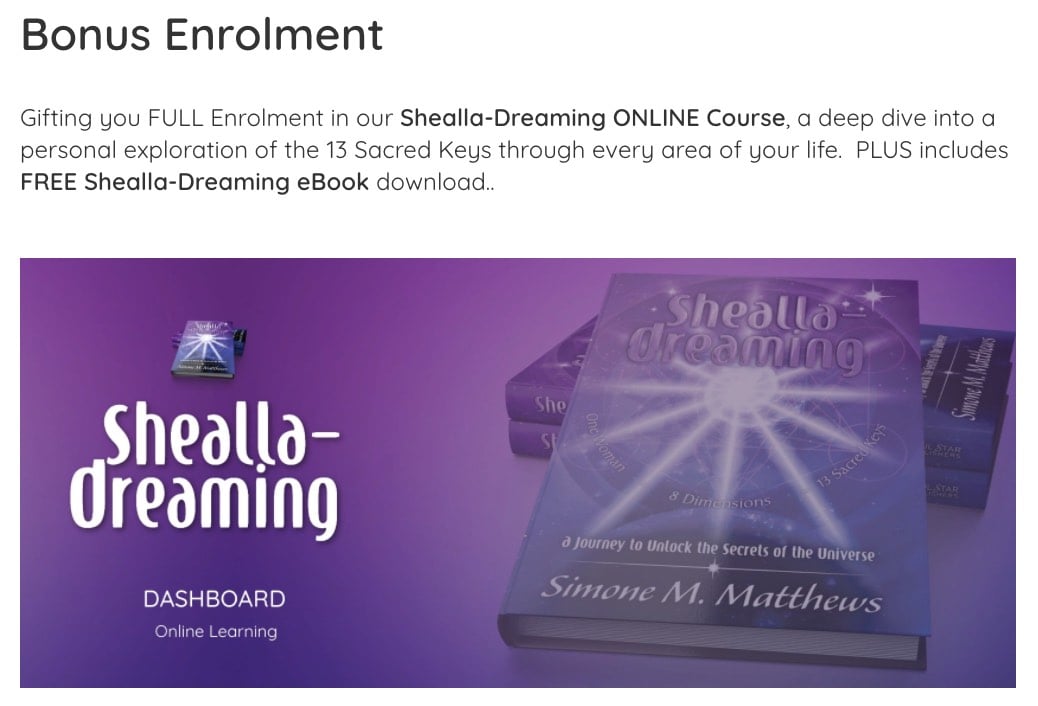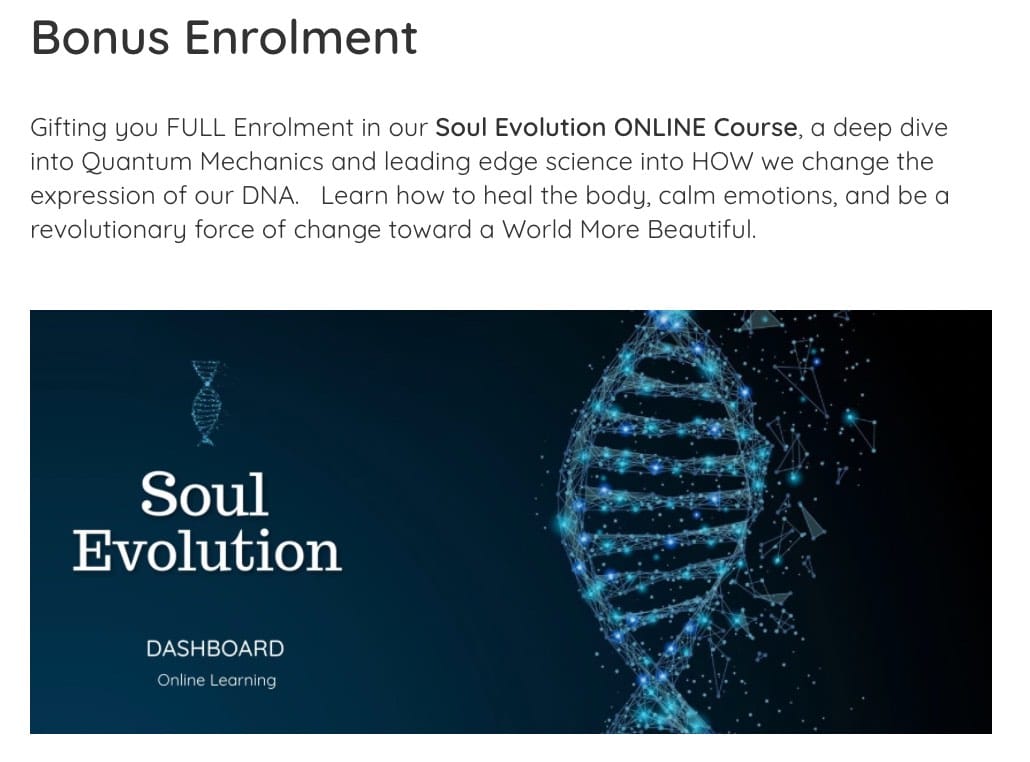 CLHSAW – Course Format
Upon your enrolment in CLHSAW, you receive instant access to our NEW Online Learning Dashboard.
VIDEOS:
Modules 1 to 6 contain anywhere between 3 to 6 teaching Videos that formulate the backbone of this eCourse. These teaching videos are all facilitated by Simone M. Matthews and contain visual demonstrations, diagrams, images & tables to support the teachings. Each Video runs between 30 to 60 minutes. The total running time of teaching Videos for this CLHSAW The Future of Humanity eCourse is approx 20+ hours.
NOTES:
Every Video with this full CLHSAW The Future of Humanity eCourse comes complete with supportive notes. We recommend students download/print the notes as these then form a very comprehensive Course Manual. Upon completion of the eCourse, your Course Manual Notes will comprise of 200+ pages.
MEDITATIONS:
Modules 1 to 6 each contain a Meditation Audio (to listen to/download) in support of the Modules teachings. Each Meditation is facilitated by Simone and is a experiential experience into the Multi-dimensional Field of Creation. Each Meditation Audio runs between 25 to 40 minutes.
DIAGRAMS & TABLES:
Modules 1 to 6 each contain various diagrams, tables & images to download/print. We recommend that students file these as part of their eCourse Manual, as they will make wonderful supportive and reference tools in the future.

ADDITIONAL RESOURCES:
Modules 1 to 6 each contain Additional Resources materials in support of each Modules teachings. These Additional Resources materials are not compulsory, but rather are included to support students in their continued studies, expansion and weaving of the eCourse teachings into their lives. The Additional Resources for each Module include any number of the following: Links to Articles to Read; Links to Websites; Recommended Books; Links to Diagrams; Videos to watch online (most videos are embedded into the eCourse pages for easy viewing via YouTube, Vimeo & Facebook).
BONUS VIDEOS + COURSES:
From your CLHSAW Online Learning Dashboard, you also access your BONUS Videos, plus BONUS Enrolment in Shealla-Dreaming & Soul Evolution Courses.
CERTIFICATION:
On completion of our CLHSAW, you will receive a Certificate of Completion and are gifted free registration on our Universal Life Tools Directory (only if you wish to be listed).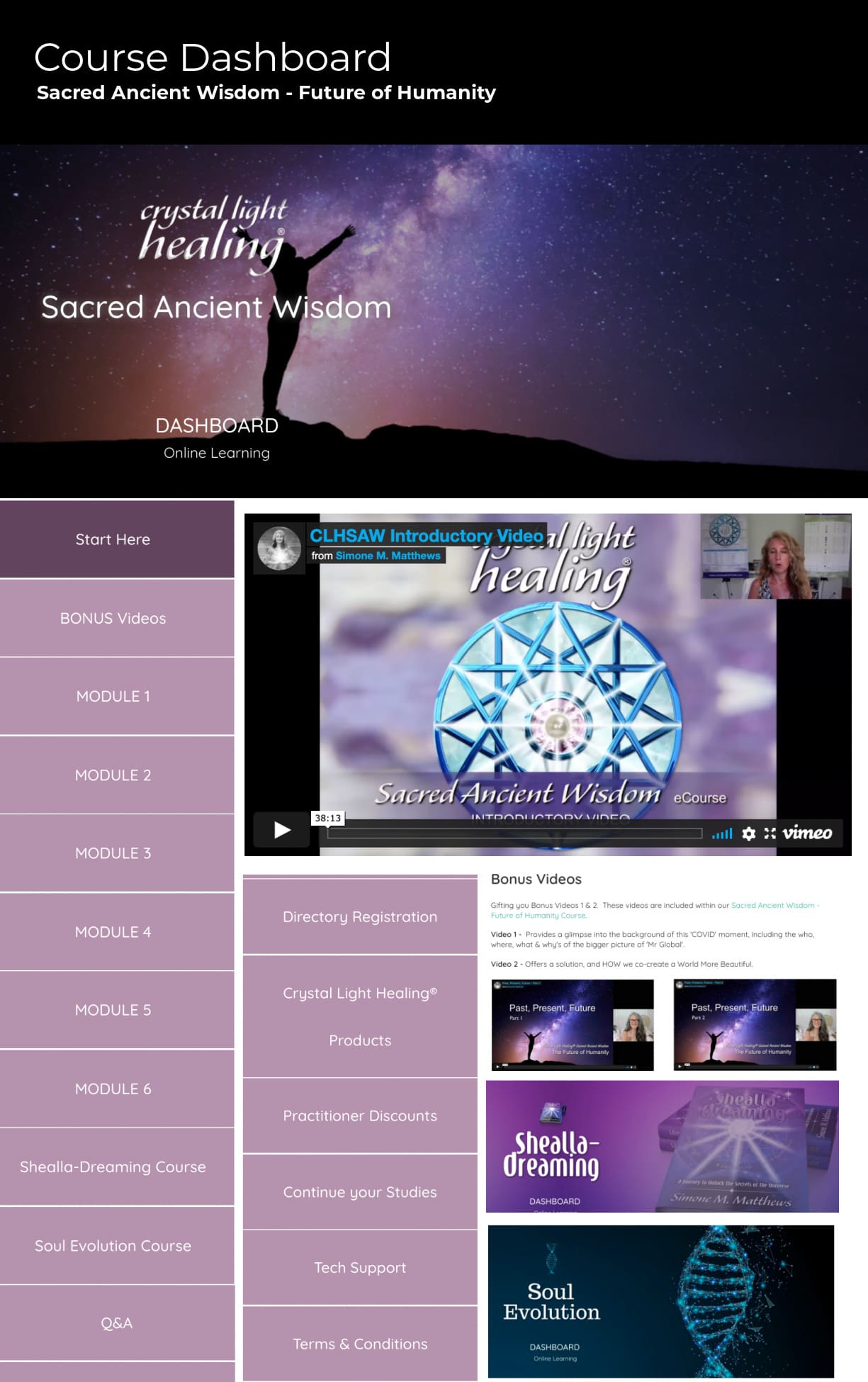 Who Should enrol ?
If you are passionate about your own personal development, wish to heal yourself or others from dis-ease, have a strong soul urge to understand more about Creation, and wish to fulfil your highest level of Soul Purpose here on Earth in service to something bigger than you… then this course is for you!
Whether you are a novice, have been working for decades in the field of human potential, or are a holistic health professional, this workshop will take your personal / professional growth to the next level as you step into Sacred Ancient Wisdom.
All students & graduates are welcomed into our Universal Life Tools International School of Healing. Thus if you are interested in connecting with like-minded souls around the globe, then this workshop will open the doors to a lifetime of joyful communications with a loving community of conscious lightworkers.
To get a feel of the energy of our Crystal Light Healing® modality and the work of our UniversalLifeTools School, please visit our Crystal Light Healing® information page for further details.
Crystal Light Healing® Sacred Ancient Wisdom will be the catalyst to pioneer your Life, your Community and our World into a more beautiful, more nourishing and thriving global story for all.
You came to Earth for a reason and now that our world is in state of flux – every fibre of your beingness is driving you to do what you came here to do. To be who you KNOW yourself to be in your Heart. There is a sacred impulse calling you to share your inner-genius and serve our planet in its time of need. Simone M. Matthews
How to Enrol
You can enrol in our CLHSAW Course at ANYTIME and there is no time limit for completion of the Course. To enrol in our course, simply 'ADD to CART' at the top of this page and proceed through to checkout. Your enrolment in our course is agreement to our Course Terms & Conditions.
Once Enrolled, LOGIN to your MyAccount to access the CLHSAW Online Learning Course Dashboard at any time, from any device. You receive a LIFETIME of Access to the Course, even once the course has been completed in full.
Sign up TODAY for instant Access to your COURSE Dashboard and watch our Welcome Video !