I have just come back from facilitating an amazing set of events (Essence of Angels Practitioners, Teachers & Crystal Light Healing®) with a most amazing and divine group of Soul Si-Stars.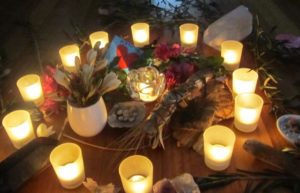 Over 9 days of events we built a 'Crystalline Earth Healing Grid' with the focus of remembering the 13 Sacred Keys of Creation within us… in order to open our hearts, transmute the fear in our cells and in this state of authentic LOVE bring healing to Mother Earth.
We also gave a special prayer to all soul's affected by Typhoon Haiyan at this time… and opened our Hearts for a peaceful transition for those that have died and compassion and healing for those are currently feeling lost or in fear during this time of turmoil.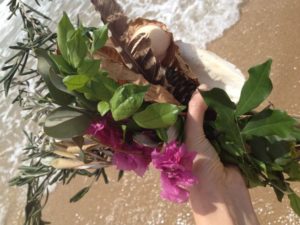 This morning we firstly released to the Earth all of the elements of nature from our Crystalline Grid… feathers, shells, leaves, flowers etc.. that had brought their 2nd Dimensional resonance into our Sacred Circle and blessed us with their innate wisdom.
We also gave gratitude for the 4th Dimensional Deva of each item from nature, that acted as a bridge between 'Heaven-n-Earth'… awakening our Hearts to higher potentials.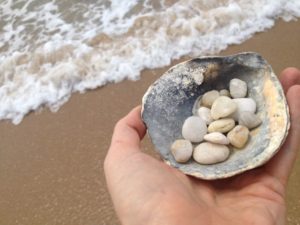 Then finally I released all 13 milky quartz stones into the Ocean with the intent of weaving Unity through the field – 'I AM GOD, GODDESS, SPIRIT – WE ARE ALL ONE'.
The energy from these crystals will alter the cellular vibration of our Oceans and will imprint the Earth's Crystalline Grid with a potential to awaken humanity's DNA to a more conscious state of beingness through the divine 'LAW OF LOVE'.
Days 1 & 2
Our events started 9 days ago, firstly with our 2 day Essence of Angels® Practitioners workshop (which was also the first 2 days of our Essence of Angels® Teachers Course).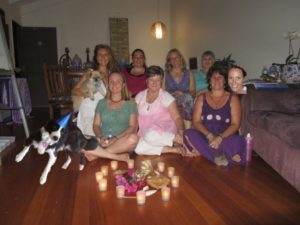 Slowly we built the energy from within our 'Sacred Circle', honouring the 13 Archangels of Creation through us and beaming this LOVE and LIGHT out to the world through the holographic field.
It was an absolute joy to build the first foundations of our Crystalline Earth Healing Grid and to awaken our DNA to it's highest potential in this moment… even my two dogs helped to connected the energy with their intuitive appreciation of energetics.
To the right is the picture of our initial group… beaming as their 13 Energy Centres of Creation are resonating at their fullest potential through Metatron's cube.
Days 3 to 6
Over the next 4 days we immersed ourselves in the LOVE & LIGHT of each soul attending the Essence of Angels® Teachers course… learning from one another, experiencing each others unique gifts… and blissfully integrating these ancient and most cherished wisdoms into our Body, Minds & Souls.
My heart was dancing at the end of these 4 days… as I reflected on how much I had grown from each of my Si-Stars integrating their magic and weaving this into the Crystalline Earth Healing Grid.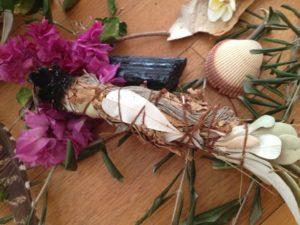 A special memory during this time was the gift to the Crystalline Earth Healing Grid of a smudge stick made by Kathryn, from items she had collected during her morning walks along the beach… and then tightly bundled together with hemp string.
Each morning before everyone arrived, I used this smudge stick to honour the sacredness of the grid and open to the potentials of the day.
I look forward to trying to make my own smudge sticks in the weeks to come.. in fact I have already collected a glorious array of leaves on the beach this morning in anticipation.
Another special memory is this short poem gifted to me, which was written by Jo (Jo wrote an individual poem for each of us)… I love the words, the sentiment and the beauty from her heart. PS… when saying the last word 'renoun' you need to do it with an irish accent !!!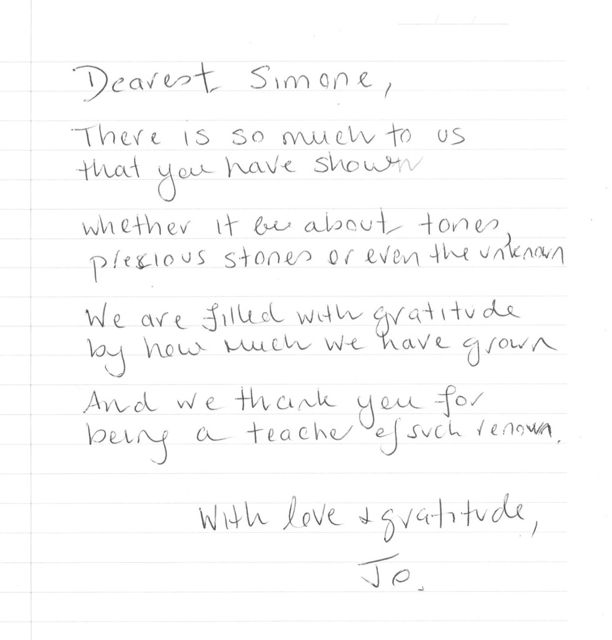 And then I also loved in our final ceremony this poem written by Marianne, which was gifted to us all… kinda summed up the loved shared between Soul Si-Stars.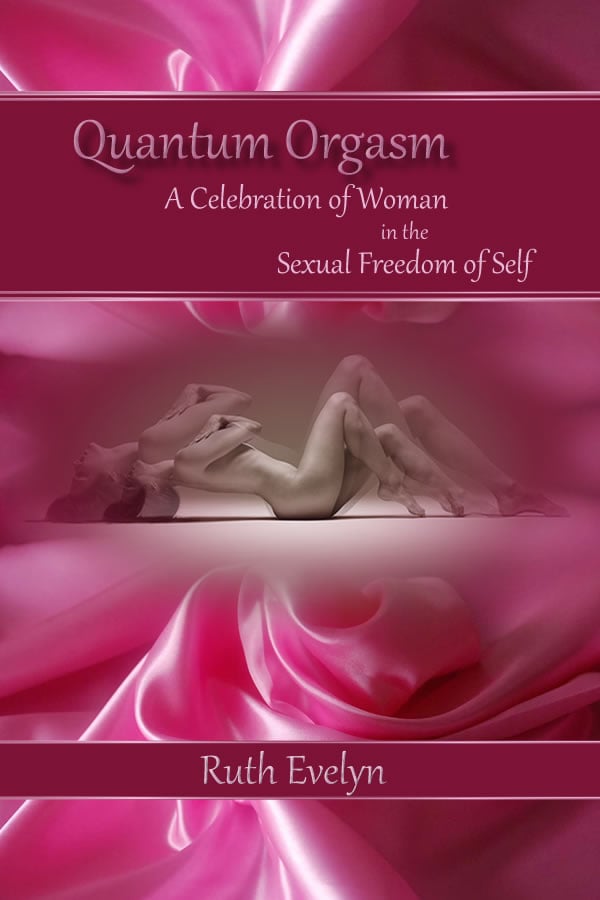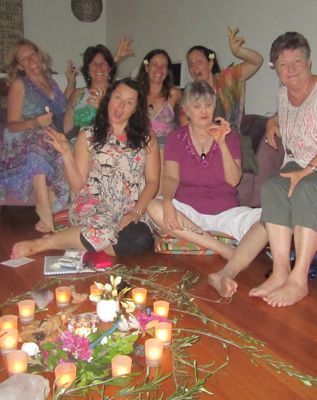 Of course the memories and magic didn't end just there..
I so LOVED the reading by Connie from 'Quantum Orgasm' and the sacral dancing that followed.
I also LOVED the honesty and expression of Divine Will from Carmen (not to mention her jokes… aka our Weird-o photo to the right… you would have to be there !).
Then there were the trillion of other memories that will stay in our hearts forever… memories beyond words or photos… just the most sacred expression of LOVE.
Days 8 &9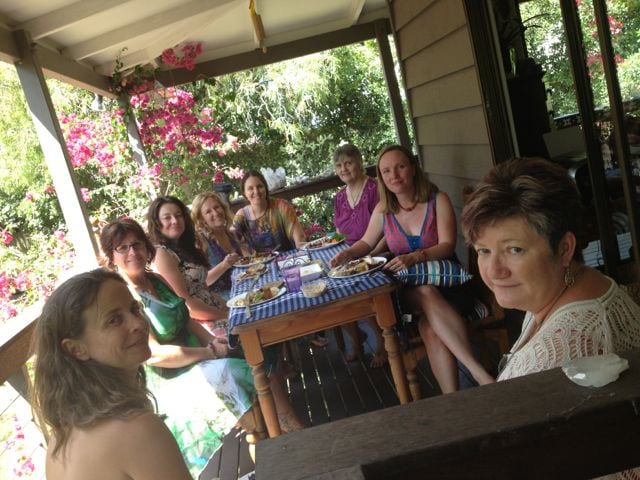 Over these last 2 days we gathered together for our Crystal Light Healing® Advanced (level IV) workshop. This workshop was the final weaving of our 13 Sacred Keys of Creation Earth Healing Grid… as we connected with the sacred crystal wisdom of Lemuria, Atlantis, Egypt and the Mayan Civilisation.
Now today, as I have released this Earth Healing Grid of LOVE to the world… I wish to give my gratitude and humbled blessings to everyone that shared their joys, released their heartache and brought forward their higher vision of a NEW EARTH. I feel grateful to have met you all and look forward to our future journeys together.
With fond and eternal blessings
xx Simone M. Matthews