Sharing with you my short video where I discuss the energy potential of our September New Moon + Solar Eclipse. PLUS gifting you my Crystal Ceremony Grid & FREE Meditation to download… to help you harness & thrive in this weeks cosmic waves.
Also just a short note… I forgot to mention in the video that Mercury moves Retrograde in Virgo on the 30/31 August just before the eclipse… which is terribly funny since Mercury rules Communication and when it turns retrograde mis-communication can occur… so my forgetting to discuss the retrogrades in the video can all be blamed on Mercury Retrograde (having a little laugh with myself in this moment)
In addition both Neptune & Pluto are also retrograde at present.. please do read my article on Retrograde planets to find out/understand more >
During the Video I gave reference to you being a MIRACLE … you have a 1:400 trillion probability of being born. You can read more about this stat here >
Crystal Ceremony Grid
The New Moon is a sacred time to create a Ritual or Ceremony to set your intentions / goals / visions / dreams for the forthcoming cycle… and also make the most of this Solar Eclipse energy.
I recommend that you download my New Moon Ceremony Grid (simply click on the image/s below) and then print the grid on an A4/US Letter sheet of paper . Or, if you prefer you can download the Grid to your phone/tablet for use during the time of the New Moon Solar Eclipse … allow the fibonacci spiral of the clear quartz to illuminate the Grandest Version of the Greatest Vision you have ever held for you !
Sharing with you my FREE Solar Eclipse Meditation too… enjoy ♥︎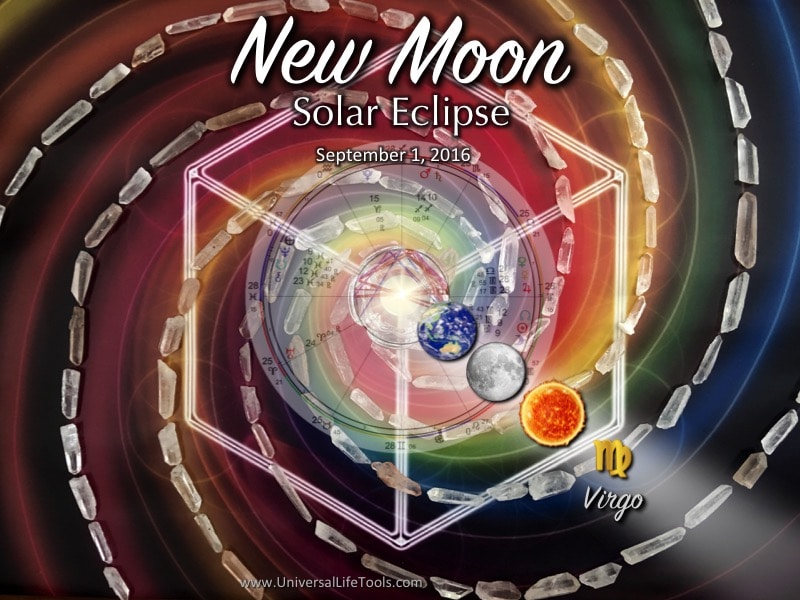 Please keep reading down the page too to find out a little more about the New Moon, viewing times of the Solar Eclipse and to access my FREE Solar Eclipse Meditation >
NEW MOON – September 1, 2016

+ Annual Solar Eclipse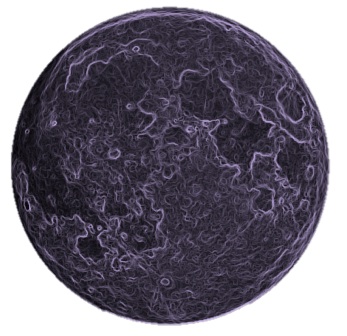 Thursday, 1 September 2016 – 2:03 am PDT (USA)
Thursday, 1 September 2016- 5:03 am EDT (USA)
Thursday, 1 September 2016– 9:03 am UTC
Thursday, 1 September 2016 – 7:03 pm AEST (Australia)
Moon & Sun in VIRGO
Moon – past, Intuition, unconscious, emotions, nurturing, feelings
Sun – now, Identity, consciousness, self-esteem, expression
Virgo (Earth) – Organised, practical, diligent, cautious, sensible, exacting
The New Moon represents the beginning of our 29 day lunar month. During a New Moon, the moon is roughly sitting between the Earth & the Sun, hence the Sun is shining on the 'dark side of the moon', the side of the moon we never see. As a result, we cannot see the moon as the side that faces the Earth is not illuminated.
The Moon & the Sun emanate frequencies and these energy waves influence the tides, and all life forms on Earth, including human behaviour / consciousness. In addition, during a New Moon, both the Moon & Sun are in the same Zodiac sign… giving an exponential boost or concentration of the energy.
The Sun represents our 'outer-world', our identify, our personality, our ego. It represents how we 'shine our light' out into the world, the present moment, our yang or masculine archetype expression. The Sun offers us strength, courage and illuminated insight of the Soul.
The Moon represents our 'inner world', our hidden emotions, desires, our shadow-self, fears/worries and our dreams. It represents our feelings, our unconscious beliefs, the past and our yin or feminine goddess archetype. The Moon offers us the ability to feel, learn from the past and creatively unlock and express our essence.
During a New Moon, the side of the moon that remains invisible to us here on Earth is being illuminated by the Sun. Thus our own 'invisible' side, our inner feelings, emotions and desires are also being illuminated during a new moon. During this illumination, we are given a window of opportunity to start a fresh, let go of the energy of the previous cycle and set our intentions, dreams & inner-most desires into conscious action.
The New Moon is a great time to set your intentions, write down goals or begin new projects for the forthcoming cycle. Consider sitting in ceremony or personal meditation and affirming to the Universe your intentions & inner-most heartfelt desires for the cycle.
Our September 2016 New Moon falls in the Zodiac sign of VIRGO. The Virgo new moon is a great time to get out and roll up the sleeves and get down to business.
Plant the seeds on this new moon… it is time to move forward with your dreams, and the Virgo energy will give you the practical means to do this.
Annual Solar Eclipse
On this new moon, we will also experience a Solar Eclipse. A Solar Eclipse is whereby the moon moves between the Earth and Sun, obscuring Earth's view of the Sun.
Plus our September New Moon Eclipse is an Annular Solar Eclipse. An Annular Solar Eclipse is where from our position here on Earth, the Sun appears behind the Moon as a very bright ring of light (an annulus) around the dark disk of the Moon, as the apparent size of the Moon is smaller than that of the Sun.
Solar Eclipse's create the potential for huge personal and hence planetary transformations. The energy of a Solar Eclipse 'obscures' the now or potential future, and allows one to reflect on the past. Not to drag up old energy, or relive painful events or experiences, but rather to positively reassess where you have been and use this knowledge to re-adjust your path moving forward.
Whilst this eclipse is extraordinarily powerful, it doesn't have to be a horrendous experience of loss, despair, struggle and inner-turmoil. You have a choice to experience this eclipse with a heightened or awakened vision of divine potential. Let Virgo support you with the practical steps to transcend any obstacles in your path… and jump off that darn cycle that is limiting you from expressing your full potential.
Remember, don't dwell on those things in your life that you cannot change, but choose to focus on what YOU can do to make a difference in your own life and that of others. This is a time to really 'BE THE CHANGE' you wish to see in the world.
Solar Eclipse Meditation Audio Gift ♡
To help you work with the energy of our Partial Solar Eclipse, I have created a short audio meditation to help you embrace the full potential of this powerful portal.
I highly recommend you take some time out for yourself at this eclipse to go within, feel and be the deep wisdom of Creation that exists within you and transcend any thoughts, emotions or actions not in alignment with your most cherished and ancient way of beingness.
Listen to my Solar Eclipse Meditation >
The background music that supports my Solar Eclipse Meditation is from my Angelic Meditations CD.
Solar Eclipse – Visibility/Times around the World
The solar eclipse will only be visible from most regions of Africa, Antarctica and locations in Indian and Atlantic Oceans… a tiny wee corner of western Australia.
To find out the times of the Solar Eclipse in your city of the world including visibility by country Click Here >
| | |
| --- | --- |
| Partial Solar Eclipse | UTC Time |
| Eclipse Begins | 1 Sept 2016 at 6:13 AM |
| Maximum Eclipse | 1 Sept 2016 at 7:01 AM |
| Eclipse Ends | 1 Sept 2016 at 10:00 AM |
Please also visit SLOOH.com where you can watch a LIVE broadcast of the Solar Eclipse from anywhere in the world !
http://live.slooh.com/
Annular Eclipse of the Sun Over Africa On September 1, 2016 from LarryKoehn on Vimeo.
OmAhOm
xx Simone
Save
Save
Save
Save
Save
Save
Save
Save
Save
Save
Save
Save
Save
Save
Save
Save
Save