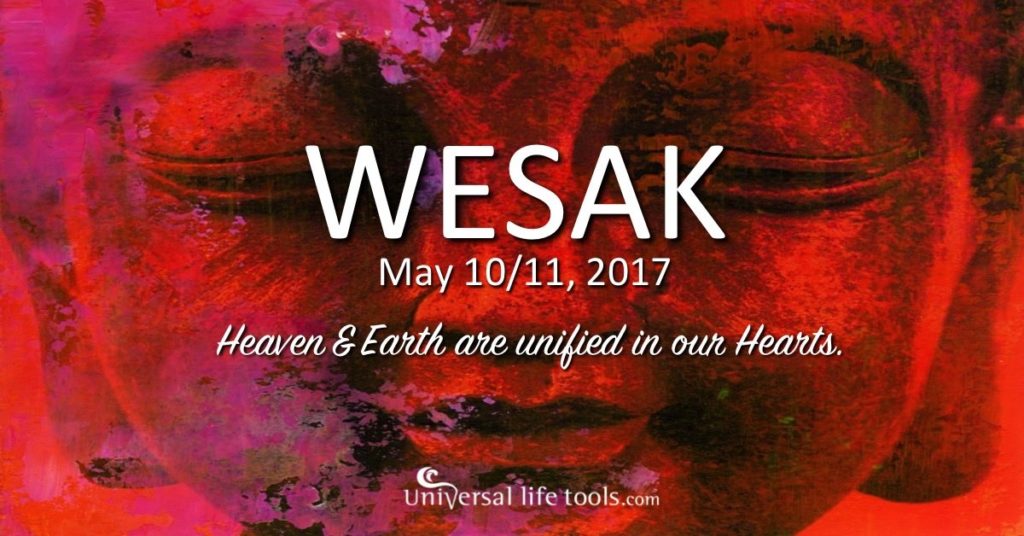 WESAK falls on the Taurus Full Moon each year and is the SECOND of 3 powerful full moons as follows:
1. Christ Full Moon – April 10/11, 2017 (Sun in Aries)
Honour of the Christ within all of us / within all of Creation
2. Wesak Full Moon – May 10/11, 2017 (Sun in Taurus)
Buddha's birthday, honouring the God within all of us / within all of Creation.
3. Goodwill / World Invocation Day Full Moon – June 9, 2017 (Sun in Gemini)
Honouring of spiritual unity in humanity.
The Wesak Full Moon is the first Full Moon in Taurus (whereby the Moon reflects the light of the Sun in Taurus) – thus our May 10/11 Full Moon, is the Wesak Full Moon.
During the Wesak Taurus Full Moon, Divine Rays of LOVE bathe the Earth flooding our Hearts with Compassion & Kindness.
Taurus is ruled by Venus, the spiritual ruler of Earth. Venus represents the Divine Feminine – the Mother Mary (May is the Month of Mary). During the Wesak Full Moon it is said that a divine Pentagram of Venusian Light opens a portal to Shambhala (the number 11 in numerology) through our Hearts.
We are called on the Wesak Full Moon to SURRENDER (number 5 in numerology – the Pentagram) and simply receive the LIGHT (11 in numerology), the ENERGY (11 in numerology) & HEALING (11 in numerology).
We then emerge from the Wesak Full Moon in an awakened state of WISDOM (11 in numerology) & ENLIGHTENMENT (11 in numerology) = 11:11
Wesak is a time to make space for silence, receive the LOVE of Creation and acknowledge that you are also the Source of this LOVE. It is a time for forgiveness, a time of deepest compassion and time of blessed joy and sacred celebration of what it means to be a Divine Human. It is a time to acknowledge and simply be the LOVE for self, LOVE for family/community and LOVE for all humanity. Through your LOVE you change the field and inspire Unity and enduring Peace.
During this highpoint of the year our greatest service is to prepare ourselves spiritually for the energy pouring into humanity, and to hold the inner connection in daily life, visualizing ourselves as a pure channel of light in alignment with the keynote of Taurus: I see, and when the eye is opened, all is Light. The goals of "clear seeing, pure joyful will and the death of personality desire" lie before us; and as these goals are progressively achieved, it becomes possible to live consciously within the aura of the spiritual group to which our soul naturally belongs. LucusTrust.org (founder Alice Bailey).
Wesak is an opportunity for humanity to come together in Heart Quintessence and be of service to self, each other and Mother Earth. Whilst Wesak is traditionally a Buddhist practice, I feel that the celebration of Wesak is Universal as it focuses on what connects us – LOVE.
Inviting you to read more about the energy of our May 2017 Full Moon >
Wesak Festival Video

The time of the Taurus full moon, marks the high-water mark of spiritual blessing in the world. There is an unusual inflow of life and of spiritual stimulation which serves to vitalize the aspiration of all humankind.
The following video outlines the historical significance, energy & spiritual potential of Wesak.
Wesak – Galactic Heart Meditation
Sharing with you my Galactic Heart Meditation to help you connect with the energy of Wesak 2017.
My Galactic Heart Meditation is a 13 minute meditation that connects your breath through the 3 Hearts of Creation – Earths Heart, your own Heart and the Galaxy's Heart – to support your awakening, attunement and conscious connection with the field of LOVE through you.
To embrace the energy of this meditation you may first like to watch this video..… but then as you bring this meditation into your day to day life I highly recommend listening to the audio out in nature, with your feet or entire body immersed in the beauty of Mother Earth.
Please subscribe to our Newsletter and you will receive my Galactic Heart Meditation Audio Download mp3 for FREE !


OmAhOm
© Simone M. Matthews
www.UniversalLifeTools.com
[divider dotted]
Invitation from my Heart ♡

Inviting you to study with us or join one of our Soul Session Webinars and surrender to a greater vision of our World through your Heart ♡
[divider dotted]
FREE Community Newsletter ♡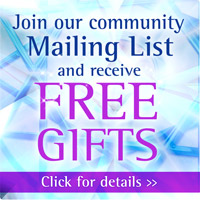 Inviting you to signup to our community newsletter & receive lots of free gifts… such as free meditation audios, videos and our regular posts/articles on Crystal Spirit Wisdom.

Subscribe Now, it's FREE:
https://www.universallifetools.com/mailing-list/
Rest assured your privacy is of utmost importance, thus your details are never sold or shared with anyone !
Save
Save
Save
Save