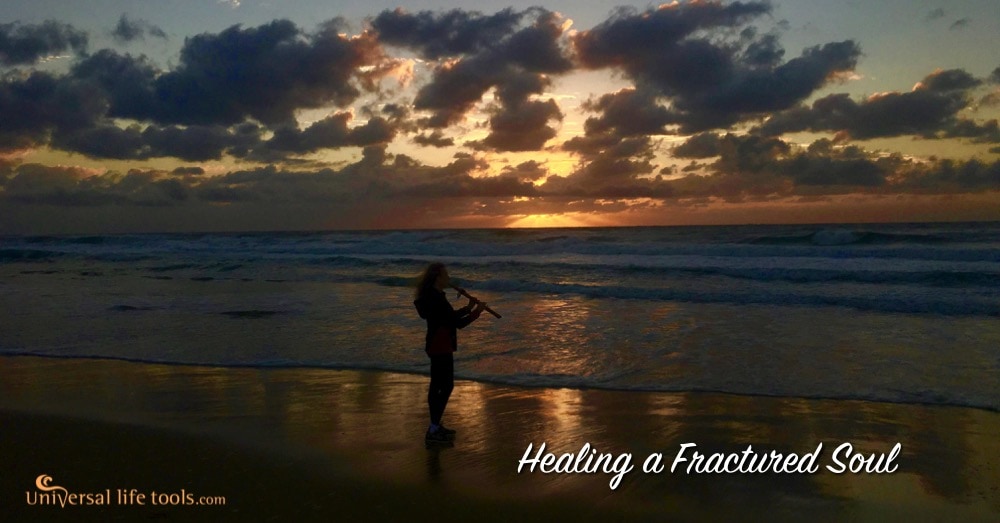 My darling partner Shaun captured this photo of me playing my flute at sunrise – to help retrieve, heal, reweave and unite my fractured Soul. I am only just learning to play (thanks to Troy at Tune2Peace) so my Soul Song hasn't yet fully been birthed… but I will be sure to share it with you once it has come to life !
Playing my flute is just one of many creative & Soul nourishing adventures of late in my journey to wholeness. I have also been Earthing, singing/toning, playing my crystal bowl, working up the courage to paint again (a passion of mine that I have never gifted myself the time to embody) and choosing to SLOW my life down in every aspect through Cherishing.
I have also been relishing in food as medicine, plant spirit healing, essences for holographic repatterning and crystal devic imaginal realm journeys. Interwoven with my adventures has been 'relationship' – enriching my connection to Earth, the Stars, my family & close friends and ultimately self.
To understand why I am walking this sacred & joyous path to healing, you may wish to read a little background of my story first… then later down the page I share with you an understanding of Soul Fracturing – the impact in can have on your life and most importantly how to heal.
A window into my world over the last 18 months…
After a traumatic end to 2015, I returned to Australia shattered, feeling a deep sense of shame and a level of physical, emotional, mental and spiritual exhaustion I have never before experienced. The mixture of emotions I was swimming in was intense and oh so very complex.
On the one hand, I felt so full & deeply enriched. I was immensely grateful to have had the opportunity to travel with my family around the world on our Spirited-Travellers World Event Tour, sharing in heart-space with thousands of people. It was humbling to reconnect hearts with ancient wisdom and inspire people to awaken and be pioneers of a beautiful new world. The personal sharings, the healings, the transformations, the shifts. The generosity of people & our Event Hosts, hearing your stories of triumph and being inspired by your acts of courage & grace.
If I had my time all over again I would do it all again in a heart-beat. To this day, I am still receiving emails from people that are grateful for the experiences/healings of our tour and how our courses have changed their lives. So YES, it was all worth it !
And then on the other hand… I wasn't prepared for the toll this kind of tour would take on every aspect of my beingness. You may recall (for those that have been a part of our community for many years), our tour came to a rather abrupt end in 2015… I won't rehash all the details… but it was a VERY painful experience. When we returned to Australia, my family and I were received into the home of blessed friends that fed us, loved us, nurtured us and simply held space for us.
In this loving space I had time to reflect. Firstly, it was overwhelming and terribly humbling to have received so much LOVE and support from our community in bringing our family home. To be honest, I didn't know how to deal with so much receiving. I have always been a 'giver' and to suddenly be thrust in a position that necessitated 'receiving' was both a divine gift yet at the same time a huge burden to bear.
My way of dealing with this was to throw myself back into work and to step-up and be of even greater service to you all. I felt the need to 'repay' your kindness by sharing more free tools on my website and doing all that I could to recompense your support of my/our work. I couldn't gift myself the opportunity to fully heal/rest, as I didn't feel deserving of such a 'luxury'. I also felt myself indebted to my family as we found ourselves pushed to our limits financially.
Whilst I reduced my live-events & client commitments during 2016 (as I felt my full energy-channel for healings was lagging), I diligently spent all of last year converting all of my in-person Practitioner & Teacher programs into online eCourses and I created my new Aetheric Healing™ Practitioner & Teacher eCourse. For over a decade now people from around the world have begged me to do this, so I worked relentlessly to get ALL of this done in under 12 months. I also upped the number of gifted energy-articles, meditations & support tools on our website. I couldn't give myself time to rest, I needed to show that I was worthy of your support/belief in me… I felt I need to prove myself to you all.
As I am sure you have guessed, this little story of me didn't really end so well…
With my ego having a field day of hiding pain & shame by throwing myself into service (ouch, sprinkled with a little bit of martyrdom), my physical body was so desperately trying to send me messages… it was crying out for help. I didn't listen, I had a job to do, I have a strong mind… I just worked through the pain. So like all human bodies do, my body miraculously took things to the next level, such that I was left with no choice but to listen !
Embracing my big juicy QUA
Without boring you with all the sordid details, tests & not-so-fun-stuff… the end result was PTSD + Lymes Disease.
I have been experiencing debilitating pain, the feeling of spiders crawling under the skin, itches that could never be scratched, extreme sensitivity to foods/chemicals and a paralysing anxiety sprinkled with the odd panic attack or two. With the pain/itch/anxiety keeping me awake most nights for hours on end, I found my self in a downward spiral of bottomless fatigue, sadness and despair.
The PTSD (Post Traumatic Stress) had me in a state of emotional suspension & mental torture. My heart longed to heal – but my fractured Soul felt lost – such that facing the normal tasks of everyday life presented huge hurdles. I became agoraphobic, for days on end I wouldn't leave the house and instead just lose myself in working behind the scenes in service of others. Sadly, I pushed away family & friends. Partly because I was embarrassed for my situation, partly because I have always been strong and didn't want to be a burden on those that I loved, but also I needed the space to find the way out of my dark hole. Also the guilt was all consuming – how incredibly self-righteous & narcissistic to allow the torment of emotional pain to consume me when there are others on the planet in situations much more dire than mine.
Regarding Lymes Disease/Syndrome, personally I don't use this label, as it feels limiting, is rife with so much emotion/dogma and I don't feel it truly reflects my situation.
Instead, I prefer to call this experience my QUA (pronounced 'cure') – my Quantum Unique Awakening. It feels strong, it feels empowering… it feels encouraging to not be limited by a diagnosis but rather to uplifted by an opportunity of expansion.
Reading the literature, Lymes Disease is considered a bacterial infection(s) often accompanied by secondary parasitic/bacterial components – however this viewpoint really confounds my personal medical intuitive insight. I am of the strong belief/insight that a latent virus is the primary perpetrator that in turn puts pressure on the Nervous & Immune Systems, ultimately leading to secondary bacterial/parasitic infections.
I will be writing more about this in the months to come… my experiences, the body/mind connection of QUA (aka Lymes Disease & PTSD), the spiritual gift of QUA and most importantly how to treat & flourish QUA holistically.
Soul Fracturing
When people experience traumatic events in their life – for instance the death of a loved one, divorce, abuse, prolonged chronic stress, or even a serious health condition/diagnosis – the Soul can 'fracture' as a way to deal with the situation(s) at hand.
Filaments of Soul Light get dispersed into varying dimensional realms. They are never 'lost' per sé, but are orphaned from wholeness as a coping mechanism, a very human response to extreme circumstance, hurt, discord.
Soul 'Fragmentation' may serve us in the initial stages of a trauma, like a type of 'flight/fright' response of human self-preservation. However, prolonged disassociation of Soul Light Filaments may lead to further trauma in a persons life as the Soul seeks to embue ONENESS.
As so eloquently expressed lyrically by Leonard Cohen
There is a crack in everything. That is how the LIGHT gets in (and how the LOVE flows out).
And that is exactly right. If the Soul remains fragmented – 'cracks' will eventually appear in your life – be in health, vitality, happiness, well-being – and you may then find yourself being thrust into your very own personal QUA journey!
LOVE will always find a way. LOVE knows no boundary and hence longs to express itself through you infinitely. But when your Soul is Fragmented you limit or put a barrier to how much LOVE can be expressed through you. A Soul longs to seek wholeness and if the most graceful thing to do is open cracks to allow the LOVE to flow such that you find and embrace your QUA… then so be it!
Feeling Peaceful in this moment
Whilst it has been a long road back to wholeness, I truly feel that my Soul Filaments are luminously finding their way home again.
I surrender to each and every day, guided by the whisperings of Spirit and truly honouring the wholeness and infinite Wealth of my Soul in service to something greater than me.
Over the coming months I will be sharing with you parts of my healing adventure and in particular my intuitive discovery of Lymes and other such immunological dis-eases.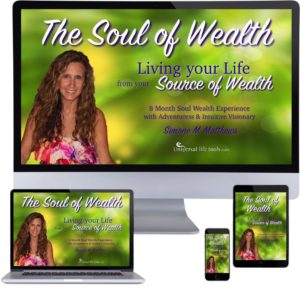 In the meantime, I invite you to join me for The Soul of Wealth Webinar – Soul Session #4 on the 9/10 May – where I will be sharing with you a deeper insight of Soul Fragmentation and my personal experience.
Then on my The Soul of Wealth Webinar – Soul Session #5 on the 23/24 May, I will be diving deep into how to heal from Soul Fragmentation and ultimately supporting healing of the Body, Emotions & Mind. You can attend Souls Session Webinars #4 & #5 without having attending Soul Sessions 1, 2 & 3… or better still, you could enrol in all 16 Souls Sessions and watch the Video replays of our past Webinars.
OmAhOm
© Simone M. Matthews
www.UniversalLifeTools.com
[divider dotted]
Invitation from my Heart ♡

Inviting you to Study with us or join one of our live Webinars and surrender to a greater vision of our World through your Heart ♡
[divider dotted]
FREE Community Newsletter ♡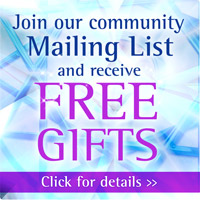 Inviting you to signup to our community newsletter & receive lots of free gifts… such as free meditation audios, videos and our regular posts/articles on Crystal Spirit Wisdom.

Subscribe Now, it's FREE:
https://www.universallifetools.com/mailing-list/
Rest assured your privacy is of utmost importance, thus your details are never sold or shared with anyone !
Save
Save
Save
Save
Save
Save
Save