Just over a week ago I facilitated our June 2018 Heart Retreat here in my home town of the Sunshine Coast, Australia.
I love to facilitate Heart Retreats… the experience of connection, upliftment and being privy to witness attendees blossom in their innate beauty. How miraculously, time after time, our attendees take the 'stories of their lives' and re-write them into masterpieces of opportunity. It is both a humbling privilege as well as a gift to forge new found friendships with people who inspire me in profound ways. I am grateful to a depth that simply defy's words.
For our June 2018 Retreat, our group travelled from near & far… Sydney, United States, Currimundi & our hinterland here on the Coast. Together, our group the 'Famous 5' (oh how I loved Enid Blyton's adventure books)… certainly went on an adventure of a lifetime!
Here are pics of our graduates beaming their joyous love out to the world… these photo's were taken after our daring afternoon adventure (more about that in a moment). These four amazing women graduated through our school as Internationally Certified Master Teachers in both Crystal Light Healing® & Essence of Angels®. A fresh new wave of LOVE certainly is being woven around the world by these courageous & fiercely graceful women.
Wholefood, Lightrition & Wisdom Teachings
I LOVE to cook & prepare food to feed not only the body, but also the Hearts of our Participants. From Raw Food sweet snacks made from Quartz Activated Nuts, to Stuctured Water Kombucha drinks… through to short & long term fermentations that not only feed our gut but also awaken our awareness with the star map of our Brains.
During our Retreat we had quite a few sessions in the kitchen learning how to take the wisdom teachings of Essence of Angels® & Crystal Light Healing® and apply them to food preparation, the water we drink and the activation of the Lightrition qualities of our food.
I love this part of my Retreats… it is real, practical and provides life long skills for radical self-care. It is this self-care & ownership of self-intelligence which spills over into how we experience relationship with others, our finances, our sensuality & our sexuality. Through our 'foodie' experiences we learn so much about ourselves… our gifts, our challenges, our fears… and how we bring our full hearts & authentic selves into the world to make a difference.
I adore our 'Food for the Soul Sessions'… and funnily, I am always so much in the groove of them that I forgot to take pics (which to be honest is a good thing!). But here are a few that I did manage to snap to give you a taste (pun intended)!
Heart Retreat Sessions
Each day I facilitate teaching Sessions in the great outdoors as well as in the intimacy of my home. Nature is such an amazing teacher… I am forever in awe at how we can discuss a topic in depth on one day, and then Sunrise the next morning has a way of explaining or anchoring the 'teachings' in greater depths in our Hearts. You can't script this via a Retreat Schedule… this is pure magic of Universal Consciousness in magnificent flow!
On our last day of the Retreat, our group set out for an adventure! We hiked up a mountain and then descended down a Canyon that lead to a secluded beach and an oceanic cave for 'secret women's business'.
To cut a very long story short, we look the 'Road Less Travelled' down the Canyon and experienced quite a hair-raising descent (aka slide) along rocks & prickly Pandanus leaves… ouch! Each of us had to move deeper into ourselves, face our fears and help one another make it down to the bottom… all in one piece!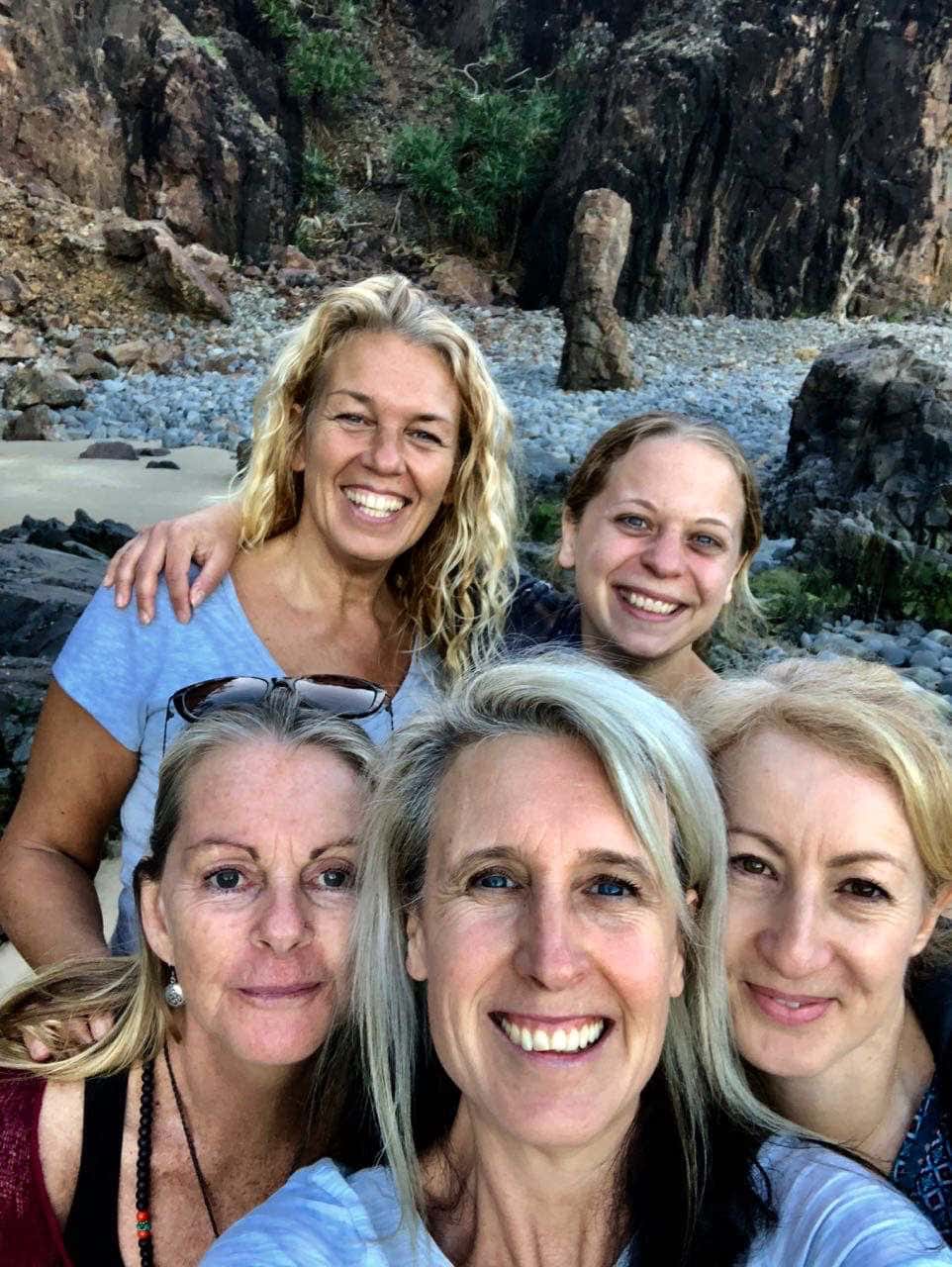 As the pictures below show, we made it to the beach… beaming with light, feeling grateful for our safety, but also jubilant in having the courage to see our trek through right to the very end… a great analogy for anything we embark upon in life I think! Even through tears, not one member of our group turned back… together we gave each other the strength to move mountains. What can I say, women-power is a miraculous force of nature.
As we hugged & joyously celebrated our achievements, we all looked back up the canyon, firstly amazed at the rugged & steep descent that we had just navigated, but then in radiant recognition of something much deeper. Each of us recognised this Canyon as a natural 'birth canal', a passage into a greater light, the crevice of a woman's genitals and the clitorial or orgasmic jubilance of making it to the talisman obelisk rock at the base of our descent (see picture right, the rock in question is the background of the pic). I am certainly no selfie connoisseur, but I feel our beaming faces say everything!
It was a great reminder that life is full of crazy twists & turns, rocky times & sometimes we may feel as if we are sliding or falling out of control… but through connection, determination, courage & believing in yourself, ultimately anything is possible through the group power of your tribe and the opening of your radiant Heart.
Our Next Retreat
If you are interested in experiencing your innate greatness and stepping back into your life more present, resilient and ready to then I invite you to join me on one of my upcoming Heart Retreats. Or if you are after shorter weekend sessions, then you may like to book in for my upcoming LIVE Workshops.
OmAhOm
Simone