Whilst Full Moons can be challenging with the Moon & Sun sitting on opposite sides of the zodiac, they can also be wildly expansive & potently creative as the Lunar & Solar (yin & yang) are in natural harmonic balance.
And I promise you, this weeks Full Moon in LEO reflecting the light of the Sun in AQUARIUS will do a tremendously amazing job at both !
Our February Full Moon will guide us– from a place of self-love rather than ego-centric neurosis– to OWN our gifts, stand proud in our talents and to take that plunge in revealing our god-given graces to the world.
Top Image Credit: Lilian Pereir
Full Moon in Leo
Moon in LEO (20.000) & Sun in AQUARIUS (20.000)
Sunday, 9 February 2020
5:33 pm AEST (Australia)
View times in your City/Country>

Moon – past, Intuition, unconscious, emotions, nurturing, feelings
Sun – now, Identity, consciousness, self-esteem, expression
Leo (Fire) – Leader, affectionate, generous, outgoing, stubborn
Aquarius (Air) – Humanitarian, determined, rebellious, independent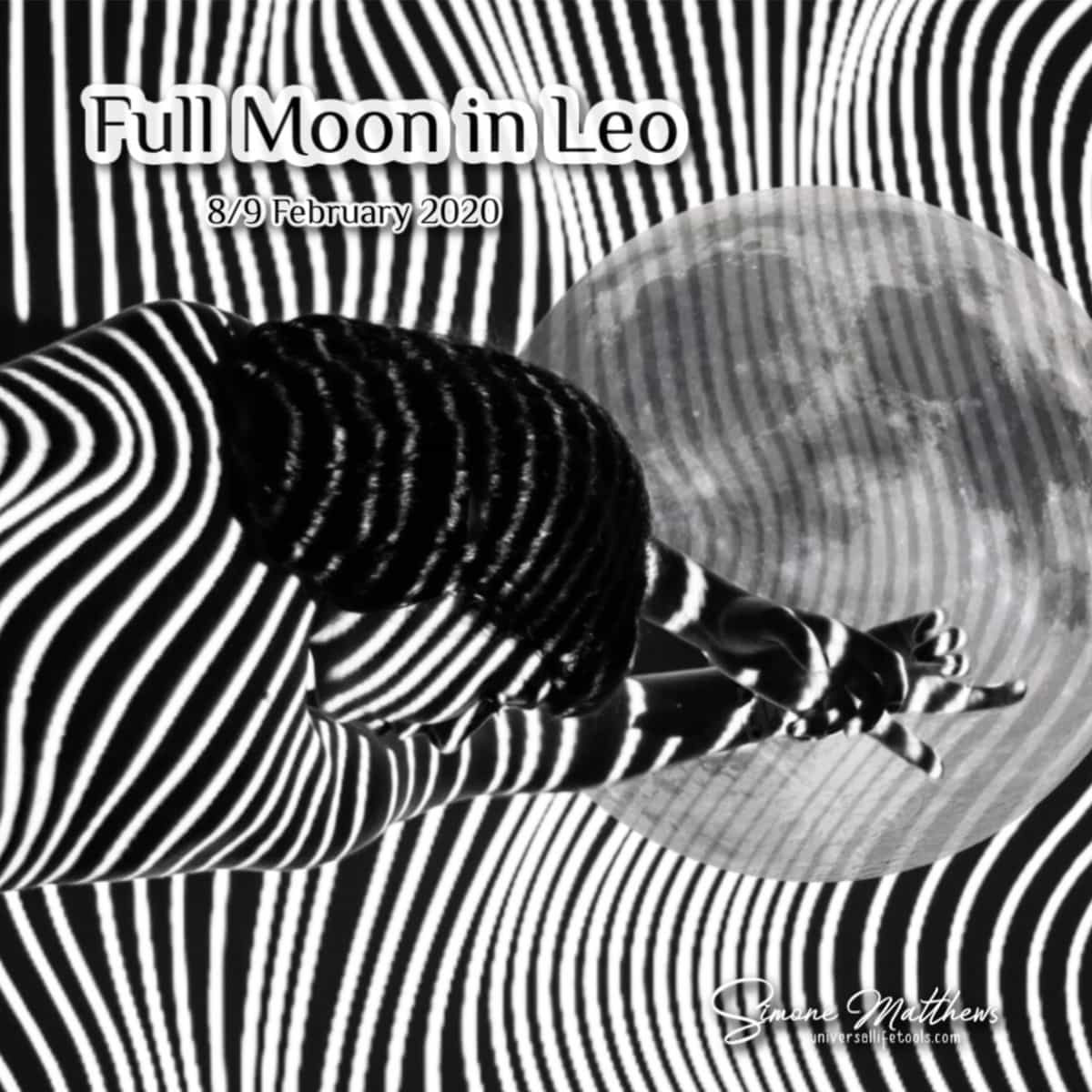 Our Full Moon is in LEO – a vibrant fire sign that is ruled by the Sun and is outgoing, affectionate… and just like the Lion exudes warm-hearted courage. When the Moon is in LEO we are guided to connect deeply into our Hearts and unearth our passions. What creatively inspires you and brings you the greatest emotional fulfillment ?
Our Moon is reflecting the LIGHT of the Sun in AQUARIUS -an air sign that is ruled by Uranus and weaves qualities of humanitarian pursuits, pioneering skills & can be very rebellious in nature… love that Uranian flare!
When our Moon is in Leo, reflecting the Sun in Aquarius – these two create quite an intense, yet deeply uplifting resonances. We are guided– from a place of self-love rather than ego-centric neurosis– to OWN our gifts, stand proud in our talents and to take that plunge in revealing our god-given graces to the world.
We are drawn to see how our gifts, our passions, our inner-light of creativity and our unique self-expression can make a difference in the lives of others. How the uniqueness that is YOU/US makes a difference in the world!!!
With our Moon trine (120º) Mars & the Sun sextile (60º) Mars during this Full Moon… there is an added dash to engagement, initiative, vision, impetus to get out in the world and be a beacon of LIGHT a Change Agent of Good in the world. You may find yourself being that little more daring this Full Moon, owning your individuality and rocking your vibe with exuberant self-confidence !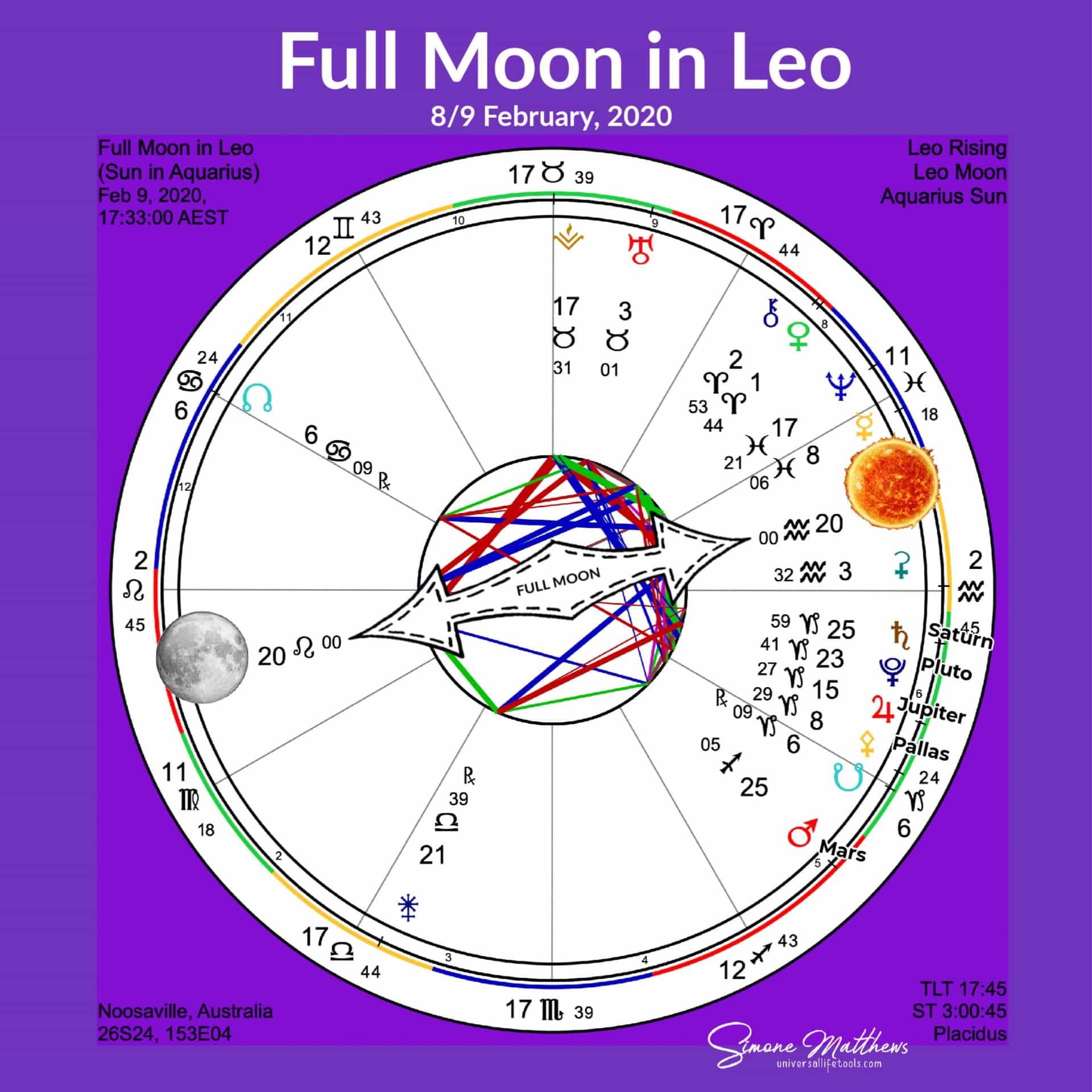 There is no mistake that you came to planet Earth, and there is no mistake that you are on Earth to witness a huge shift in conscious… so don't sit on the sidelines, be an active part of the birthing of a new Earth from your HEART !

When you choose to radiate the light that is within your Heart and follow the beat of your own Soul, you move into a place of least resistance. From this place you step into FLOW… you begin so see your life as part of something greater than you… and your relationships & work take on a greater depth of meaning. Finances begin to step into harmonic flow, doors begin to open for you and opportunities abound for you to make the greatest impact in the world through the UNIQUENESS that is YOU !
Each and everyone of us are an integral golden strand in the web-of-life and our LEO Full Moon is offering us the opportunity to move deeply within, really OWN that fact and have the lion-hearted courage to live your life in alignment with a world more beautiful that each and everyone of us knows is possible.
Lightrition your Life
2020 heralds an amazing year… from the astrological shift of ages, through to a profound awakening, the Cosmogenesis of our Souls.

I feel both humbled & truly blessed to be facilitating our ONLINE Lightrition your Life Course during 2020. A call to activate the Alchemy of your Cosmic Heart, and birth the awakened Cosmogenesis of your Soul.

Lightrition your Life is the key to weaving the New Story of Earth into being – birthing a Universal Humanity built on the foundations of Love, Compassion, Kindness & Reverence for all Life.

Join us today… and Lightrition your Life… embolden yourself to radiantly thrive Body, Mind & Soul!