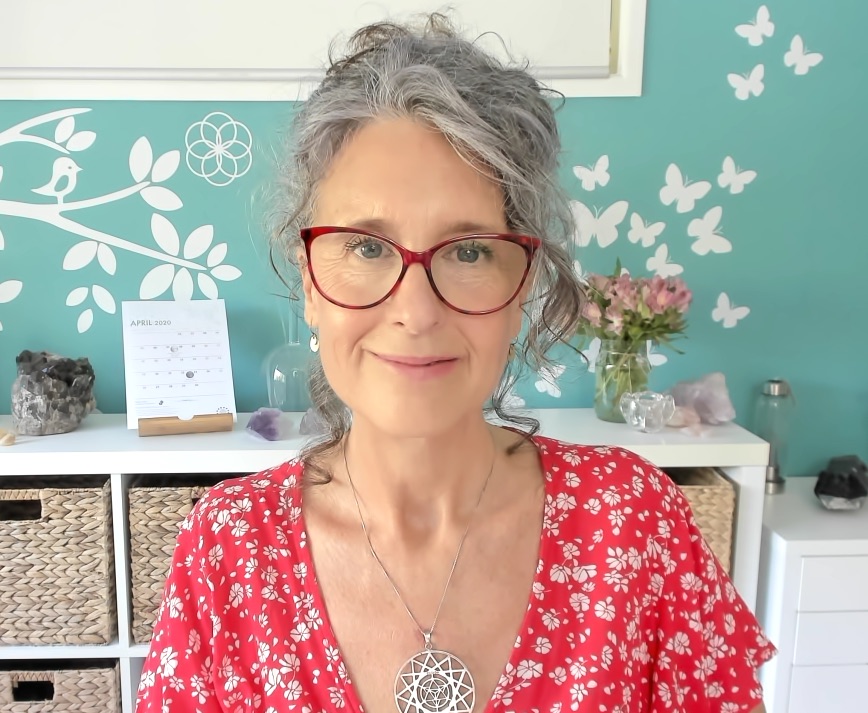 UPDATE: 5 April 2020
Oh my heart is beating… LOVE always finds a way
💗
Thank you to the 4,412 radiant Souls that Registered for today's Global Meditation. Our Meditation together was recorded and from my Heart your Heart, enjoy our Video Replay.

Whilst only 1,000 people could connect on my Zoom platform LIVE… our Hearts were holding ALL OF YOU, being LOVE… GLOBALLY
💗
I feel most humbled & in deep states of Heart presence with humanity at this moment… Gaia is certainly a magical place
🌍
🌎
🌏
in this Cosmos. xx Simone
Please excuse the low resolution of our recorded Video, as Zoom is unable to record in HD during this time of high streaming traffic.
Thank you for your understanding.
---

The above graph displays the Schumann Resonance on the 5 April 2020 during the time of our Global Meditation. The time scale along the bottom is UTC + 7. Notice how the Green lines went well off the scale during the times (preceeding, during & after) our Global Meditation.
Your Invitation
On April 4/5, 2020, inviting you to join us for a Global Meditation for planetary Healing & Ascension.
GlobalPeaceMeditation.com are calling upon 1 MILLION people around the world to come together in HEARTFULL Presence to help anchor in the energies of Peace, Harmony, Abundance, Freedom, Healing and the most positive Ascension Timeline imaginable.
With this weekends Jupiter-Pluto Conjunction, combined with Venus currently transiting the Pleiades, this weekend presents itself as the perfect NOW to connect together globally in the ONE HEART.
Inviting you to Join me LIVE via Zoom – where I will be facilitating a Meditation that will anchor the LIGHT from the Cosmic Central Sun through to Earth & dream into the present the Grand Cosmic cycle of the Age of Aquarius… pure Light, Love and Happiness to all beings on Earth… a New Earth Era.
The Global Meditation is taking place at my local time of 12:45pm on Sunday afternoon, AEST.
Find the day/time to JOIN me LIVE via ZOOM in your region of the world below.
Our Meditation together will run for 20-30 minutes.
SATURDAY, APRIL 4, 2020
10:45 pm in New York
7:45 pm in Los Angeles
SUNDAY, APRIL 5, 2020
3:45 am BST in London,
4:45 am CEST in Paris,
4:45 am EET in Cairo,
10:45 am CST in Taipei and Beijing,
11:45 am JST in Tokyo and
12:45 pm AEST in Sydney (daylight saving ends on Sunday 5 April at 3am)
10:45 am AWST in Perth
2:45 pm NZDT in New Zealand
More Times: https://tinyurl.com/GlobalLOVEMeditation
How to Join LIVE via ZOOM
To Join with me LIVE via ZOOM, where we will connect with 1 MILLION people meditating around the world, please Register for my LIVE Event. We have limited numbers to attend LIVE, so pre-REGISTRATION is essential.
If you are unable to attend live, within a few hours of the Meditation, we will post the replay below... such that that you can connect with the energy and continue this mediTation in the days to come.
Please note, during our LIVE Meditation stream, technology will only allow for 1,000 people to directly participate & the remaining 9,000 attendees will be viewers only. If you would like to directly participate (ie be able to type your comments in the comment box), then please join our Zoom 5-10 minutes before our Meditation start time.
What to Bring to our ZOOM Meditation
I would LOVE for you to bring along one (or more) of your favourite Crystals. Don't think too much about it, just tune into the ones that are calling out to JOIN in! If you don't have any Crystals, then maybe a Rock or something from nature such as a Seed… or if you are really stuck, cut open an Apple horizontally to display a seeded 5 Pointed Star Pentagram.. and this will be perfect !
One more thing…. if the Global Internet/Local Network goes down and hence our Zoom cannot progress, then I have a back up plan.
Please print out (or have saved on your phone) both of the Images below. If our Zoom cannot go ahead due to power or internet outtages, then please sit gazing at the Images below for 20 minutes (from 12:45pm to 1:05pm) whilst holding your Crystal/Nature item. I will record the Video/Audio on my computer/phone (which ever will work in an outtage) and then share with you the recording AFTER our Meditation. Thank you.
On a beautiful note too… 4 April 2020, is the 4th day of 4th month of a 4 Universal Year… a resonant frequency of 444. The number 444 expresses the Master Visionary – Alchemist. This number activates our creative & intuitive presence with natures inherent intelligence, and opens our heart to transcendent visions & dreams.
In addition, if Zoom is not able to hold full capacity for our Global Meditation, a friend of mine Jay Joseph has created this beautiful YouTube video Meditation too using our expanded HEART/LOVE image. Enjoy !
Registering for our Meditation subscribes you to our Community per our Websites T&C. Your information is safe with us, we never share your details, we honour your privacy. You can unsubscribe at anytime from the link at the bottom of every email. Thank you.